Hello and welcome to our coverage of the Day 3 at the Asian Wrestling Championships 2022 in Mongolia.
After a phenomenal success of the Greco-Roman wrestlers the women wrestlers are in action today. Read about Day 1 and Day 2
4:15 pm | Two time Asian Champion Sarita Mor couldnt repeat the feat again and had to settle for Bronze Medal in WW59 category after winning two of the four matches losing to Gold Medal and Silver Medal winners. Third Gold for Japan
Source UWW
3:55 pm | Sushma Shokeen WW55 loses her last round match to Ganbaatar from Mongolia but she win Bronze Medal, first Women Wrestling in this championships
Source | UWW
3:40 pm | Manisha loses her match 0-10 against the wrestler from Uzbekistan Jasmina. No Medal
Sushma, Manisha & Sarita in Medal Contention, last bouts in the morning session to decide fate.
So, of the five wrestlers in contention today, two of them Sonika & Sudesh are out of medal race. Sushma WW55 will fight for Silver against the Wrestler from Mongolia, Manisha WW50 will be gunning for Bronze Medal and Sarita is assured of a bronze unless Mongolian loses badly [which is unlikly]
11:15 am | Manisha WW50 lost her match to local favoirate Tsogt Ochir 4-11 and will now fight it out in the bronze medal match against Jasmina from Uzbekistan in the afternoon session
10:49 am | Sushma Shokeen WW55 gets her second victory as she defeated Sarbinaz 12-0 in less than 90 seconds in the match.
10: 45 am | End of road for Sudesh Kumari in WW76 as she loses to Japanese Yuka 0-11. Two losses of 0-10 and 0-11 are tough
10:40 am | Sonika Hooda WW68 defeats Azoda from Uzb 10-0 but it was too little too late and its an end of road for her. She doesnt make the SemiFinals
10:30 am | Manisha WW50 defeats Cheon from South Korea in a convincing fashion to make an entry into the SemiFinals match, she will meet the Mongolian wrestler there
10:12 am | Sarita WW59 who had earlier lost her first two matches comes back to win the third one convincingly 11-0, she is fighting for bronze medal.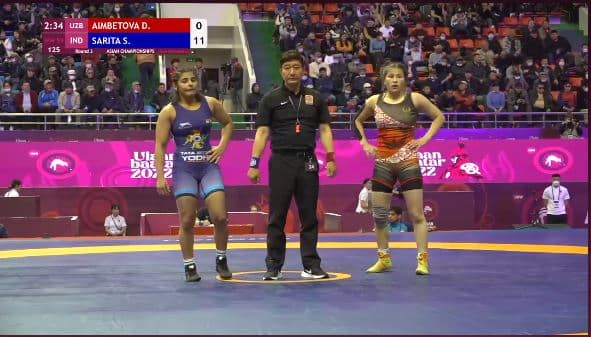 Source | UWW
10:08 am | We finally have a WIN !! Sushma Shokeen WW55 category defeats Altyn from Kazakhstan 5-0. As their are very few participants hence the medals will be decided within the group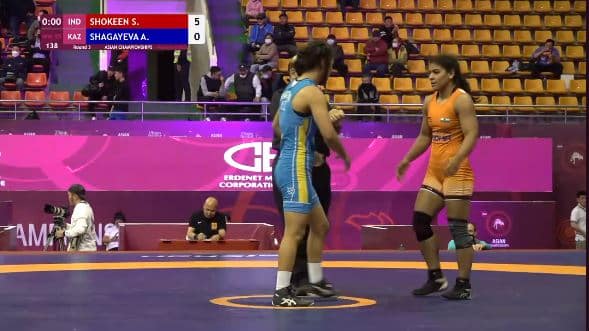 Source | UWW
10:04 am | losses keep coming our way as Sudesh Kumari WW76 lost to top seed Kyzy from Kgz 0-10. Hopes of making the semi finals very slim
9:59 am | Manisha WW50 lost her first match to Japan Remina 0-4, will hope to win the next one against South Korean wrestler to make the semifinals. This makes the Sixth loss for India since morning
9:56 am | Sonika WW68 loses her second match against the local Mongolian 0-10 and will not be able to make it to the semifinals. Sad Performance
9:40 am | Sarita WW59 lost her second match for the day, this time to a much stronger Japanese Sara Natami 0-10. Makes it very difficult for her to medal unless Mongolian wrestler loses and Sarita wins her next two
9:24 am | Sonika Hooda WW68 gave it all against the Japanese wrestler but lost the match 1-3, a win would have been amajing start. Two more matches for her to decide whether she makes the SemiFinal
9:22 am | Sushma WW55 lost to Japanese wrestler Umi 0-10 in Rd 1, three more matches for her to decide the medals
9:20 am | Sarita WW59 has lost her first match 1-2 to Baatarjav from Mongolia in round1
9:15 am | A lot of matches in the first half today, a total of 14 matches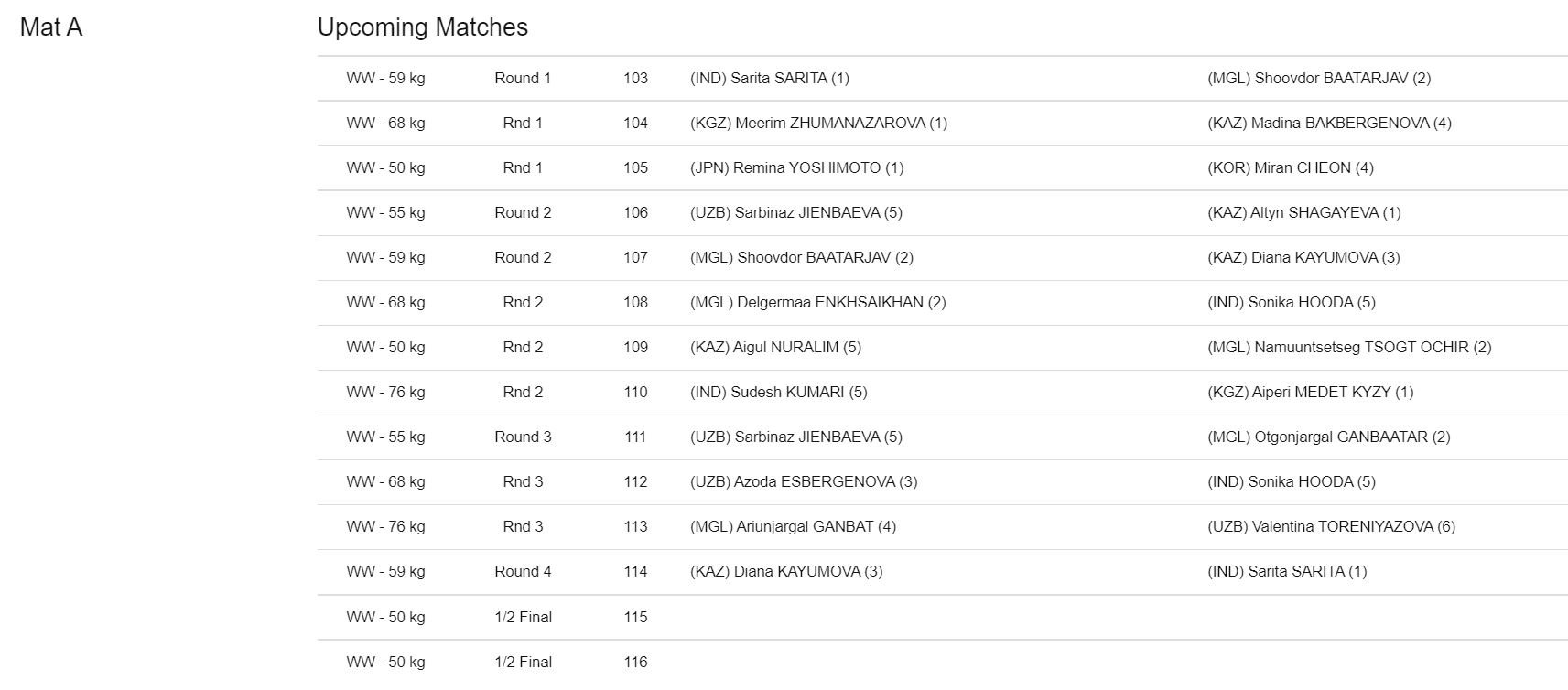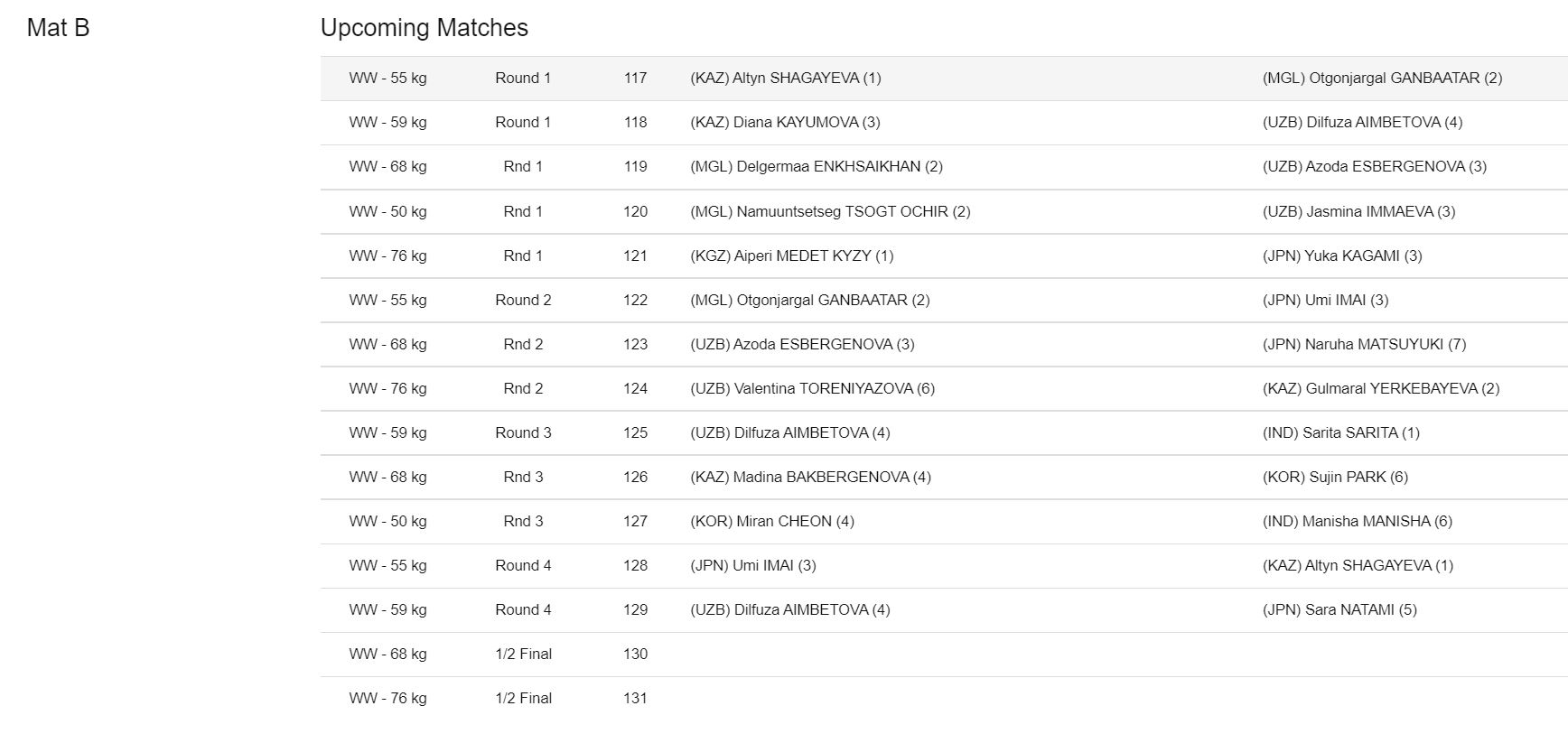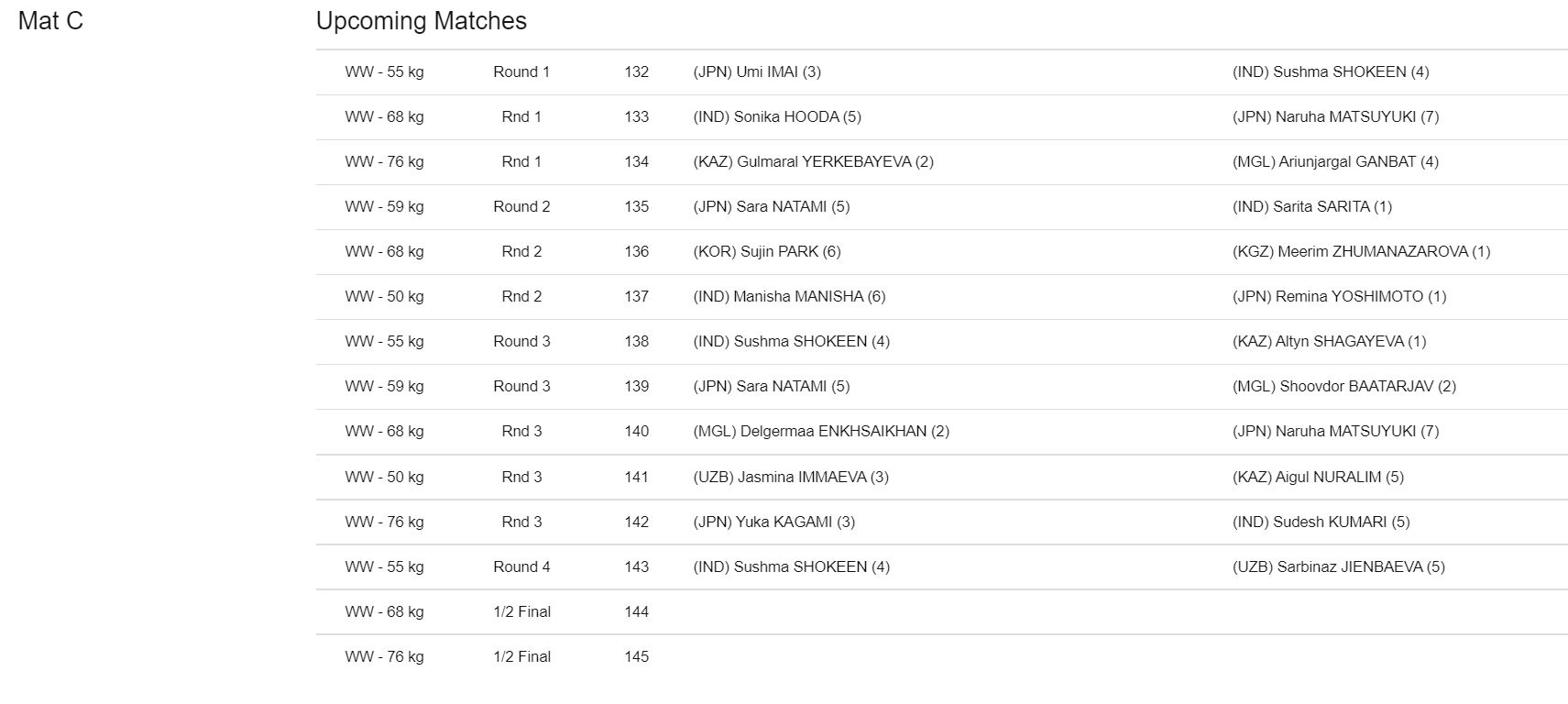 India's Performance at the last championships held in Almaty Kazakhstan 2021
Gold – 5 | Ravi Dahiya FS57 | Vinesh Phogat WW53 | Anshu Malik WW57 | Sarita Mor WW59 | Divya Kakran WW72
Silver – 3 | Sakshi Malik WW65 | Bajrang Punia FS65 | Deepak Punia FS86
Bronze – 6 | Pooja Sihag WW76 | Seema Bisla WW50 | Karan Mor FS70 | Narsingh FS79 | Sanjeet FS92 | Satyawart FS 97