Afternoon Session
Indians are in three bronze medal matches, starting with Gyanender who is up against the japanese.
5:30 pm Harpreet Singh won the Fifth Bronze Medal for India defeating Jafar Khan from Qatar
4:35 pm Sachin Sahrawat GR67 brings cheers to the Indian camp as he grabs the Fourth Bronze Medal for India defeating Mahmud from Uzbekistan in the dying moments of the match. He defeated Mahmud 7-3 after trailing 2-3 for a mojor part of second half.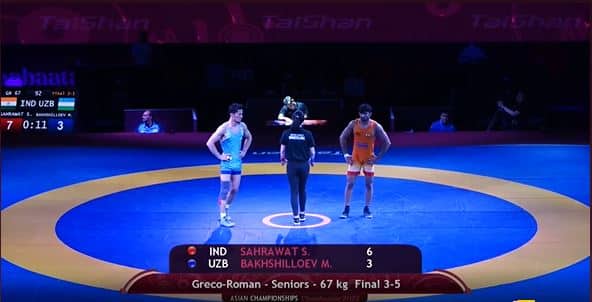 Source | UWW
4:00 pm Gyanender who was competing in the Greco Roman 60 category had no answers to the Japanese wrestler Ayata and evetually lost his match 0-11.
Hello and welcome to our coverage of the day two at the Asian Wrestling Championships 2022.
India had a fairly successfull outing yesterday when on the first day we won three medals. The last championship had zero Greco-Roman medals for India.
Medal Match schedule for India
GR60 Gyanender v Ayata [Jpn] | MatB 89
GR67 Sachin v Mahmud [Uzb] MatB 92
GR82 Harpreet v Jafar [Qat] MatB 98
Time | 3:30 pm
Harpreet, Sachin and Gyanender to fight for Bronze Medal matches in afternoon
10:55 am | Ravi GR97 also will not be competing any further as the wrestler from Kgz lost the semi final match.
10:50 am | Harpreet Singh GR82 lost to Garmsiri from Iran in the SemiFinal match 0-5.  He will be competing against Jafar from Qatar to bring home the Bronze medal.
10:45 am | Hopes dashed for Vikas as the wrestler from Uzbekistan couldnt make it to the Finals, Vikas will come back without a win
10:40 am | Sachin Sahrawat GR67 will fight for bronze medal as Meiirzhan defeats Mahmud in the Semifinals.
10:30 am | Gyanender will fight for bronze medal later in the afternoon, as Mehdi defeated Ayata in the Semifinal which was a very close match. Mehdi won 5-4. Gyanender will fight with Ayata in the GR60 category.
Four Indian Wrestler lose in Quatefinals only Harpreet won his match
10:08 am | Ravi GR97 lost to a relatively quick wrestler from Kgz, and with this we have four losses and one win in the first half an hour
9:58 am | Sachin GR67 lost his match to Meiirzhan from Kazakhstan 0-8, it was a fast paced match with two foru pointers deciding the fate.
9:47 am | Harpreet GR82 brings cheers to the Indian Camp as he defeated the Korean Sejin 4-2 in the Quaterfinals match, he was trailing 0-2 with less than a minute to go in the match.
He awaits the winner of match between Qatar and Iran to fight for a spot in the Gold Medal Match.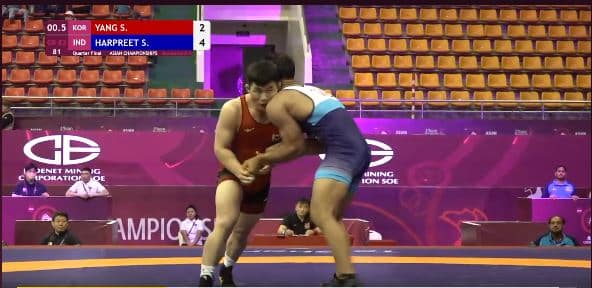 Source | UWW
9:20 am | Vikas GR72 loses his Quarterfinals match to Mirzobek from Uzbekistan 0-8. All eyes on Mirzobek as he plays his semifinal bout on MatA in sometime, if he wins Vikas plays the Bronze Medal Match.
9:15 am | Not the best of the start for India as Gyanender loses his match against the Mehdi from Iran in GR60 0-9, he will now hope that Iranian wins the next match.
Indian schedule for the day 2
GR60 | Gyanender [Ind] vs Mehdi [Iri] | MatA 54 | Quarterfinal
GR67 | Sachin [Ind] vs Meiirzhan [Kaz] | MatC 83 | Quarterfinal
GR72 | Vikas [Ind] vs Mirzobek [Uzb] | MatC 78 | Quarterfinal
GR82 | Harpreet [Ind] vs Sejin [Kor] | MatC 81 | Quarterfinal
GR97 | Ravi [Ind] vs Dzhuzupbekov [Kgz] | MatB 70 | Quarterfinal
live streaming on UWW
Source UWW