Afternoon Session
Hello and welcome to our coverage for the medal round matches on the day 1 at Asian Wrestling Championships 2022 in Mongolia
5:20 pm | And Sunil Kumar wins the Third Bronze Medal for India defeating local player utbayer comfortably 9-1, thus completing a fairly decent day from India perspective who are not considered to be a force to reckon with in the Greco-Roman category.
4:35 pm | Sajan who had earlier lost to Maxat in the quaterfinals could not take use of the opportunity as he lost to Japanese wrestler Kodai 1-11.
4:15 pm | Next up is Neeraj GR63 who had endured a tough loss agains the grappler from Kgz, but the wrestler made it to the final hence giving a chance to Neeraj to fight for Bronze. Neeraj Wins the Second Bronze for India defeating Bakhramov from Kazakhstan 7-4.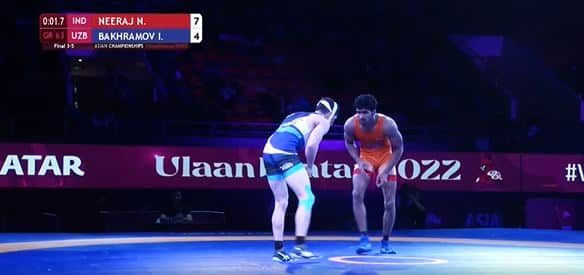 Source | UWW
3:38 pm | First up is Arjun who is going to be playing against the local player Davaabandi in the Greco roman 55 weight category. At the first half Arjun leads 4-1. Arjun has strengthened his grip on the match with a lead of 7-1 with almost two minutes left in the match.
The mongolian wrestler has come back strongly and makes the score 5-8. Its a Bronze Medal for India.
Arjun Defeats the Mongolian 10-7 to win India's first medal at the championships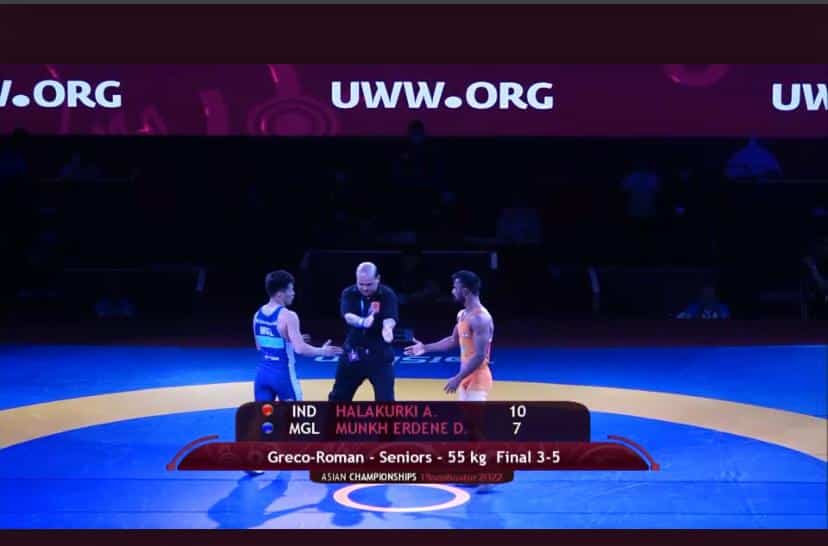 Source | UWW
Four Wrestlers to fight for Bronze Medal
India will be competing in four medal matches while only Sunil made it their by losing the SemiFinals, for others it was because the grappler they lost to reached the final. only Prem GR130 missed out on the medal match as the Iranian whom he had lost to couldnt make the finals.
Indian Schedule for the Bronze Medal matches
GR55 Arjun [Ind] vs Davaabandi [Mgl] | Mat B 37
GR63 Neeraj [Ind] vs Islomjon [Uzb] | Mat B 41
GR77 Sajan [Ind] vs Kodai [Jpn] | Mat B 44
GR87 Sunil [Ind] vs lutbayar [Mgl] Mat 47
Sajan to fight for Bronze
10:35 am | Sajan GR77 will fight for Bronze against Sakuraba from Jpn as Mexat makes it to the Finals
Sunil Enters SemiFinals
10:02 am | Sunil GR87 defeats Sumi from Jpn in an exciting match, wherein he made a comeback to beat him 5-3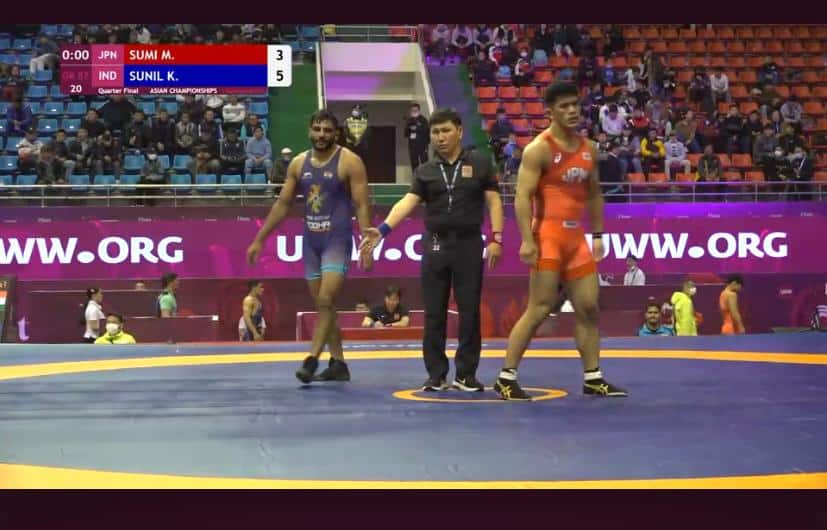 Source | UWW
10:00 am | Arjun GR55 loses his match to Bekbolatov from Kaz 1-10, he will now hope that the Kazakh makes the final to keep Arjun hopes of medaling in this tournament
Source | UWW
9:40 am | Neeraj GR63 has entered the mat for his quarterfinal match, he was leading 4-2 but then at the end of first half the score was 4-6. Eventually its a loss for the Indian who loses 4-10 to Sharshenbekov from Kgz. His Repechage hopes are still alive
Source | UWW
India Won 1 lost 2 in the first 30 minutes
9:30 am | So, India has won one match and lost two in the first half an hour of the tornament. The Greco-Roman has never been India's strong point. This event is dominated by the european countries as it requires a lot of upper body strength
9: 25 am | Sajan GR77 lost his match to Maxat from Kaz but a good chance to medal here as he needs Maxat to defeat the Japanese to enter final for Sajan to have a chance at Bronze medal. Sajan had lost 0-8
9:20 am | Arjun GR55 defeats Ali Naser from Iran to notch up first win for India. He won 10-5, will now meet Bekbolatov from Kazakhstan in Quaterfinals. MatA 6 match.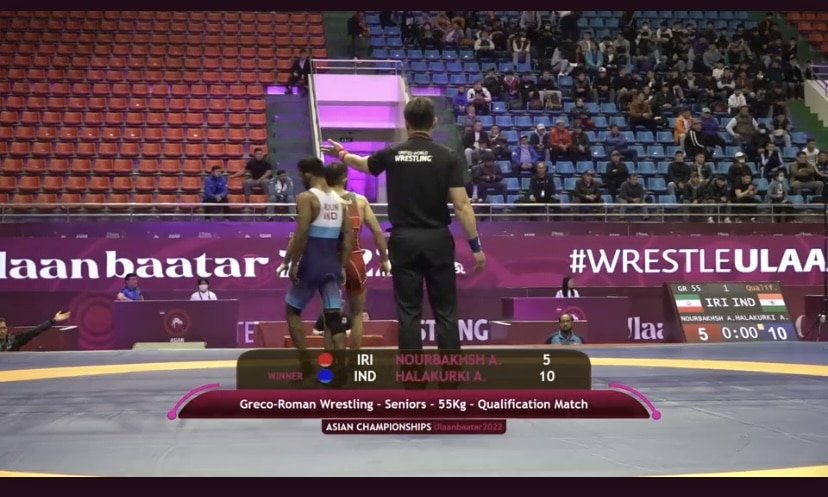 9:15 am | Prem GR 130 loses the qualification match against the Iranian Amir 0-5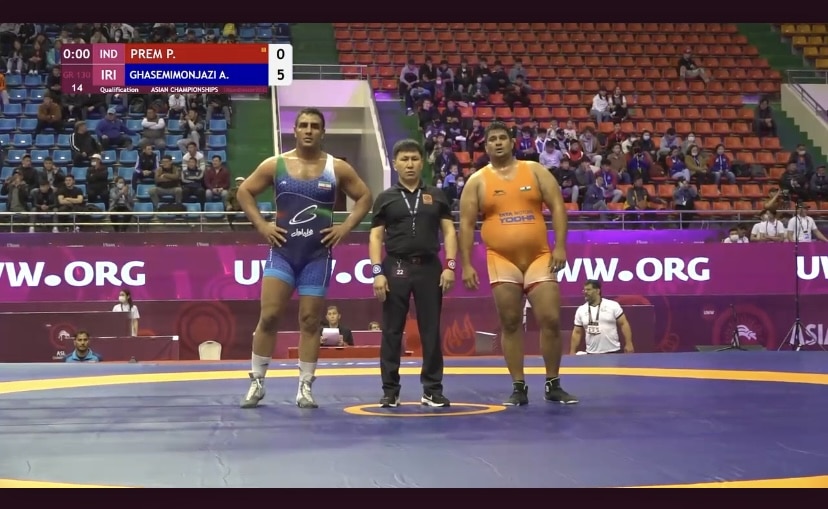 08:20 am | Today the Greco-Roman action is going to begin in 40 minutes. Here are the Indians participating in the same
GR55 | Qualification | Arjun [Ind] vs Ali Naser [Iri] | MatA 1
GR63 | Quarterfinals | Neeraj [Ind] vs Tynar [Kgz] MatA 4
GR130 | Qualification | Prem [Ind] vs Amir [Iri] MatB 14
GR77 | Quarterfinals | Sajan [Ind] vs Maxat [Kaz] MatB 15
GR87 | Qaurterfinals | Sunil [Ind] vs Sumi [Jpn] MatB 20
08:00 am | Hello, Good morning and welcome to our coverage of the first day of the Asian Championship being held at Ulaanbataar in Mongolia. You can read about Indian participation on this link Welcome to our blog for day 1
India's Performance at the last championships held in Almaty Kazakhstan 2021
Gold – 5 | Ravi Dahiya FS57 | Vinesh Phogat WW53 | Anshu Malik WW57 | Sarita Mor WW59 | Divya Kakran WW72
Silver – 3 | Sakshi Malik WW65 | Bajrang Punia FS65 | Deepak Punia FS86
Bronze – 6 | Pooja Sihag WW76 | Seema Bisla WW50 | Karan Mor FS70 | Narsingh FS79 | Sanjeet FS92 | Satyawart FS 97