Bajrang, Ravi, Anirudh, Anshu, Sarita have been given top seed at the Asian Wrestling Championships being held in Mongolia
At the Asian Wrestling Championships in Ulaanbataar, Mongolia which is the 35th edition more than 270 wrestlers will eye to be the Asian Champion. The Championship will take place from April 19 to April 24 2022.
While the Indian and Iranian will be the teams to beat in the men's freestyle competition the Women Wrestling will see the return of mighty Japan & China who missed the last edition due to Visa and Covid issues. The 2021 championship saw Iran & Kazakhstan winning three golds each with India wininng one through Ravi Kumar Dahiya. In the absence of Japan the Indian Women wrestling team took full advantage of the draw and won four Gold, one Silver and two Bronze medals.
Source | IndianExpress
The Greco-Roman continued to be dissapointment for Indians wherein none could make it to the Finals and returned empty handed.
Men Freestyle
The 2022 Championships will see India going in with a strong team with Ravi Kumar Dahiya, Bajrang Punia, Deepak Punia and youngster Gourav Baliyan being part of the freestyle team.
Here's the Indian Team
Ravi Kumar | 57Kg | Seed 1
Mangal Kadyan | 61Kg | Seed 4
Bajrang Punia | 65Kg | Seed 1
Naveen Naveen | 70Kg
Yash Tushir | 74Kg
Gourav Baliyan | 79Kg | Seed 4
Deepak Punia | 86Kg | Seed 2
Viky Chahar | 92Kg | Seed 3
Satywart Kadiyan | 97Kg | Seed 3
Anirudh Kumar | 125Kg | Seed 1
Source | Toi
Ravi Kumar vs Abdullaev has all the making of a great clash, however they can only meet in the final as they both are top two seeds. While Bajrang Punia will be looking to win the Gold this time after giving a walkover to Otoguru in the last championships final. Much will be expected from Deepak Punia, Gourav Baliyan and Anirudh Kumar and it remains to be seen how these youngsters perform at the big stage and become Asian Champions
Women Wrestling
The less Vinesh Phogat Indian Team will look upto Anshu Malik and Sarita Mor to notch up victories and return with Asian Titles. Sarita mor will be chasing to become the Asian Champion for the third consecutive time like Ravi Dahiya and has been give the top seed as well. Ever impressive Anshu Malik will look forward to give a good account of herself at the Asian stage and look to defend her crown.
Source | Bridge
Here's the Indian Team
Manisha | 50Kg
Swati Shinde | 53Kg
Sushma Shokeen | 55Kg
Anshu Malik | 57Kg | Seed 1
Sarita Mor | 59Kg | Seed 1
Manisha | 62Kg
Radhika | 65Kg
Sonika Hooda | 68Kg
Nikki | 72Kg
Sudesh Kumari | 76Kg
The women wrestling will see a little less participation with as many as four categories having only five participants.
Greco-Roman Wrestling
India will look to improve on the last championships record where none of the wrestlers were able to make it Finals and eventually India returned empty handed in the category. India in fact were placed on seventh position in this category which was a very bad performance in comparison to the 2020 championships. At the 2020 championships India had won one Gold [Sunil Kumar] and four Bronze medals.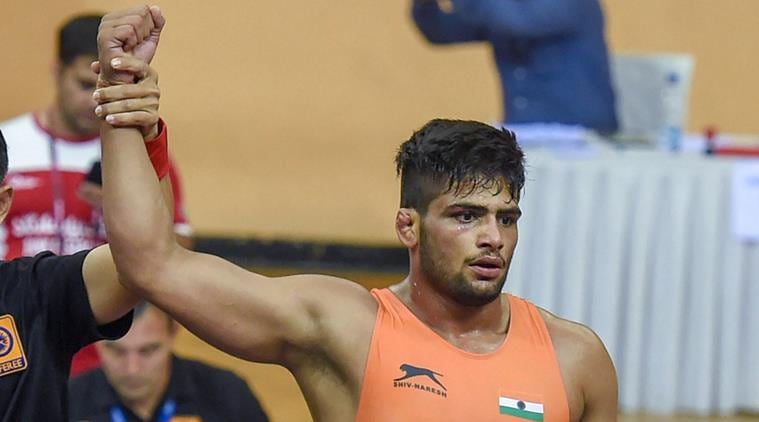 Source | HT
Here's the Indian Team
Arjun Halakurki | 55Kg
Gyanender Dahiya | 60Kg | Seed 2
Neeraj | 63Kg
Sachin Sahrawat | 67Kg
Vikas | 72Kg | Seed 4
Sajan Bhanwala | 77Kg | Seed 3
Harpreet Singh | 82Kg | Seed 2
Sunil Kumar | 87Kg | Seed 2
Ravi | 97Kg
Prem | 130Kg
Schedule
19 April
11.30-14.30
Qualification rounds and repechage GR – 55-63-77-87-130 kg
18.00-21.00
Finals GR – 55-63-77-87-130 kg
20 April
11.30-14.30
Qualification rounds and repechage GR – 60-67-72-82-97 kg
18.00-21.00
Finals GR – 60-67-72-82-97 kg
21 April
11.30-14.00
Qualification rounds and repechage WW – 50-55-59-68-76kg
18.00-21.00
Finals WW – 50-55-59-68-76kg
22 April
11.30-14.00
Qualification rounds and repechage WW – 53-57-62-65-72kg
18.00-21.00
Finals WW – 53-57-62-65-72kg
23 April
11.30-14.00
Qualification rounds and repechage FS – 57-65-70-79-97kg
18.00-21.00
Finals FS – 57-65-70-79-97kg
24 April
11.30-14.00
Qualification rounds and repechage FS – 61-74-86-92-125kg
18.00-21.00
Finals FS – 61-74-86-92-125kg
All times are (UTC+8)