Ranchi | 16 April 2022
At the 9th Indian open Race Walking Competition which is being held in Ranchi the National Record holder Sandeep Kumar and Ravina won the 20Km Race-Walk events.
For the national record holder Sandeep Kumar it was a smooth sail who was comfortable through the race and winning it comfortably with the a gap of more than a minute to the second place Akshdeep Singh. Sandeep also met the AFI set qualification standards for CWG which is set at 1:22:20 by clocking 1:22:05 but missed the Asian Games standard by a whisker which is set at 1:22:00. Chasing Sandeep were three young lads, 22 Year old Akshdeep Singh & 20 Year old Paramjeet Singh Bisht who finished in top two positions at the Inter-Universities in Jan 2022 finished at 2nd and 3rd position respectively.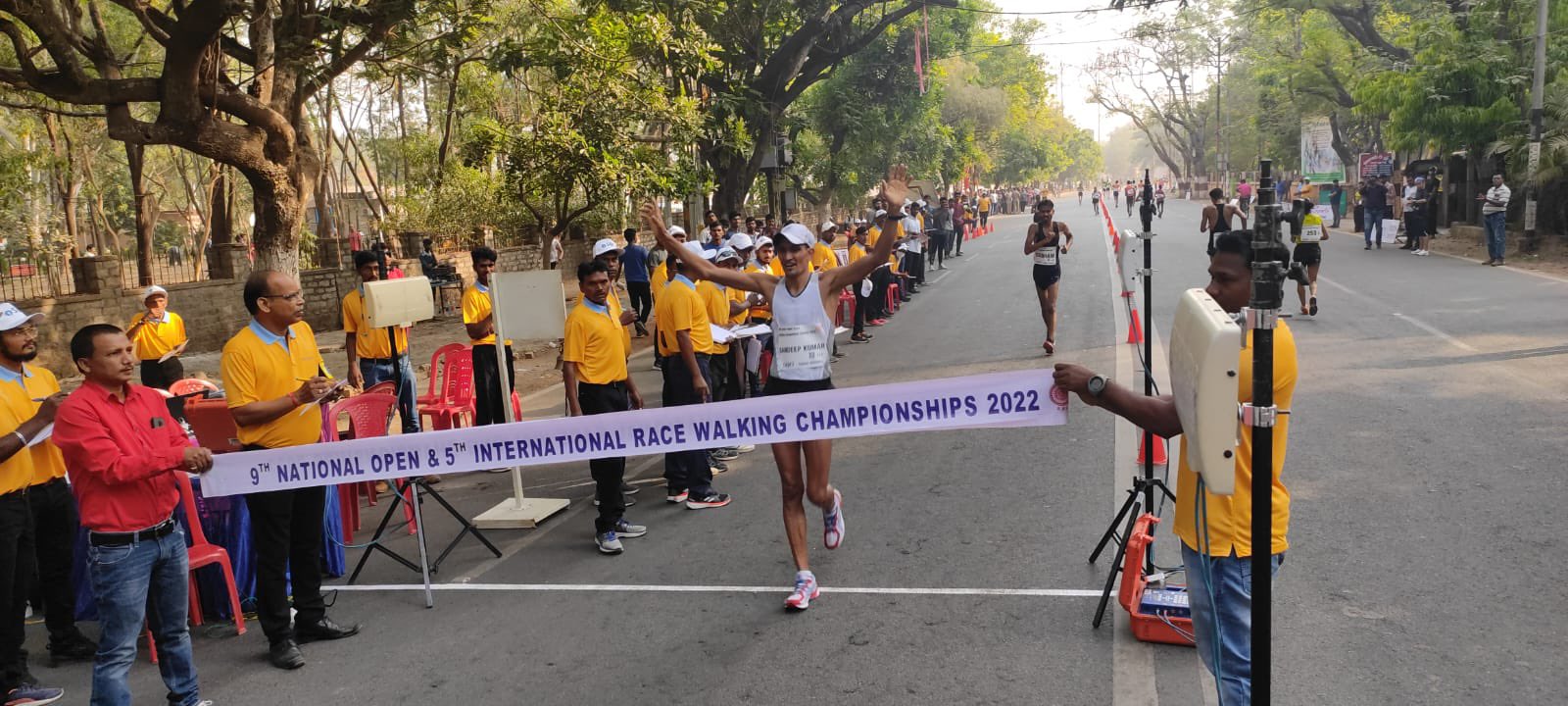 Source | Rahul Pawar
They were being followed by the Amit Khatri who was shy by 15 seconds to finish on the podium.
The Women race-walk saw all the podium winners make it go under the AFI standards for Asian Games. The top position going to Ravina followed by Bhawana Jat and Sonal Sukhwal. The AFI standard stand at 1:34:00.
Sandeep Kumar, Rahul Kumar & Priyanka Goswami have already qualified in the 20Km Race Walk competition for the World Championship to be held at Oregon
20Km Race Walk Men
1. Sandeep Kumar 1:22:05
2. Akshdeep Singh 1:23:14
3. Paramjeet Singh Bisht 1:23:27
20Km Race Walk Women
1. Ravina 1:31:52
2. Bhawana Jat 1:32:31
3. Sonal Sukhwal 1:32:40
The form you have selected does not exist.