After the historical win at Thomas Cup last week. Indians will look to continue the winning momentum at the Impact Arena.
We are here with the updates for the Indians playing the matches today.
Forgetful Day for Indians in Main draw today
R32 Matches
Manu/Sumeeth Lost Alfian/Adianto 🇮🇩 (5) 16-21,13-21
Ishaan/Sai Lost Kota Saito 🇯🇵 20-22,19-21
Arjun/Kapila Lost Lee Yang 🇹🇼 12-21,21-19,19-21
Haritha/Ashna Lost Maiken/Sara 🇩🇰 (8) 5-21,5-21
Palak/Unnati Lost Lima/Lima 🇧🇷 18-21,15-21
Shyam/Sunjith jr Lost Goh/Izzuddin 🇲🇾 7-21,15-21
Match is currently tied at 17 all. And they lose 12-21,21-19,19-21
Ishaan/ Sai also lost to Japanese pair of Koga/Saito 20-22,19-21
Kapila and Arjun comeback to win the next game 21-19
After losing the first game 12-21, Kapila and Arjun are trailing 11-12
Dhruv and M R Arjun on the court now. They are up against WR32 pair of Lee Yang which is their first meeting
Haritha and Ashna were no match for the eighth seed Sara/Maiken 5-21,5-21
Manu Attri/Sumeeth lost in straight games against Alfian and Adrianto the fifth seed 16-21,13-21
All three have lost in the FQR
All three Indians on the court now. Not looking good for Priyanshu as he lost first game 10-21 and trailing next one 11-14
All three men singles players have made it to the final round of Qualifying
Final Men Singles Qualifying Matches
Priyanshu WR81 will be up against Li Shi Feng 🇨🇳 WR49
Kiran WR73 will play against Kai WR82 🇩🇪
Subhankar WR65 plays against Mads WR77 🇩🇰
Ashmita beats Gai in straight games
Ashmita who was top ranked wins against the young American Gai and makes it to the main draw. She won 21-16,21-18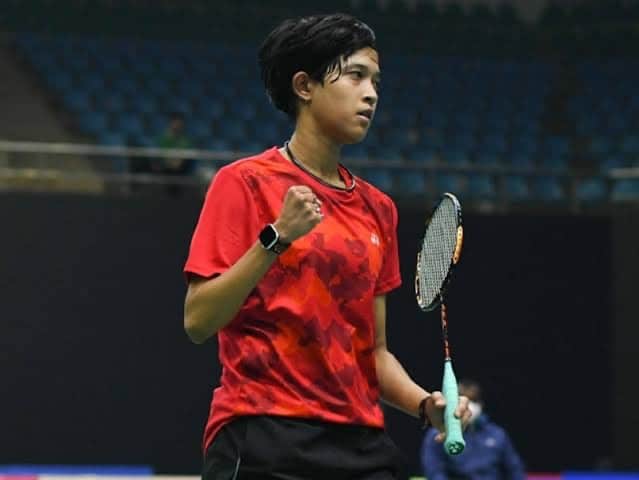 Subhankar defeats Merkle in three games
Subhankar wins 21-6,17-21,21-17 in a very close affair.
Subhankar is currently on one game all winning the first one while losing the second, he currently leads against the higher ranked French 11-7 in mid game interval
Priyanshu Stuns Christo Popov
Young Priyanshu Rajawat has just taken Christo in straight games 21-17,21-16
Kiran wins against Svendsen
Kiran George played won the match in three games against similar ranked Svendsen 🇩🇰, he won 21-19,13-21,21-13
Sunjith and Krishna lost the XD qualifying against local team Ratchapol and Jhenicha in straight games 17-21,13-21