Good Morning and welcome to our coverage of the all important Shooting world championships.
The worlds in Baku offer 4 Paris Olympic quotas per event.
The qualification for men 10m Air Pistol will start at 10:00am IST
Here are the Finals scheduled for 17th August:
10m Men Air Pistol final at 2:15pm
10m Women Air Pistol final at 6:15pm
Live Updates
20 August 2023
Today there are three finals
25m Pistol Women
50m Rifle 3 position
Mixed Skeet
4:15pm | Akhil Sheoran enters final of 50m Rifle 3 Position while Aishwary misses by one point. Niraj a distant 40th place.
3:45pm | 50m Rifle 3 position Men and its Akhil who is going strong at 197 and 198 following up with 95 in standing at 3rd place
3:00pm | It was a disappointing end to the final which barely started. Rhythm was the first one to move out. So no Quota.
2:00pm | All the three Indians have made it safely to the qualifying round starting in 10 minutes
1:00pm | Whatttt 299/300 in Rapid. Unreal stuff from Rhythm as she takes up the last spot in the Final.
12:45pm | Anant and Ganemat is at 19 spot at the moment with a first series score of 47. Angad and Paarinaz have shot a 45 and 46 for a 31st place.
12:30pm | Manu and Esha are out of the contest and just Rhythm to go for it
12:00 pm | Manu also scored 293 but a bad precision yesterday will cost her a spot in finals. She is 20th at the moment
10:35am | Esha shot a 293 today to back up her 288, she is currently at 12 need others to falter for her to make the Finals.
10:25am | Niraj Kumar in the kneeling scored 197 and is on 175 on prone to be at 14th, Akhil has 194 in kneeling and 107 in prone at 31st. Aishwary will go in second relay
19 August 2023
A very important day from Indian perspective as the below events are today
10m Air Rifle Men (Q + Final)
10m Air Rifle Women (Q + Final)
Skeet Men (Q + Final)
25m Pistol Women (Precision)
7:50pm | And Sen survives yet again
7:45pm | Superb one from Mehuli as she shot a 10.4 and 10.8 as Tilottama goes into shootoff with Muller and its the French who exits as Sen hits a 10.7
7:40pm | First elimination as Singaporean is the first to exit. Mehuli at 4th with 125.1 and Tilottama at 6th with 124.8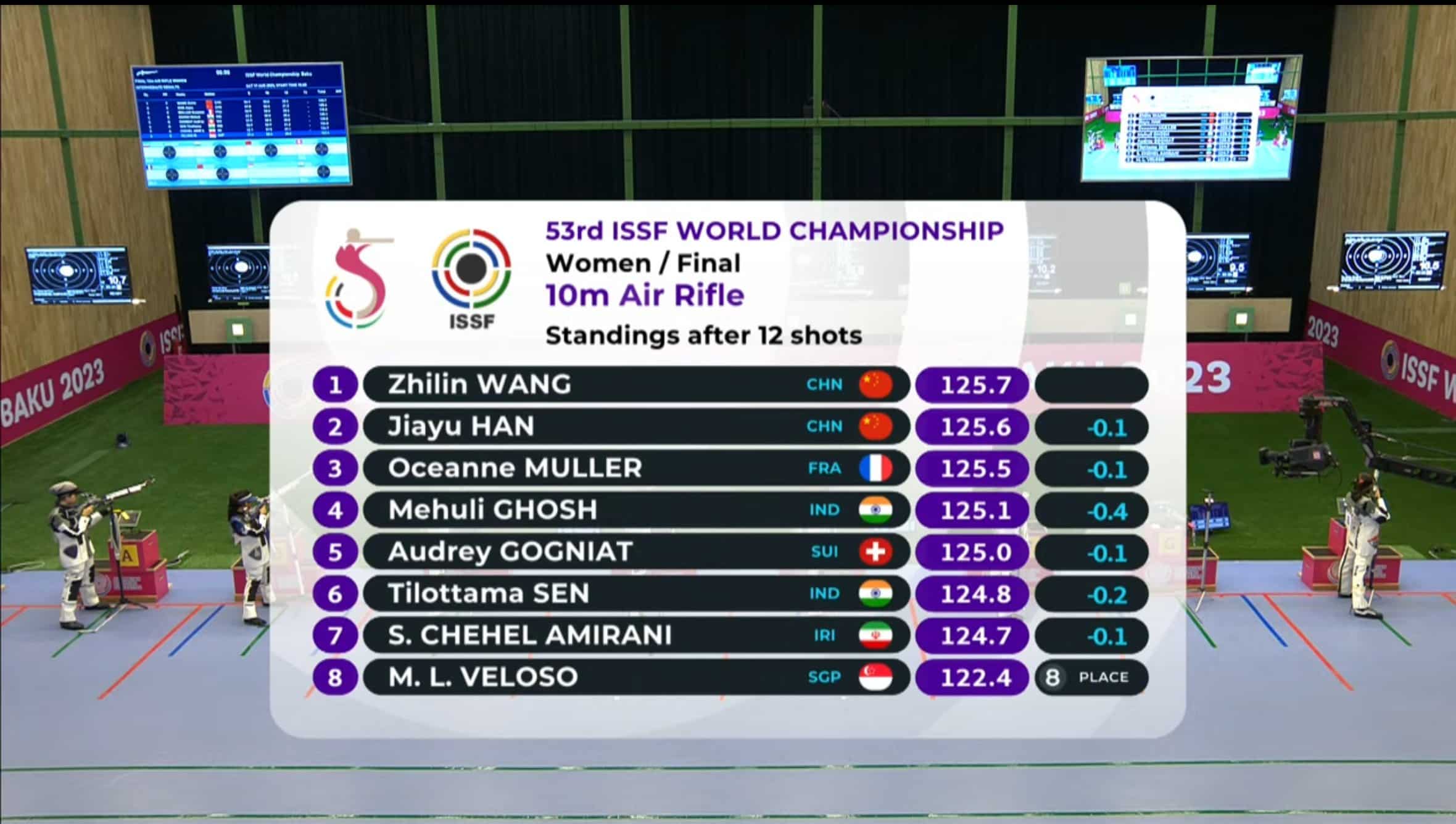 7:38pm | Mehuli at 3rd 104.7 while Tilottama at 6th with 103.6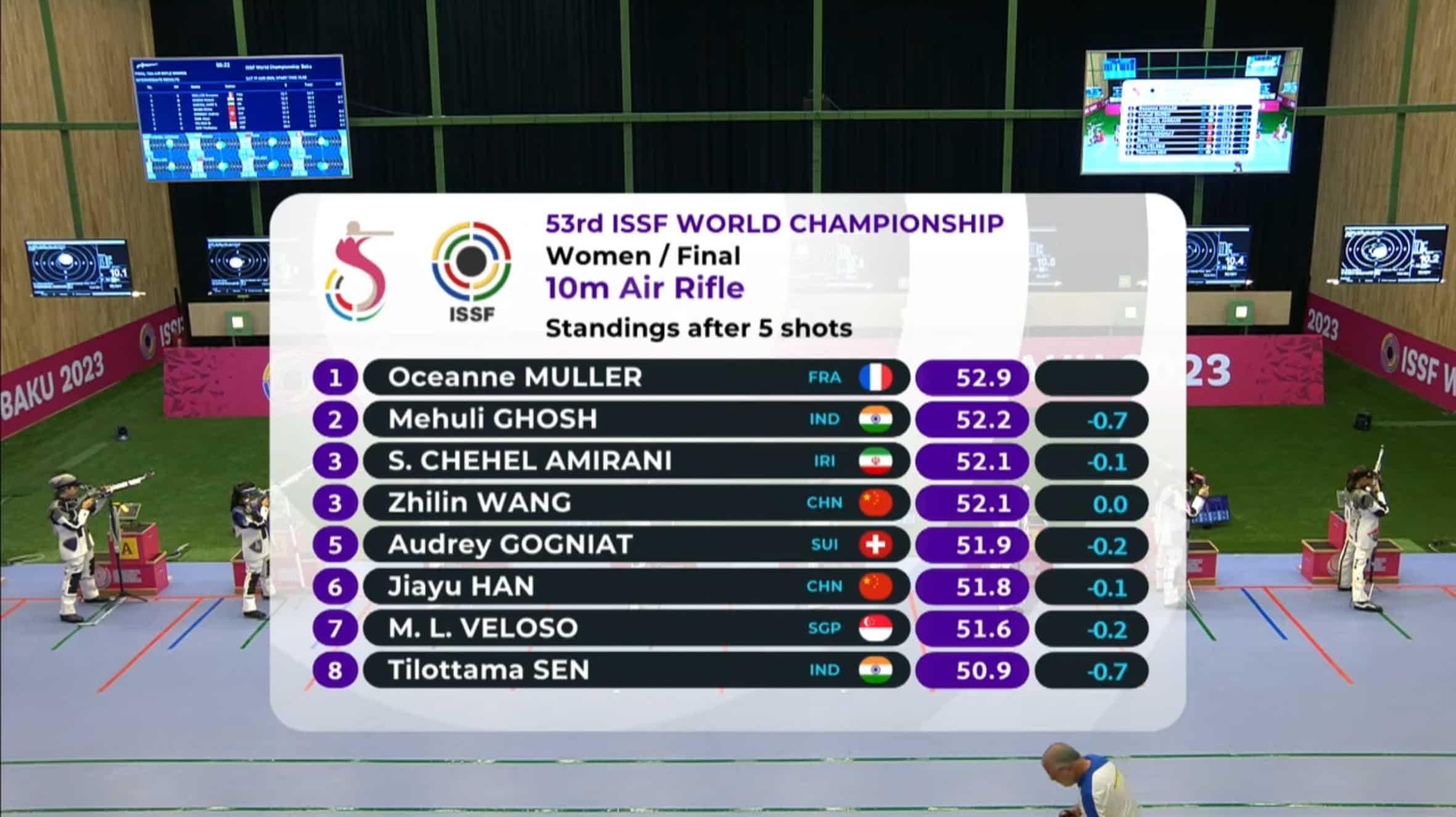 7:35pm | So after 1st series Mehuli at 2nd with 52.2 and Tilottama last at 50.9
7:25pm | Finally after 5 quota events we will have a shot at the Paris Quota.
Gold Medal for India
6:00pm | It was a fantastic performance by the Indian women in 10m air rifle as they won gold with Mehuli topping 634.5 and 15yo Tilottama with 631.3 at 6th while Ramita was 11th at 630.1
2:30pm | Skeet men saw Angad 121/125 at 29th, Anant 120/125 at 44th while Gurjaot with 115/125 at 95th
12:30pm | It was yet another disappointment as all the three shooters fail to make the finals. Divyansh scored 627.5 to be placed at 28th. Aishwary who was looking good had a forgetful last couple of series and eventually did 627.3 for a 33rd place finish. Hriday was 66th.
11:15am | Hriday dipped his performance and finished with a total score of 623.6 which puts him at 32nd provisionally. Aishwary and Divyansh go in next relay.
11:00am | Esha shot a 98,96,94 to be placed 9th provisionally in the 25m pistol precision.
10:50am | Yet another 104s series for Hriday and that would be end of his chances to make finals
10:30am | 10m Air Rifle Hriday finds himself at 14th with a series of 104.7 and 104.8 honestly going to be very difficult unless he now finds 106 series somewhere
18 August 2023
5:30pm | At the end of the day2 in men skeet Angad Bajwa has climbed up to 25th place with a perfect 50/50 score. It may not be enough eventually as he has 97/100. Needs a lot of things to fall in place and yet again perfect round tomorrow. Other Indians Anant is 41st with a 96/100 and Gurjoat with a 91/98 is placed 91st at the moment.
5:00pm | Parinaaz was placed 19th for a 118/125 while Ganemat was 21st for the same score. Darshana with a 115 was placed at 38th place. None made the Finals
Its a Gold Medal for India
4:00pm | Shiva and Esha defeated Turkish team 16-10 to win India's first Gold of the championship
2:30pm | Shiva and Esha will fight for gold medal
2:00pm | Shiva and Esha have topped the Qualifications in the 10m Air Pistol with a score of 583-15x. The second Indian team was Divya and Sarabjot scored 574-20x to be placed 22nd
11:45am | Both the Indian teams failed to make the Medal rounds. Finished 9th and 17th
11:15am | In the skeet women Ganemat seems to have a better day but it might still fall short. She has 95/100 which places her 17th. Parinaaz with a 94/100 is placed 23rd while Darshana with 91/100 is 44th with one series to go
10:45am | Mehuli Ghosh and Aishwary Tomar were placed 7th with a score of 630.2 Ramita and Divyansh were placed 13th for a 628.3 in qualifying of 10m Air Rifle at the end of relay first.
17 August 2023 | Day one Summary
5:45pm | Skeet Women Day1 had Parinaaz with 71 hits at 17th place, Ganemat with 70 hits at 30th place while Darshana with 69 hits for 38th place in the end.
5:30pm | Skeet Men Day1 saw Indians Anant with 48 hits at 45th place, Angad Bajwa with 47 hits at 67th place and Gurjoat with 47 hits at 69th place.
5:20pm | Yet another disappointing round of shooting from Esha and Divya as they notched up  572 and 566 for a 32nd place and 66th place. Somethings wrong here.
Its a Bronze medal 🥉
4:05pm | India has won a bronze medal in the men team competition as the score was good enough.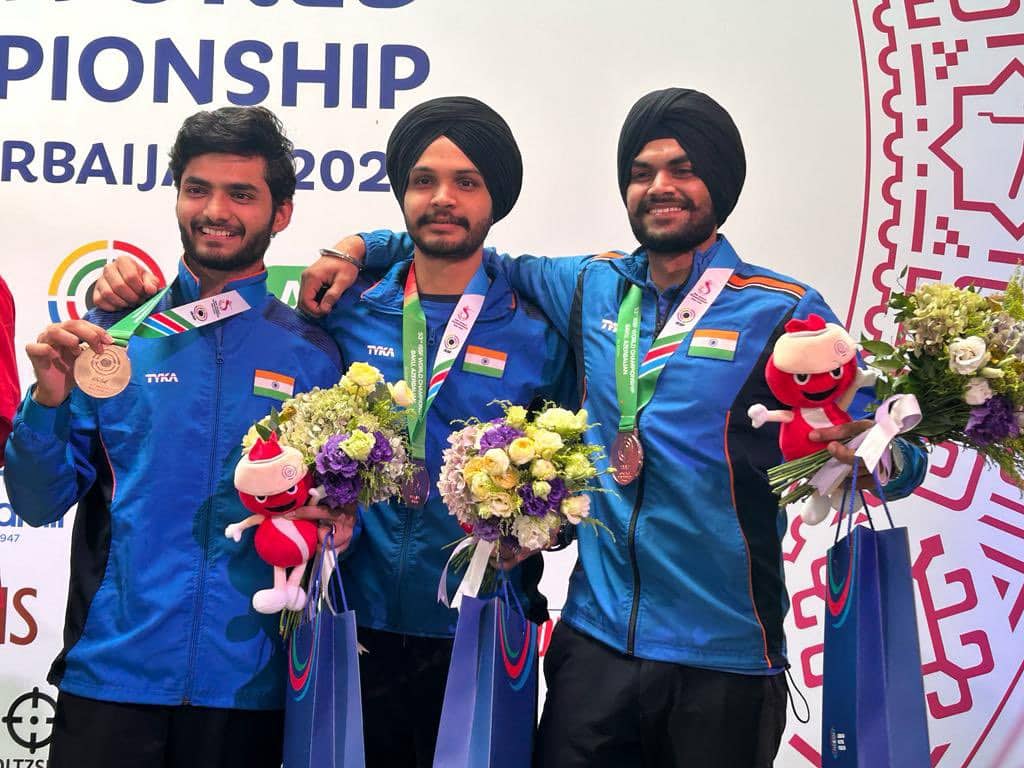 Picture credit SAI Twitter
4:00pm | Palak has had a pretty average 570 which puts her in 22nd place with second set of shooters to go.
3:30pm | Coming back on the Qualifications for Women 10m Air Pistol where once again we have no Paris quota. Three Indians are set to make a splash in the qualifiers.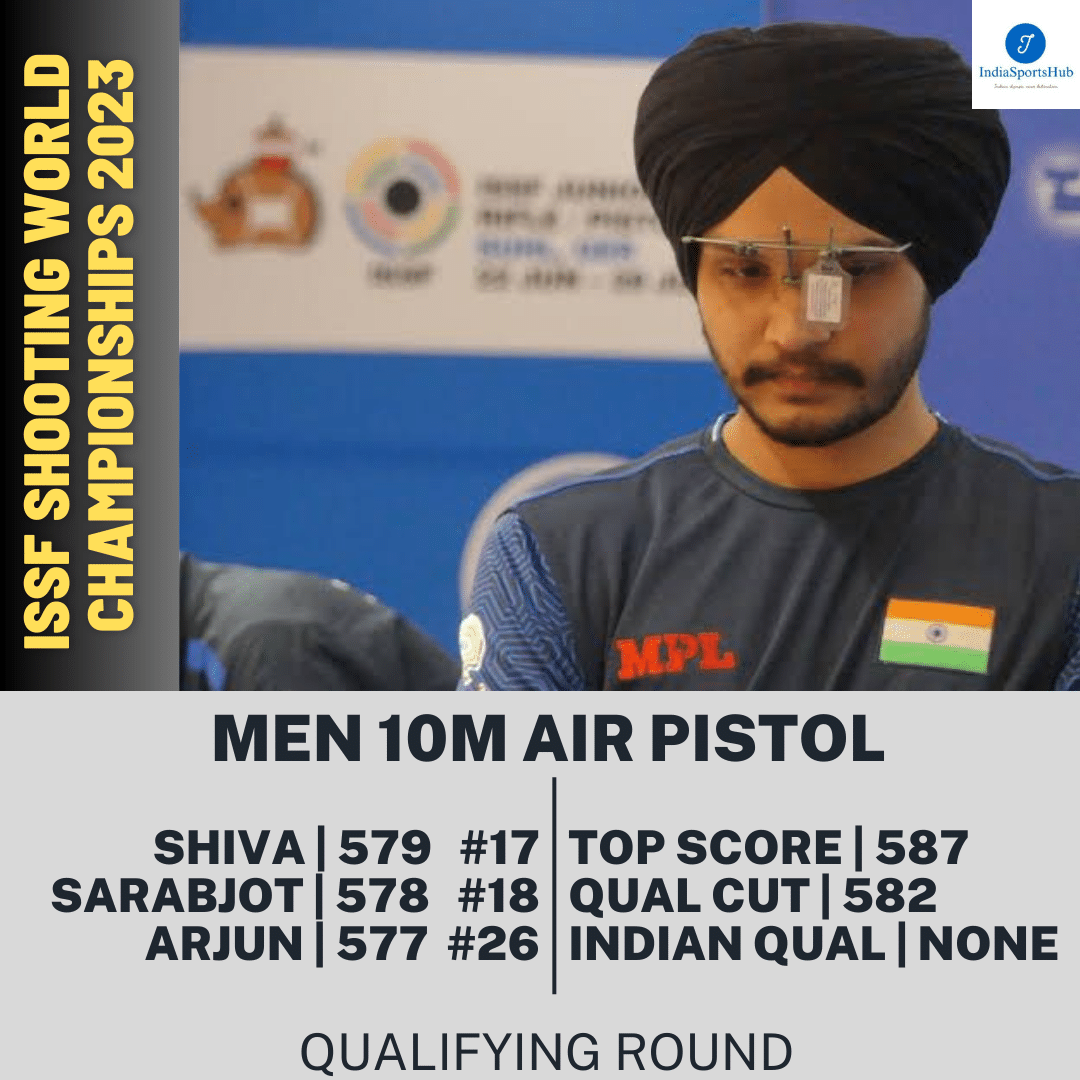 1:30pm | All the three Indian shooters failed to make it to Finals
Shiva | 579 | Rank 17
Sarabjot | 578 | Rank 18
Arjun | 577 | Rank 26
qualifying cut-off 582
11:35am | Shiva 579 and Arjun 577 are out of the finals race as they finish outside the top8 even as the second set of shooters are yet to start. Disappointing to say the least
10:40am | Pretty high scores here, Shiva with a 97,99,96 is placed fifth while Arjun with a 98,96,96,87 is at 12th. Remember this is just one set of shooters so a safe position is about 3/4 place
10:18am | In the men 10m Air Pistol Arjum Cheema starts off pretty well with 98,69 while Shiva is at 97,20. Sarabjot goes in the second relay
Men's 10m air pistol team ( subject to qualifying)
Arjun Cheema
Shiva Narwal
Sarabjot Singh
Women's 10m air pistol team ( subject to qualifying)
Palak
Esha
Divya Subbaraju