The 200 meter or 200-meter dash
It is a sprint running event. On an outdoor 400 meter racetrack, the race begins on the curve and ends on the home straight, so a combination of techniques are needed to successfully run the race. A slightly shorter race, called the stadion and run on a straight track, was the first recorded event at the ancient Olympic Games. 
In the United States and elsewhere, athletes previously ran the 220-yard dash (201.168 m) instead of the 200 m (218.723 yards), though the distance is now obsolete. Another obsolete version of this race was the 200 metres straight, which was run on tracks that contained such a straight.
Initially, when the International Amateur Athletic Association started to ratify world records in 1912, only records set on a straight track were eligible for consideration.
In 1951, the IAAF started to recognise records set on a curved track. In 1976, the straight record was discarded.
A slightly shorter race than the current 200m – the 192m one length of the stadium race – was part of the Ancient Olympics. The 200m for men was first added to the 1900 Paris Olympics and has since featured at every Games except 1906. 200m for women have contested the distance at every Olympics since 1948.
Olympic history
In Olympic history the event has served up many unforgettable races including world record performances for the likes of Jesse Owens (1936) Michael Johnson (1996) and Usain Bolt (2008). Among some of the great women's Olympic champions are Wilma Rudolph (1960), Marie-Jose Perec (1996) and Allyson Felix (2012).
The race primarily attracts runners from the 100 metres, wishing to double up and claim both titles. This feat has been achieved by men eleven times and by women eight times at the Olympic games. 
The men's world record holder is Usain Bolt of Jamaica, who ran 19.19s at the 2009 World Championships. The women's world record holder is Florence Griffith-Joyner of the United States, who ran 21.34s at the 1988 Summer Olympics.
The reigning Olympic champions are Andre De Grasse (CAN) and Elaine Thompson-Herah (JAM). The reigning World Champions are Noah Lyles (USA) and Dina Asher-Smith (GBR).
Races run with an aiding wind measured over 2.0 metres per second are not acceptable for record purposes.
Men | Amlan Borgohain ran the race in 20.52 seconds at the Federation Cup 2022 to set a new record.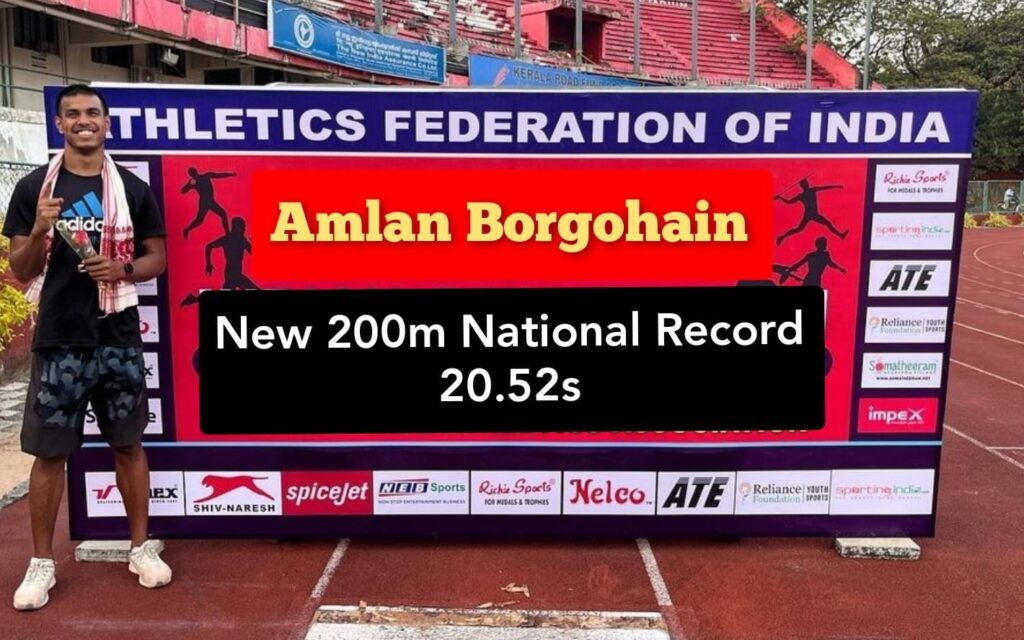 Women | Saraswati Saha holds the Indian record with a timing of 22.82 seconds . She achieved the feet at the National Meet in 2002.