India won 3 Gold & 4 Silver on the day one of the competition.
Here's todays schedule
Medal Events
10m Air Rifle Mixed  Junior Team
10m Air Pistol Mixed Junir Team
Trap Men Junior
Trap Women Junior
Details
In the Women Trap Junionr Sabeera has made it to the next round with a score of 115/125. She was third in the qualification.
Gold Medal Match Underway
Palak and Sarabjot make it 14-10 in Saurabh/Esha favor. And in no time its 14-12 in Saurabh and Esha favor, consecutive three points won by Palak & Sarabjot. But the much experienced pair of Saurabh & Esha win the Gold Medal beating Palak/Sarabjot 16-12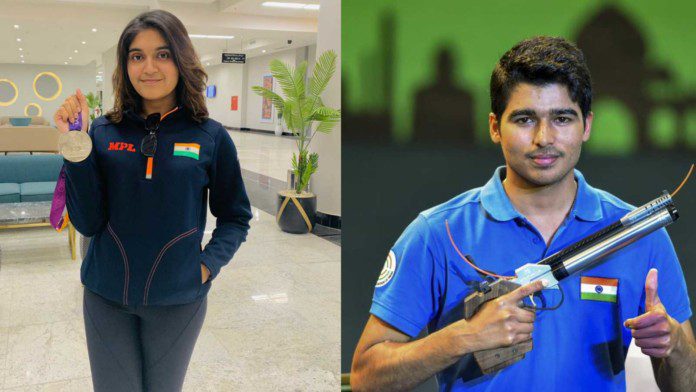 An All Indian Gold Medal match underway as Saurabh/Esha meet Palak/Sarabjot in the Mixed 10m Air Pistol event
And Saurabh/Esha has a comfortable lead of 12-6.
In Women Trap Junior Sabeera has shot a controlled 23 to place herself in the third position
Saurabh & Esha finish Second behind Palak & Sarabjot which means its yet another 1-2 for India. Both the teams qualify for the Gold Medal match
Gold Medal Match Underway
Ramita & Paarth are hunting for Fourth Gold for India. They currently trail 5-11. Not looking good for the Indians as they now trail 7-13. A comeback of sorts 11-15 now, one more for the Indians 13-15, but not enough as Polish got to 16+ and India settle for Silver
In the Qualification 10m AP Saurabh & Esha have started well with a 193 to currently sit at top.
In Men Trap Vivaan Kapoor has come back in the reckoning with a brilliant 24, he is at 7th position now
Palak & Sarabjot have topped the Qualification with a score of 578, this is seven better than 2nd position. No competition here, its like they are competing with themselves.
Men Trap none look good right now to move into the next round, lets see when the fourth round closes.
In the Women Trap Junior Sabeera has started with a consistent 24 to climb to the second place with one round to go. Other Indians are pretty far off and looks improbable for them to make it to the next round
The qualifications for 10m Air Pistol Mixed Team Junior are on now, and there is no Manu & Saurabh as a pair. Instead its Sarabjot & Palak as India2 and Saurabh & Esha as India1. Shiva also doesnt get a look in here, he won the Gold medal yesterday.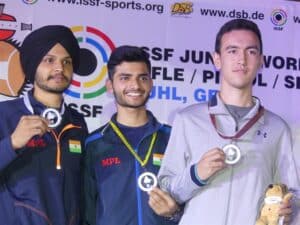 Ramita & Paarth have made it to the Gold Medal match against Poland scheduled for 3:15pm IST
The Indian team of Ramita & Paarth have topped the qualification with a score of 628, one set of teams are yet to start, but this score surely taking them to next round
Currently the Indian team sits at the top position with a score of 209 in first series, a brilliant 105.1 from Paarth.
India has two teams fielded in the first live event of the day 10m Air Rifle Mixed. Ramita with Paarth & Arya with Rudrankksh.