Hello and welcome to our coverage of Archery World Cup Stage 1 happening in Antalya Turkey.
A dissapointing morning session for the Indian Archery Fans. Lets see how the afternoon session gives us. Individual competition underway.
Rajat Chauhan & Priya Gurjar Enter Quarterfinals
6:15 pm | Rajat Chauhan is in some fine form, he scores a 148 to defeat the home player Haney to make it to Quarterfinals. In the women category Priya Gurjar continued to make waves as she defeated Mariya from luxembourg 143-140.
While Rajat had the lead since start Priya's match was much closer with slightly low scores and she managed a perfect thirty only in the last round.
Rajat Chauhan & Priya Gurjar Enter PreQuarterfinals
5:45 pm | Rajat Chauhan defeats the fifth seed Jozef from Slovakia 148 – 145 but Aman Saini was in for a tough one against the forth seed Jean who scored a perfect 150 for Aman's 145. Abhishek Verma lost in tiebreaker against the french Baraer.
While in the women section Priya Gurjar stunned the first seed in a rather low scoring affair, both shot a 140 and Priya won in tie breaker. All the other three lost in the round
Muskan 141-146 Ayse
Avneet Kaur 144-144 Ellison [lost in TB]
Raginee Markoo 142-146 Yesim
Not looking good for Indian archers, almost all are trailing at this moment except Rajat Chauhan who is leading by a solitary point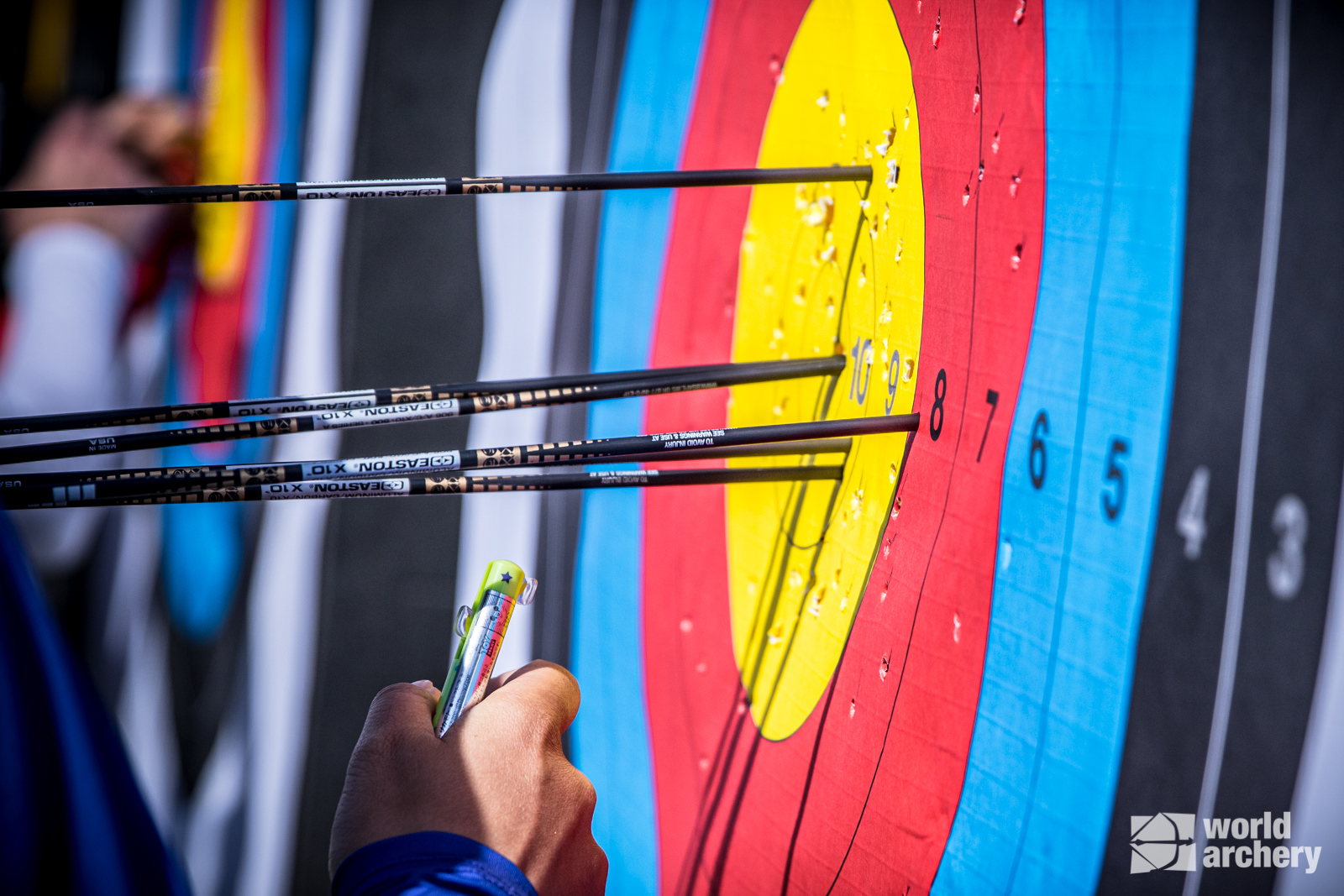 Source World Archery
Men Individual
1/32 Matches
Rajat Chauhan def Pan Ping 142-139
Abhishek Verma def Gilles Seywert 144-141
Aman Saini def Aljaz Brenk 145-143
Mohan lost to Sawyer 144-147
1/32 Matches
Priya Gurjar def Adel 145-141
Muskan Kirar def Diana 145-139
Avneet Kaur def Martine 146-138
Raginee Markoo def Sydney 144-141
All top 4 seeds are through to the next round in both the categories
1:10 pm
Quaterfinal Men & PreQ Women
India 58-58 Ukraine Men
India 55- 53 USA Women
India Men team suffers a shock loss against the Ukraine team 1-5 Score | 58-58, 53-56, 55-58
Women team has sailed through comfortably to the Quarterfinals beating the USA 6-0 | Score 55-53, 53-52, 54-49
1:00 pm India men will be up against Ukraine in the Quarterfinals and Women will be up against USA in PreQuaterfinals which could be a tricky encounter.
12:55 pm
PreQuarterfinals
First up are the Indian Men Team who are up against the Croatia in the Pre Quaterfinal match.
India takes a 2-0 lead with a 57 round against a low 52 from the opponents
India loses the second set 56-57 to make it 2-2
Indian Men team manages to win the third set with a score of 55 against 53 from Croatia.
Indian Men move to Quaterfinals with a 6-2 win over Croatia who surprised Bangladesh in Round 1, Bangladesh in recent times have been an upcoming nation in the recurve category.
Today the Team Matches in Recurve are scheduled in the morning session along with Compond Individual matches in the afternoon session.
After a fairly succesful day yesterday wherein the Men Compound team made the Finals and the Men Recurve Team topping the Qualification. India will look to continue the good form. Korea, Japan & China are not taking part in this world cup.
Men Team
India is up against Croatia in the PreQuaterfinals match.
The form you have selected does not exist.