Star Compound Archer Abhishek Verma is the only highlight of the Qualifications for India as all other out of Top10 at Archery World Cup Stage 2
At the Gwangju Archery World Cup Stage 2 being held in Korea. The first day had the qualifying rounds for the compound archers.
It was a pretty average performance from the Indian Contingent barring Abhishek Verma. He stood rank 3 at the Qualifying with impressive scores of 353 & 356.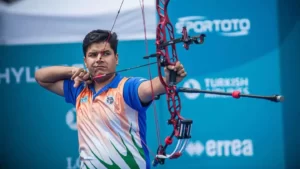 Abhishek missed the top position by couple of points. The other Indians at the men qualifying were Aman Saini, Rajat Chauhan & Mohan Bharadwaj.
While Aman had a torrid first round where he scored 346 to be placed 40th in the rankings he had a terrific second round when he shot a 356 to grab a 4th place and overall 13th in the rankings. Rajat Chauhan who is also a very experienced archer started with a 350 in Rd1 but returned with a 348 which placed him at 31st rank overall.
Mohan Bhardwaj continued to struggle throughtout as he finished with scores of 348 & 346 to finish at rank 40th.
The last world cups winner Mike topped the rankings here as well with Korean Jongho Kim at second place.
India Men Team to face Italy, Korea got bye
The ment team grabbed at 4th position and will face Italy in the Pre-Quarterfinals tomorrow. Should we go by seeding the Indian team will face USA in the Quarterfinals with Korea waiting for them in the Semifinals. India had won the gold medal in the Stage 1 World Cup in Antalya.
Disspointing performance by women archers
The women archery compound team from India had a forgettable outing as none of them could secure a place even in top10. Avneet & Muskaan shot a 689 to be placed 14 & 15th on the ranking. Priya Gurjar shot a below par 675 to be ranked 35th while Raginee shot a 673 for a 38th rank.
Source | World Archery
Ella Gibson who won the Stage 1 World cup gold is not taking part in this and the qualifications was topped by the great Sara lopez from Colombia
The Women team was placed at rank 5 and was lucky to get a bye for the Quarterfinals where they will meet Chinese Taipei on 18 May. Should they win they might face Korean team in Semifinals.
Avneet & Abhishek to pair for Mixed Team
The top ranked from men & women Indian were ranked sixth and deservadly have a bye to the pre-Quarterfinals. They will face Denmark or Singapore on 20th May.