Olympian duo of Arjun Jat & Arvind Singh Qualified for the SemiFinals
A strong seventeen member Indian contingent is participating in the World rowing cup in Belgrade, Serbia. The team was spearheaded by the impressive duo of Arjun Jat & Arvind Singh who made everyone in India take notice of them by their performance in the Tokyo olympics. India is taking part in only Four of the Sixteen open & lightweight events being held at the world cup.
Lightweight men's doubles sculls & men's four team make the Semifinals
The first race for Indians was in the Men's Four category wherein we had two different teams competing in second & third heat. As both the teams finished fourth in the heats they were eligible to compete for the semifinals via the repechage rounds.
The repechage round saw five teams competing for the three places in the Semifinals the team of Jasvinder, Bheem, Punit & Ashish just did enough to scrape through the third position with a time of 6:02.41 which was 18 seconds better than what they clocked in the heats and hence making it to the Semis and keeping there hopes alive.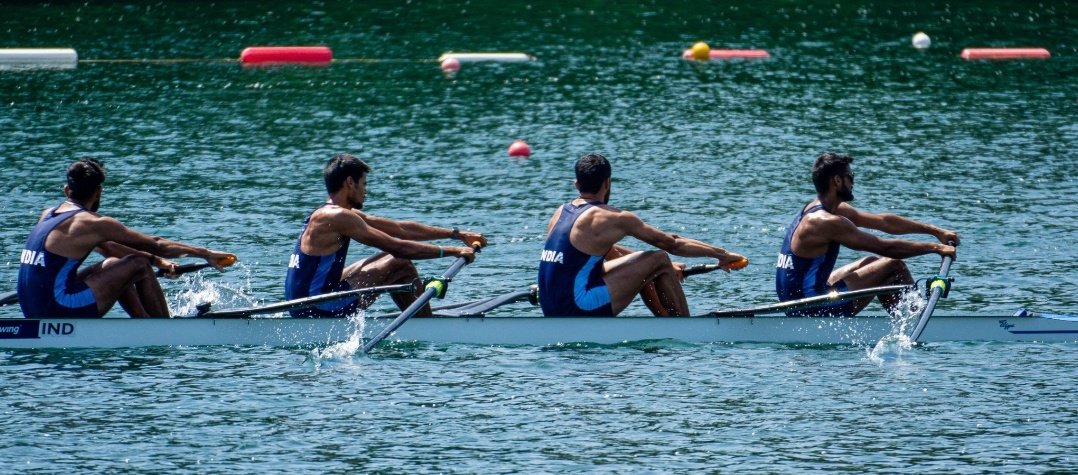 Source World Rowing
The second Indian team finished with a time of 6:09.68. This was also better than the 6:32 they clocked in the heats but not enough to take them through. The team of Jasveer, Iqbal, Neeraj & Charanjeet will now be competing in the Final C which is for the classifications.
In the Men Singles Sculls Dushyant, the lone Indian participant finished last in his heat with a time of 7:36.98. The fourth place finish got him into the Quarterfinals wherein he clocked a much better time of 7:08.80 but it wasnt enough to keep him active in the competition and he will now compete in the Final D for classification round.
Lightweight Men's Double Sculls
Speaking about Lightweight Men's Doubles sculls race which had all the Indian eyes on with interest. In the first heat the pair of Arwinder Singh & Ajay Tyagi finished at fourth position with a timing of 6:55.88 but was enough only for a repechage round.
The heat three saw Arjun Jat & Arvind Singh finish second in a rather slow race with a time of 6:46.52 and qualified for SemiFinals. The duo of Arwinder & Ajay returned for the repechage race but could only muster a fifth place finish which put them on to Final C
In the last race with Indian interest saw Ashish Phugat, Sukhjinder Singh, Jakar Khan & Sukhmeet Singh finish last with a slow time of 6:10.64 and hence will compete in the repechage round and will look to finish in top two places to keep their chances alive.
Source World Rowing
In the four events India has entered rowers only Arjun & Arvind had a clear path to the semifinals.
Final Results Day One
Lighweight Men Double Sculls

Arjun/Arvind – SemiFinal

Arwinder/Ajay – Final C

Men Single Sculls

Men;s Four-

Jasvinder/Bheem/Punit/Ashish- SemiFinal

Jasveer/Iqbal/Neeraj/Charanjeet- Final C

Men's Quadruple Sculls

Phugat/Sukhmeet/Sukhjinder/Jakar- Repechage