Who will reach the 90 barrier first?
Neeraj Chopra or Mirabai Chanu
Albeit in different sports the 90 mark is the most elusive one for both the stars of India and the most awaited one for now.
Mirabai Chanu and Neeraj Chopra have started started the season on a positive note winning gold in CWG and silver at World Championship. But the 90 barrier has not been breached by either of them which should not be a difficult one with the kind of form they are in.
Chanu earlier had revealed that she is competing against herself in the CWG and would want to break the 90kg in the snatch. For her to compete with the strong Chinese breaching this mark is very important as in Tokyo Zhi Yui lifted a whopping 96kg.
Source Insidesport
Starting 2022 she did not take part in the Senior National Championship in March but took part in the 1st Khelo India National Ranking weightlifting tournament in June where she lifts 86kg in snatch. Then in CWG she bettered it with her PB of 88kg.
Though she tried to lift 90 in her 3rd attempt she couldn't and finished with 88. She went on to win the gold at CWG 2022 separating her by 29kg with the silver medalist.
She holds the record for clean and jerk of 119kg which she is very strong at, with the World Championships to be held in November in Bogota she has ample time for practice and test herself at the bigger stage.
Neeraj Chopra started the year after taking a long break post the Tokyo Olympics. Started the season by breaking his own NR at the Paavo Nurmi Games followed it up breaking another at the Stockholm Diamond League with 89.94m. He then had a different sort of World Championship where he came from behind to win a silver with a throw of 88.13m in his 4th attempt.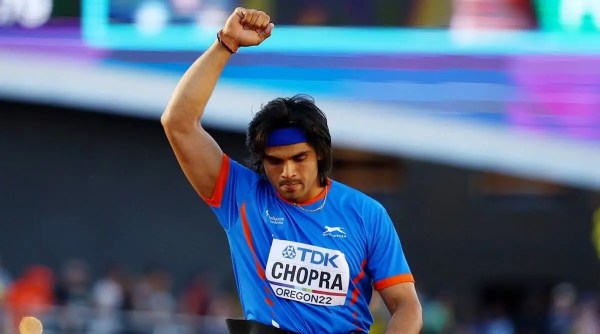 Source IndianExpress
If you look at his performances he would have the best throw inside the first 3 throw's itself but at World's it was a different challenge but eventually winning the silver. With Peters with a 93+ throw many expected Neeraj to break the 90+ barrier. With injury ruling him out
of the CWG he will eventually take part in the Diamond League and probably at Zurich (if he qualifies).
Hopefully by end of this year both Chanu and Neeraj break the barrier and make good progress going forward for the Paris Olympics in 2024.