Amidst an action packed day for Indians, one man kept the Indian fans waiting late past midnight.
Srihari Nataraj who had qualified for the Tokyo Games last year showed immense competitive spirit as he raced two times in the day with good timings to mark his entry into the Finals of the 100m Backstroke Men event.
In the swimming discipline there were four swimmer in action from India and only Srihari managed to come last in his heat. Infact he did one better as he clocked a time of 54.68 to be placed at 5th position amongst all in the heats thus making the Semis.
Srihari who holds the National Record of 53.77 in the 100m Backstroke event then came back at 1:25am to swim in the Semi Final amongst a very experienced field. At the 50m mark Srihari was swimming in second position but couldn't keep up the pace and finished 4th in his heat.
But his timings ensured that he reaches the Finals as the seventh fastest, considering the timings clocked so far Srihari still has the appetite to carve out few more seconds but it remains to be seen if he can really challenge for a medal.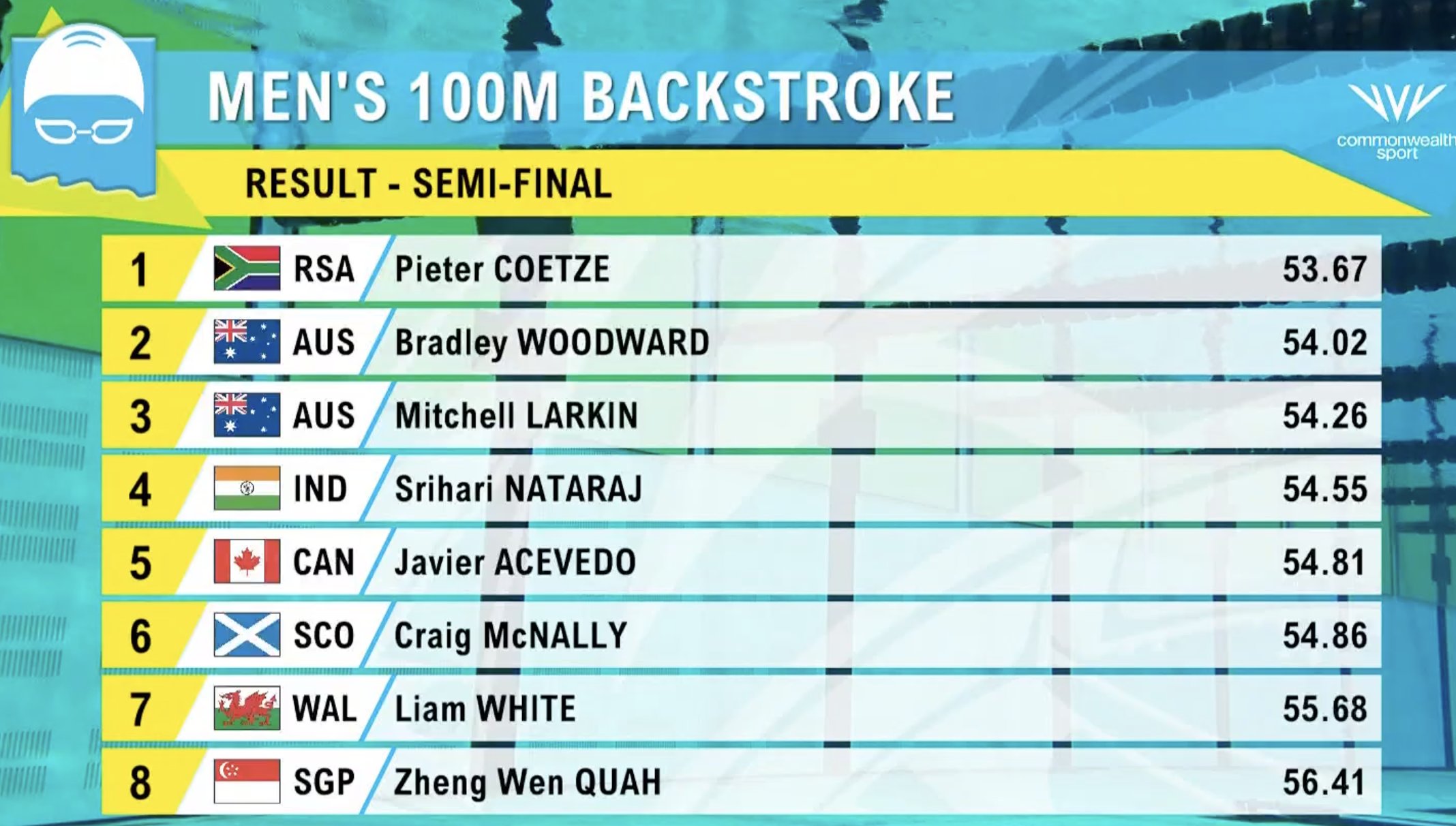 India has never won a Medal in able-bodied swimming at the CWG Games and this definitely is a great start.
At the last games Srihari did make it to Two Semifinals in the 50m & 100m backstroke. Sajan Prakash was the last to qualify for the finals at CWG games from India when he made it to 200m Butterfly directly from the heats
Other Results in Swimming on Day 1
Sajan Prakash : 25.01 | 8th in Heat | 24h overall | 50m Butterfly
Kushagra Rawat : 3:57.45 | 8th in Heat | 14th overall | 400m Freestyle
Ashish Kumar : 1:18.21 | 8th in Direct Final | 100m Backstroke S9