Sagar who had earlier won a bronze medal in 74kg category is a former U17 world champion and has won U20 and U23 Asian titles.
India had five wrestlers in the fray on day 1 of the competition and would have expected better outcome.
In the 57kg category Sagar lost to Nishiuchi by technical superiority 0-10 he will be fighting for bronze medal.
Jaskaran who lost 0-12 in the qualifying rounds of 65kg category to Ogino from Japan wont even get repechage.
Narender who lost a close one in the qualifying rounds to Uzbek wrestler 7-10 in the 70kg category also doesn't get a repechage as Uzbek lost the next round.
In the 97kg category Deepak Chahal defeated Tomaili from Moldova 12-2 but then lost to Ukrainian wrestler 4-8 in the quarterfinals. Ivan from Ukraine scored a very close victory 5-3 in semifinal.
That was enough to pull Deepak in Repechage where he faces Egyptian wrestler for a place in bronze medal match.
The star of the day for India was Sagar Jaglan who is one of the only two returning medalists from last year for India.
Coming all the way from qualifying where he first defeated Bulgarian wrestler 15-4 he scored a fantastic win by tech superiority against Jordan 10-0. The Quarterfinals also saw him win by tech superiority 11-1 against Turkey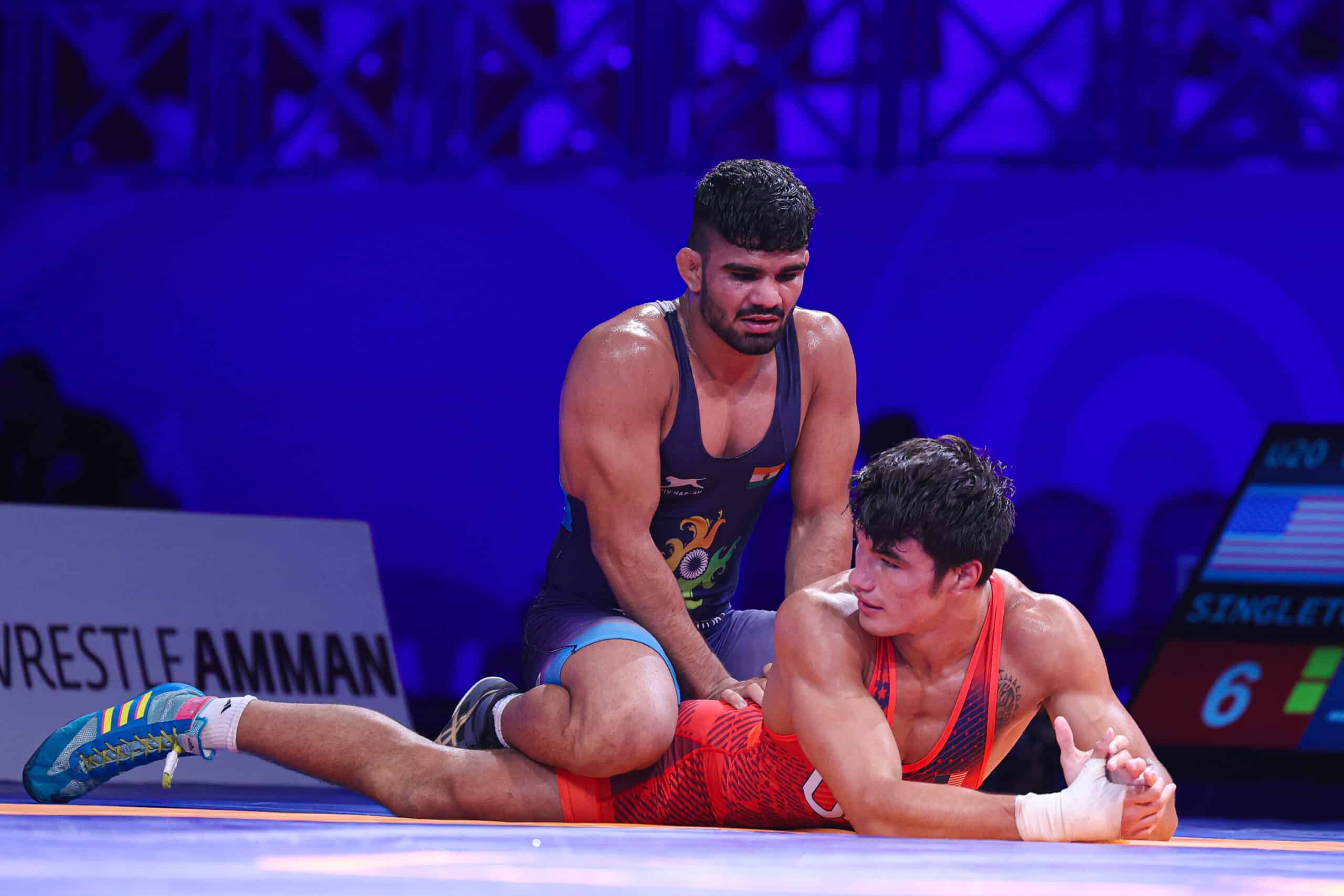 In the semifinals he was up against American wrestler who have actually three in finals of the five. Sagar showed no mercy as he outclassed Matthew 16-6.
Singleton opened the scoring with a single-leg for four. But Jaglan went all out with his pressure and broke Singleton as time progressed.
Jaglan scored five stepouts, a takedown and got a point for fleeing in the first period to lead 8-4 at the break.
Sagar faces Ibragim Kadiev for the U20 title today.
RESULTS
57kg
GOLD: Yuto NISHIUCHI (JPN) vs. Luke LILLEDAHL (USA)
SF 1: Yuto NISHIUCHI (JPN) df. SAGAR (IND), 10-0
SF 2: Luke LILLEDAHL (USA) df. Ruslan ABDULLAYEV (AZE), via fall (7-9)
65kg
GOLD: Jesse MENDEZ (USA) vs. Mohammad Reza SHAKERI (IRI)
SF 1: Jesse MENDEZ (USA) df. Abdullah TOPRAK (TUR), 3-1
SF 2: Mohammad Reza SHAKERI (IRI) df. Dalgat ABDULKADYROV (AIN), 11-8
70kg
GOLD: Meyer SHAPIRO (USA) vs. Ali REZAEI (IRI)
SF 1: Meyer SHAPIRO (USA) df. Julian GEORGE (PUR), 11-0
SF 2: Ali REZAEI (IRI) df. Omurbek TAALAIBEK UULU (KGZ), 6-4
79kg
GOLD: Ibragim KADIEV (AIN) vs. Sagar JAGLAN (IND)
SF 1: Ibragim KADIEV (AIN) df. Ali TCOKAEV (AZE), 8-4
SF 2: Sagar JAGLAN (IND) df. Matthew SINGLETON (USA), 16-6
97kg
GOLD: Ivan PRYMACHENKO (UKR) vs. Abolfazl BABALOO (IRI)
SF 1: Ivan PRYMACHENKO (UKR) df. Uladzislau KAZLOU (AIN), 5-3
SF 2: Abolfazl BABALOO (IRI) df. Camden MC DANEL (USA), 5-1