The second day of Women Wrestling competition saw Indian Priya Malik upgrade her Silver to Gold, becomes only the Second Ever Indian women to be Junior World Champion.
The phenomenal day for India which saw as many as Four women wrestle through the draw to SemiFinals. Three of them actually made it to the Finals and will be fighting for Gold.
It feels surreal as India has had only One U20 world champion in women wrestling in the history. That moment also came only in last championship when Antim did the unthinkable.
She looks set to defend her crown as well as she has once again entered the Finals of the 53kg category. She will be up against Mariia from Ukraine today.
Dont get confused if you see yet another Antim become junior world champion as there is another Antim (not a phangal) who made her way to finals. In the 65kg category she will be up against Hungarian wrestler Eniko.
What impressed all was the way Savita made her way to Finals, in the 62kg category. Can we say gone are the days when Indians facing Japanese women wrestlers dreaded the result.
Savita defeated Suzu by fall to mark her entry Semifinal. Yet another by fall victory awaited her against French wrestler in semis.
All three of her wins have come by fall and do we say that we want to see yet another win by fall to make her the Third women junior champion from India.
Harshita suffered a loss by fall in the 72kg category and will fight for bronze medal.
Reena in the 57kg also has a chance in Repechage.
All five wrestlers have a chance to medal today.
The best was saved for the evening which saw Priya Malik rule the mat with an emphatic victory over German in heaviest category 76kg. Priya won 5-0 and in the process became only the second ever women junior wrestler to be world champion in u20 category.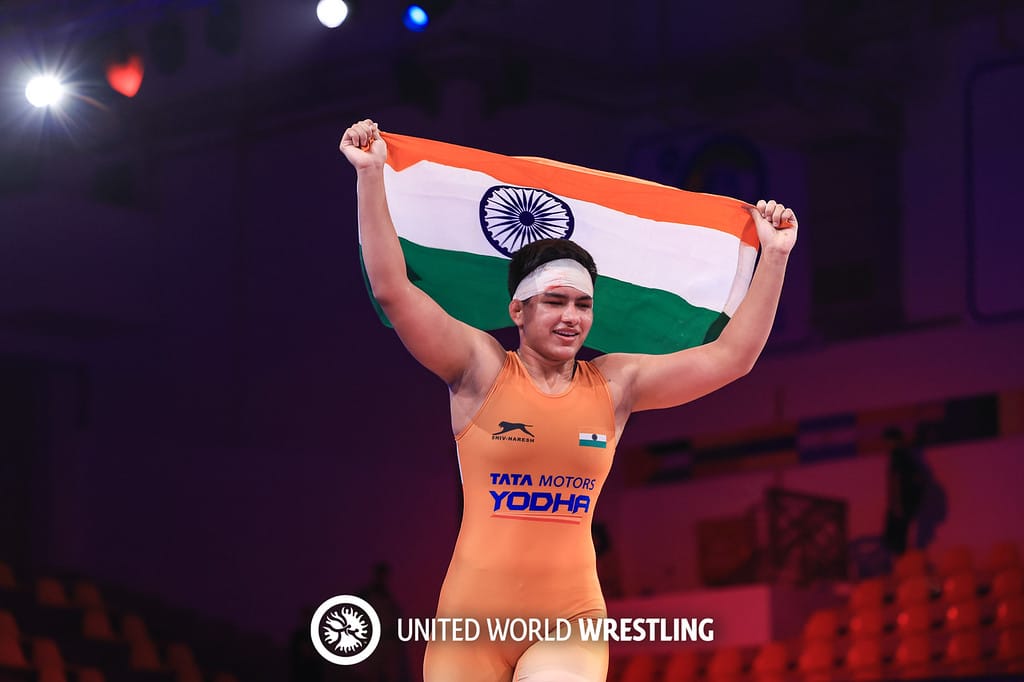 Arju added one more bronze medal defeating Turkish wrestler comfortably 8-1 in the 68kg category