Hello and welcome to our special coverage of the World Athletics Championships at Budapest 2023
This is possibly the most anticipated single sport competition after FIFA World cup. The build up is phenomenal.
If you are looking at the India schedule for the championship you can get it here
Heres what you can expect on day 1 for India.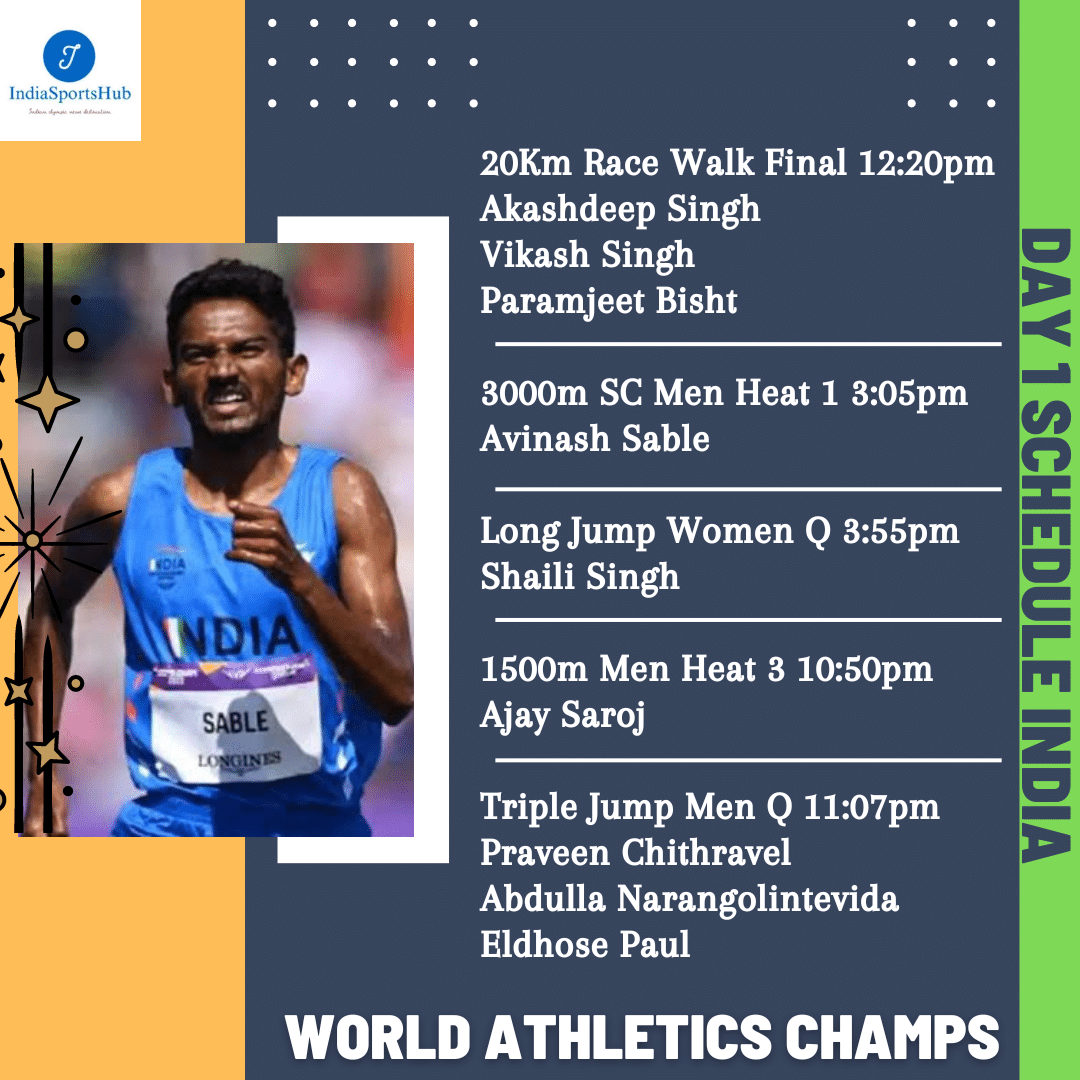 Here's what the auto qualifying marks look like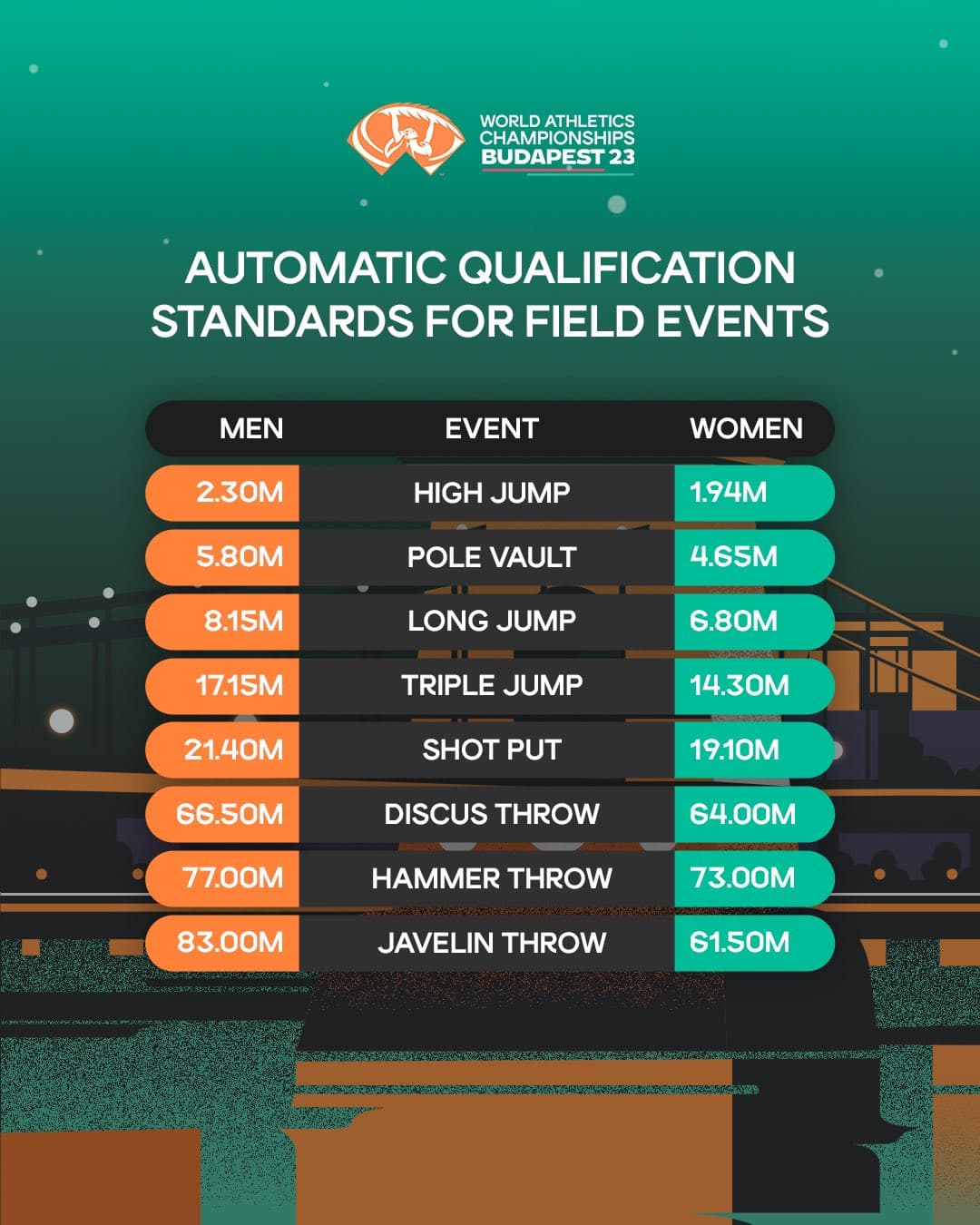 The events on day 1 for India includes the 20km race walk, 3000m SC heat, long jump women qualifying, 1500m heat, triple jump men qualifying.
Lets have a look at India's chances in these events.
20km race walk
India has three walkers in the event with Akashdeep the fastest in the season, he has a 1:19:55. The world lead stands at 1:17:38 with Jun Zhang. It will be a difficult one for the Indians to finish in Top10 here given the competition. However it will be a good learning experience. As per the SB times Akash is 21st while Vikash is 23rd and Paramjit is 25th.
3000m SC Heat
The fastest five in each heat will make the finals. One would expect Avinash to sail through given his history. There are 12 competitors in the heat. While comparing from SB timings Sable stands at fourth currently with the fastest being Kenyan Simon Koech at 8:04.19
Sable has a personal best of 8:11.20 which slightly away than his season best of 8:11.63

Long Jump Women Qualifying
Shaili Singh all of 19 years and competing at the grand stage of World Championships. She is accompanied by Anju Bobby George the only women and one of the two medalists at this stage for India. Shaili has a best jump of 6.76m while an autoQ mark is set at 6.80.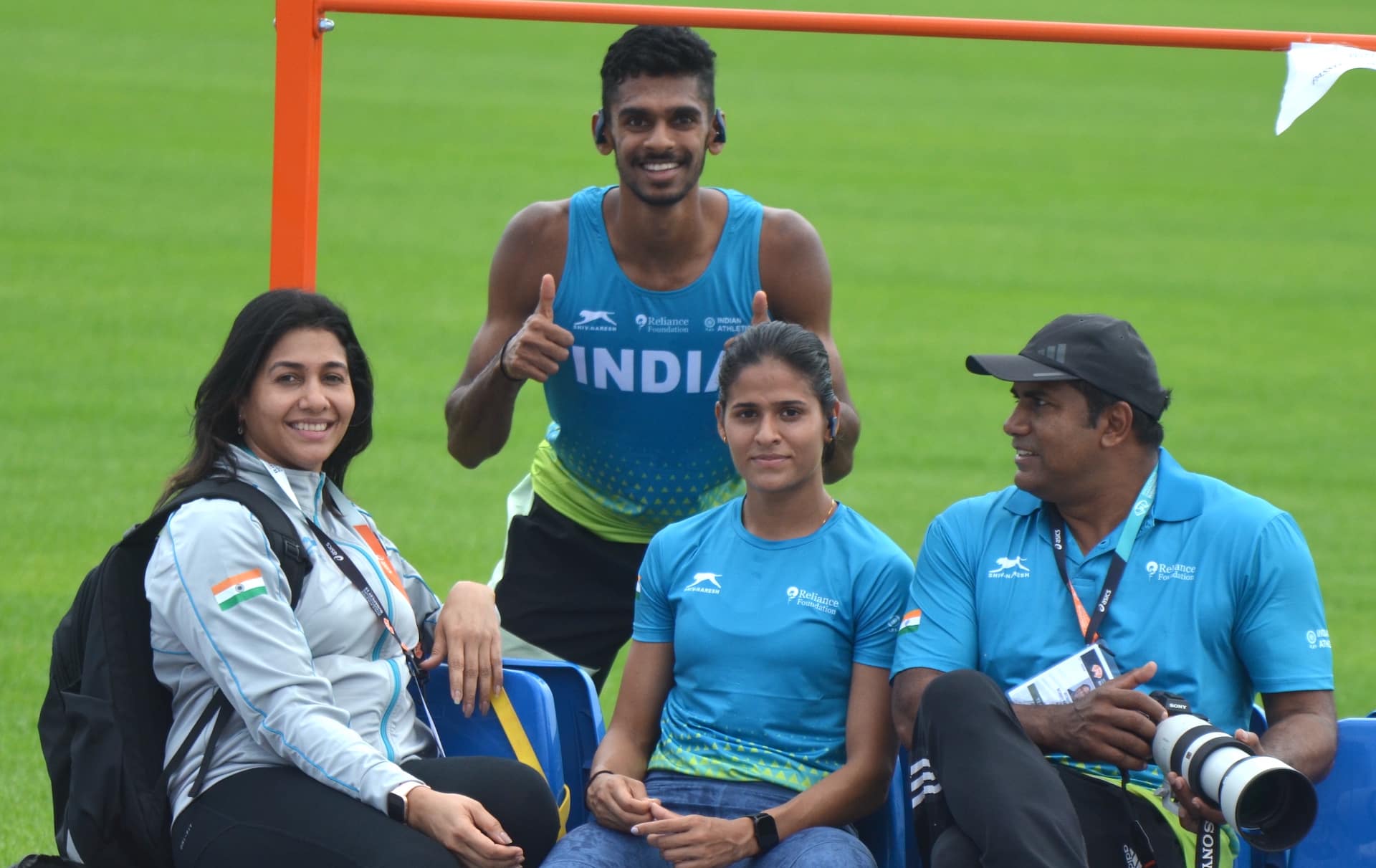 Given its her debut and you get only three jumps it remains to be seen how she does. The world record is 35 year old in the name of Galina at 7.52m. The world lead stands at 7.08 in the name of Ackelia Smith from Jamaica.
There are 36 participants so to make it to Top12 is going to be challenging.
As per the season best performance Shaili stands 23rd but it the world stage and lets see how she performs.
1500m Men Heat
Ajay Kumar Saroj will go into heat 3 in a bid to be  in top6 so he makes the semifinals. Looks extremely difficult as he has the SB time of 3:39.19 which puts him on 14/15 participants.
The world record is 25 year old and stands at 3:26.00
Triple Jump Qualifying
One of those events where we have a full presence of max athletes possible. The autoQ mark is set at 17.15m. Of the Indians only Praveen with a 17.37(WL5) has beaten that mark for the year. Eldhose is yet to breach 17m while Abdulla who has a personal best of 17.19 has managed a best of 16.92 this season. All three train together and have a camaraderie lets see where it takes them
There are 16 jumpers with a 17+ mark this year. The world lead is Jaydon Hibbert with 17.87 while the world record is 28 year old at 18.29m in the name of Jonathan
Live Updates
As we build upto the start of day 1 and three of our race walkers will compete in 20km race walk.
Here's how it looks thanks to Jonathan Selvaraj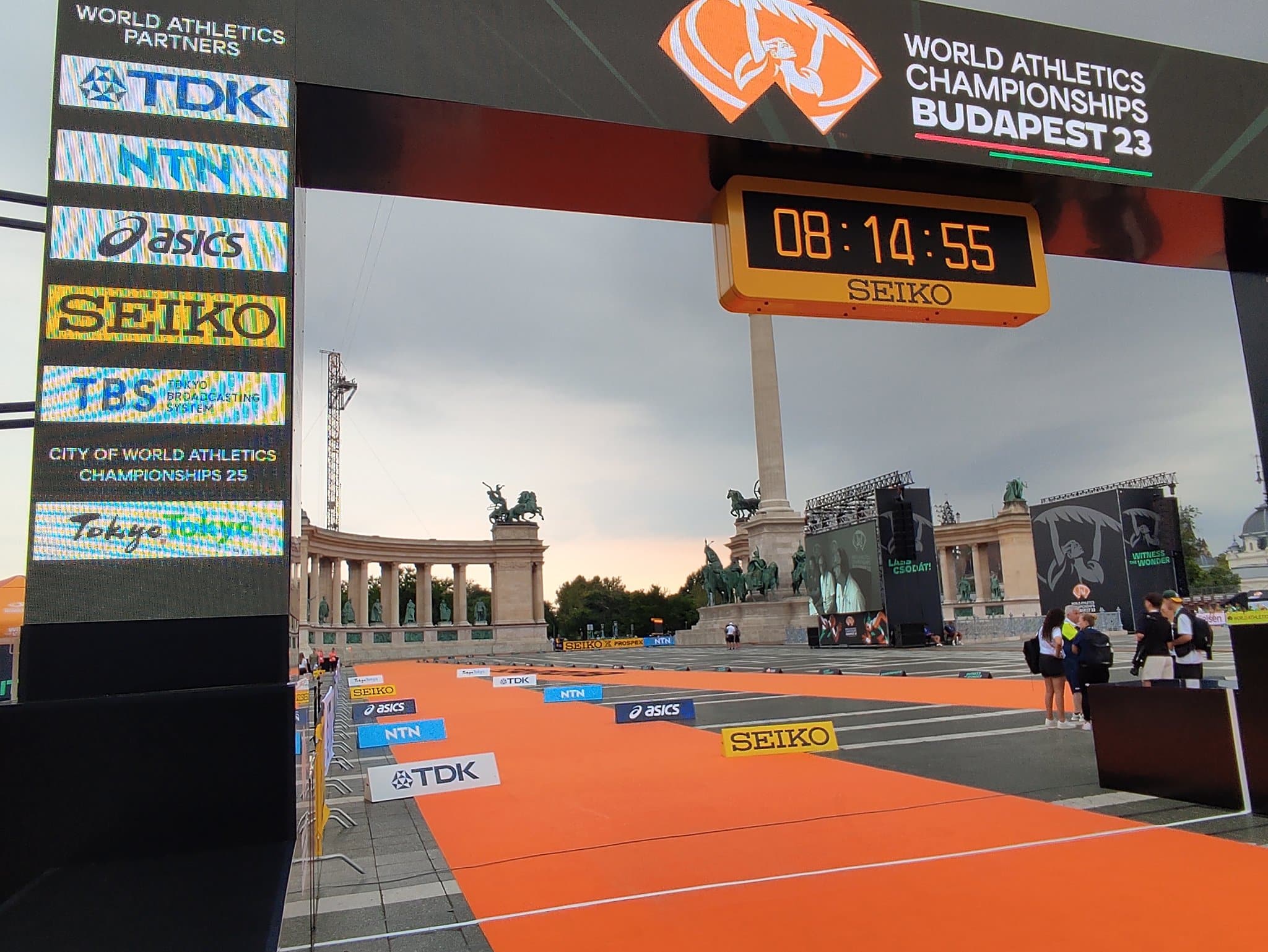 Race walk starts at 12:20pm.
A storm is on its way to Budapest and the opening event in the World Athletics Championships, the men's 20km walk has been delayed by two hours.
4:00pm | The results for 20km Race walk are in.
Vikash Singh did a 1:21.58 for a 27th place while paramjeet was 35th for a 1:24.02. Akashdeep was last with a 1:31.12
5:30pm | Avinash Sable once again fell prey of a slow race as he finished 7th with a 8:22:24 in heat 1 and hence out of Final contention.
5:45pm | Shaili Singh comes up with a 6.26 in her first attempt, needs much more.
5:56pm | Shaili with a 6.40 which places her at 11th in her group.
6:15pm | Shaili goes 6.30m in her third attempt and that will be it. SHE FAILS TO MAKE FINAL.
7:00pm | Events left in the evening for India are 1500m Men Heat and Triple Jump Men Qualifying
10:57pm | In 1500m Heat 3 Ajay Kumar Saroj ran a good race. New PB of 3.38.92 in the men's 1500m for Ajay Saroj but not enough to make the semis at the World Championships.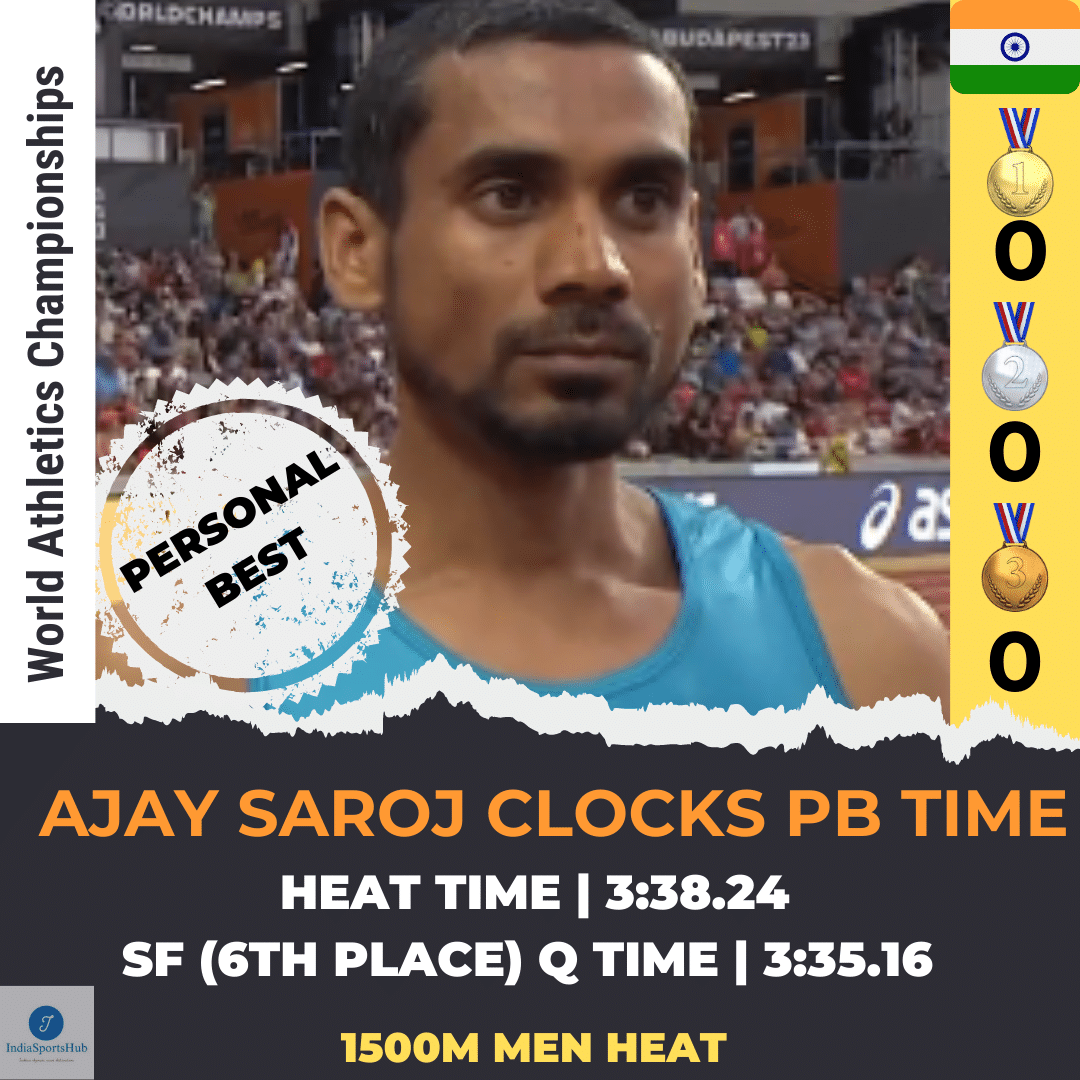 11:18pm | Now upto the Triple Jumpers to save the day for India 🇮🇳
11:20pm | Eldhose starts of with a pretty mediocre 15.59m. Will need to add a lot to it should he look to make the finals
11:26pm | Praveen comes up with a 16.38m which provisionally puts him in third place in group
11:45pm |After the first round of jumps
Praveen Chithravel: 16.38m
Abdulla Aboobacker: 16.61m
Eldhose Paul: 15.59m
12:15pm | It ends in disappointment for Indian fans as none of the Triple Jumpers were able to even qualify for Finals. The best was Abdulla with a 16.61 for 15th place. Praveen the world lead five came up with 16.38 for a 20th place while Eldhose was poor with 15.59 for 29th place.
---
Heres what looks like Indian schedule for day 2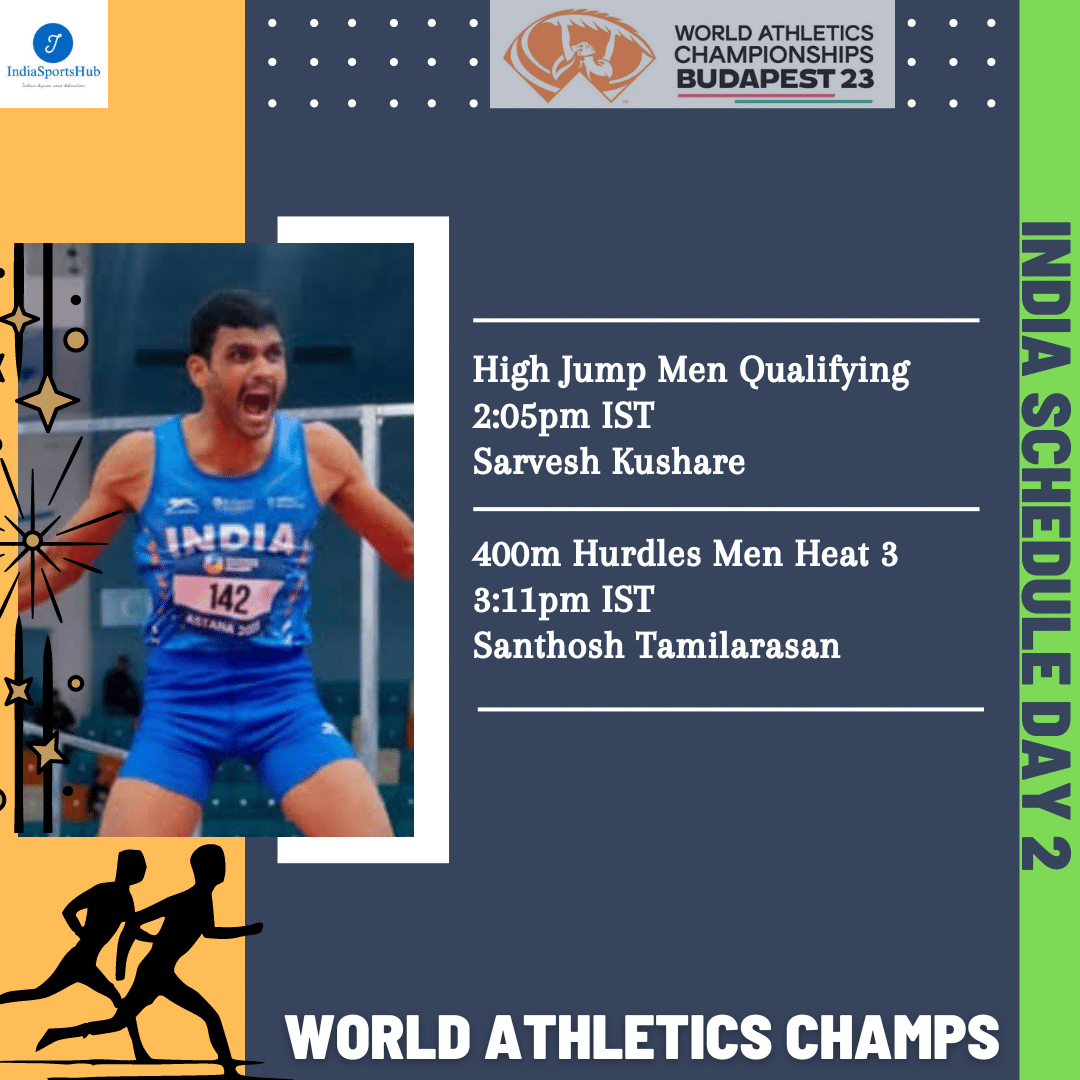 2:20pm | Sarvesh Kushare has cleared 2.14 with ease, 2.30m is the qualification for Final mark or the best 12
2:45pm | Sarvesh failed in his first attempt of 2.18 but clears in second attempt
3:05pm | Sarvesh has cleared 2.22m, his best is 2.27 with a 2.26 this season
3:25pm | Santhosh clocks a 50.46s which is slower than his personal best to finish 7th in Men 400m Hurdles
4:18pm | Sarvesh couldn't clear 2.25m so the mark for him will remain 2.22m.
---
There is no action for India on Day 3 and we will resume on Day 4
---
Welcome here is the schedule for the Day 4. We have two events and there is only evening session today at the competition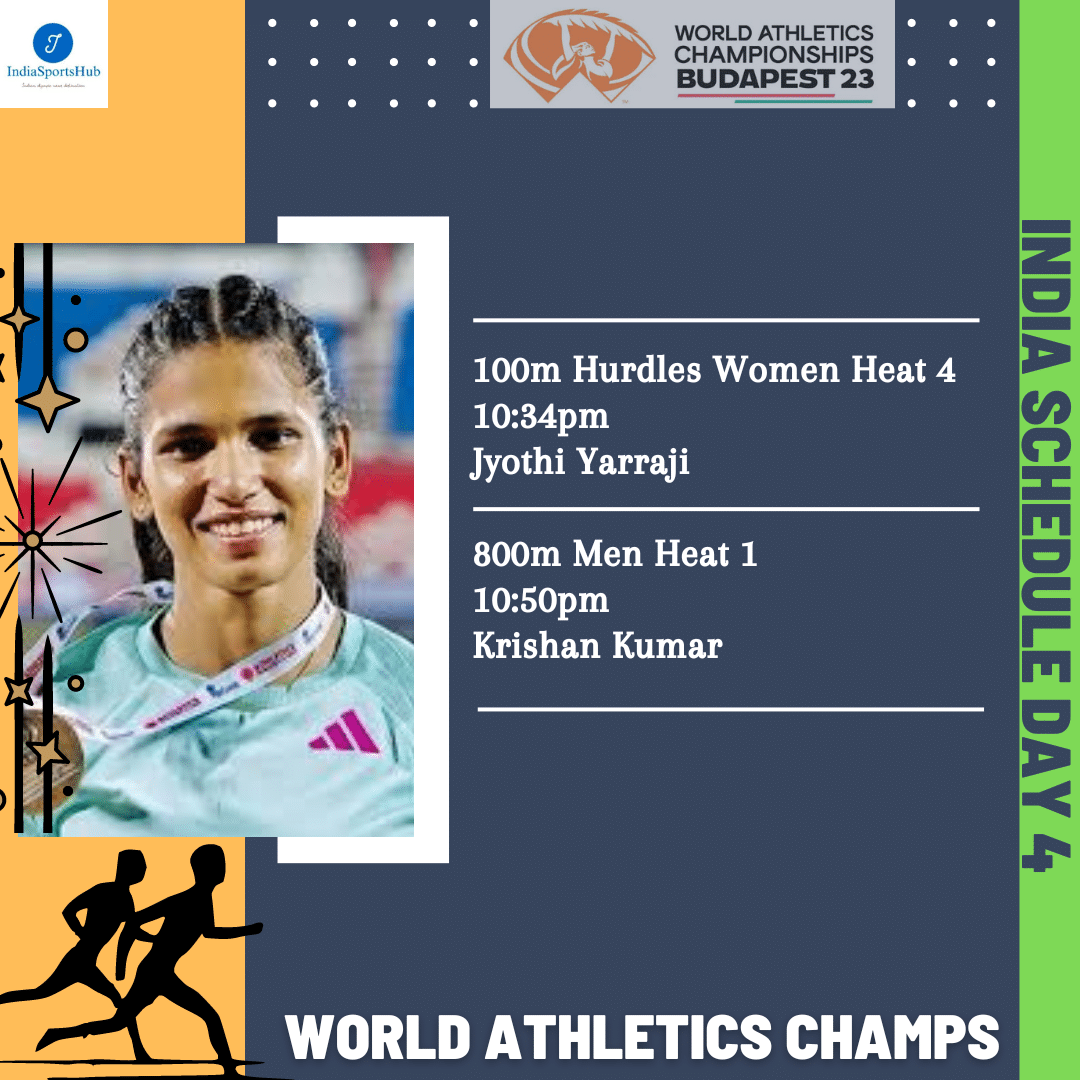 First up is Jyothi Yarraji, she has been phenomenal wherever she has competed till now. This is possibly the biggest stage for her. Hope she is mentally prepared for it.
She goes in the Heat 4 and there are pretty fast timings in the First three, remember only Top4 make with 4 fastest non-automatic make it.
Jyothi comes up with a timing of 13.05s which is not so like her but she had a touch on hurdles i guess on the sixth or seventh one. She fails to qualify for Semis
Krishan Kumar up next, well a very ordinary race for him as he lost all the traction right on the first lap. Finished way below his season best. 1:50.36 for him.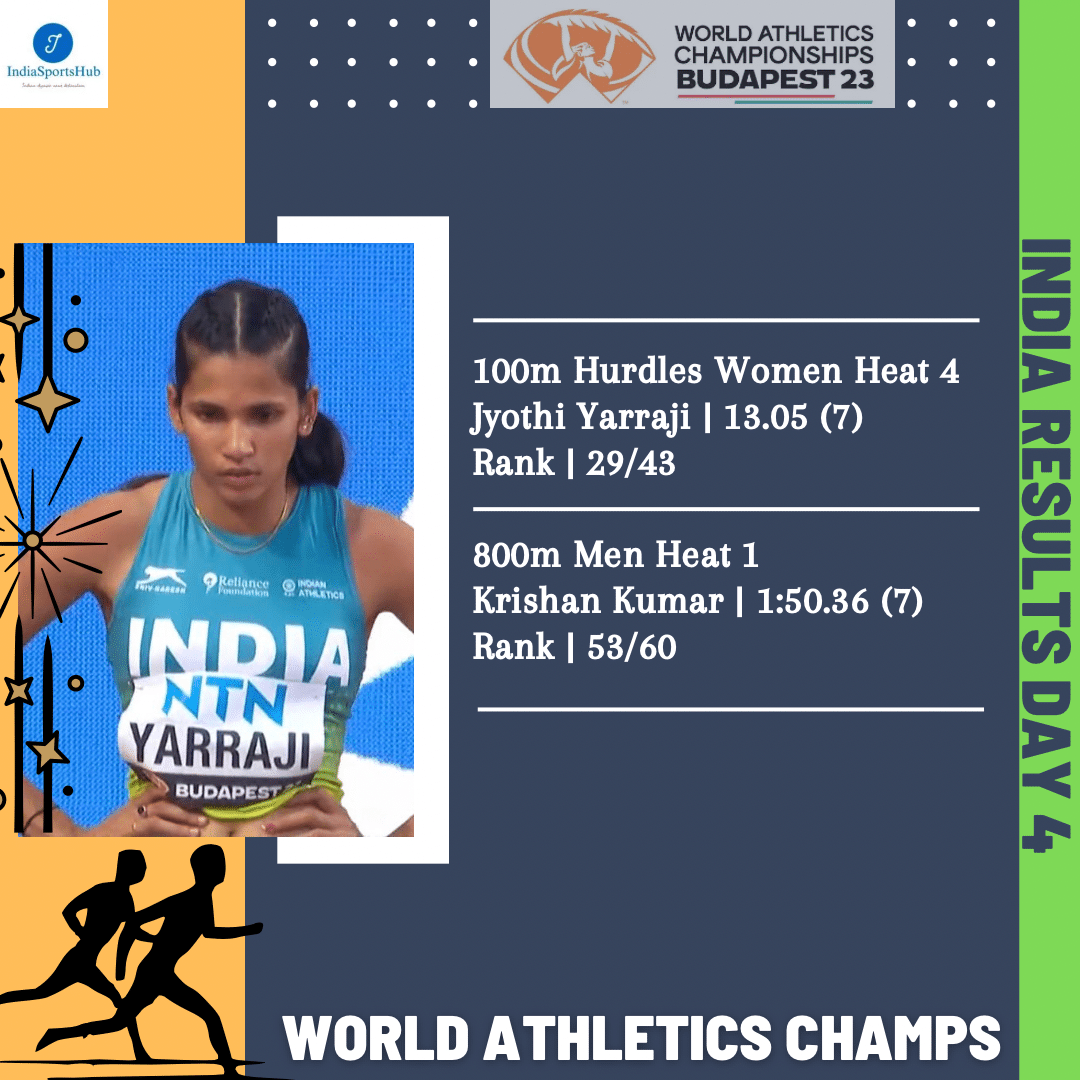 ---
Here's the schedule for India on Day 5