Hello and welcome to our coverage of the all important U20 championships being held in Nadiad, this is a qualifying competition for the World U20 in Cali
List of Qualifiers from this meet till now for World Championships U20 Cali
100m Men J| Aman Khokhar | UP
100m Women J| Priyanka Sikarwar | UP
110mH Men J | Madhvendra | Rajasthan
110mH Men J | Krishik | Karnataka
110mH Men J | Graceson | Odisha
100mH Women J | Agasara | Telangana
400m Women J | Rupal Chaudhary | UP
400m Women J | Priya Mohan | Karnataka
400mH Men J | Hardeep | Punjab
400mH Men J | Aryan | Karnataka
400mH Men J | Karna | WB
400mH Women J | Simmy | Haryana
800m Women J | Urvashi | Haryana
800m Women J | Ashakiran | Jharkhand
800m Women J | Lakshita | Gujarat
800m Men J | Pradeep | TamilNadu
800m Men J | Arjun | MP
800m Men J | Somnath | Haryana
1500m Men J | Arjun Waskale | MP
Long Jump J| Chandrasekhar | UP
10k Walk Men J| Rohitkumar | Gujarat
10k Walk Men J| Babubhai | Gujarat
10k Walk Men J| Sachin | Uttarakhand
10k Walk Women J | Mansi | Uttarakhand
10k Walk Women J | Rachana | Haryana
Triple Jump Men J | Selva | Tamil Nadu
ShotPut Men J | Sanyam | Haryana
ShotPut Men J | Sawan | Haryana
Javelin Men J | Vivek | MP
Welcome to our updates on the final day action of U20 meet from Nadiad
Here's the schedule for today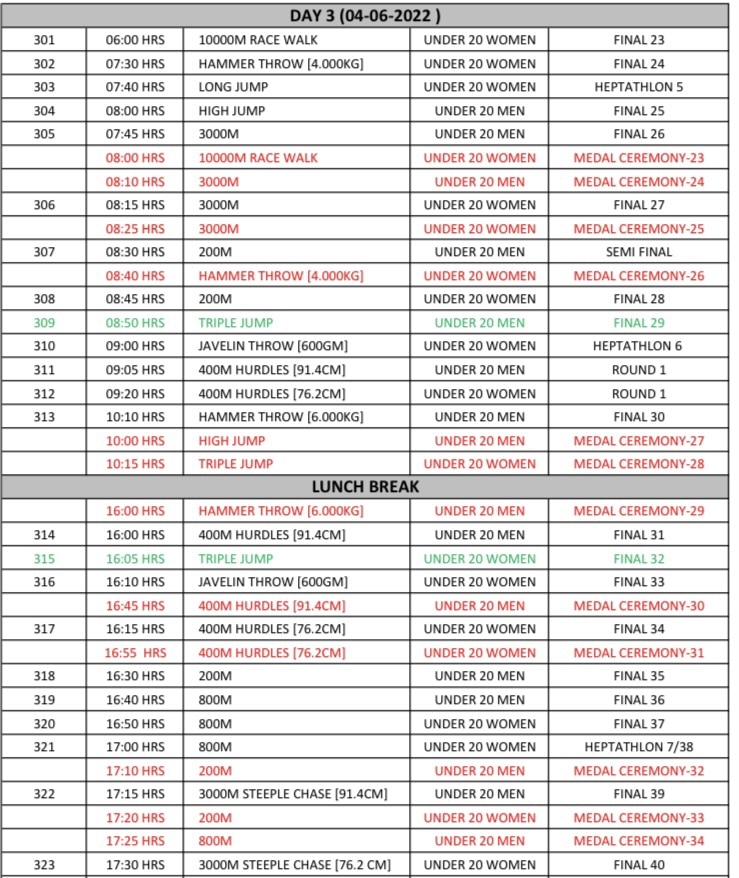 We have a mind boggling 18 finals today and its an exciting day for the sports followers.
The first event for today is 10k Race Walk Women and we are chasing the clock of 50:40 for qualifying
We have the first results of the day and two qualifiers as well. Mansi Negi from Uttarakhand with a 49:54.88 and Rachana from Haryana with a 50:33.60
Hammer Throw Women and High Jump Men are underway.
We have the 3000m in men now. Ritik finished with 8:29.16 and Pankaj with 8:29.39 and none qualify for the 3000m race
In the women competition Drashtiben could manage a 9:39.88 to win the gold but failed to qualify for the Worlds where the timing was to be better than 9:32
No one in the Men Junior 200m came close to the Qualifying mark, last chance in the final for the boys
Priyanka and Priya have made the mark for the Worlds junior in 200m by clocking better times than the requirements in semifinal
Vinit did well for a throw of 66.87 in hammer throw but he fell short of the Junior worlds mark of 68.30m. So nobody qualifies in Men Hammer Throw
Praveen Kumar ( Tokyo Paralympics Silver Medallist) wins joint gold crossing the high jump bar at 2.06m at the U20 Fed Cup.
In the first event of the last session we have Men 400mH
Hardeep from Punjab has won the race in 52.40 sec while Aryan from Karnataka finished in 52.75 just ahead of Karna from WestBengal who did a 52.77. All three have made it to the Qualifying mark which is set at 53.20. Hardeep and Aryan have qualified for the Junior Worlds
In the Women 400mH Simmy from Haryana clocked 60.72 to come just within the qualifying mark of 61sec. She is going for her second World Juniors
Vishal TK came first with a time of 21.71 but that is not enough to book a ticket to Cali in 200m as the mark there is 21.40
Priya wins the 200m Race in 23.98 leaving Priyanka behind on second spot. Both have made it to the Junior World Championships
800m Men saw three runners go under the Junior Worlds requirement. Pradeep from TamilNadu finished in 1:49.59, Arjun from MP 1:50.33 and Somnath from Haryana 1:50.54. The requirement were 1:51
---
After a very exciting Day1 we now move onto Day2. We have as many as 14 finals up in store
Heres the schedule for today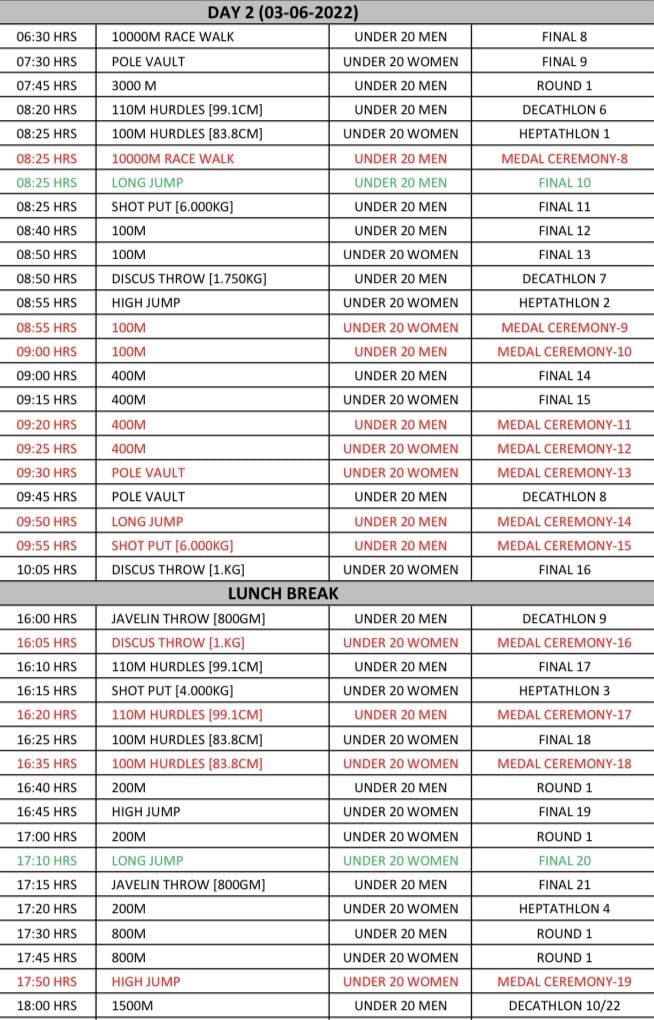 The first event for the day is 10k Race walk, remember this is the same event where India Amit Khatri was leading the race till last moments but those water breaks put him down to second place behind the Kenyan.
We are chasing a time of 43:50m so a result is possible around 7:15 am only
We have the first results of the day 10k Race Walk Men Junior
Rohitkumar | Gold | 43:06.16
Babubhai | Silver | 43:07.96
Sachin | Bronze | 43:43.28
WCQ U20 | 43:50
Aman Khokhar from UP has finally done it. He clocks 10.56 to make it to World Championships in Cali
Priyanka Sikarwar is in some form as she outlasts the field with a time of 11.88 sec which is yet again inside the WCQ u20 time
Rihan was the fastest in 400m but away from the qualifying mark. He did 48.31 while the mark is set at 47.60
Long Jump Junior Men Finals are underway
Chandrasekhar from UP has won the gold medal with a leap of 7.65m to bag the ticket
Madhvendra Shekhawat has clocked a 14.14 sec to qualify for World Championships as he meets the criteria of running faster than 14.20 in 110m Hurdles
In the 100m Hurdles Agasara has clocked 14.24 which is just 0.04 short from WCQ mark. She will have another go in the finals
Here are the Shot Put Final results
Sanyam | 19.42 | Gold
Sawan | 18.54 | Silver
Kunal Kaushik | 17.96 | Bronze
WAC u20 Q | 18.20
Sanyam and Sawan Make the World Championships mark
In the Sixth event of Decathlon the leader Sunil Kumar has bagged 822 points to take his tally to 4468. Logesh is on 4221 and Yogesh is on 4263
The afternoon session will see Finals in 100/110m Hurdles, High Jump Women, Long Jump Women and Javelin Men
The 110m Hurdles saw Krishik win gold 14.02 and Graceson Jeeva taking Silver with 14.12, that makes it three meeting the qualifying criteria
Agasara from Telangana clocked at 13.97 to run under the Qualifying criteria for World Championships U20 in 100m hurdles
In the 200m Men Junior heat nobody came closer to the mark set at 21.40. The fastest were Saisidharth with 21.80, Vishal with 21.89 and Abhijeet with 21.94
In the women section Priya Mohan was the fastest with 24.42, she has already clocked a time in 200m which makes her qualify for the Junior Worlds. Deepthi and Priyanka clocked similar time of 24.73, the qualifying mark is 24.40
In the 800m Junior none was close to making it via the heats.
In the Long Jump Women section Shaili has the best jump of 6.11 till now, only one jump left for her.
Shaili already has a jump of 6.27 at IGP which is way better than the qualifying mark
---
Here's the schedule for Day1, 2nd June
A total of seven finals are scheduled for day1
Below are the entry standards for the World Championships U20
The first race of the day is U20 men 5000m. This is won by Gagan Singh (310) from Haryana, the second place goes to Shivaji Madappago (359) from Karnataka while the third place is taken by Pavan Kumar (159) from Delhi.
The exact timings are not yet shown we will update once we have it. The national record stands at 14:13.95 while the WCQ is 14:15.00
So pretty slow timings in the race as none qualify for the WC
5000m Junior Men Results
Gagan | Gold | 14:44.92
Shivaji | Silver | 14:47.38
Pavan | Bronze | 14:48.89
WCQ | 14:15.00 – None Qualified
The women 5000m is now looking like a two way race as the Drashtiben (167) and Supriti (318) have made a long lead to the rest of the group
Local girl Drashtiben wins the 5000m junior and its Supriti from Jharkhand who has come second. Jyothi from Haryana makes it to the third place. Timings awaited
5000m junior Women Results
Drashtiben | Gold | 16:53.33
Supriti | Silver | 16:57.01
Jyoti | Bronze | 17:39.13
WCQ | 16:40.00 – None Qualified
Next we will have Decathlon event starting with 100m
In the 100m run for Decathlon Yogesh (399) was the fastest with 11.50 and earned 753 points, Logesh (623) 11.54 got 744 points. Next up is Long Jump for the group.
A total of 14 juniors are participating in Decathlon
Currently Pole Vault for Men is going on which is a direct final
Men Long Jump, Shot Put (Dec) & High Jump are currently happening. All are qualifying rounds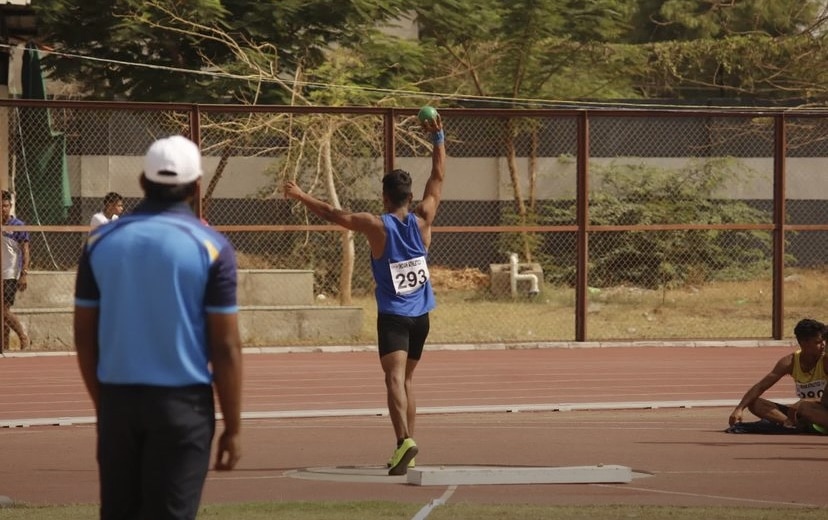 Decathlon Results After Long Jump
Yogesh with yet another good performance clubs in 802 points
Standings after Rd2
Yogesh |753+802| 1555
Sunil |730+799 | 1529
Thowfeeq | 738+646 | 1384
Unfortunately no results have been updated on the website and neither being shown on YouTube
We have the Medal Ceremony from the Pole Vault Junior Men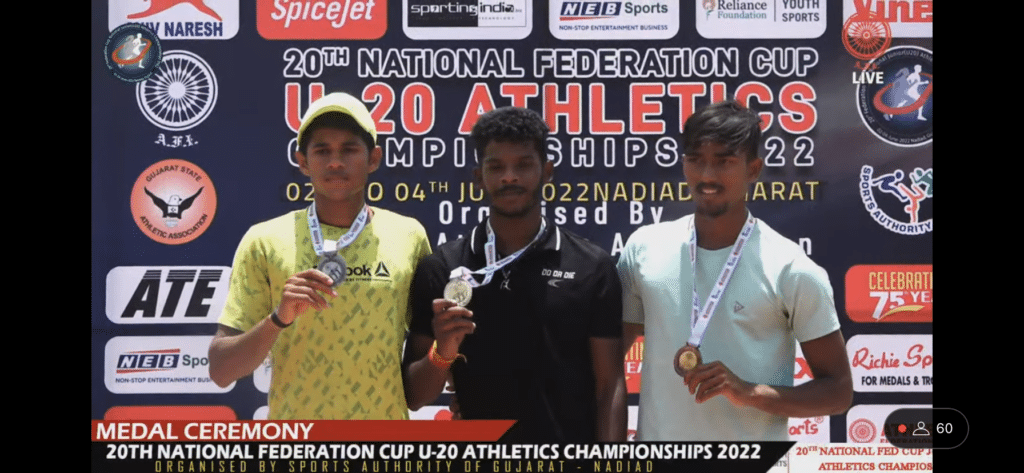 Gold Medal | Sakthi | 4.60m
Silver Medal | Dev | 4.60m
Bronze Medal | Tanuj | 4.50m
WCQ | 5.05m
Chandrasekhar (692) jumped a distance of 7.50m which was the biggest jump among the two Groups A and B in the Qualifying rounds of the Long Jump at the U20 Fed Cup in Nadiad.
The Qualifying mark for WU20 is 7.55m.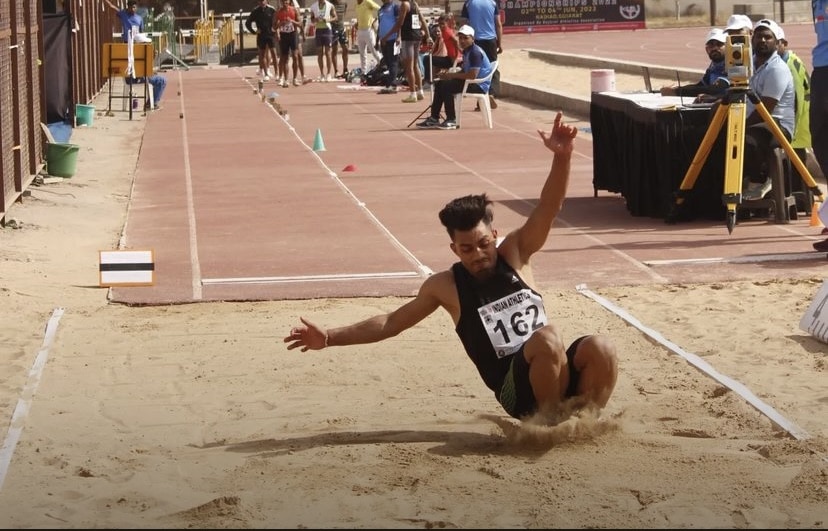 Here is the list of qualifiers for the final
Chandrasekhar -7.50m
S waran – 7.35m
Lalu Prasad Bhoi – 7.19m
Shaktivel – 7.18m
Amitra Ghosh – 7.05m
Vijay Kumar – 7.03m
Mohm Sazid – 7.02m
Digvijay Singh – 6.96m
Mandeep Singh – 6.95m
Akhilesh – 6.89m
Chitaranjan – 6.88m
Arjit Paul – 6.84m
High Jump Qualifying
16 athletes have crossed the auto Q mark set at 1.9m to make it to the Final wherein they will look to cross 2.15m which is the qualifying mark for WCQ
And in the afternoon session, we start with the 100m dash for Junior Men and Women.
18 year old Aman Khokhar has clocked a 10.62 to be the fastest qualifier to the semis. He won the Heat1. Aditya won the Heat2 with a 10.88sec while Krishik won Heat3 for 10.98sec and Vishal winning Heat4 at 10.88
Heat 5 was won by Ashish in 10.98 and Nalubothu crossed the line at 11.22sec to finish first in the Heat6
Here are the qualifiers for SemiFinals in 100m Junior men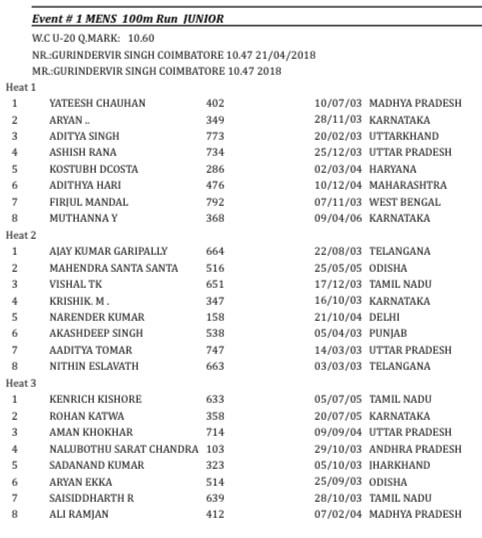 Priyanka Sikarwar from UP has clocked an astonishing time of 11.80sec in the Junior Women 100m race to qualify for the World U20 Athletics Championships in Cali
The other fast times were Sudeshna 12.02, Avantika 12.06, Jeevani 12.07 and Tamanna 12.09sec.
Here are the Semifinalist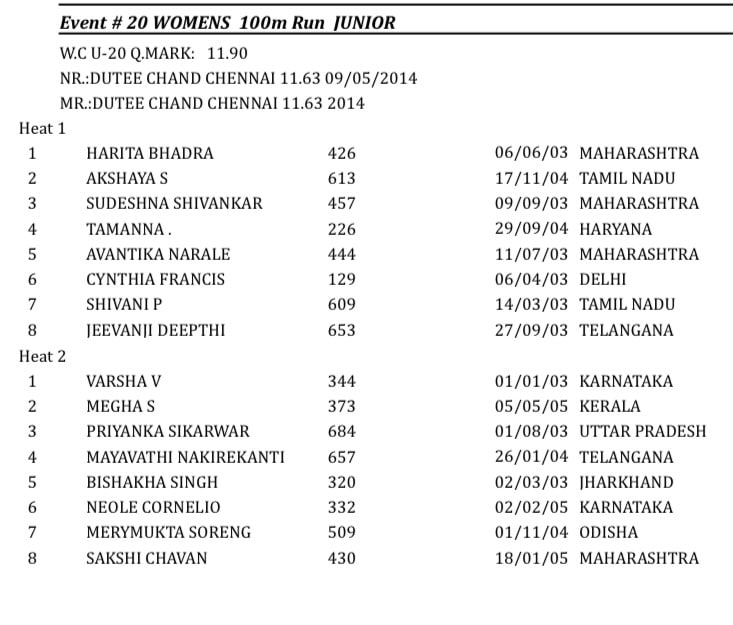 400m Junior Men
In the 400m Junior Men the first heat was won by Kartheek in 49.34sec while Jagvinder came second with 49.89sec
In Heat2 Aman clocked a 48.94sec while Ram came second with 49.24sec while in Heat3 Rihan clocked 48.32 and Deepak with 49.24 to come second
In Heat4 Deepak clocked 49.04 and Suraj a 49.50 to come second
The Qualifying time is set at 47.60 so nobody makes it at-least from the heats.
400m Junior Women
In the heat1 Simmy from Haryana clocks a rather slow time 56.65 to finish first while Shivkanya with 57.96 to come second
In Heat2 Rupal from UP finishing the race in 53.91 while Kunja made it in 56.94 while in Heat3 Priya made the race in 53.45sec while Anushka did in 55.64sec
With the qualifying mark set at 55.20sec both Priya and Rupal have made it to World Athletics Championships U20 in Cali
1500m Junior Men Results
Arjun Waskale wins the 1500m with a timing of 3:46.31 mins to qualify for the WU20 going to be held in Cali.
Qualifying mark – 3:48.50 min.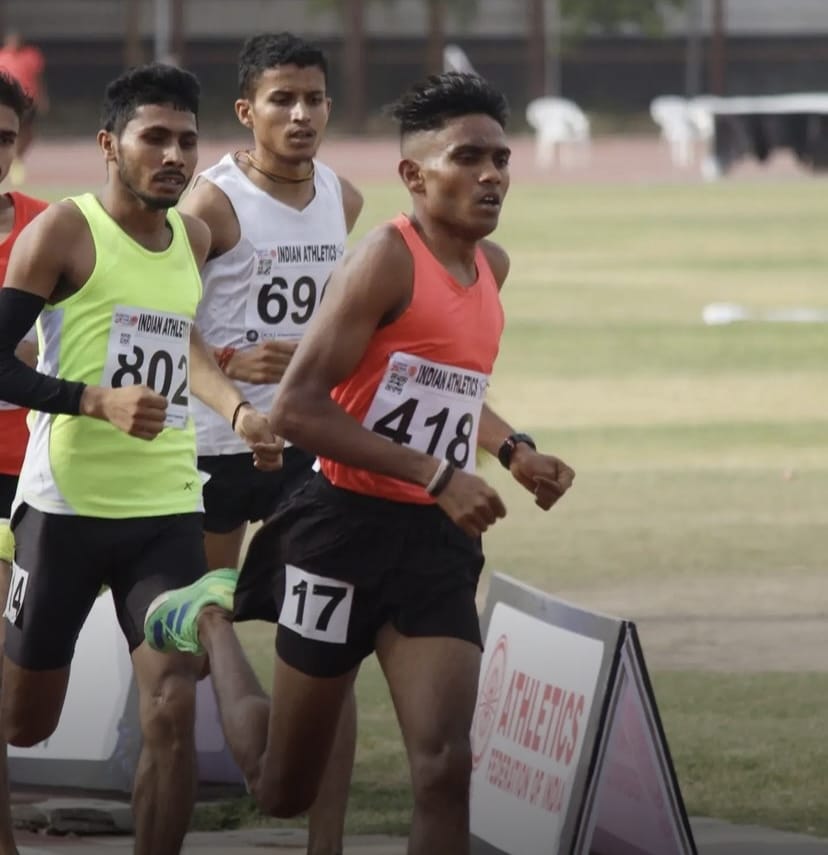 Discuss Throw Men Results
The discuss throw is won by Shubhkarman Ghotra with a distance of 53m and he has missed the WCQ throw of 56.50m
The silver is won at 52.58 by Sumit and Bronze by Akshay at 48.47
Shot Put Women Results
Jasmine Kaur won the Gold Medal with a throw of 13.90m which is well short of the WCQ of 14.50m
The silver went to Vidhi for 13.11 while Jyoti took the bronze by throwing the ball to 12.93m
1500m Junior Women Results
Akshana won the race in a slow timing of 4:33.99 with the WCQ standing at 4:29.00 she didnt make it
Laxita won silver and Ruhi grabbed the bronze medal in a race run by 12 competitors
100m Semifinals Results
At the semifinal yet again the two youngsters from UP clocked impressive times. While in the women Priyanka clocked a 11.89 to yet again smash the WCQ U20 the other fast times were Tamanna with 12.05 and Sudeshna 12.08
Aman Khokar who missed the mark by 0.02 sec in the heat missed it by 0.07 sec in the Semis, he should vouch to make it after a rest for today. Krishik clocked a 10.83 to win the second heat while Kostubh won the first semis with a 10.99
In the Decathlon Day 1 results
Sunil | 3646
Yogesh | 3516
Logesh | 3407
With the score requirement of 7050 it still looks possible for these three to make it, remains to be seen how it goes tomorrow
Highlights for Day1
Priya Mohan & Rupal Chaudhary meeting Q criteria for WAC u20 in 400m
Chandrashekhar with a 7.5 m Long Jump
Priyanka Sikarwar meeting the Q Criteria in 100m not once but twice
Aman Khokhar misses by 0.02 seconds, will get another chance in finals
Arjun Waskale meeting the Q criteria in 1500m Men Junior