The all important national championship in Athletics is underway today in Chennai
Here are the entry standards for the World Championships 2022 Oregon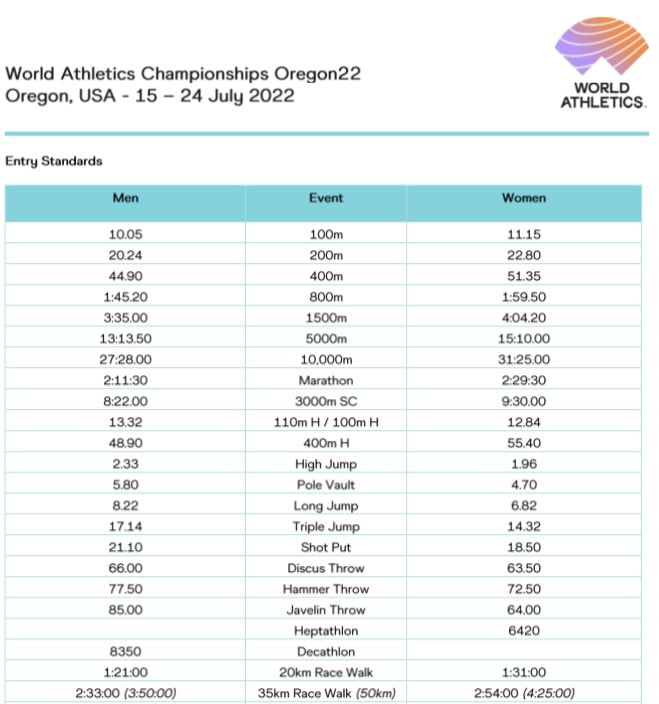 WCH Qualifiers from this event
CWG Qualifiers from this event
Murali Sreeshankar | Long Jump
Below is the Day1 schedule
The first results of the day was 10k men Final that started as early as 6am.
We were chasing 27:28 for WCH and 27:30:90 for CWG
Unfortunately none of the athletes could come anywhere close to the these marks. Abhishek Pal from UP was the fastest with a time of 29:55.51. Infact it was a photo finish literally for the medals which you don't see generally in long races.

Second event of the day was 10k Women run which started after the finish of men race. Very few participants in the race. Just six started and one couldn't even finish the race.
Maharashtra got their first Gold of the championships with Sanjivani Jadhav finished way before her opponents. Although she won the gold but didn't meet either the CWG or WCH mark

No Qualifications in 10,000m race
Decathlon
A good start by Stalin who scored a 806 in the first event. However from WCH perspective its tad low as we are chasing 8350 in 10 events. Lets see how the competition grows. The Long Jump saw young Yaman Deep Sharma scoring the highest points. While the third event ShotPut was won by Gurlal Singh
100m Sprint Race Men
The 100m heat saw the 200m record holder clock the fastest time of 10.51 followed by Jay Shah from another heat who had a 10.58. The Qualifications from this event in either CWG or WCH demands ia NR. M
Honestly don't see that coming
100m Sprint Race Women
The 100m heats saw NR holder Dutee Chand clocking the fastest time across four heats with a 11.40. The heat4 also had a Sri Lankan athlete and she came second in the heat. The heat winners were Srabani, Dutee, Daneshwari and Hima. Add Dhanalakshmi here and 4*100 loading
400m Heats Men
The 400m heats for Men saw Dharshana from Sri Lanka 🇱🇰 clock the fastest time of 46.69. The other heats were won by NR holder Anas, Amoj and Noah. Arokia Rajiv didnt start and Ayush came in fourth in Heat1 but made it to Semis as q
Full Results here
https://run.indianathletics.in/61NISSAC22/wp-content/uploads/2022/06/400m-men-heat.pdf
Long Jump Qualifying Men
The Long Jump qualifying saw all the three big names in LJ making it to Finals. The NR holder Murali, who has already qualified for CWG and WCH has achieved the CWG mark once again with a jump of 8.01m
400m Women
The 400m women race a lot of participation from Young and the established names.
While the fastest time was run by Rupal with a 52.84. It will be an interesting Semis. Kiran, Summy and Priya were the winners of other heats. Aishwarya Mishra showed up for the race but a false start took her out.
Here are the full results
https://run.indianathletics.in/61NISSAC22/wp-content/uploads/2022/06/400m-women-heat.pdf
Aah finally the results are shown.
100m SemiFinals Men
Heat1 is won by Elakkiyadasan from Tamil Nadu in 10.46 leaving behind Jay 10.55
Heat2 won by host athlete Siva Kumar with 10.48 leaving behind Paras from HP with 10.52
Heat3 won by Harjit Singh who clocked a fast time from Indian standard. He clocked 10.37 leaving behind Amlan who had 10.4. Amiya the record holder was fifth.
100m Semifinal Women
Heat1 was won by Srabani Nanda who clocked 11.49 to keep Hima das on second with 11.54
Heat2 also had similar results with NR holder Dutee coming first for 11.40 keeping Himashree 11.61 and Daneshwari 11.79
Full Results
https://run.indianathletics.in/61NISSAC22/wp-content/uploads/2022/06/100m-women-semi-final..pdf
400m Semifinal Men
Heat1 was won by Amoj Jacob in 46.27 leaving behind Anas 46.48 and Ajmal with 46.54
In heat2 Noah clocked the fastest time of semis with a 46.14 Aruna from Sri Lanka 🇱🇰 came in for second position 46.34. Ayush Dabas was last.
Full results
https://run.indianathletics.in/61NISSAC22/wp-content/uploads/2022/06/400m-men-semi-final.pdf
400m Semifinal Women
Kiran from Haryana clocked 52.34 and Priya came in second in the heat at 52.52
Heat2 was won by the 17 year old Rupal 52.82, although the WCQ is 51.35 little far but we have a good final lining up between these three
Full Results
https://run.indianathletics.in/61NISSAC22/wp-content/uploads/2022/06/400m-women-semi-final.pdf
The men 1500m saw decent timings but no qualifying marks
Decathlon after five events