So here we are with the last match in the group stages.
India vs Host Indonesia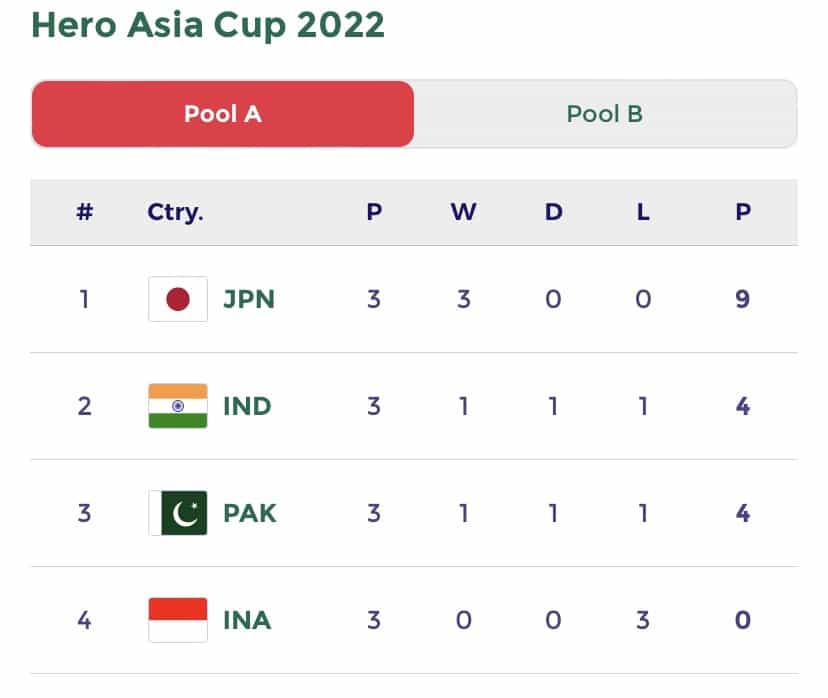 And we score the 16th as well. Dipsan Tirkey scores his Fifth goal.
As things stand
Japan, Malaysia and Korea qualify for 2023 Men World Cup
Pakistan knocked out
Anddddd Dipsan Tirkey has SCORED the 15th goal and his Fourth Goal of the match
India score the 14th goal via a reverse flick.
India gets another penalty corner in search of the 14th goal but its put wide the second PC is saved
India 13-Indonesia 0
Lifted dangerously and india gets yet another penalty corner. SV Sunil with the injection now. Almost 6 minutes for three goals. Saved by the keeper and India gets yet another PC. One more save and India gets another PC. And India score through a rebound.
Need one goal in quick time as its been more than five minutes to last goal
We have scored 2 goals in Q4 need three more
Q1: 3 goals
Q2: 3 goals
Q3: 4 goals
Sanjeep Xess gets a Yellow card. India play with 10 players for five minutes now. India takes a referral as SV Sunil is confident about a touch in the circle
Maninder who had a decent World Cup was invisible during the last game against Japan. However, today against Indonesia, he has been good. He thinks well, looks for players in better positions, no ambitious passes- Twitter
Eleven minutes and Three goals needed
India gets the penalty corner. Can we make it 13 to have a little breather. India gets another penalty corner, but no goal as India delayed the shot.
Dipsan Tirkey scores a HATTRICK. India 12-0 Indonesia
India score the 11th goal and need four more now
End of Quarter Three India 10-0 Indonesia
15 minutes and 5 goals. Can the Indian team do it. Lets see how it goes. As India score the 10th goal.
Six goals in 15 minutes. Doable. One must think but the Indian team should believe that the tiring legs on Indonesians can be put to challenge in the last quarter
India gets a penalty stroke now. We are leading 9-0 dipsan tirkey again.
India score another goal. Its 8-0, Dipsan Tirkey this time.
And as we type India score the seventh goal. Karthi Selvam the goal scorer. 19 minutes of play remaining
Not looking good for India as they have failed to score any goals in this quarter. Remember only a 15 goal difference will be enough
A missed chance you would say as SV Sunil dives but goalkeeper came in between. Second miss by Sunil.
End of HalfTime India 6-0 Indonesia
India gets a penalty corner. Can they score the seventh goal. Nilam took so long to take the drag flick that the opponent blocked it. Another attempt blocked now
Indonesia down to ten men as a green card being shown and India gets a free hit but no advantage taken by India. Flurry of attacks by Indian team , no score. India has had 14 shots on goal till now.
Whaaaaaat a Goal for SV SUNIL and we Lead 6-0
India with 15 circle penetration. And Indonesia change their goalkeeper. India has had more than 70% possession.
India get yet another penalty corner and a good block another Penalty Corner. Nilam Sanjeep the scorer. India 5-0
What a great play by India (or a miss) eventually got the desired result. SV Sunil scores India 4-0
A deflection from Maninder but not towards the goal. And India earns a penalty corner, the first in the second quarter.
End of Quarter1 India 3 -0 Indonesia
Out if nowhere Uttam was in the right place and SCORE!!!! India 3-0
India gets another penalty corner and the Goalie of Indonesia is pretty good and he denied yet again. So two Indian Penalties saved.
India have asked for the video referral now. 3 minutes to go in first quarter. India will definitely like to score a couple more in this after so many failed attempts
India gets a penalty corner and its Rajbhar Pawan scores on the third attempt. INDIA 2-0
INDIA SCORES!! 1-0 Rajbhar Pawan the Goal Scorer
Once again the defence of Indonesia doing a great job. Mind you despite six circle penetrations India is yet to get a penalty forget a goal
Another attack by India but fails to eventually break shackles. India is yet to manage a penalty corner. This is pretty evident the hosts are defending all and India is all over them.
Most of the hockey happening in Indonesian half. India with a chance but Uttam fails to make a connection at the end.
Japan faced a pretty charged up Pakistan but managed to hold on to the lead.
Three minutes gone India is yet to make a serious attempt at goal. Only SV Sunil managed to enter the circle. India earns a free hit on right flank
National Anthems are done. Time for live action now !!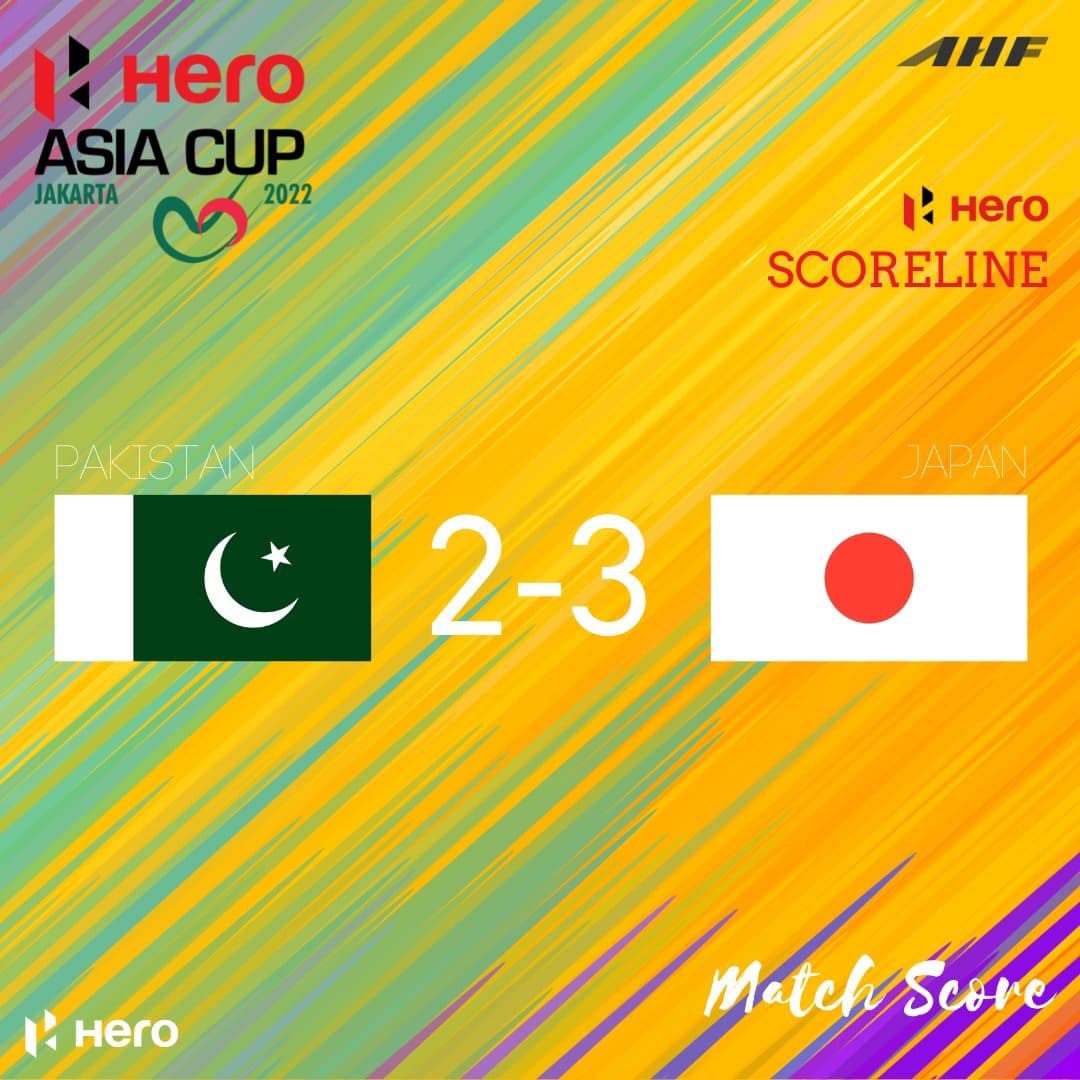 Last time India faced Indonesia was in 2018 Asian Games, India had beaten Indonesia 18-0 in that match. So it's possible is it.
Indonesia has so far lost both their matches and yet to score a goal. They have let in 22 goals in two matches.
The biggest win is in the name of Pakistan who won 13-0 across both the groups
India who had drawn against arch rivals Pakistan in first match lost to Japan 2-5 in second match are now up with a daunting task against minnows Indonesia
Looks like we are looking at a 15-0 scoreline to make it to the next round. Possible? We will get the answers soon.
Here's the lineup