Welcome to our coverage of French Open 2022
Sania and Hradecka the 10th seed of the tournament defeated Italian pair of Paolini and Trevisan in a three set match 4-6,6-2,6-1
Ramkumar and Reese lost to Sixth seed pair of Koolhof and Skupski in straight sets 3-6,2-6
Ramkumar and Reese are up against Sixth seed of the tournament Koolhof and Skupski
Ramkumar and Reese are 2-3(15-15) into the first set
Bopanna/Middelkoop Match Updates
We are now on 5-4 with match points
Middelkoop to serve now. Good return from Rohan and we are now 1-4(15-15)
We are on 4-4 now as the indo dutch pair broke back and now are in with a chance to break the opponent serve. Will be some set to come back from 1-4 down, right then Rohan hits one wide. 30-40 now and another good point for the Rohan and Middelkoop to take this to deuce. What a volley from Middelkoop to take advantage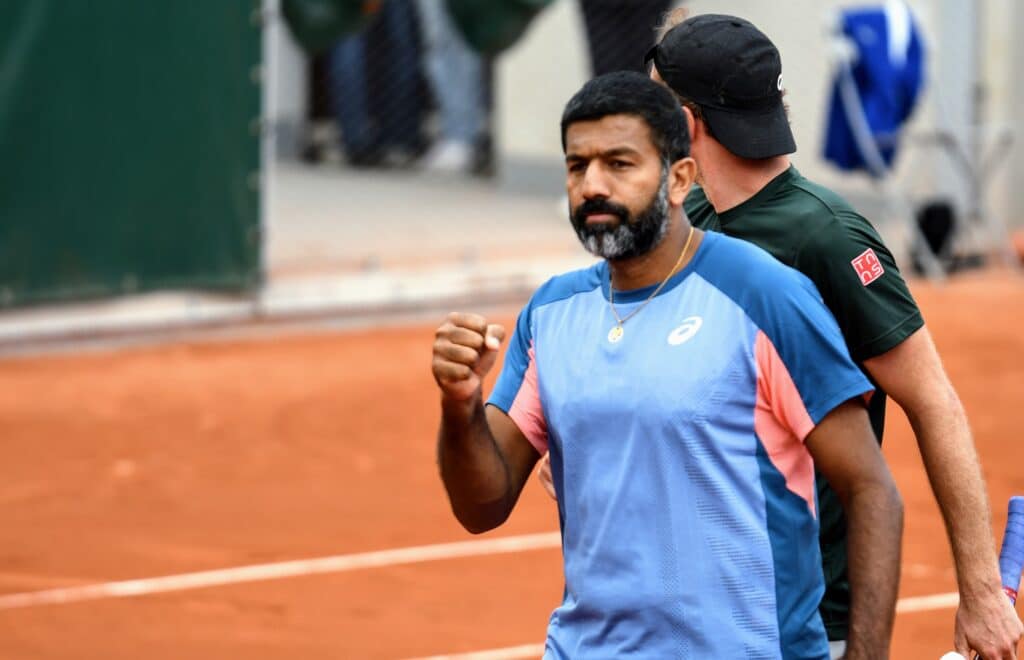 The opponents have held on to their serve and we are on 0-3. Need to hold now. Bopanna holds the serve but now its 1-3(0-40)
The winner of this match might face the second seeds if they win the match in the Pre-Quarterfinals
Bopanna/Middelkoop serve got broken and we are 0-2 down in second set
Golubev and Martin have started well winning the first game. Its 40-all on second game.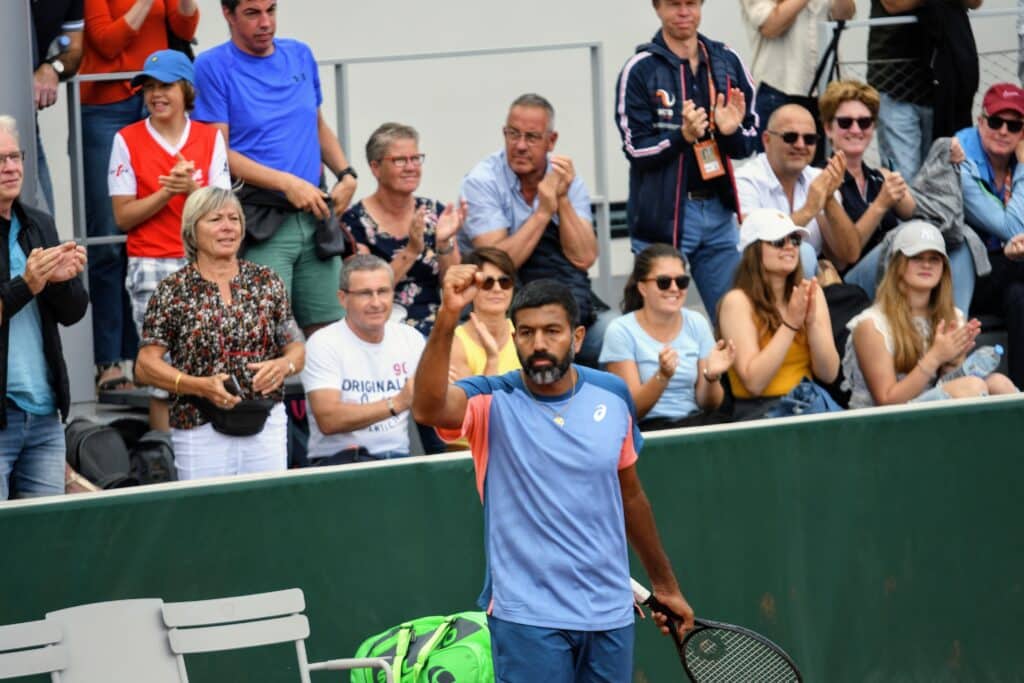 Middelkoop to serve now for the set. What a great volley by Rohan. And the next shot Rohan catches his racquet which goes out. And we are on set point. 6-3 won by Rohan and Middelkoop
What a return by Middelkoop as the opponent is not able to get it back but Golubev quickly turns to the net to win the next game 15-30. A return on the net makes it 15-40. Closes the game and its 5-3
The big server Bopanna now leads 40-0 on his second service game. Make that 5-2 as Middelkoop gives a volley back to the opponent
Bopanna Middelkoop are leading 3-1(40-0). Looking pretty easy for the pair right now. Make that 4-1
The indo-dutch pair are up against Golubev and Martin.
Ramkumar and Reese playing First round
The star Indian tennis player is partnering Reese are up against German pair of Altmaier and Otte
First ever victory for Ramkumar Ramanathan in Grand Slam.
Back to Ram on serve to close the match. 15-0 up now Reese makes it 30-0 with a great shot in the middle of the court. In no time its 30-all and Ram hits one long to make it 30-40 and Reese somehow manages to grab that point. We are now in yet again a deuce. No Reese you had to keep that in. What a lovely serve by Ram and the Germans have failed to use the 13th break point as well. Now we have a match point and they have done it
What a great game. 30-30 now just two more points and we have the match. What a lovely drop by Reese. Its now 40-all and a great drop which Ram cant reach. A long forehand and its 5-3
Reese hits an Ace to make it 30-0 and a smart serve by him to make it 40-0. A quick return from Otte to make it 40-15. Good serve and two great follow up to win the game. The score 5-2
The Germans have quickly won the game to make it 4-2
A second serve ace to make it 3-1 now back to Ram serve. Hits an ace to start with. A great return by Altmaier to make it 15-30. Quickly we are 15-40 with no communication between Ram and Reese and it's getting pretty obvious. Ram plays smart and is helped by Altmaier as he hits wide to make it 30-40 and finally Altmaier hits one long back to take this one also to deuce. Reese finally gets a chance and smashes it on his right to get the advantage. We finally win the game 4-1
This point was coming to Ram Reese. It was their for the taking. A good return and its 15-all. A smash on the net and its 30-15, Rohan is in the stands to support Ran, why would you leave that Ram. Why. An error make it 30-30 we have a 3-0 lead
Ram and Reese win the first game comfortably and have two break points in the second game but this has also gone to deuce and Altmaier hits the backhand long to make it deuce again. Ram hits yet another volley on the net and we have the advantage and a brilliant return with Reese long out of the court. We finally have a SERVE BREAK in the match
We are going in for the Tie-Breaker. This has been a very long set. Good play by Ram and Reese on the net. Its 1-1 a chance given by Altmaier and Ram was not going to leave that, lovely forehand. Wow imagine Reese if he could have made that but not to be, two good returns but that was it. Lovely play by Ram and Reese and they deserve that point. They are living this up. 3-2 now. Reese just too comfortable on the net. Gets the point 4-2 as Altmaier smashed his racquet. And a return that goes straight on the net. Make that 5-2 and a double fault to make it 6-2. A good return to make it 6-3 and we are onto Ram to close the set with three Set points. Reese hits one long and 6-4 but Ram serves heavy to make it 7-4 and WIN THE FIRST SET
Great cross court shot by Ram lively angle there to make it 15-15. Quickly its 30-all now and the German hits a quick cross court to make it 30-40. What a attacking return by Reese to take this game as well to Deuce and a great serve by Otte for an advantage. Altmaier hits one wide to bring it back to deuce. Ram returns long and its Adv Germans. Lovely and lucky Ram volley gets the point. Back to deuce, bad return from Ram gives the adv back to German. Ram not getting the tactics here and making the same mistake and Germans win the game. Its 6-5
Back to Ramkumar Serve. We are on 15-all, good shot by Reese and we make it 40-all. Rams serve is not upto the mark in this match. He again hits one long on his first serve. He does make a comeback on the second serve to gain advantage, this game also goes beyond five minutes. A let on the first serve and a fantastic return by Reese. Its 5-5
Ram hits his forehand long again, been the case through the match. Its 0-30, now Reese puts one on the body of the opponent to make it 15-30. An Ace to make it 15-40. Ram is only trying for volleys which is not working here. What a return by Reese and then Ram with a drop shot which the Germans smash on the net. Deuce Now, finally a good forehand return by Ram to get breakpoint opportunity. A fourth Ace and Germans have it back to deuce. We are back to Deuce, its no3. Back to advantage for Germans and this game is now 6 minutes. Finally Reese smashes one on the net and its 4-5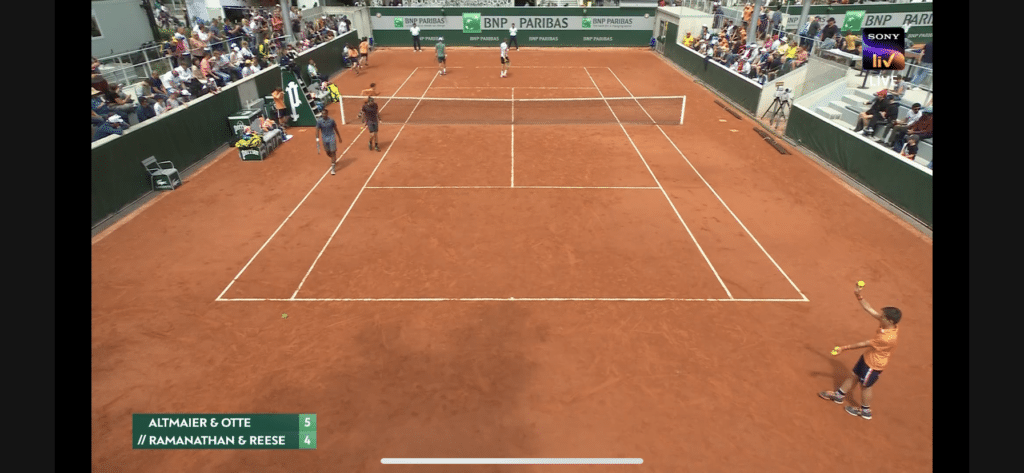 Ram smashes one and the German hits one on the net and we are 30-0. Yet another on the net and the score is 40-15, Ram had a chance but he hits one long on the open court. 40-30, its now reese who slices one on the net we are back to deuce from 40-15. Wonderful ace by Reese adv-40. What did Ram do there but they somehow manage to win the point and the game. 4-4
The Germans are able to play a flawless game and it will be surprising if they don't break soon. Last two were straight 40-0 games
First serve % are 59 to Ram Reese to 67 for Germans
Two good points and we have saved the break points. Onto deuce now and Ram with a good serve which is then smashed by Reese Adv-40. Ram gets a good shot in and we are 3-3
In no time its 2-3 all on first serve. Onto Ram fire serve now. Ram misses one close one and its wide. 15-15. The return from Ram is on the net and its 15-30. Lovely return and Ram was in no position to make that. 15-40. This second serve goes long and we are 30-40
Lovely serve by Reese and we go for Deuce no5. Ram drops one on the body of the opponent and are now Adv-40. Finally its 2-2
This game is going on for about 5 minutes now. 40-adv and we are back to Deuce. No4 and the game is 7 minutes plus. Reese missed a good chance to take advantage but his volley goes wide
Lovely couple of shots by Reese and he gets it back to deuce. Just too many volleys from the Ram and Reese. A shot on the net and its Adv-40
And they hit one long so one BP saved as we type yet another long ball and its 30-40. Make that 40-40. Not a strong return from Ram and its 40-adv
Till now everyone has held their serve. And its Reese on serve 0-30 in the game. And its 0-40 the Germans have three break points
Rohan Bopanna had yesterday defeated the Local Wild cards to move into Rd2. He is playing with Middelkoop and are seeded 16th
Ramkumar is upto 76 in the live rankings and if he wins today will be up to 71 in the rankings
Its 1-1 40-40 now