And we have the all important match against South Korea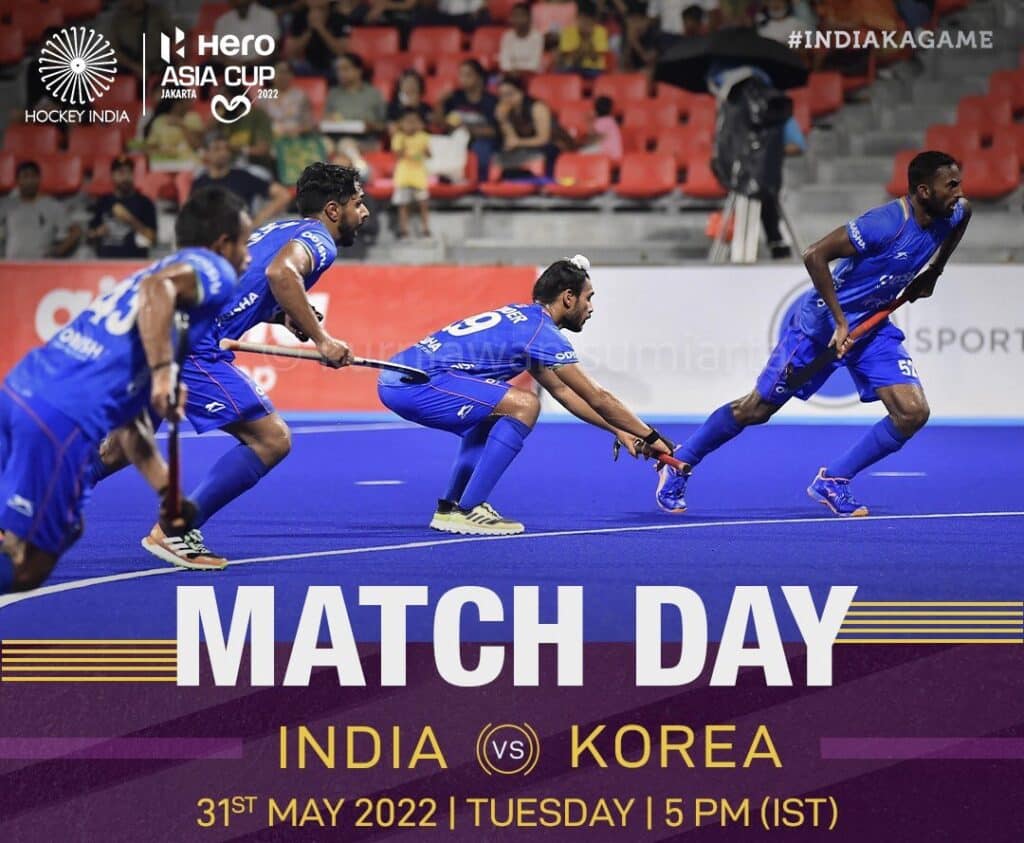 Here is how the super4 group stage is after Malaysian team defeated Japan who were undefeated in the group stages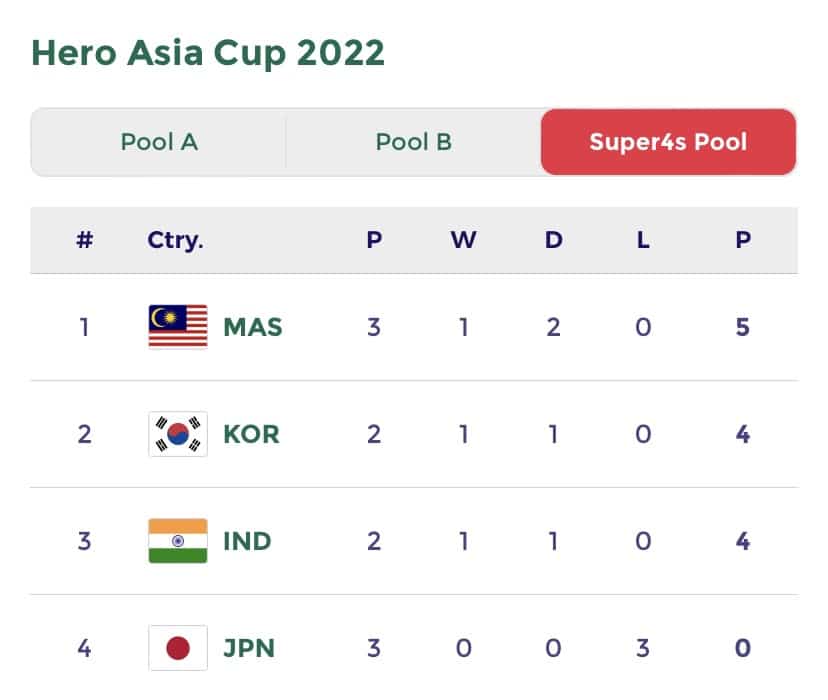 Malaysia went on to beat Japan 5-0 which means India needs to beat Korea to make the finals but just a draw for Korea to do the same.
It was a dismal performance by Japan who lost all three matches in Super4 despite having a reasonably mature team.
The highest goal scorer so far is Razie Rahim from Malaysia 🇲🇾 with 13 goals followed by Koji from Japan 🇯🇵 with 6 goals and Dipsan from India 🇮🇳 with 5, can we add few today
Here's the lineup for the match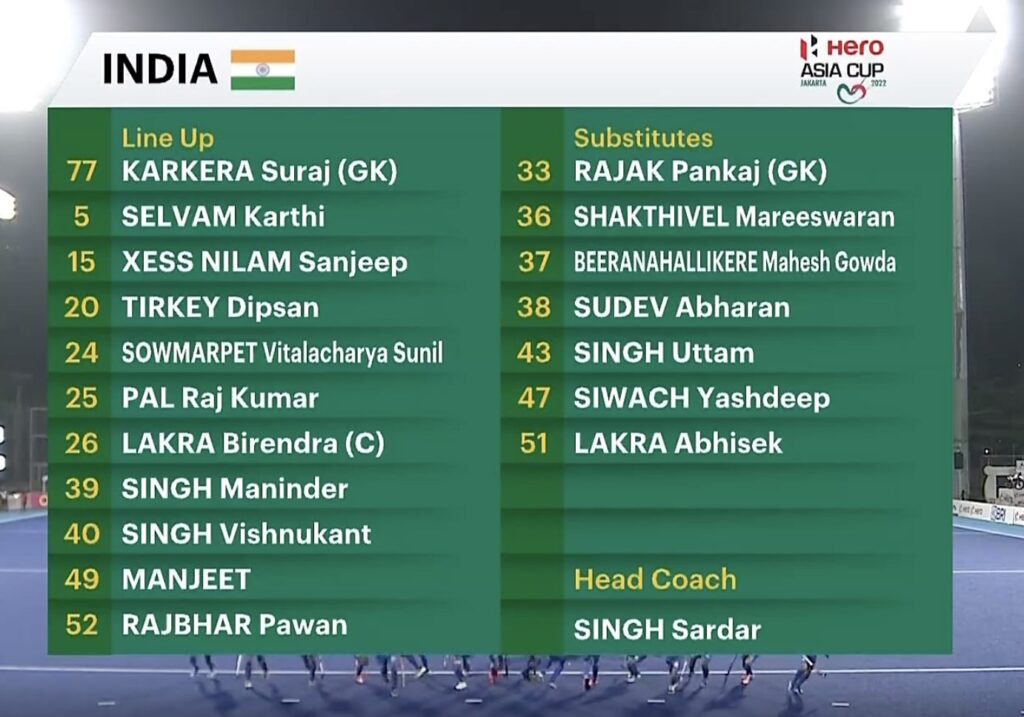 Q1 India gets a penalty corner but its saved by the Korean defence
Its all India right now they have had couple of circle penetration and a PC, hopefully goals will follow. A good start by India
INDIA SCORES!!!! Nilam Xess scored of India second PC
And Korea quickly equalises with their PC specialist Jang Jonghyun scoring his sixth goal of the tournament
End of Q1 and its India 1-1 Korea
Q2 Pawan Rajbhar has been denied a goal by a great save by Korean keeper
Korea have the lead as Woo Cheon scores a superb goal.
India gets a penalty corner and we need to get back in the match. Can we respond
INDIA SCORES !!!!! Maninder Singh it is who scored from Penalty Corner. India 2-2 Korea
And we have the LEAD. Sheshe Gowda scores a brilliant field goal to make it 3-2. A brilliant counterattack by Indian team. It was Vishnukant who found Sheshe at the right place and bang it was in the net in no time
Korea gets a PC which is followed by another but they put it wide and no goal
India down to ten men as Uttam gets a green card
Korea has scored. Kim Junghoo scores a field goal. India 3-3 Korea, they have taken full advantage of India being down to 10 men
At Halftime | India 3-3 Korea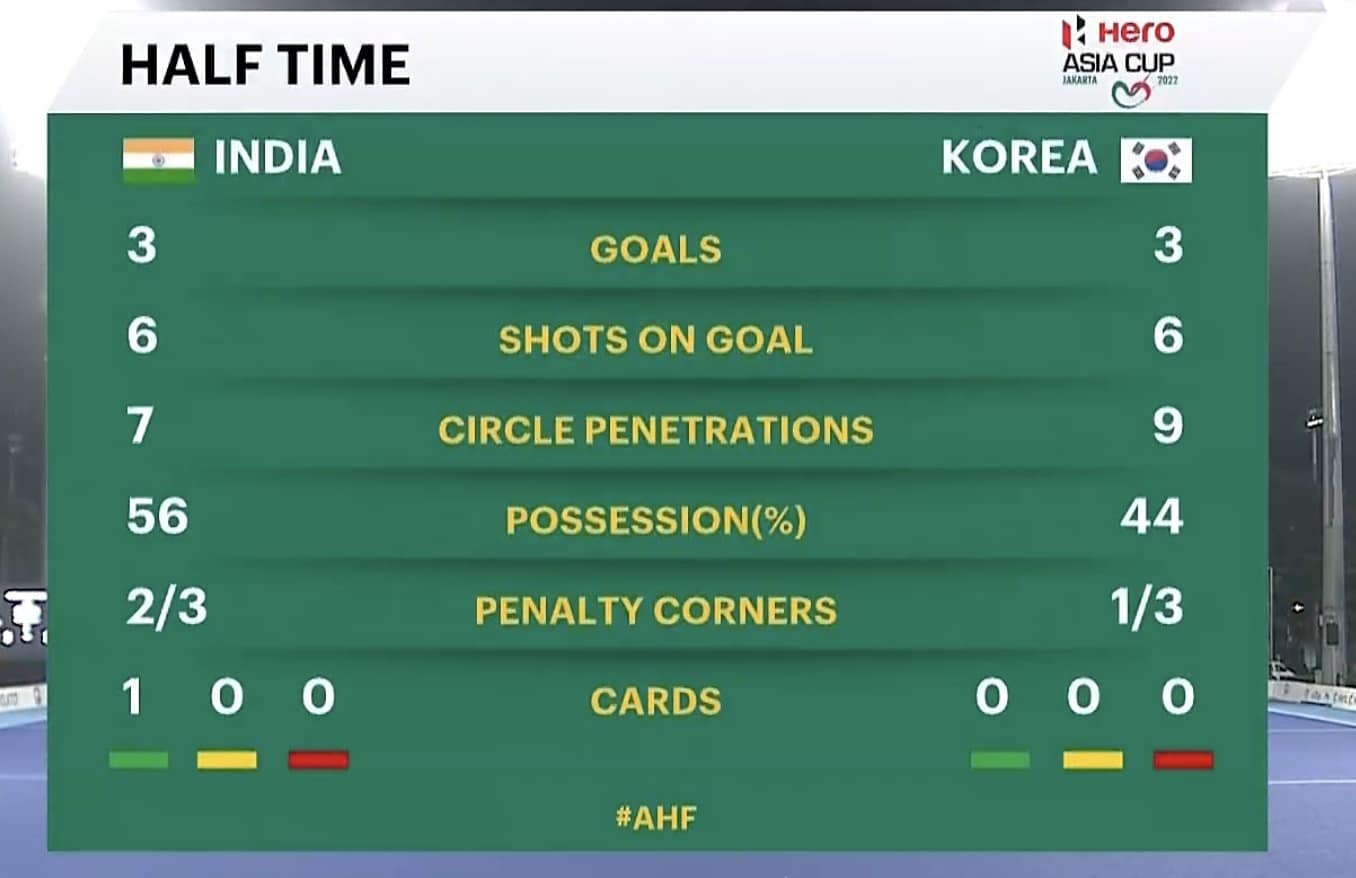 Here is how the match has played out in the first half
IND 1-0 KOR
IND 1-1 KOR
IND 1-2 KOR
IND 2-2 KOR
IND 3-2 KOR
IND 3-3 KOR
Both teams with equal number of shots on goal while Korea has been able to enter the India circle more than what we have done.
A green card for Kim, can India take advantage. And yeah we do make a circle penetration but it doesn't result in a goal.
And wow India scores the fourth goal. Sheshe and Shaktivel combined well to hand India the lead
Yashdeep gets a yellow card, which means India play with 10 men for the next five minutes
No Uttam you could have done better. He was unmarked in front of the goal as SV Sunil drives a ball to him. But he misses and sure he will rue this opportunity.
India concede yet again as Korea equalises. Jung Manjae is the scorer
End of Quarter 3 and we are on 4-4
Three goals have been scored when the opponent was down to 10 men. India had a massive chance but Uttam missed taking an advantage. Lets see whats in store for us in the next ten minutes. A lot can change.
Koreans are keeping the ball in the play. Indian team needs to find a way to enter the Korean circle.
Just four minutes left, a long range pass to SV Sunil who misses to collect it
India was looking for a PC but have to be content with a freehit for now
Very little time left and it looks like its all done as India goes for a referral. Not
A lot of action happening in the Korean circle now as India has now gone for another referral. Unsuccessful.
Heartbreak for the young Indian team who fail to make the Finals despite playing heart out on the last match