Hello and welcome to Indias coverage at the world university games being held at Chengdu China
live Streaming Link | Fisu TV
Schedule for India on Day 3
Badminton | Mixed Team | Ind vs Kor | 6:30am
Shooting | 10m Air Rifle Men | Qualification | Aishwary, Arjun, Divyansh | 6:30am
Shooting | 25m Pistol Women | Qualification | Abhidnya, Chinki, Manu | 6:30am
Table Tennis | Women Team | Quarterfinals | Ind vs Hkg | 6:30am
Table Tennis | Men Team | Quarterfinals | Ind vs Tpe | 6:30am
Archery | Compound Women Ind | Semifinal | 7:12am
Archery | Compound Women Ind | Final* | 7:36am
Archery | Compound Men Ind | Semifinal | 8:10am
Archery | Compound Men Ind | Bronze Medal | 8:22am
Archery | Compound Men Ind | Final | 8:34am
Tennis | Men Second Round | Ind vs Thailand | 8:30am
Shooting | 10m Air Rifle Men | Final* | Aishwary, Arjun, Divyansh | 9:00am
Table Tennis | Women Singles | Group | Ind vs Indonesia | 10:00am
Table Tennis | Women Singles | Group | Ind vs Azerbaijan | 10:00am
Table Tennis | Women Singles | Group | Ind vs Philippines | 10:25am
Table Tennis | Women Singles | Group | Ind vs Philippines | 10:25am
Table Tennis | Men Singles | Group | Ind vs HongKong | 10:50am
Table Tennis | Men Singles | Group | Ind vs Norway | 11:15am
Table Tennis | Men Singles | Group | Ind vs Singapore | 11:15am
Table Tennis | Men Singles | Group | Ind vs S Korea | 11:15am
Table Tennis | Women Singles | Group | Ind vs HongKong | 12:50pm
Table Tennis | Women Singles | Group | Ind vs Macau | 12:50pm
Table Tennis | Women Singles | Group | Ind vs Brazil | 1:20pm
Table Tennis | Women Singles | Group | Ind vs USA | 1:20pm
Table Tennis | Men Singles | Group | Ind vs Mongolia | 1:50pm
Table Tennis | Men Singles | Group | Ind vs Macau | 1:50pm
Table Tennis | Men Singles | Group | Ind vs Nigeria | 2:20pm
Table Tennis | Men Singles | Group | Ind vs Oman | 2:20pm
Badminton | Mixed Team | Ind vs Ukr | 2:30pm
Volleyball | Men | Prelims | Ind vs Iran | 3:00pm
Table Tennis | Women Team | Semifinals* | 4:30pm
Table Tennis | Men Team | Semifinals* | 4:30pm
Volleyball | Women | Prelims | Ind vs Italy | 5:30pm
Live Updates
4:00pm | Badminton | Indian mixed team has comfortably defeated Ukraine winning all the five matches in the tie. All matches were done in straight games.
Gold no9 for India
9:35am | Archery | Sangampreet you beauty as he wins the Gold medal for India defeating the South Aftican De clerk scoring a 149/150
9:30am | Judo | Tulika has lost her match to Chundi from China in the rd16 match in the +78kg category
Gold No8 for India
9:25am | Shooting | Its a 1-2 finish for India as Aishwary and Divyansh finished in Gold and Silver medal in 10m Air Rifle Final
9:20am | Table Tennis | Indian team lost to Chinese Taipei 0-3 in the quarterfinals and out of medal contention
9:15am | Judo | Rohit defeated Vahan by Ippon in the round of 32 to advance to next round. This is the men 100kg category
9:10am | Judo | In the 100kg round of16 match Rohit Ahlawat lost to Stephane from France.
9:05am | Table Tennis | Indian team lost to Hong Kong in the quarterfinals 0-3 and are now out of medal reckoning.
9:00am | Archery | Aman Saini wins the bronze medal defeating french archer 148-146
8:50am | Archery | It was always going to be a tough battle between the two indians and in the end it was Sangampreet who won the semis in a tiebreaker
8:35am | Judo | In the 90kg round of 32 match Sheetal lost to Markus by ippon and waza-ari
8:30am | Table Tennis | In the men quarterfinal India is down 0-2, while Jeho lost in straight games. It was Wesley who gave tough fight before going down to Yan-Cheng 2-3 (8-11, 11-8, 8-11, 11-4, 5-11)
8:25am | Table Tennis | Not looking good for Women team in the Quarterfinals as they are down 0-2 in the tie with Anjali and Radhapriya both losing in straight games.
8:20am | Badminton | As things stand currently we are giving tough fight to the South Korean team. The first mixed doubles we lost in three games. Deep and Rutuparna losing 22-20, 9-21, 18-21. Thereafter young and talented Meiraba won against Minseon 21-15,22-20 to bring India back in the tie
8:15am | Judo | Yash has lost his bout in 100+ category to Ulughbek in round of 32
Gold No7 for India
8:14am | Archery | Avneet has won a gold medal in compound archery individual competition.
8:05am | Archery | Its the Gold Medal match as Avneet is up against Alyssa from USA. Wow and both are tied at 144 each and we are onto the shootoff arrow. What a miss by Alyssa as she shot a 8 and Avneet gave no second chance to shoot a 10.
7:55am | Archery | Women Compound Individual saw avneet kaur got better of Sua Cho from Korea by 146-143. Avneet last three rounds were a perfect 30
Gold no6 for India
7:50am | Shooting | 10m Air Rifle Qualifying and as things stand we have all the three Indians making it tot Finals. Which also means we have a Gold Medal in the teams event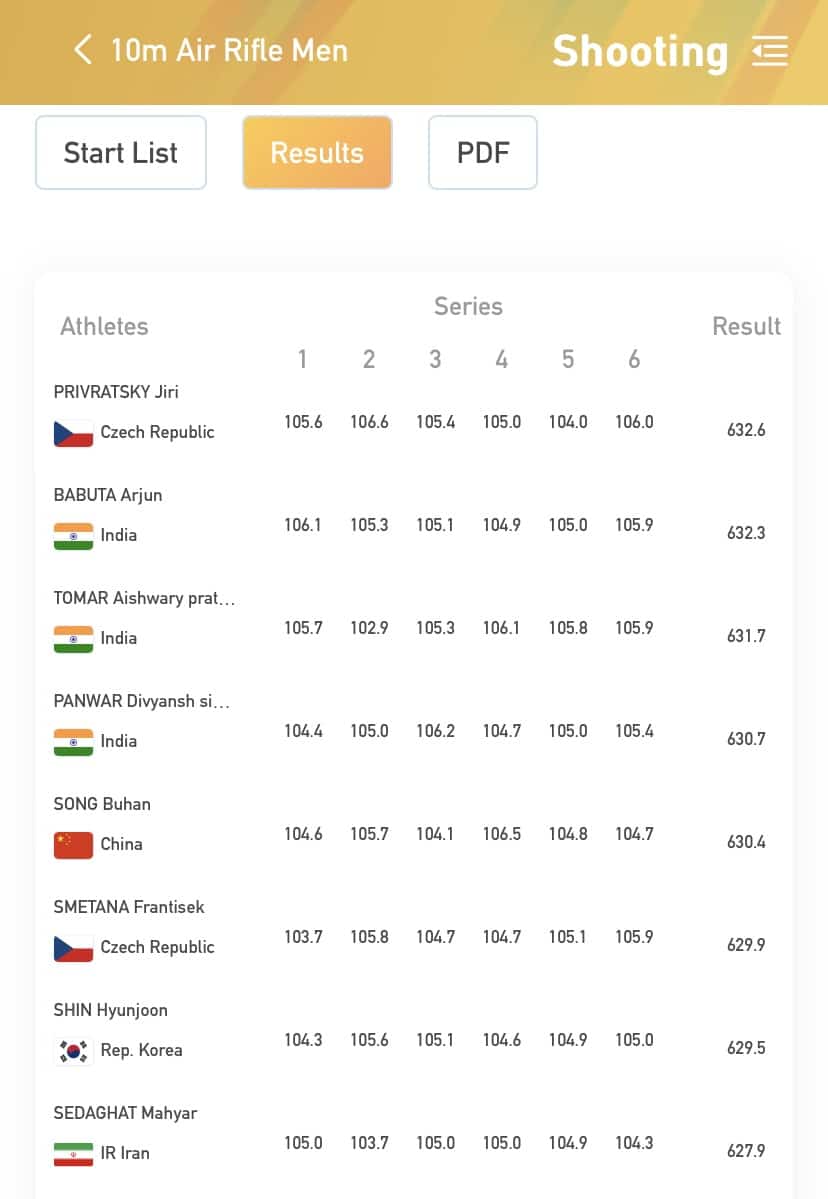 7:45am | Shooting | In the 25m Pistol Women precision stage Abhidnya shot a 289-4x to be placed 9th. Manu shot a 287-10x to be at 11th while Chinki shot a 279-4x for a 27th place. The finals and second stage which is rapid is tomorrow.
Here's how India will lineup in the tie tomorrow against South Korea