Hello and welcome to our coverage of the much awaited Commonwealth Games which started yesterday with the opening ceremony.
After the postponement of the Asian Games, CWG became much more important event for many athletes in an otherwise cramped schedule.
India has send the allocated quota of 210 athletes at the game which includes 106 men & 104 women athletes. This is India's 18th appearance at the games with the best performance coming way back in 2010 when the games were held in New Delhi.
Indians are taking part in 16 sports with the biggest squad in athletics followed by two hockey teams.
If you want to check out the schedule for today then click on this link
PV Sindhu & Manpreet Singh were the flag bearer for India once Neeraj Chopra had to pull out due to injury. In fact there was a scare of Covid test on Sindhu as well but the same got cleared and she took part in the ceremony.
Here are some lovely pictures from the ceremony yesterday.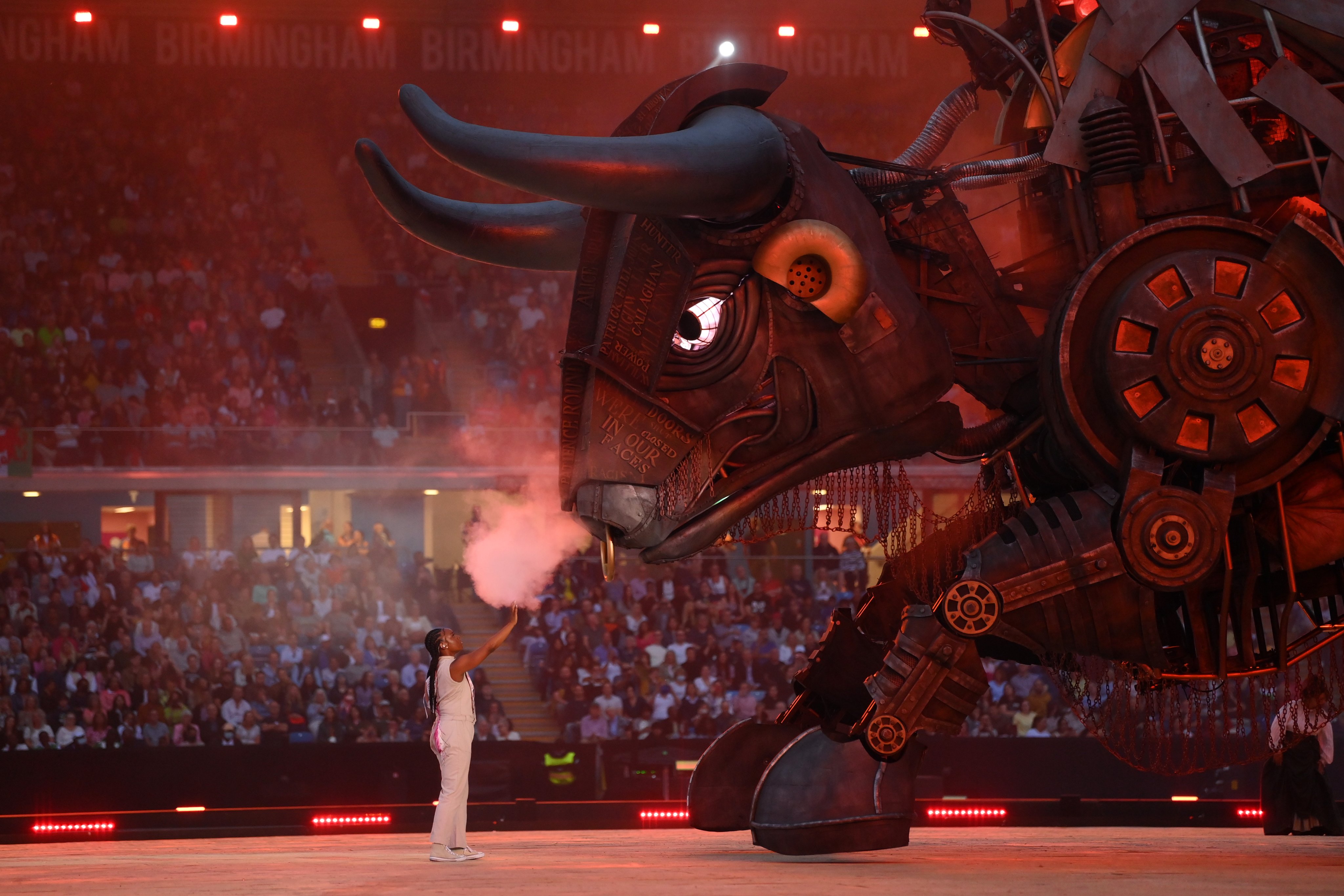 The Bull which was the talking point yesterday. Pic C Birmingham Twitter
Here you can see the Indian team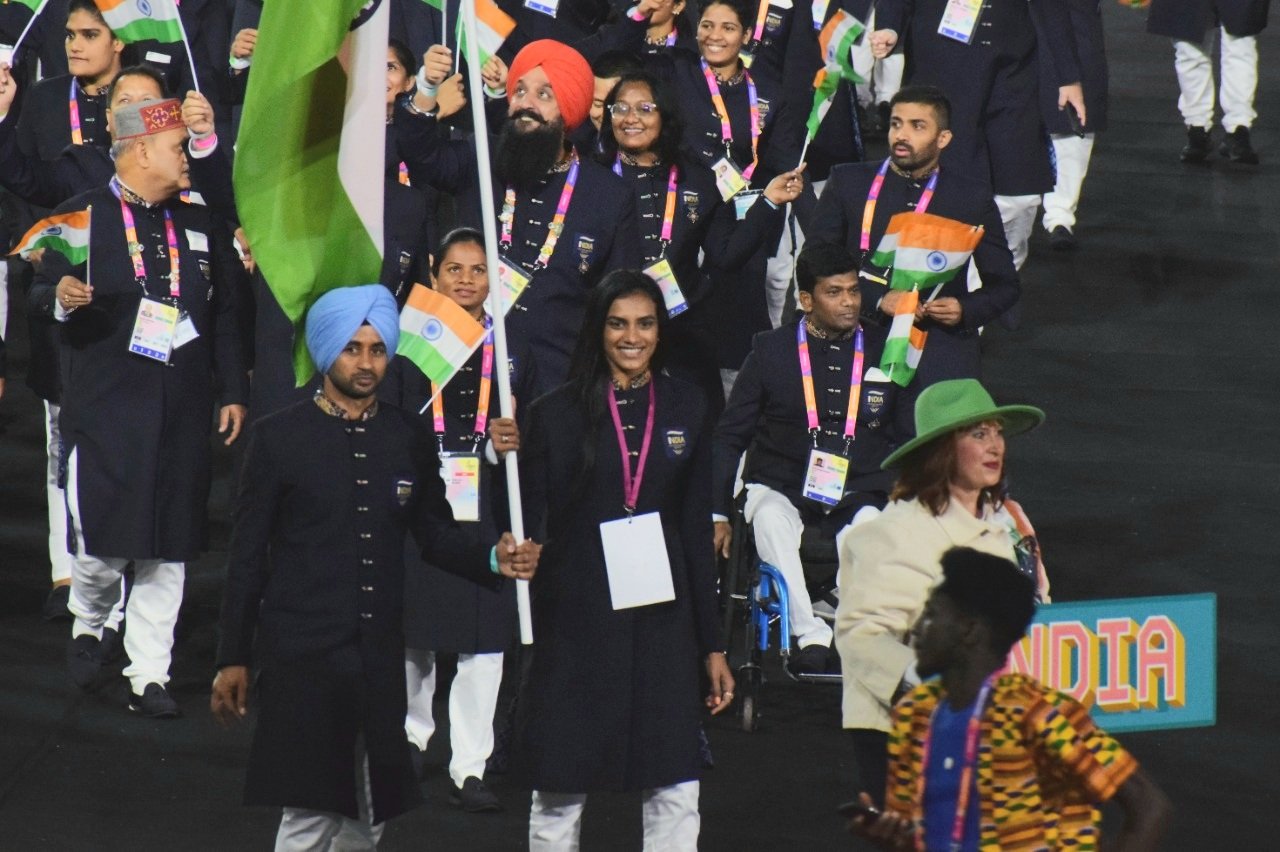 Pic C : Team India Twitter
The Action for India starts at 1pm with Lawn Bowls, and just in case you are wondering what this game is all about check this out
Its one of the oldest sport which has been a part of CWG structure since 1930.
At the 2018 Commonwealth Games in Gold Coast, it was Australia that dominated and bagged four out of the eight gold medals up for grabs. This year, over 20 nations will be taking part in the sport across the four formats. Besides, Para Lawn Bowls will also feature in the Birmingham Games.
Some more lovely pictures from the inaugural ceremony
And here it all starts. Lawn Bowls
two matches underway Men triple vs Nzl and women singles wherein Taniya is up against Hoggan from Scotland
And on expected terms. India has lost both the matches convincingly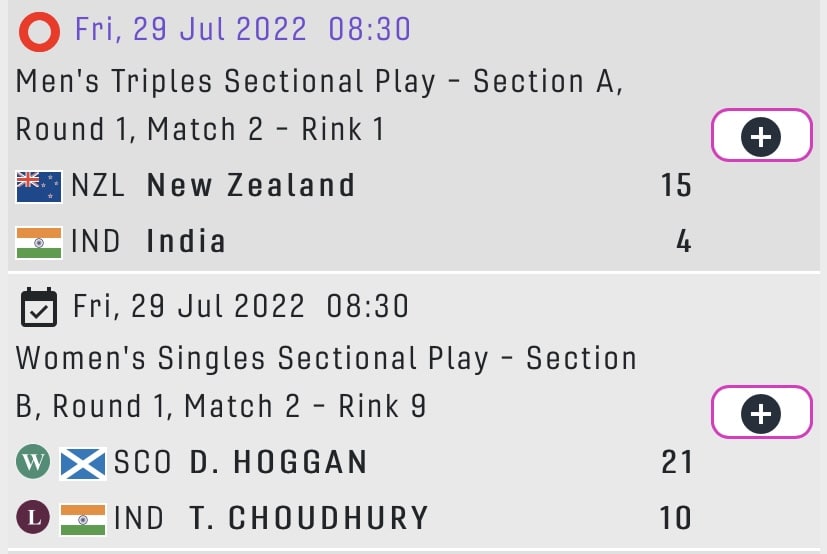 Table Tennis
Currently Women team is up against South Africa in the first group match
India faced no challenge in winning the first match of the tie. Reeth/Sreeja defeated Edwards/Patel 11-7,11-7,11-5
No problem for Manika as well who has won her match against Kalam 11-5,11-3,11-2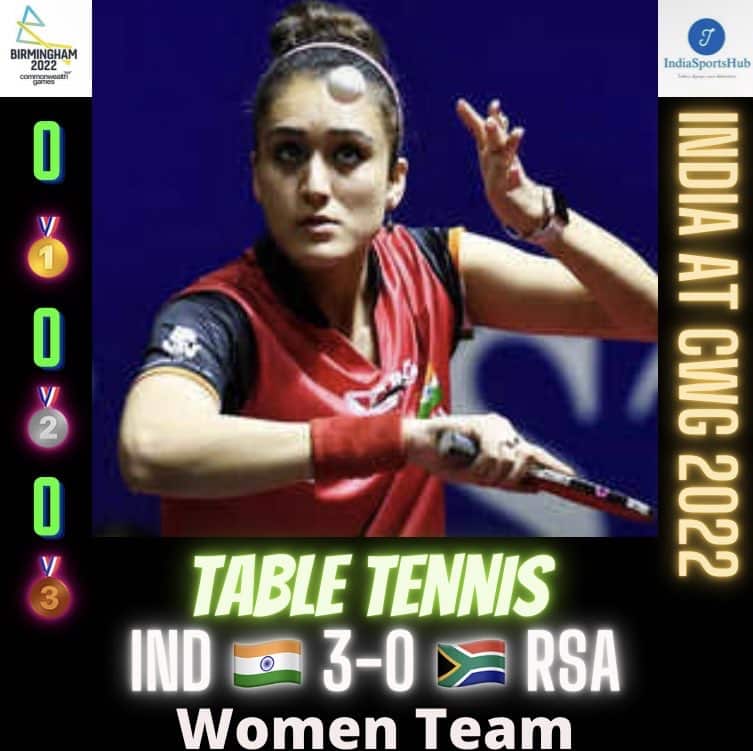 Sreeja Akula comes back to win her singles match as well against Patel 11-5,11-3,11-6
Swimming Heats
We have Kushagra Rawat in 400m Freestyle men in heat 3. He has an entry time of 3:53.45
Thr race starts but rawat is constantly at the back . He finishes the race last in 3:57.56 to be placed 14th even a personal best wouldn't have made him make the finals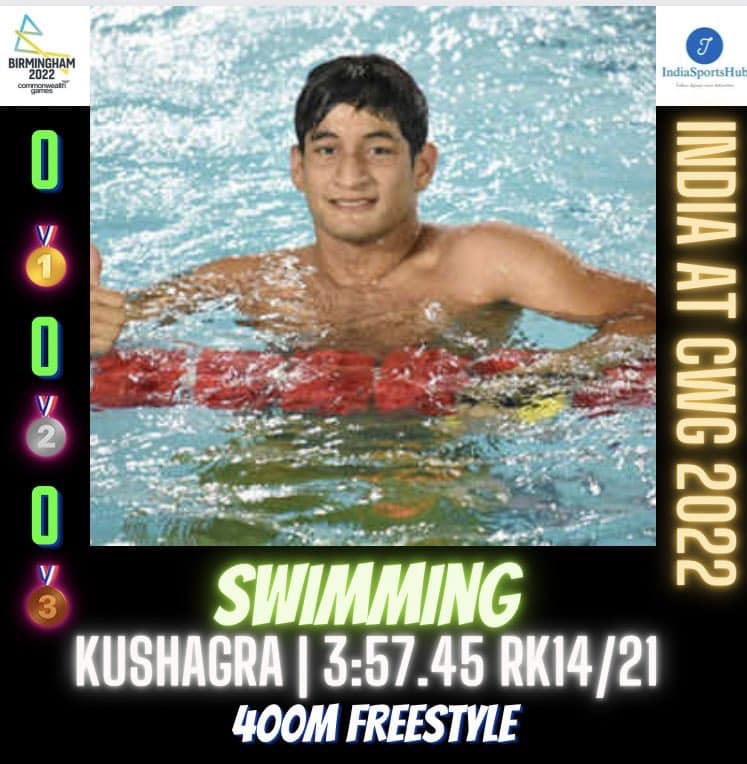 Cycling
We have cycling action on with Mens 4000m team pursuit Qualifying. Remember top two go for gold and third, fourth go for bronze. The Indian team clocked 4:12.865 and are out of the medals.
The Indian team, comprising K. Venkappa, Dinesh Kumar, Anantha Narayanan and Vishavjeet Singh, finishes 6th and last overall in qualifying!
Swimming
Sajan Prakash swims the 50m butterfly just shy of his personal best at 25.01
But that was only good to place him on 24th place with 16 making the semifinal
And a good result for Srihari who has made it to the semis of 100m backstroke event. He was the fifth fastest with still plenty in tank that should help him to compete in semis. Srihari Enters the Semis to be held post midnight India time.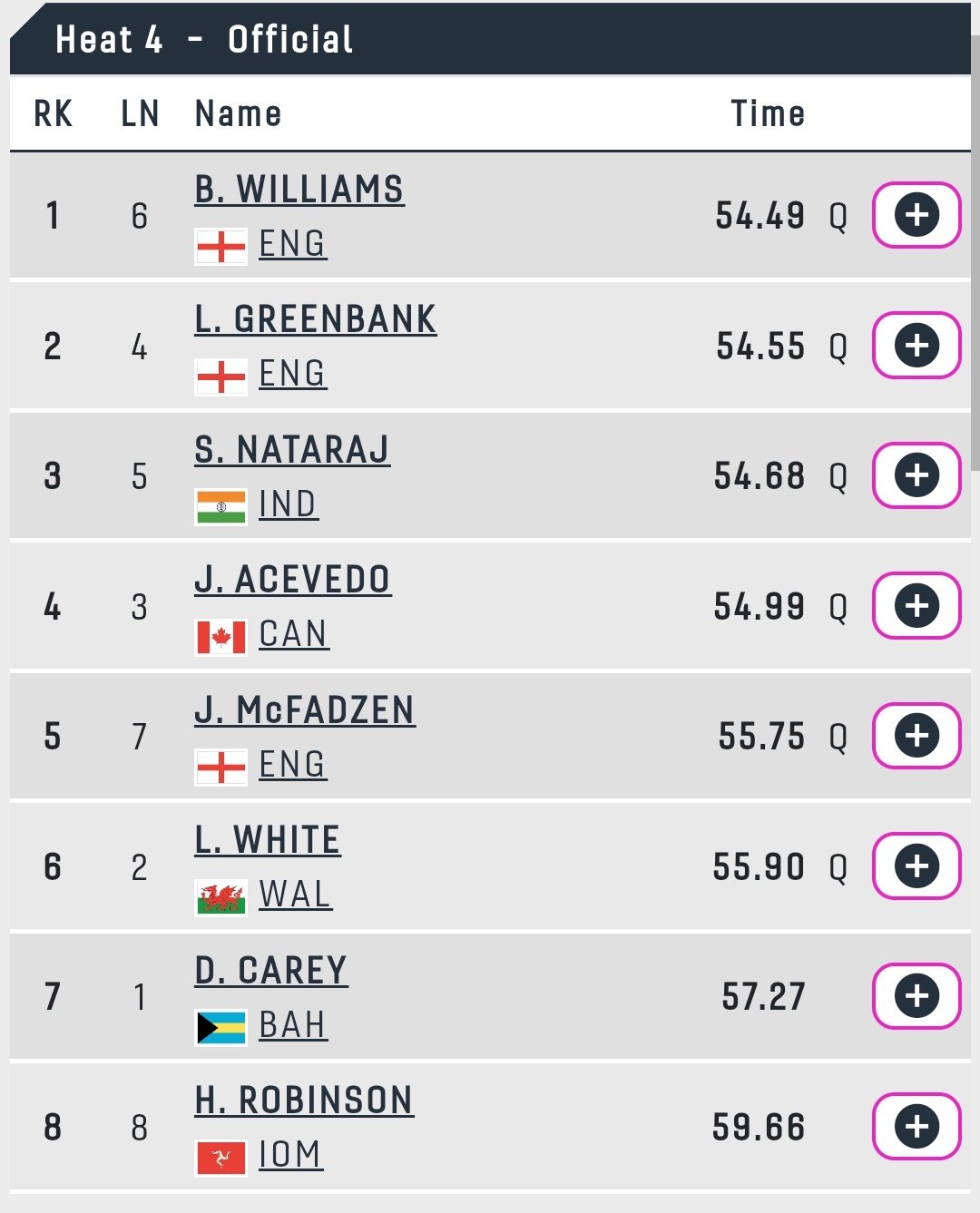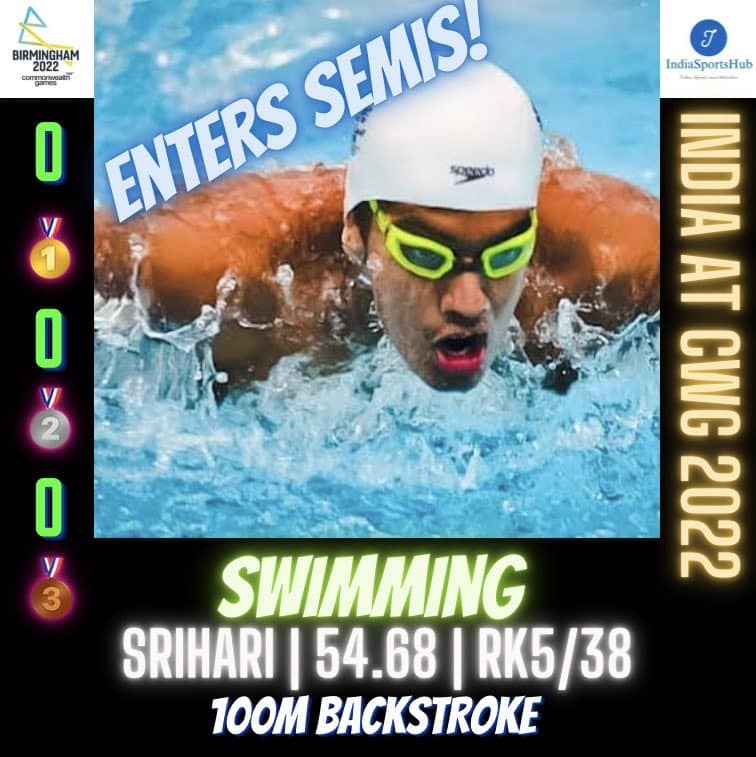 Boxing
Its an India Pak encounter in the ring. Shiva is all over his opponent in rd1 and he takes the lead. Coming back in rd2 Shiva is not giving any chance to his opponent from neighboring nation. He closes the bout in a convincing fashion in the third round. He's got a tricky bout against 2021 world bronze medalist Reese Lynch of Scotland in Rd. 2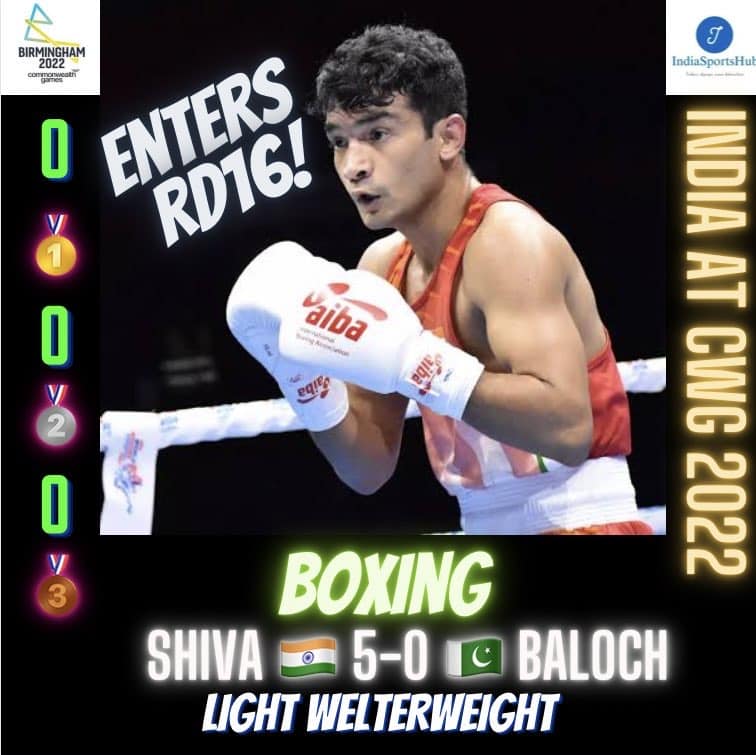 Not so encouraging results from the Cycling dome though the Men Team had finished Sixth and last in the Men 4000m Team pursuit event where they were off by 19 seconds for a place in the medal rounds.
In the Women Team sprint event Indian team was once again the last of the competitors, almost 3.5 second off the medal matches. The Men Team sprint India gave the best performance of the day. Infact for the first 250m Indian team was in the third position to eventually finish in the sixth position just off by .700 second from the medal round. They missed PB twice by a whisker. 44.627 in Asian Ch. last month in New Delhi and 44.702 now (PB – 44.625) .The team consist of Ronaldo, Beckham & Rojit.
Table Tennis Men Team
The defending champion Men TT team started with a very easy win over Barbados. While the men doubles pair of Harmeet & Sathiyan defeated Farley Knight 11-9,11-9,11-4. The next two singles were quick ones with legendary Sharath defeating Maxwell 11-5, 11-3,11-3 Sathiyan came to win the singles match as well against knight 11-4,11-4,11-5.
Triathlon Results
In the Triathlon Men event there were two Indians and both were out of the medal race from the first event itself. Adarsh finished the event in 30th position with a total time of 1:00:38 while Vishwanath Yadav made it to the finish line 1:02:52.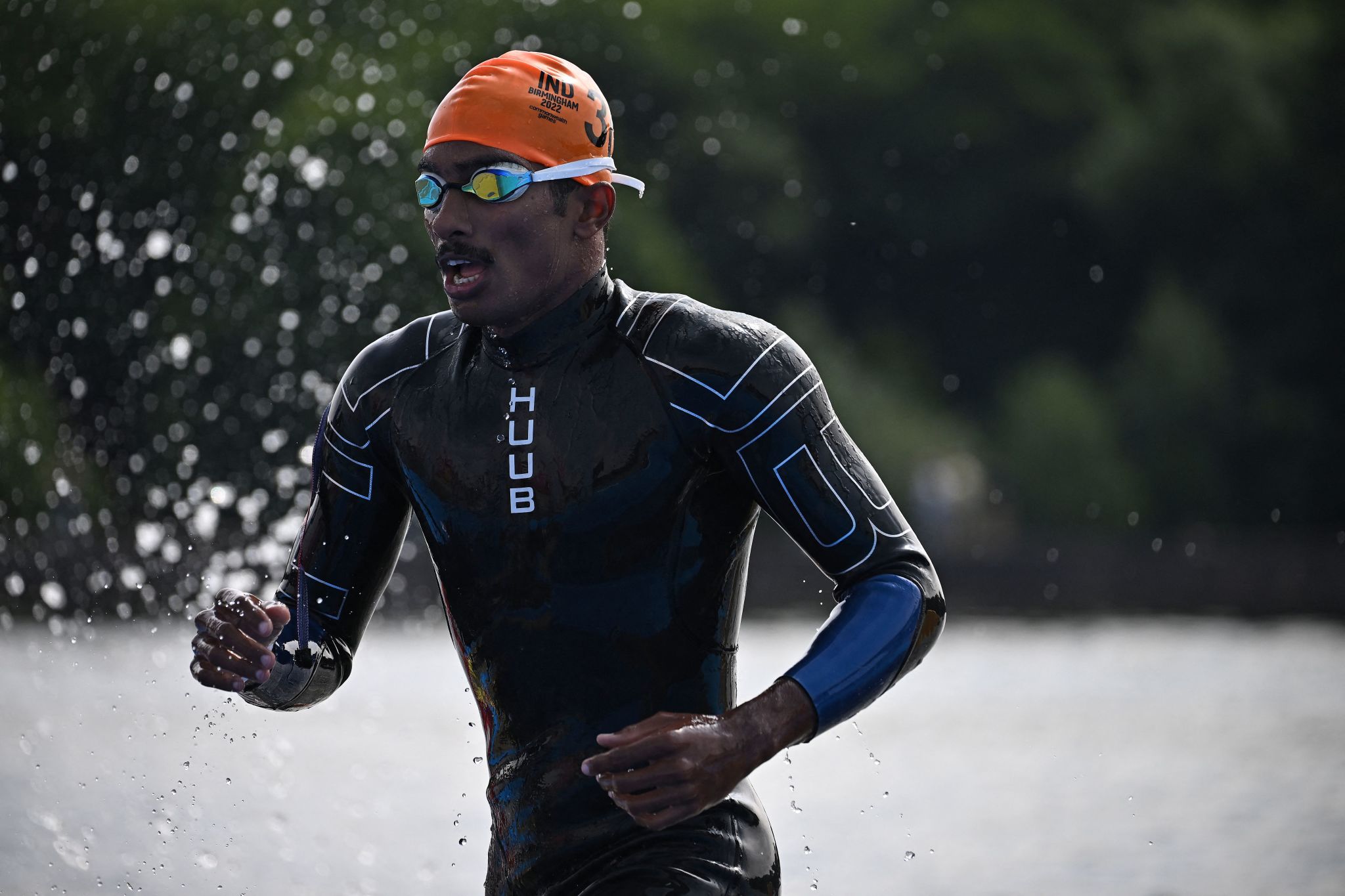 Women Cricket
An interesting match going on in the women cricket between Indian women & Australian women. While India scored a 154 largely thanks to a half century from captain Harmanpreet & a well played 48 by Shafali Verma.
Currently Aussies are on 77/5 in 11 overs requiring 78 in the rest 9 overs.
Hockey
Match coming in sometime and here is some details from the Indianhockey handle.
Ind Women Vs Ghana today (18.30 hrs IST), meeting for the first time in CWG realm.
Over all, both met only once since 2010 (HWL R2 13-0 for Ind).
Vandana 4 goals, Rani Rampal 2, Jaspreet 2; Monika, Deep Grace, Amandeep, Poonam and Limlima a goal a piece.
Badminton
The badminton mixed team match will go underway the pakistanis are actually there to play the badminton match.
Here is the schedule for the matches today.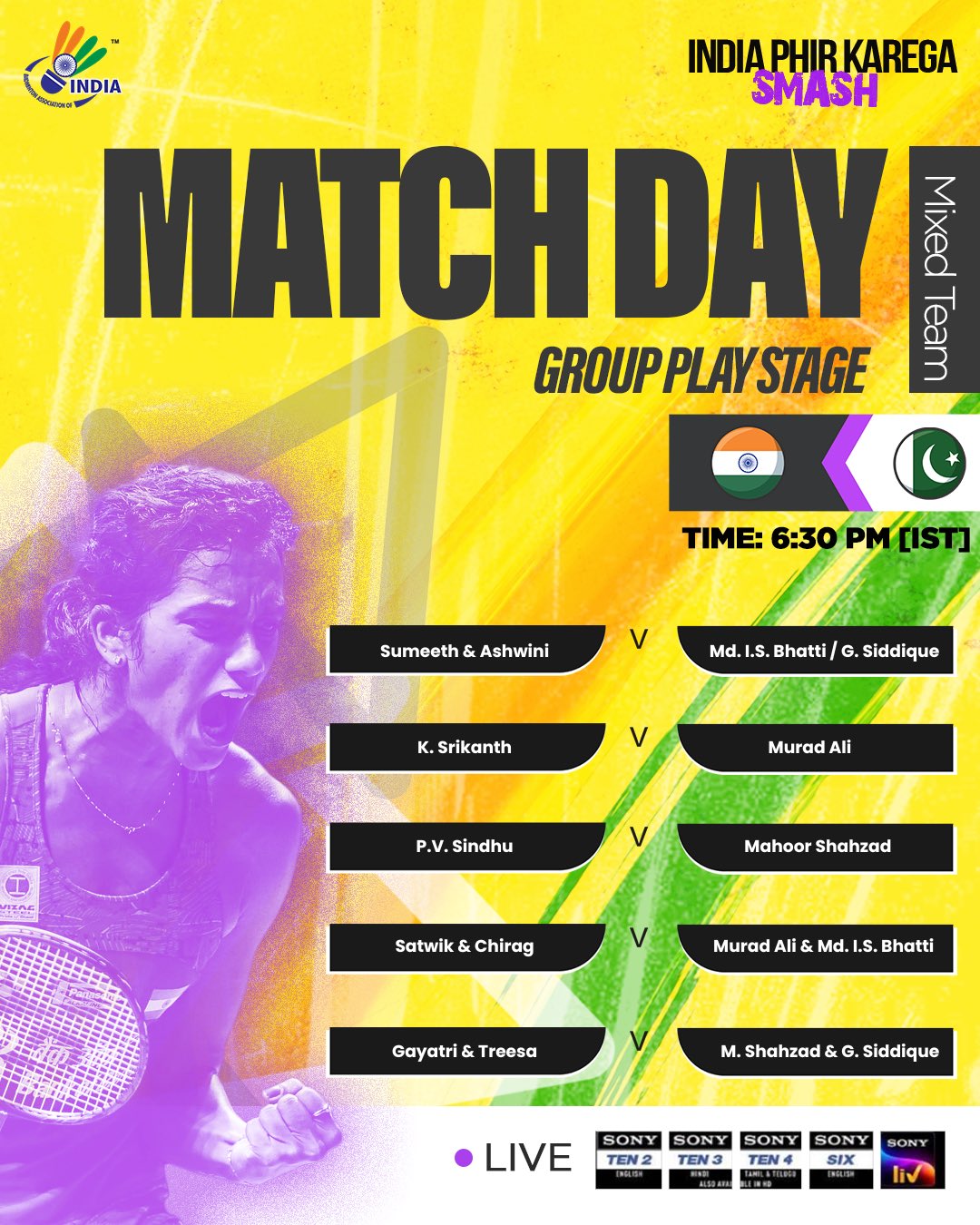 Cricket
Huge huge wicket for India as Australia lose their seventh wicket. Deepti Sharma takes her second wicket. What a superb bowling effort by Renuka Singh who took 4/18 in her quota of 4 overs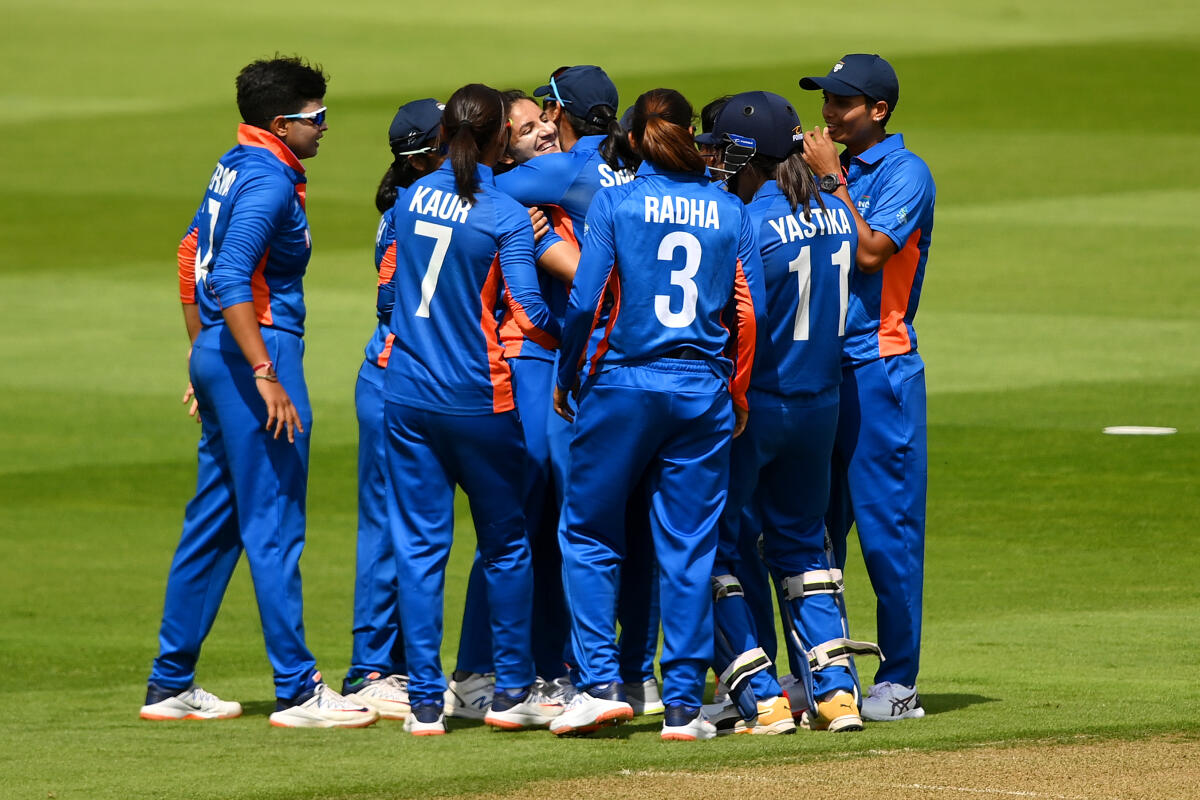 Gymnastics Update
Yogeshwar Singh registers 73.600 in the men's all-around qual. Currently stands in 5th spot with the elite 3rd sub-division yet to come. Saif Tamboli is currently 2nd in parallel bars with 14.050 pts (8 in finals).
Satyajit Mondal 13.475 (4th now) in vault.
Cricket
Indian women hockey team lost the match against the world champions Australia after it was looking at a moment that we could be in with a chance.
Hockey
And we have the hockey action underway for Indian women match against Ghana. Should be a goal rout for India. As we speak India is up 1-0 as Gurjeet Kaur scores from the penalty corner within first couple of minutes. Yet another penalty corner for India but this time no goal. India is still leading by only 1-0, Indian women team would be not happy with the performance so far in Q1.
At the End of Q1 its still 1-0.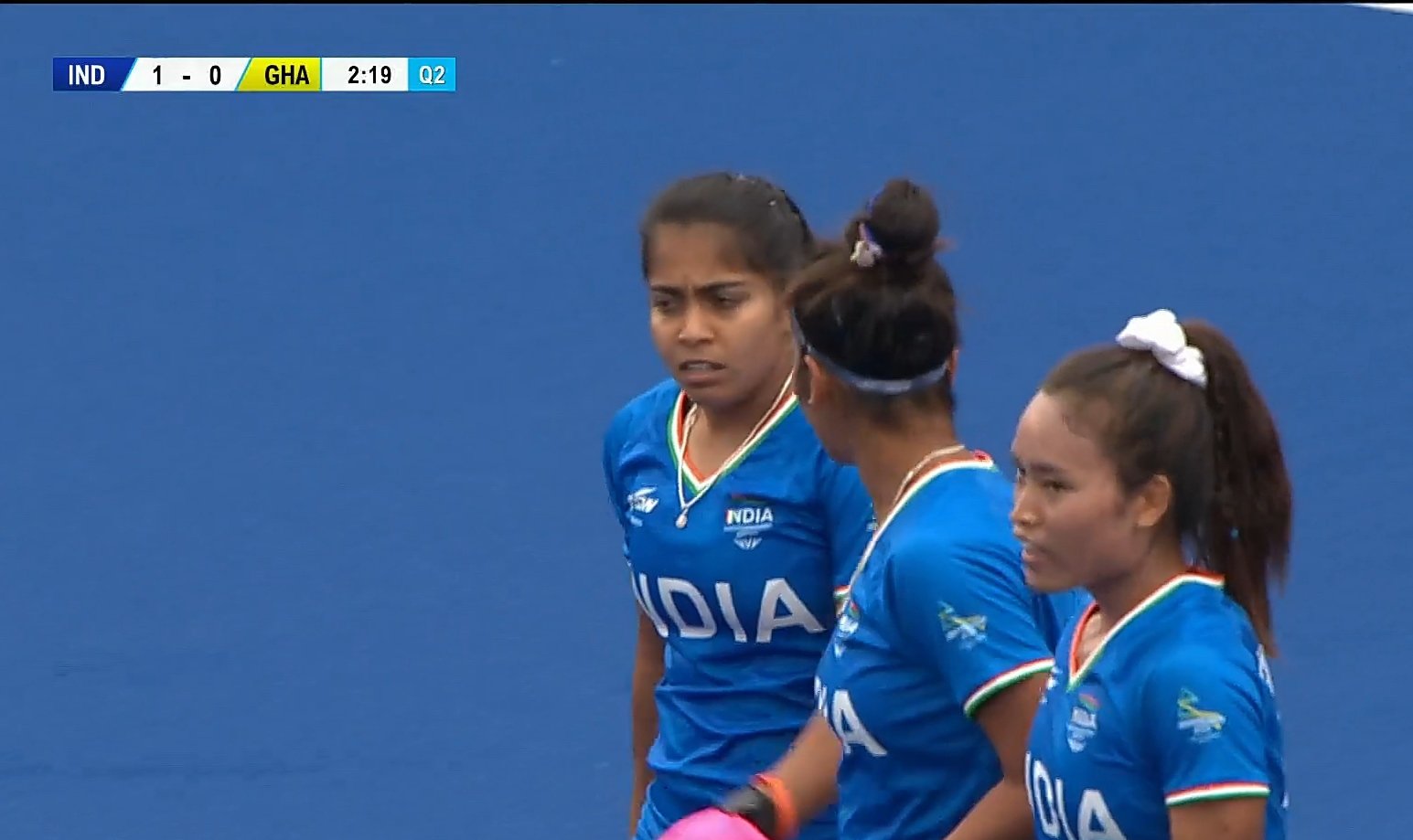 Start of the play in Q2 and India is putting a lot of pressure on the Ghana team, India is much better team than the opponent but we need to see a lot of pressing game by the India's women team. Even the commentators are saying it was supposed to be one way traffic but looks like India team is failing to make inroad into the Ghanaian circle
Badminton
India (Reddy & Ponappa) defeat Pakistan (Bhatti & Siddique) 21-9 21-12 in the Group A Mixed Team Badminton event. Next up is Srikanth Kidambi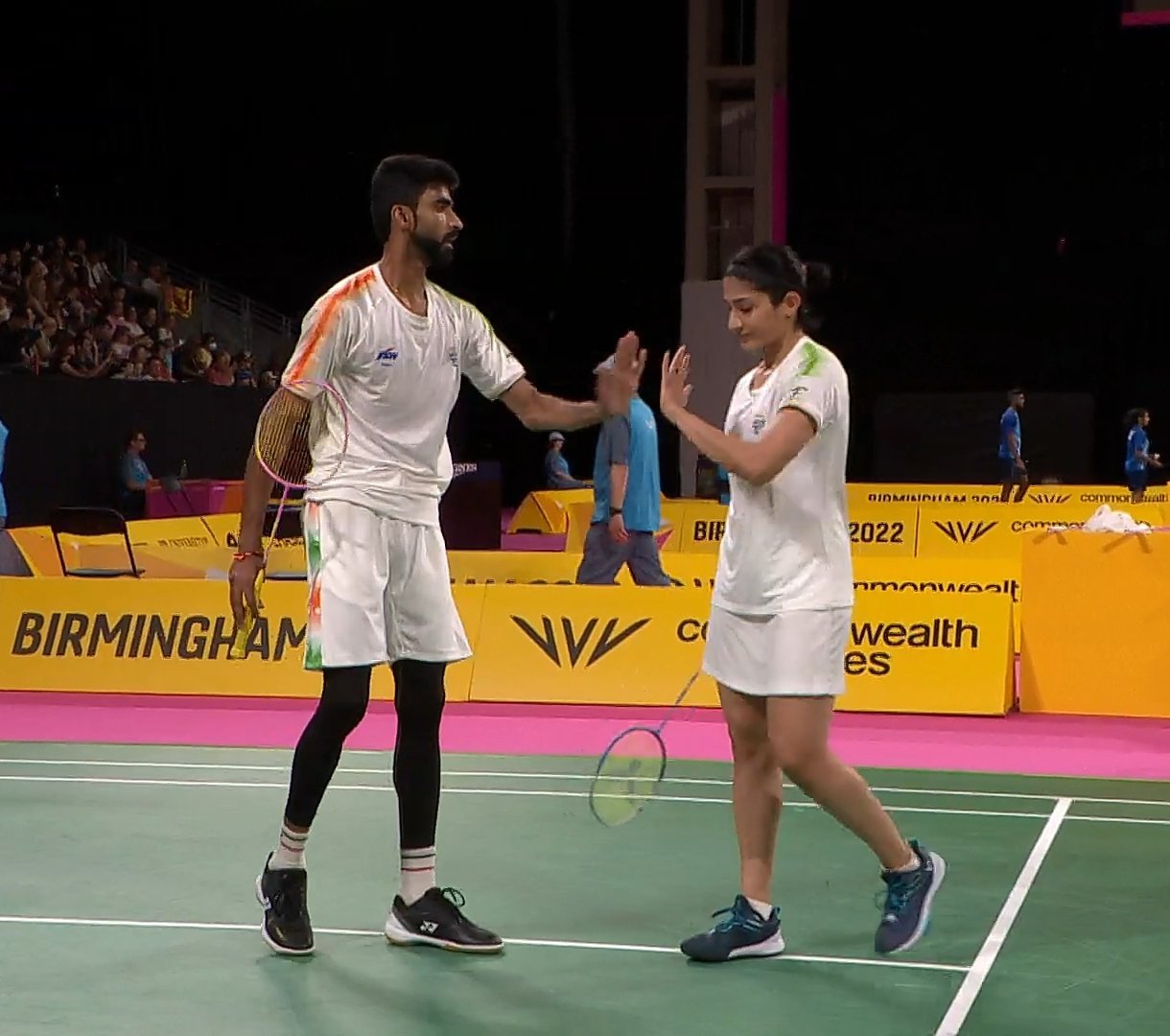 Hockey
Not going as per plan and now Ghana gets a penalty corner. The score is still 1-0 with 4 minutes to go in H1. Wow what an effort by Ghana but the wall Savita Punia makes a superb save by left glove.
Hold On yet another penalty corner for Ghana within last five minutes. India Score a goal in the counter attack. Neha gets the last touch.
At halfway stage its India 2 Ghana 0
And India gets the Sixth Penalty corner. India is up 4-0 at the end of Q3. Gurjit scored her second goal while Sangita scored the other goal in the quarter.
No Goals so far in the last quarter
Triathlon Women
Both the Indian participants were never in the medal race and finished the race at the bottom with Pragnya placed at 26 while Sanjana crossed the line in 28th position