The men's trials are being held at the Indira Gandhi Indoor Sports Complex in New Delhi on May 17.
The six weight categories in the men's freestyle are 57kg, 65kg, 74kg, 86kg, 97kg and 125kg.
Information Courtesy | Amanpreet Singh
Live streaming Links
INDIAN MEN FREESTYLE TEAM FOR CWG GAMES
57kg – Ravi Dahiya
65kg – Bajrang Punia
74kg – Naveen
86kg – Deepak Punia
97kg – Deepak
125kg – Mohit Grewal
FINAL MATCH
57Kg | Ravi v Aman Sehrawat
65Kg | Bajrang v Vishal
74Kg | Gourav v Naveen
86Kg | Deepak P v Sanjeet
97Kg | Sahil v Deepak
125Kg | Mohit v Satender
74Kg | Gourav is up against Naveen. Should be a good match. And Gourav Baliyan is not going to CWG. Naveen defeats Gourav 12-2. He defeated Jitender, Sagar Jaglan, Gourav Baliyan
57Kg Final | Ravi Dahiya on mat. Leads 2-0 against Aman. Ravi defeats Aman convincingly by technical superiority 10-0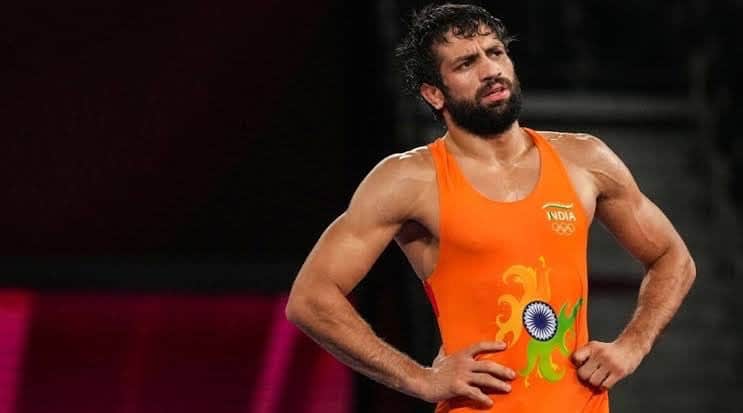 65Kg Final| Bajrang Time Now, first take down by Bajrang and he leads 2-0. Bajrang wins 2-1 and is going to Tokyo
86Kg Final | Deepak Punia scored a convincing win over Sanjeet to grab his CWG Ticket
97Kg Final | Deepak from Haryana leads 8-0 at halftime. Very close to booking his ticket for CWG2022. Deepak get the Birmingham ticket in 97Kg. Well played. Defeated Sahil by technical superiority. Deepak is 2021 Junior World Bronze Medalist
125Kg Final | Mohit defeats Satender in a controversial end moments, more details awaited.. Some issue with the referee decision. And Mohit goes on to punch a judge on the decision
Semifinal Matches
57Kg | Ravi Dahiya on the mat now. He is 3-3 at halftime against Vijay Patil, Ravi wins 11-5
74 Kg | Gourav leads Narsingh 5-3 at midway. Gourav leads 7-4 now
65 Kg | Vishal Kalliraman beats Rohit 5-2, he will face Bajrang Punia in the final
86Kg | Deepak Punia defeated Vicky 9-3 to enter Finals
65Kg | Bajrang Punia makes Final, he defeats Sujeet 4-0
No Satyawart in CWG Squad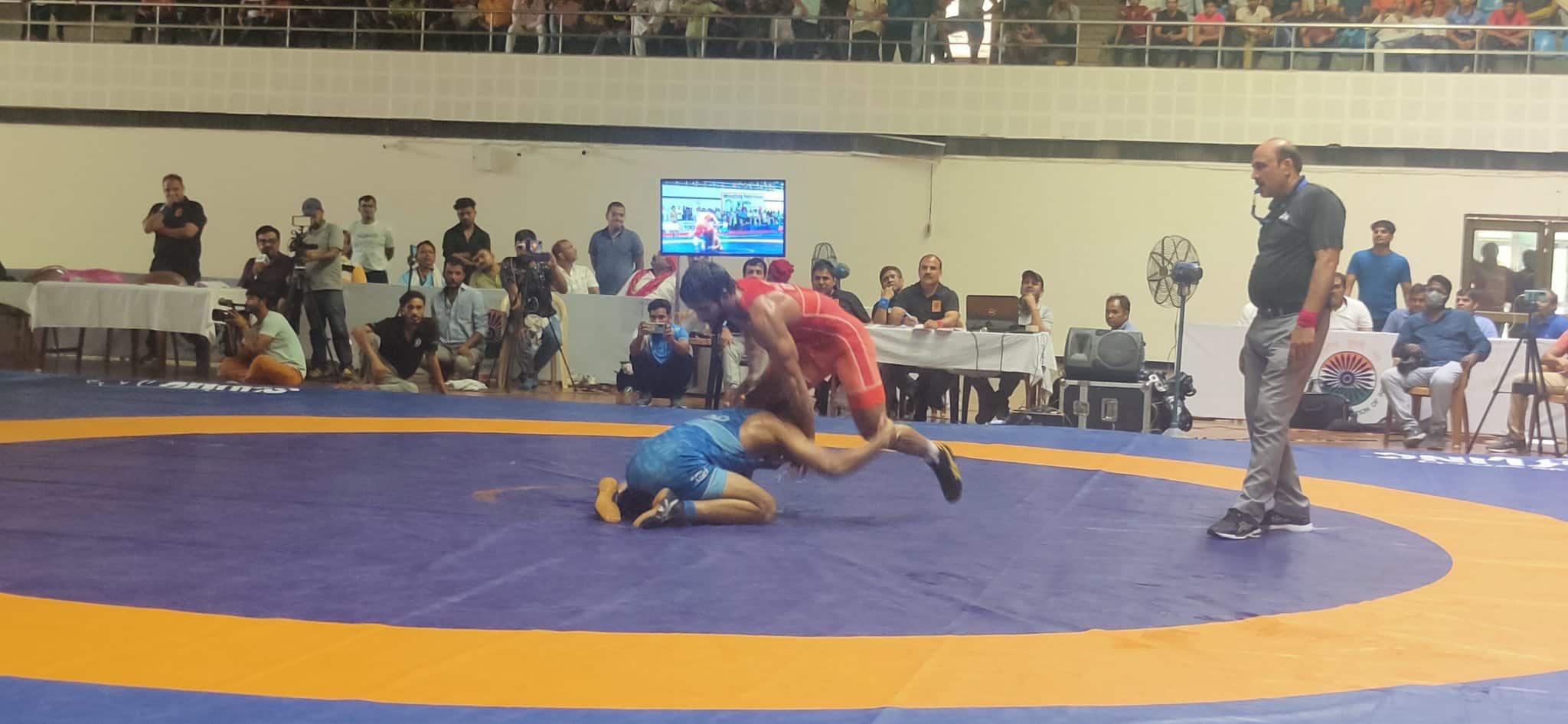 97Kg | Sahil defeats Mausam by Technical Superiority while Deepak stuns Satyawart 5-2
97 Kg SemiFinal
Satyawart vs Deepak
Sahil vs Mausam
86 Kg Semifinal
Deepak Punia vs Vicky
Sanjeet vs Jonty
74 Kg SemiFinal
Sagar vs Naveen
Narsingh vs Gourav
65 Kg SemiFinal
Bajrang vs Sujeet
Rohit vs Vishal
57 Kg semifinal
Ravi Kumar vs Vijay Patil
Aman Sehrawat vs Abhishek Dhaka
97kg | Satyawart Kadian defeats Monu by Technical Superiority
Bajrang, Deepak Punia and Ravi have been given seeding and will fight from semis
74kg | Jaideep defeats Parveen Rana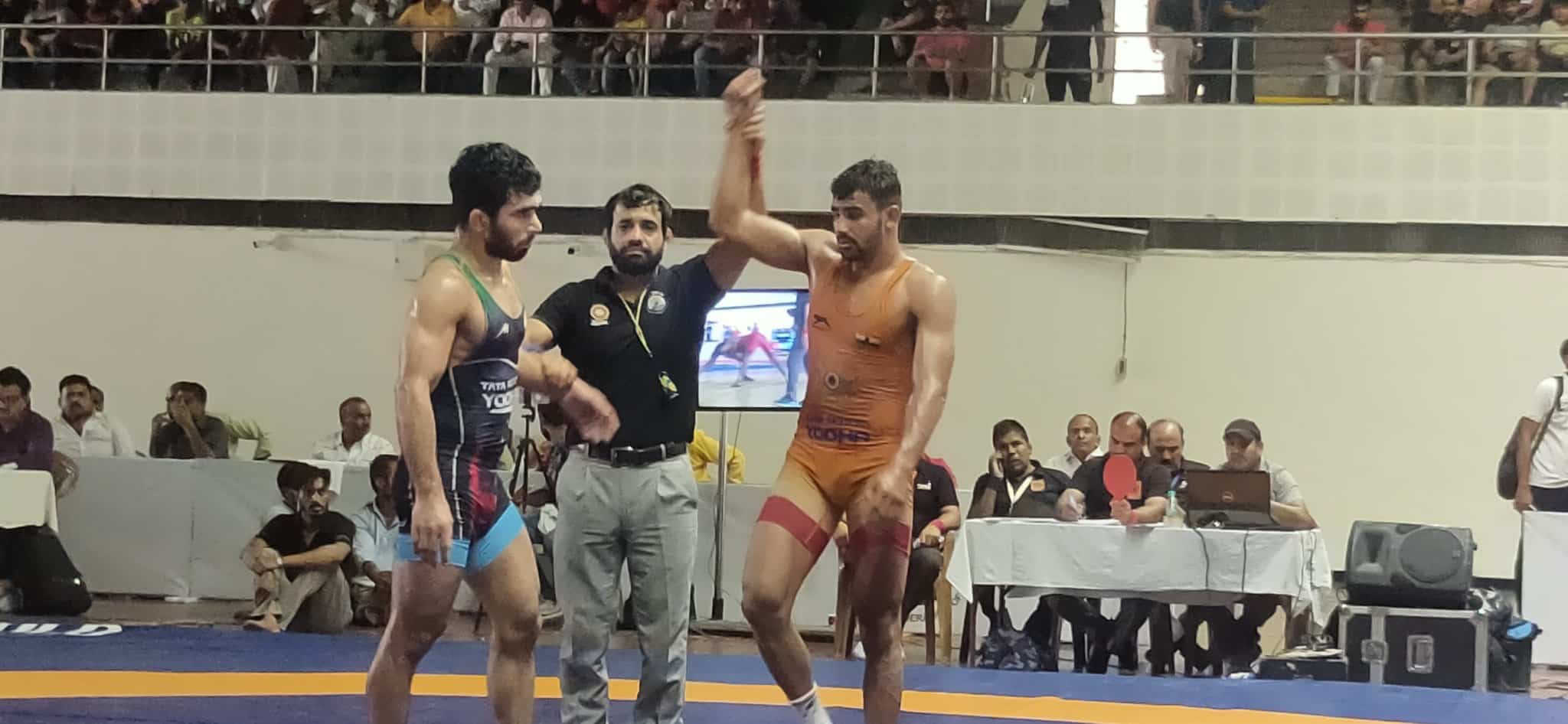 74Kg | Vijay beats Yash Tunir 3-2 from CWG trials. Yash was expected to go deep in the draw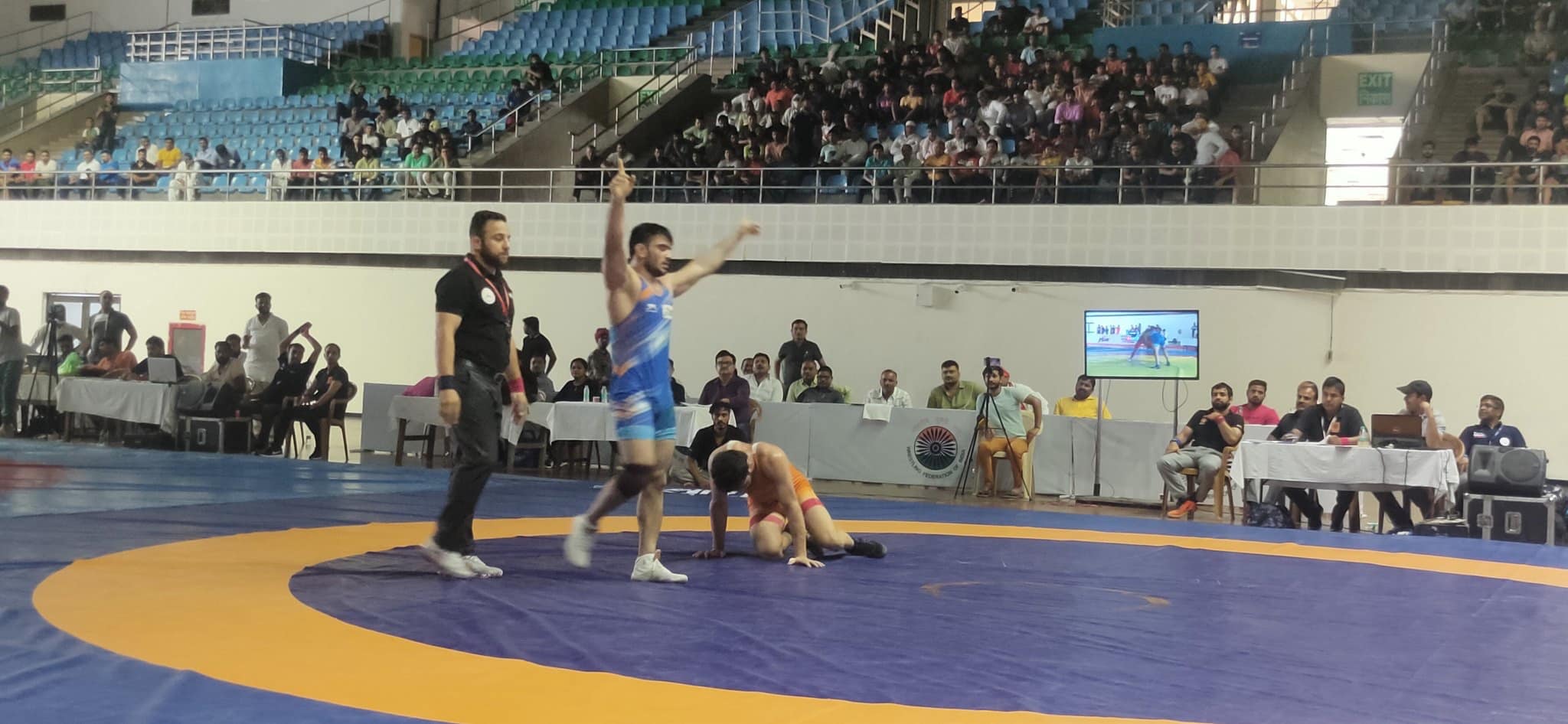 Result of selection trials to select 🇮🇳 women's wrestling team for CWG in Birmingham.
50 kg. Pooja Gehlot
53 kg. Vinesh
57 kg. Anshu
62 kg. Sakshi Malik
68 kg. Divya Kakran
76 kg. Pooja