Welcome to our coverage of the competition.
Pre Quarterfinals Matches
Jayanta vs Kim
From being at 5-1 to lose it in Tie Breaker is a proper meltdown. Kim you took full control
Third set is drawn 5-1 as both shoot 28. Come on Jayanta one more set and we are in Semifinal
Jayanta has again done a 29 and Kim has shot 27. The Indian leads 4-0
Wow, Jayanta has started with a 29-26 against Kim
And all four Koreans have made it women Quarterfinals while three have made in Men. Can Jayanta take one of them out
Jayanta Talukdar has entered the Quarterfinals defeating Peters from Canada 6-2. Ridhi lost her match in tiebreaker. She shot a 8
Set 5
Ridhi 5-5 has gone into a shoot off against Lee from Korea
Set 4
Jayanta 6-2 (27-26) Eric 🇨🇦
Ridhi 4-4 (26-27) Lee 🇰🇷
Tarundeep 2-6 (27-30) Kim 🇰🇷
Set 3
Jayanta 4-2 (27-25) Eric 🇨🇦
Ridhi 4-2 (30-29) Lee 🇰🇷
Tarundeep 2-4 (28-29) Kim 🇰🇷
Set 2
Jayanta 2-2 (29-24) Eric 🇨🇦
Ridhi 2-2 (28-29) Lee 🇰🇷
Tarundeep 2-2 (29-28) Kim 🇰🇷
Set 1
Jayanta 0-2 (27-28) Peters 🇨🇦
Ridhi 2-0 (28-27) Lee 🇰🇷
Tarundeep 0-2 (27-28) Kim 🇰🇷
Jayanta, Tarundeep & Ridhi Enter PreQuarterfinals
Jayanta has now beaten Felix from Germany 🇩🇪 who was seventh seed at qualifying. 6-4, pretty intense match that. And Tarundeep follows him with a resounding victory over Castro 🇪🇸 6-4. Meanwhile Ankita lost to Kang 3-7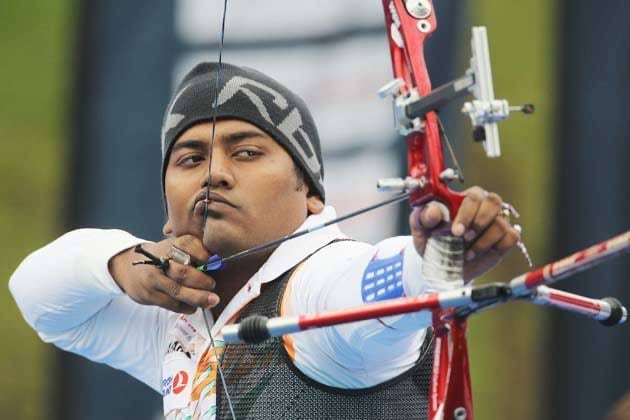 And Sachin falters in the fourth set with a 25 to give the match to Unruh. Jayanta shoots a 28 and Felix gets the set so its 4-all and Tarundeep shoots 28 to give the set to Castro. 4-all
Ridhi has defeated Valencia from 🇲🇽 6-2 while Ankita trails 3-5 against Kang
Sachin shoots yet another 29 but his opponent in the same range. Tied set and Sachin trails 2-4. Jayanta shots yet another 29 and Felix matches, Jayanta leads 4-2 and Tarundeep shoots a 28 to win the set he leads 4-2 as well
In the women section Ridhi has won the third set so she leads 4-2 while Ankita is giving tough time to Qualifying world record holder Kang. They are tied 3-3
Sachin has shot a 29 to tie the next set but trails 1-3, Jayanta has also shot a 29 to tie the next set and leads 3-1. Tarundeep also has similar fate two sets two tie, 2-2 for him
Ridhi and Ankita have won the next set from their opponents. So overall a good round for Indians
Sachin gupta currently trails 0-2 against 8th seed German Unruh, scored a pretty average 24. Jayata with a 29 has won the first set against 7th seed German Felix while Tarundeep shoots a 27 to be tied with Castro from 🇪🇸
In the women section Ridhi and Ankita have lost the first set
Neeraj Chauhan has lost 4-6 to Sanzhar 🇰🇿 , while Sachin Gupta has defeated Steve 🇳🇱 6-4. Jayanta has blanked his the Olympic Champion Gazoz 6-0. Tarundeep has defeated Ruman 🇧🇩 6-4
In the women section Komalika has lost 4-6 to Anagoz 🇹🇷 , Simranjeet 3-7 to Chen from TPE. While Ridhi has blanked Kamila 6-0 from 🇵🇱 and Ankita has defeated Vazquez from Mexico 7-3
We have the recurve Individual competition happening now
Mixed competition is underway
India lost to Estonia 156-158. Super shooting by both teams but the margin of error is so less
India and Estonia in Semifinal and its 38-all. By the way Korea is out.
India defeat Mexico 156-153 to make it to Semifinal of compound mixed team event
India opened with a 39 and scored 40 to gain a two point lead. 79-77. India score yet another good 39 to maintain the lead of 2 points. 118-116
Compound team has defeated Denmark 157-155 to make it to Quarterfinals
Recurve mixed team lose the Quarterfinals against Germany 1-5. Compound team with a 39 and now lead by 2 points. Korea has lost in Quarterfinals against Netherlands 🇳🇱 2-6
The compound team have scored a perfect round of 40 and go into lead by a solitary point 79-78 against Denmark. The Recurve team shots a below par 32 to lose the second set
Compound Mix start with a 39 to Denmark 40 and Recurve are tied for 1-1 after 37-all set
Ok, so Recurve team will now meet Germany, second seed in Quarterfinals and Compound team is up against Denmark in Pre-Quarterfinals
Indian team had started with a horrible 33 with just one 9 while the Japanese gave back the favour with a 32 in third set
There we are 3-3 tied and Japan with a 32 in third set. Indian team of Tarundeep and Ridhi have defeated Japan 5-3. Last two sets were 38
All the teams have scores updates but India vs Japan in the recurve has not yet started. Some technical glitch
Compound Individual Competition is underway
Mohan Bhardwaj has made it to SemiFinals defeating Yang 147-140
Result 1/8 round
Aman lost 147-149 Mathias 🇩🇰
Mohan won 149-145 Jozef 🇸🇰
Muskan lost 142-143 Kim 🇰🇷
So six have advanced and will now compete in the 1/16 rounds
Abhishek Verma who was third seed lost. Three make it Pre-Quarterfinals
Results 1/16 round
Aman won 147(10+)-147(10) Pagno 🇮🇹
Abhishek lost 144-145 Florian 🇩🇪
Mohan won 146-143 Brice 🇦🇺
Women
Priya lost 146-147 Dafne 🇲🇽
Avneet lost 144-146 Paas 🇪🇪
Muskan won 144-141 Lok 🇹🇷
All eight are competing in 1/32 rounds.
Aman won 149-144Stef 🇳🇱
Abhishek won 149-140 Alves 🇵🇹
Mohan won 146-144 Patrick 🇦🇺
Rajat lost 146-148 Jean 🇵🇷
Women
Priya won 146-144 Maris 🇪🇪
Avneet won 146-134 Wong 🇭🇰
Raginee lost 142-143 Farsi 🇮🇷
Muskan won 146-137 Cheng 🇭🇰
Bronze Medal for India
India women team of Komalika Bari Ankita Bhakat and Ridhi win the bronze medal with a 6-2 victory won the last set 55-54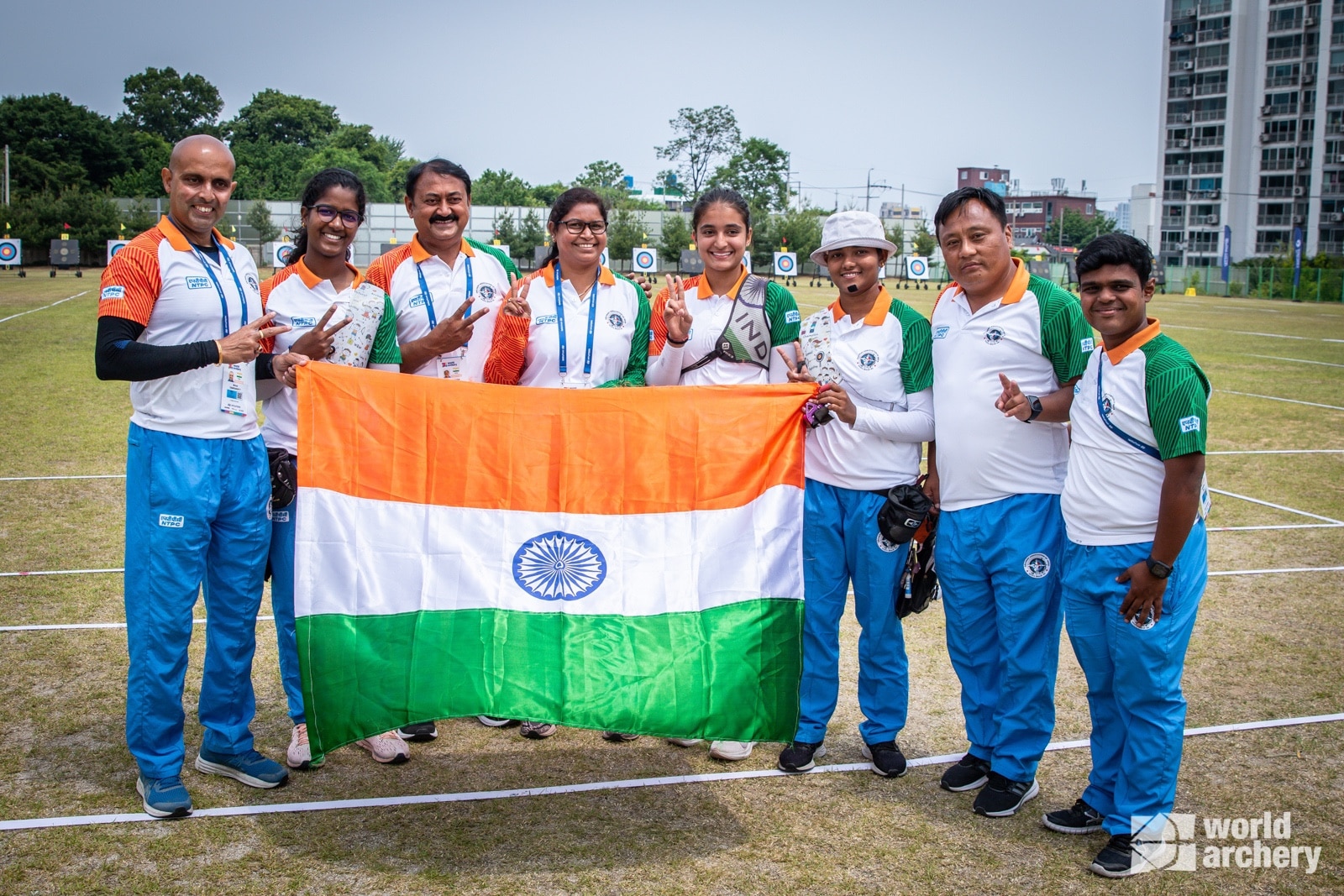 India lose the third set 54-55, a draw in the next gets the medal
Has won the second set as well 54-51. Just one more set and India has the second bronze of this world cup
Bronze Medal Match
Indian Women up against Chinese Taipei for a Bronze Medal. Have started well with a 56-52.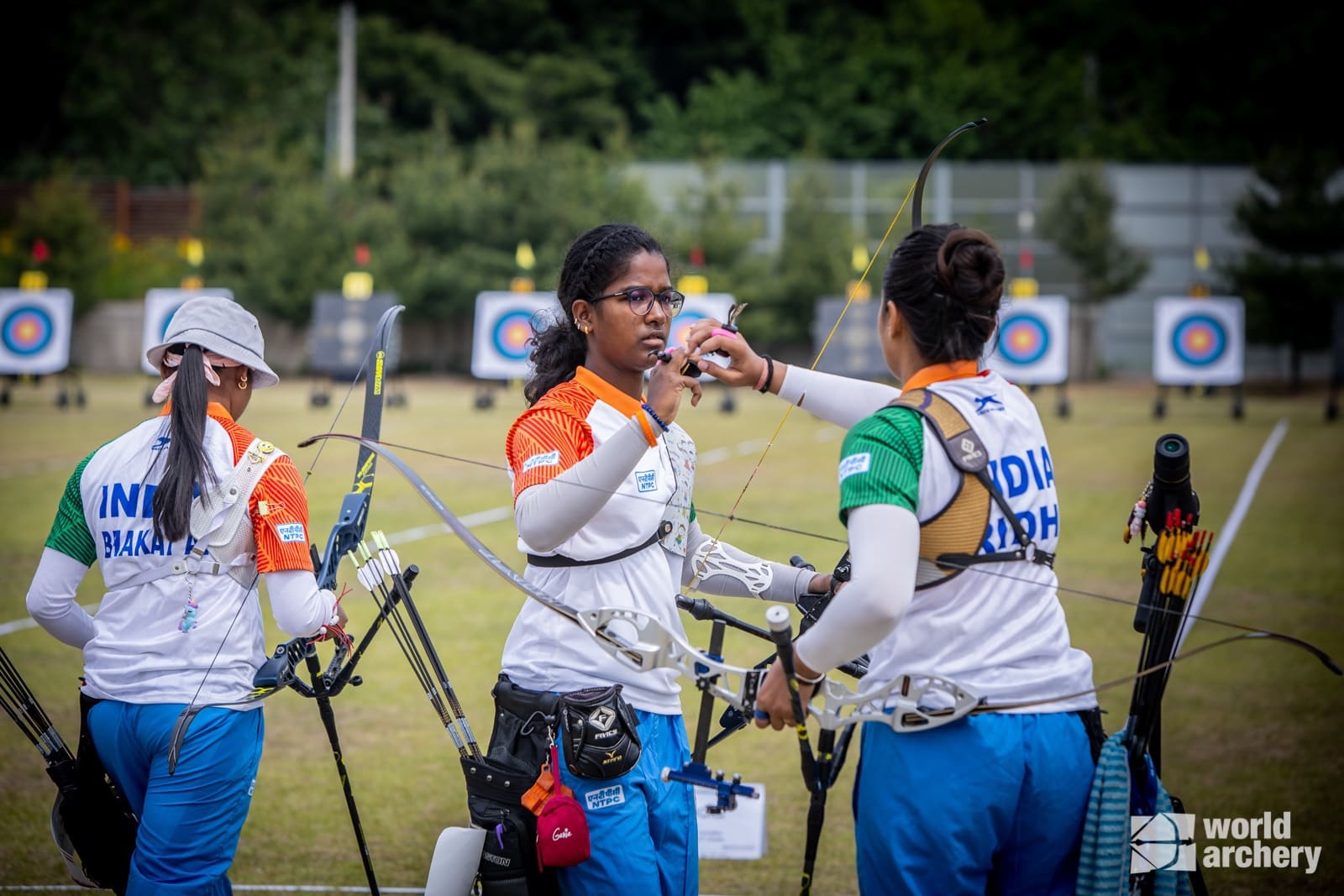 Men shot a horrible 47 and lose to France 2-6 who off-course shot better than that 53. Disappointing shooting by the team of Tarundeep, Jayanta and Neeraj Chauhan. And women team had a miss shot , lose to Korea. Even if it wasnt a miss they would have still lost as Korea scored 53 to India 43
Women manage a pretty average 51 and Korea has the lead with a 53. Conditions seems to be very challenging looking at the scores. Men also lose the third set 53-55. Both need to win the next one to take the game into Tiebreaker
Men came back to win the next set scoring 55 while France could only manage a 52. And Surprise Surprise Indian women have taken a set against Korea scoring 57 with Korea managing only 55
Indian women come up with a 53 and Korea has the first set with a 55. Sure they will be very cautious after what happened earlier.
Men also lost the first set with a pretty average 54 which is bettered by France 57
And somehow Just somehow Korea women manages to enter Semifinal with a tie breaker win of 27-26
India men somehow manages to win the tie breaker with a 28 round on which Turkey responded with a 27 to enter Quarterfinals. France next who ousted Second seed Germany
Its down to shoot off as Indian Men lost the fourth set scoring a 53 which was bettered by Turkey 54. While women have scored a brilliant 59 to enter Semifinal defeating Mexico 6-2.
India women wins the third set scoring a 55 as Mexico faltered for a 50. Men team also won the third set scored a 54 against a 51 from Turkey.
Korea Women team in trouble as they are down 0-4 to Turkey
Men score a 56 and its the set to Turkey who came up with a 57 while on the other side Women also lost the second set scoring pretty low 51 and Mexico scored a 53
Women are against Mexico and Men against Turkey. Women score a 55 and win the set against Mexico's 53. Men team score a superb 59 to Turkey's 55
And the Women team somehow manage to score a win. Get 55 in the fourth set and Brazil falters with a 52. Better shooting is required if they want to make it medals. Mexico next who had consistent 56 rounds
Its 3-3 now as India loses the next set with a score of 55 to Brazils 57.
Started with a pretty average 49 and Brazil also shot the same score. A slightly better second round of 53 and Brazil again scored 49 so advantage India.
First up in Women's team in the Pre-Quarterfinals match against Brazil.