Hello and welcome to our coverage of all important Semifinal clash between India and Denmark
If you missed yesterday's historical victory then here is the link to live the excitement
Both teams are unchanged from Quarterfinals
Now its upto Prannoy to create history. Its 2-2
This is IT !! Ham Jeet Gaye Prannoy beats Gemke 13-21,21-9,21-12. Look at that smile. It was all looking so different at the end of first game interval. Who would have thought that Prannoy who was heavily taped will give Gemke no chance to make a Win out of it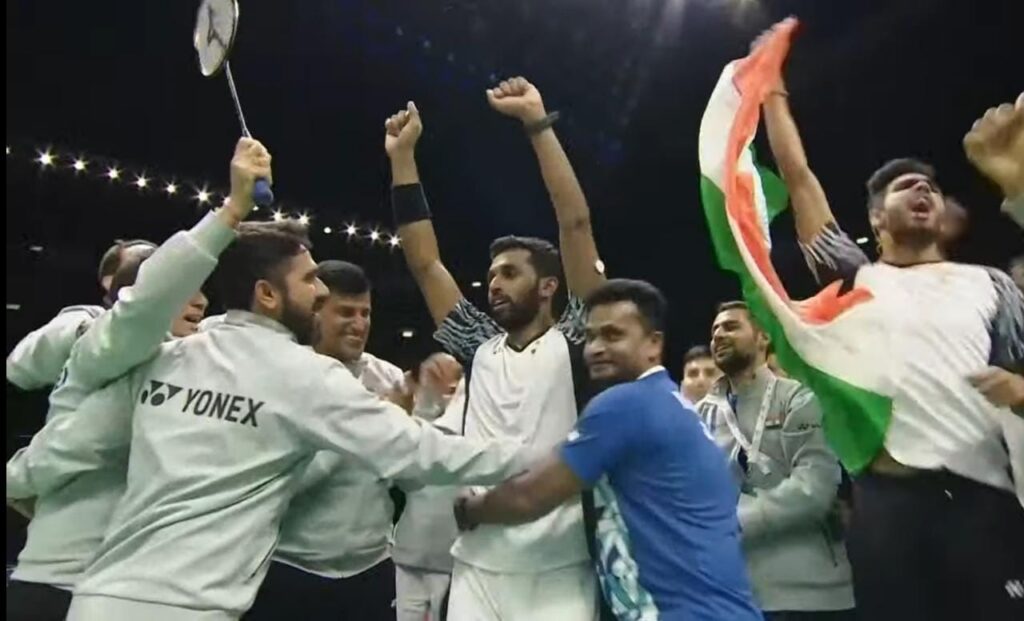 Tears and more Tears. You got to love this Indian Team who is on a mission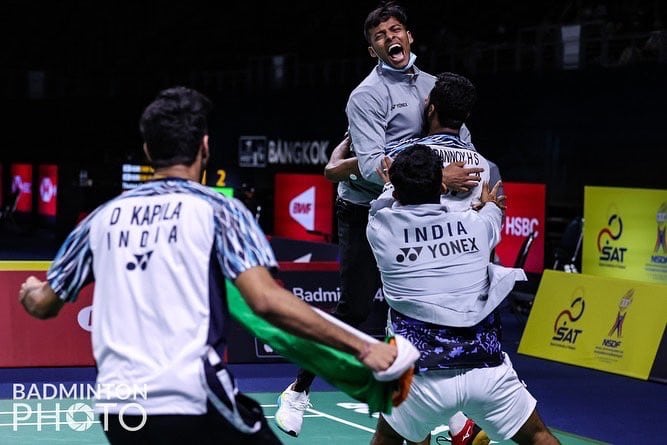 Look at those eyes, they want victory and nothing less. Another straight strong hit for smash that Gemke has no answers to. 9-4. Add one more to it make that 10-4 andddd 11-4
Yet another jabardast smash from the Indian which is way inside but Gemke challenged in a bid to break the momentum.
The Indian contingent is all standing and screaming the loudest. Prannoy you beauty 4-0 up. Couple of quick points to Gemke 4-2 now. Prannoy arrests the move and its 6-2. Prannoy made Gemke run from pillar to post and then scored a screamer smash.
Yes Prannoy that's what we expect from you. Shatter the confidence of Gemke. 18-7 now. Smash cross court. 19-9 in as many words. Make that 20-9 and as i type we have the game done. 21-9
The Beast mode is ON second game 11-1. Comes back and currently leads 15-5, ohh make it 16-5. Seventeeeen -5
Gemke with three points its now 13-19. Need a break of rhythm from somewhere now. Prannoy lost 13-21 the first game
Prannoy gets two more points and Gemke has challenged one point, lets see. Its out so we are now 13-16.
Gemke returns the favor with backhand smash 7-14. Prannoy visibly looks in pain with restricted movement. He is currently trailing 10-16
Ouch!! That must be painful as Prannoy lost balance. Goes in break 4-11. Comes back with two smashes 6-11
A smash jusst on the line. Prannoy with a lucky break 4-8
Early points and Prannoy trails 3-5. A good rally as both players judging each other. 3-6
Its an evenly poised match but hopefully our guy will be more pumped up. He is a big match player as all know.
The MD2 pair of Krishna and Vishnu have lost the match tamely 14-21,13-21
Danish pair converts the very first opportunity and win the first game 21-14
Krishna Vishnu trail 12-18. And in no time they face six game points
The Dans are leading 11-7 in just six minutes so quick points no long rallies
Now its upto the pair of Krishna and Vishnu who many thought might not get a game against the likely pair of Dhruv and MR Arjun.
They are up against the Dan pair who saved three Tie points yesterday to keep their team alive in the competition.
Srikanth Won. India leads 2-1
Srikanth Kidambi has won all five matches in Thomas Cup 2022. Sure the champ is back and with vigour
And the dan crossed the racquet on the net Sri gets a point. We are on match point now. 20-14 get ready for some really great pictures coming your way. HE HAS DONE IT. India Lead 2-1. Srikanth defeats WR3
Sri gets a lucky break 16-13 now, and Antonsen hits one wide 17-13 and Antonsen should definitely get a warning for this you would think. He throws his racquet second time in air. Nevertheless We lead 18-14
Srikanth now leads 15-8. Surely this one is in the bag. Antonsen gets couple of points so you definitely cant rule out a comeback.
Nothings seems to be going Antonsens way as Sri now leads 14-6. Yet another smash
Sri at his best as he goes to mid game interval at 11-5
Antonsen wins the second game 21-12
Two game points and Sri grans the first one with both hands. Won first game 21-18
Srikanth trailing 3-5 in second game
What a defence by Sri. Saved the point at-least three times for my count. 16-all. Srikanth is flying… India is flying. Dhak Dhak 18-16 now
And Antonsen hits one wide. 19-18
A very close match going on its 13-all. Sri smashes one from the net 14-all. One more smash and its 15-14
Its 9-8 in Sri favor. Antonsen has not been in the bests of form and we hope he doesn't come in this match either
Now its upto Frmr WR1 Srikanth who is up against WR3 Antonsen
Satwik Chirag Win. India 1-1 Denmark
And its 20-all. Would you believe it we have lost five MP opportunity. Get one more now 21-20…… and finally we win 22-20
The Indian camp is buzzing. Two more points guys. And we have three match points. Its 20-19 now. We need a point from somewhere please.
Ohh Chirag, how dis you manage that. He finds an inch perfect spot to get the score 18-14. We are now on 19-15. Surely you close in from there SatChi.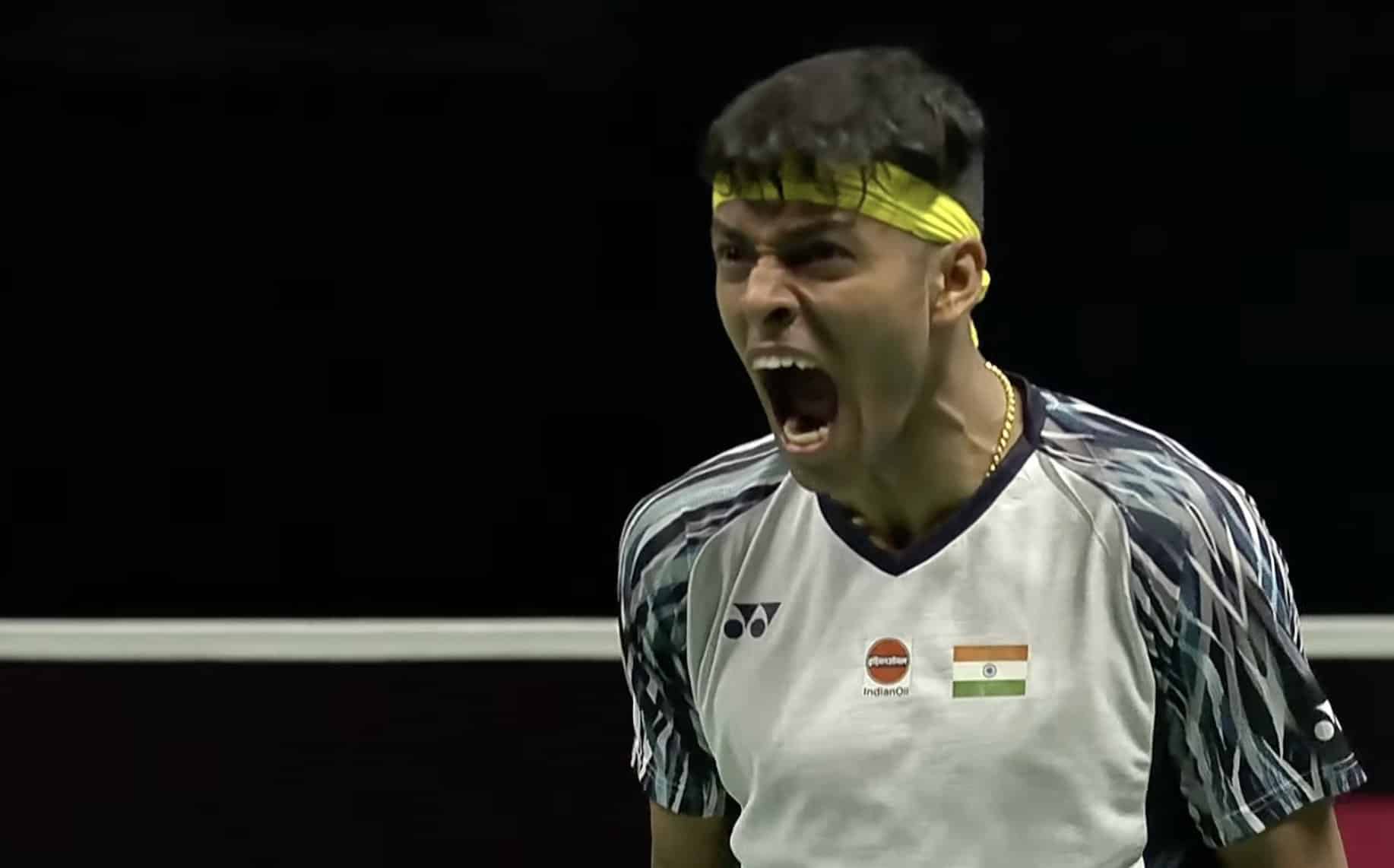 Dans challenge a point but its clear out. Sure they took it to put the rhythm off. 17-14 now
Satwik tries a deft touch but it rolls up on the net and comes back on india side. India gets the serve back 16-14
Its 11- all now and we have the lead 12-11. Its getting closer and closer. Fight for every point and finally we muster a two point lead. 15-13
We need that Satwik, the smash that you hit just now. 6-9 now. Chirag hits one standing and we are on 7-10. An error from Dan and another one brings us back in reckoning 9-10
Need to regroup quickly as Indians trail 3-5. Indians keep hitting the net and trail 3-7. The umpire calls Chirag to tell him to be ready for receiving serve.
20-19 now. Please guys finish it no third game. Well no 20-21 now aa satwik puts one on the net. The umpire calls for a doubles and its 21-all. Chirag Satwik lose 21-23
And out of nowhere Dans are back in the match 1 game all
What a lovely drop by Satwik. Deft touch 18-16 now and dans get one back 18-17. Chirag at his best smashes one right on the body. 19-17. Chirag with a smash out of nowhere. Nobody moved. Game points for India
We are on 16-14, one unsuccessful challenge we give one back to Dans. 17-16 now
No No Chirag, second point he smashed on the net. 12-11. And they on and on and on till they killed the smash. 13-12
Satwik Chirag trail 6-9 but back them to come back in the game. There you see we are on 9-all. We go on break with a small lead of two points.
The dans have comeback quickly and like last game have a slender lead. India 2-5
Coach giving useful tips to the wards, Boe is a Dan Great Doubles player
Chirag is literally swimming on the net. Wow wow Satwik with yet another smash. And we have the game. 21-18
The dans are not leaving it, a smash in between the indians and they get the serve back. But they hit it on the net giving Indians two game points.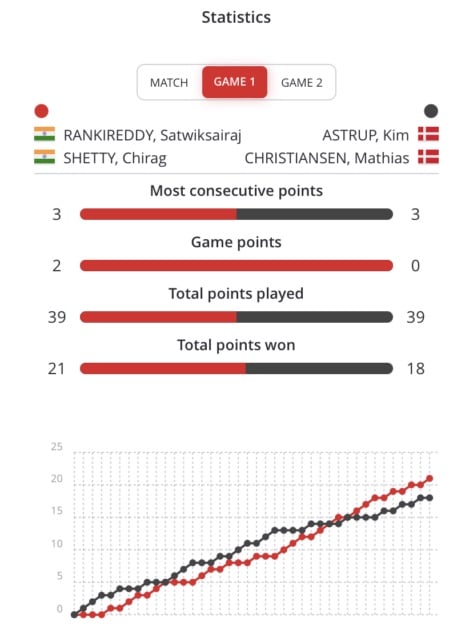 Satwik with yet another non- returnable smash. We have 18-15 guys. Want to say Jabardast smash by Mumbai lad Chirag. 19-16
Chirag on the serve now 16-15 and Satwik jumps for a killer smash. Doubles games are so quick. You blink an eye and you miss. Hold on 17-15 now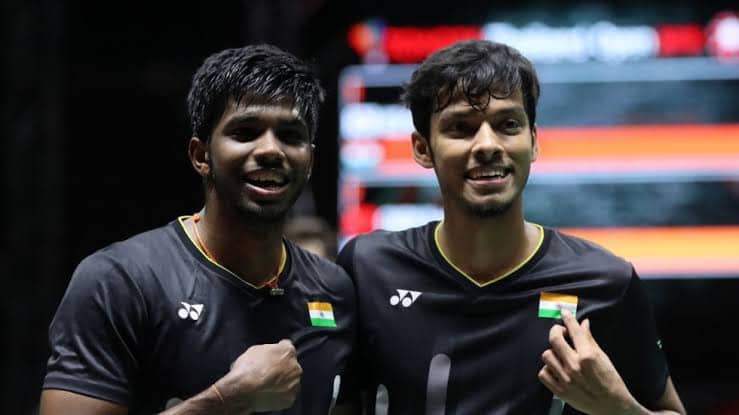 We are getting back in the game. Hold were you sitting. Stop what you are doing. 15-14, a superb serve. The dan hits the shuttle so hard on chirag ankle. Oh God!!
They were trailing but are now coming back with a lot of power. 12-13
Time for Satwik/Chirag to bring India back in the tie as they have done in last match
Lakshya vs Axelsen Time
It wasn't to be for Lakshya as he loses 13-21,13-21 to Axelsen
Lakshya is looking at a straight games defeat. Trail 7-15. Watching the match its so difficult to think how you beat Viktor. Mind you the only person to Beat Axelsen is Lakshya this year. Nobody Else. Nobody
Its just too tough for Lakshya, he is coming into this match after losing CTC and Lee Zii Jia
What a rally. But its the dan who gets the point. Lakshya trailing 4-8
Lakshya you had to get that, Axelsen lost control but the Indian smashes the shuttle on the netting
Lakshya forces Axelsen to push one wide and gets the serve back 3-4
You can hear the Indian contingent cheering up the young guy.
13-21. First game to Viktor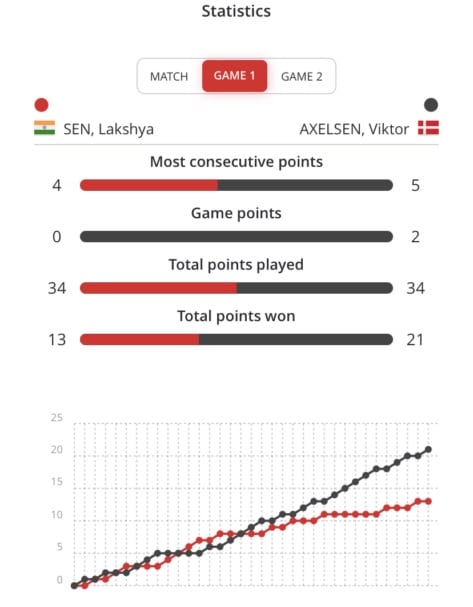 Wait, Axelsen wont even give you a chance. He has now eight game points
Its a seven point gap now, and when you are up against WR1 Olympic and world champion you start thinking about the next game. Dont you
He finally gets one smash that too on the right of Axelsen. Still 6 points gap you see.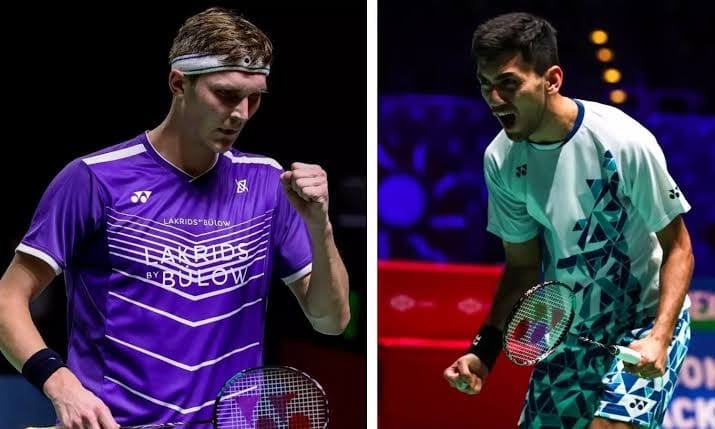 Lakshya smashes one on the net and trails 10-13. Its now 11-17 and lakshya thinks he has a good smash but Axelsen challenges it. Its not score 11-18
Axelsen comes back in the game with couple of points and leads 10-8. The mid game interval is here lakshya trails 9-11
Whaaaat a defence from Sen earns this point as Axelsen hits one wide and what a drop cross court by Sen. 7-5
Lot of Danish supporters in there, as shown on tv. Yet to see if the Indian supporters have made it to arena. There we see Indian team cheering up Sen. Bharat maata ki jai. And it does work Lakshya comes back to make it 5-all
He has so much reach that it's difficult for Lakshya to find places where he can earn point. Every point is important here. 3-all
Axelsen is looking all focused, he has played three games in last two matches and would surely want to avoid that
Viktor to serve, he is the World Number 1. 28 year old. Tall guy, fast hits them hard
H2H records
Lakshya WR9 v Axelsen WR1 | 1-5
Satwik/Chirag WR8 v Astrup/Mathias | 0-0
Srikanth WR11 v Antonsen WR3 | 2-3
Krishna/Vishnu WR45 v Anders/Sogaard | 0-0
Prannoy WR23 v Gemke WR13 | 1-2