Welcome to our coverage of Asian Athletics Championships being held in Bangkok
Live Streaming Link Youtube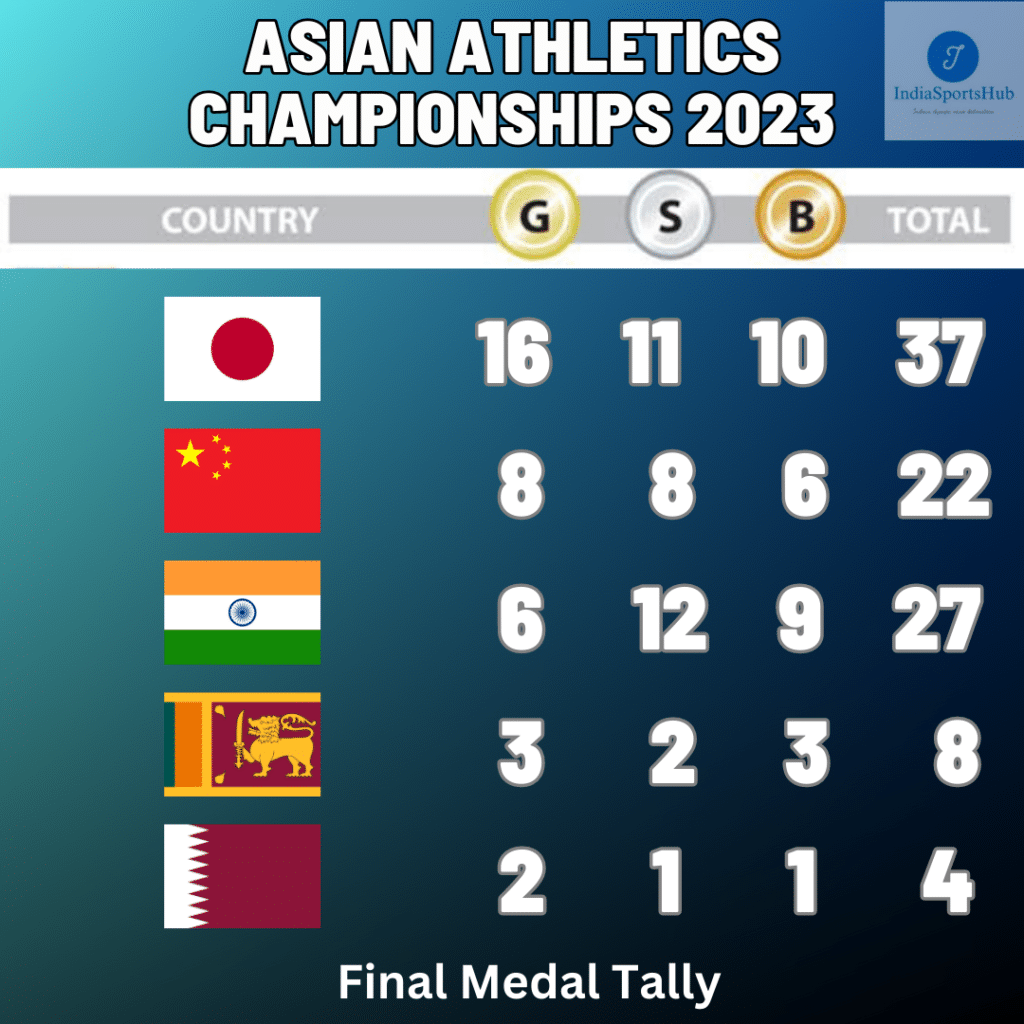 India Schedule Final Day
4:30am | Vikash & Akshdeep | 20km Race Walk M
4:30am | Priyanka & Bhawna | 20km Race Walk W
2:40 | Manpreet & Abha | ShotPut W Final
2:45pm | Krishan & Afsal | 800m M Final
2:50pm | Manu | Javelin M Final
2:55pm | Chanda & Lavika | 800m W Final
3:05pm | Parul & Ankita | 5000m W Final
3:50pm | Abhishek & Gulveer | 5000m M Final
4:10pm | Jyothi | 200m W Final
4:50pm | Women 4*400 | Final
5:15pm | Men 4*400 | Final
5:00pm | Indian women 4*400 team struggled for most part of it and finally salvaged a bronze medal losing to Sri Lanka in closing stages while Vietnam looked clear for most of the part. We clocked 3:33.73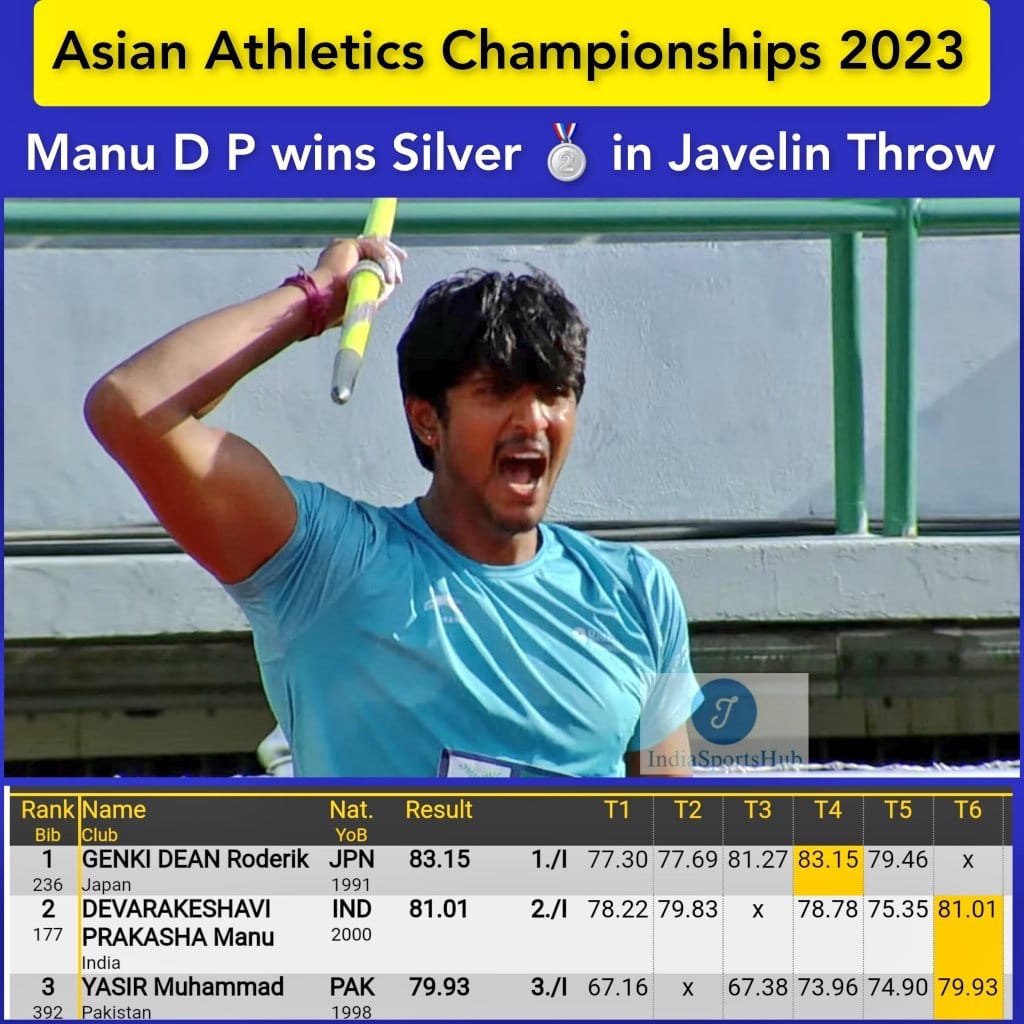 4:30pm | Manu DP finishes 2nd in Javelin Throw at #AsianAthleticsChampionships with his best throw of 81.01m coming in the final round. A well deserved medal for Manu who has been throwing consistently in the past 1.5 years.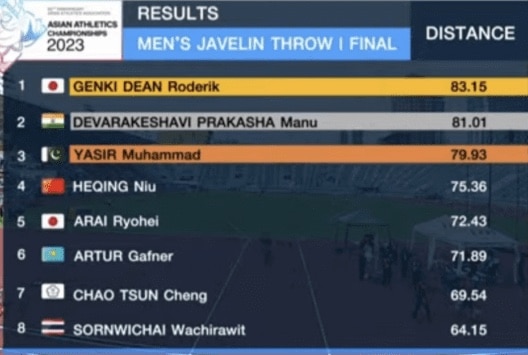 4:15pm | Jyothi wins a well deserved Silver medal in 200m race with a personal best of 23.13 seconds. This gets India yet another silver for the day. Jyothi who had won a gold medal in 100m Hurdles caps off a good tournament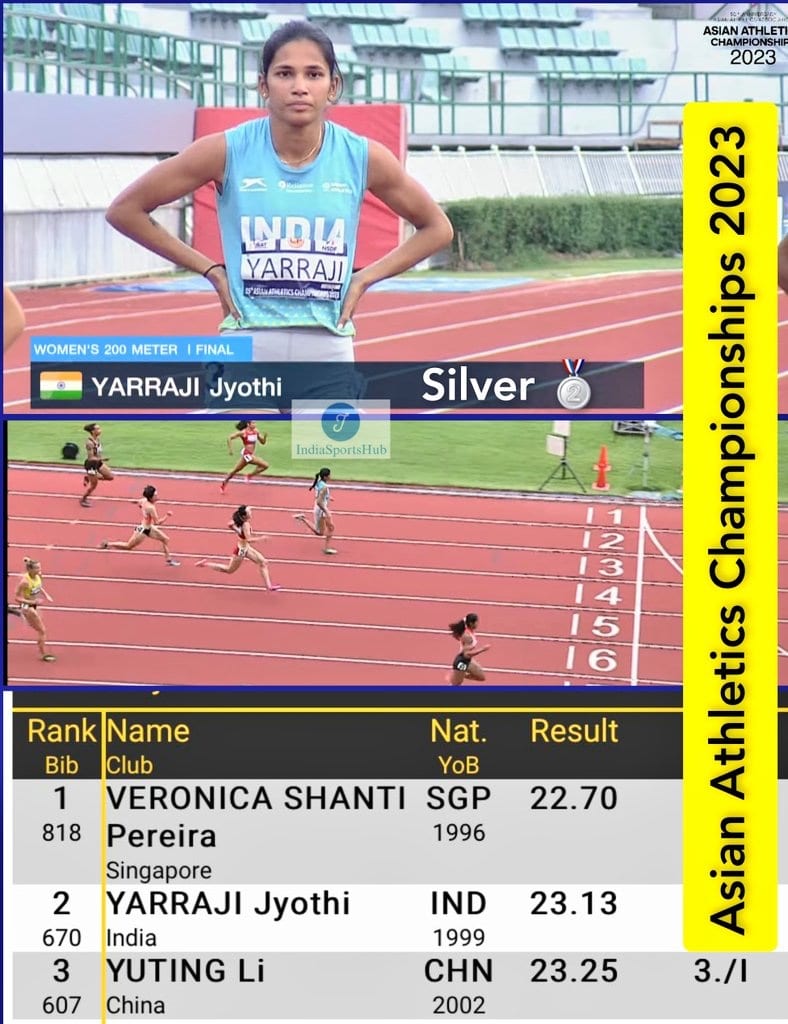 4:10pm | Its a yet another 2-3 finish for India as in the shotput it was veteran Abha who threw 18.06 got silver while Manpreet did a 17.00m for bronze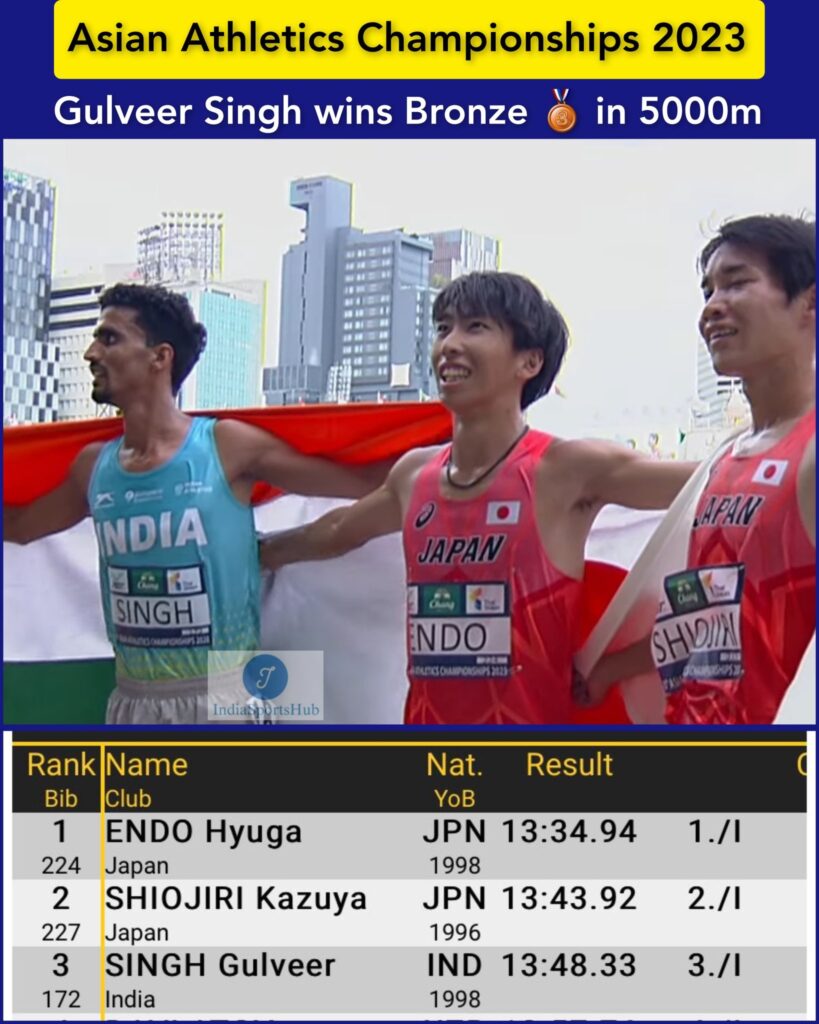 4:00pm | Gulveer grabs an impressive bronze medal in the 5000m race with a time of 13:48.33, Abhishek was 14th with a time of 15:00.03
3:25pm | Its a Silver-Bronze finish for India as Parul and Ankita did well in 5000m race, while for Parul it was the second medal for the championships it was a good outing for young Ankita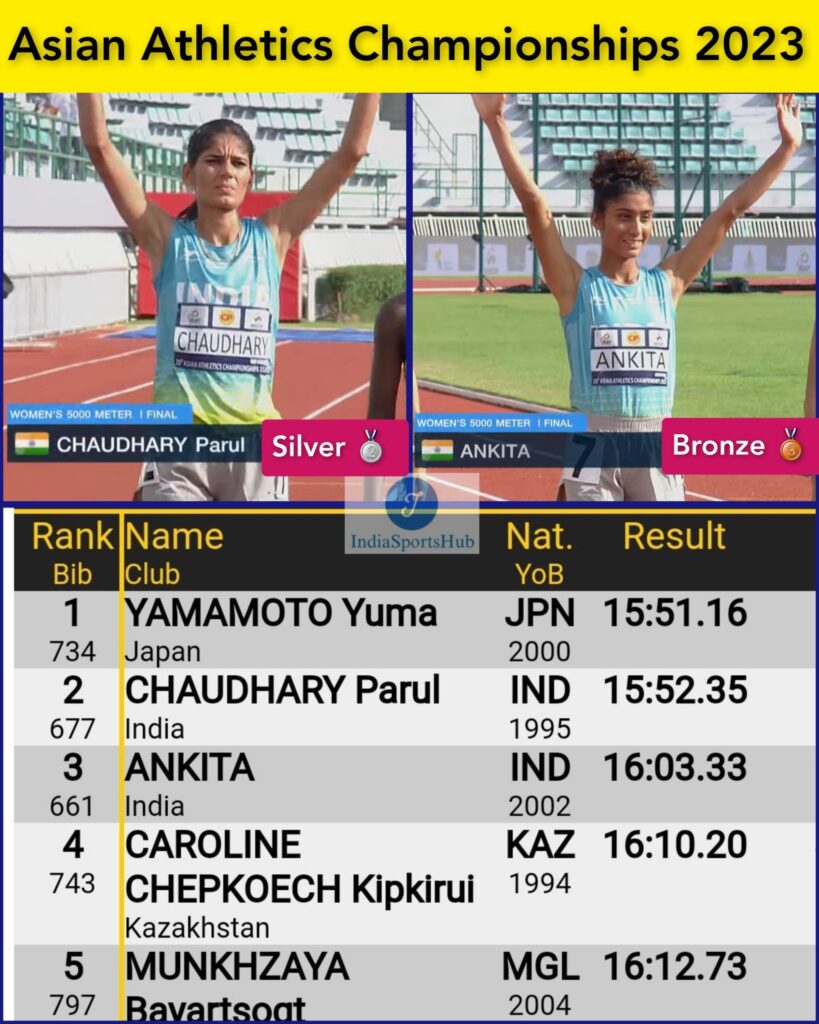 3:05pm | Chanda has won Silver medal in 800m race as she clocked 2:01.58 in final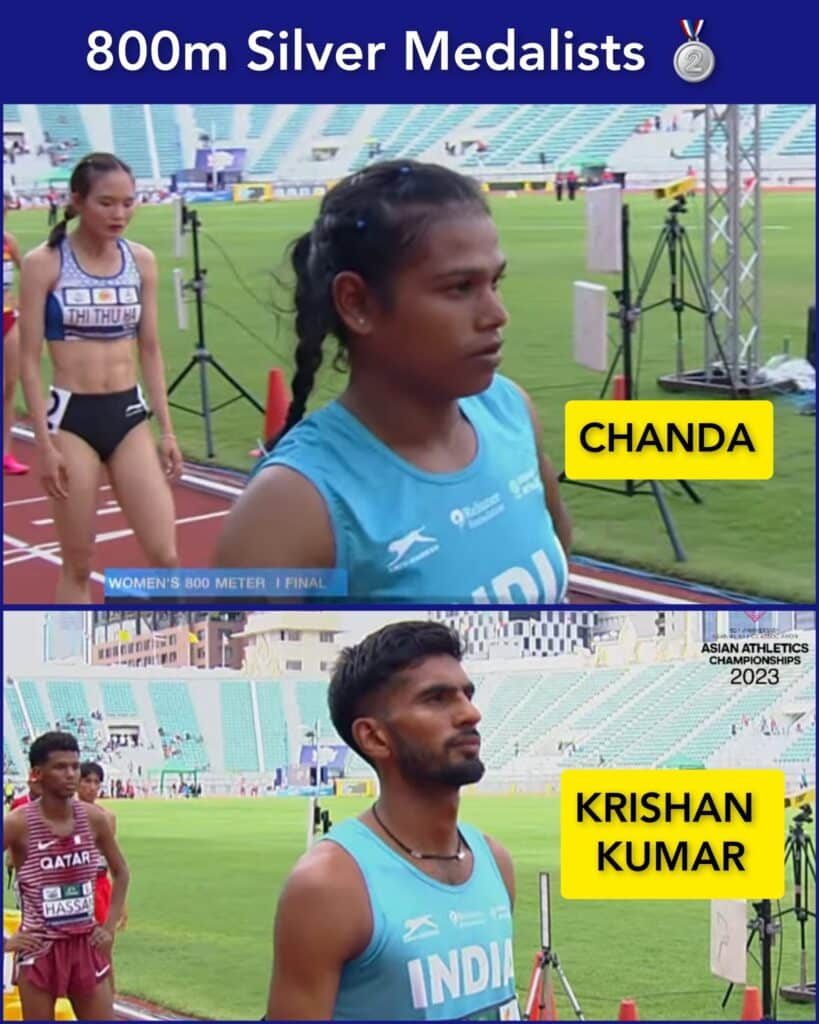 2:55pm | Krishan Kumar has run a brilliant race to win silver in 800m with a timing of 1:45.88 while Md Afsal was seventh for 1:48.77
12:00am | Will be important to see what time Indian men 4*400 relay team clocks. A time faster than 3:02.19 will help them to qualify for Worlds via Top List. 8 teams have already qualified while 8 more will qualify via Top List- Rahul Bhutani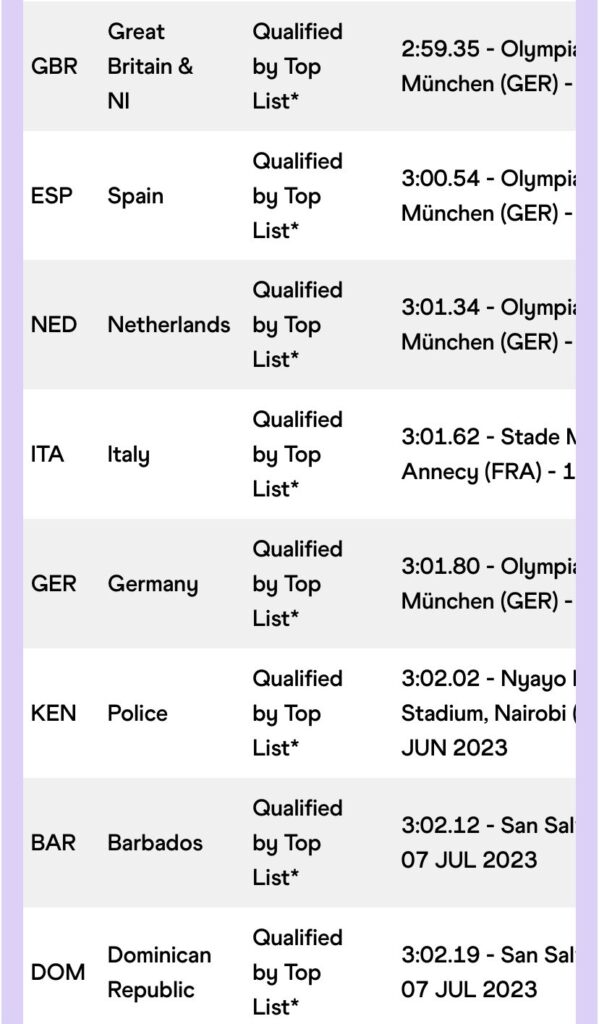 6:20am | Its a silver medal for Priyanka as she finished her race in 1:34:24 hours in the 20km race walk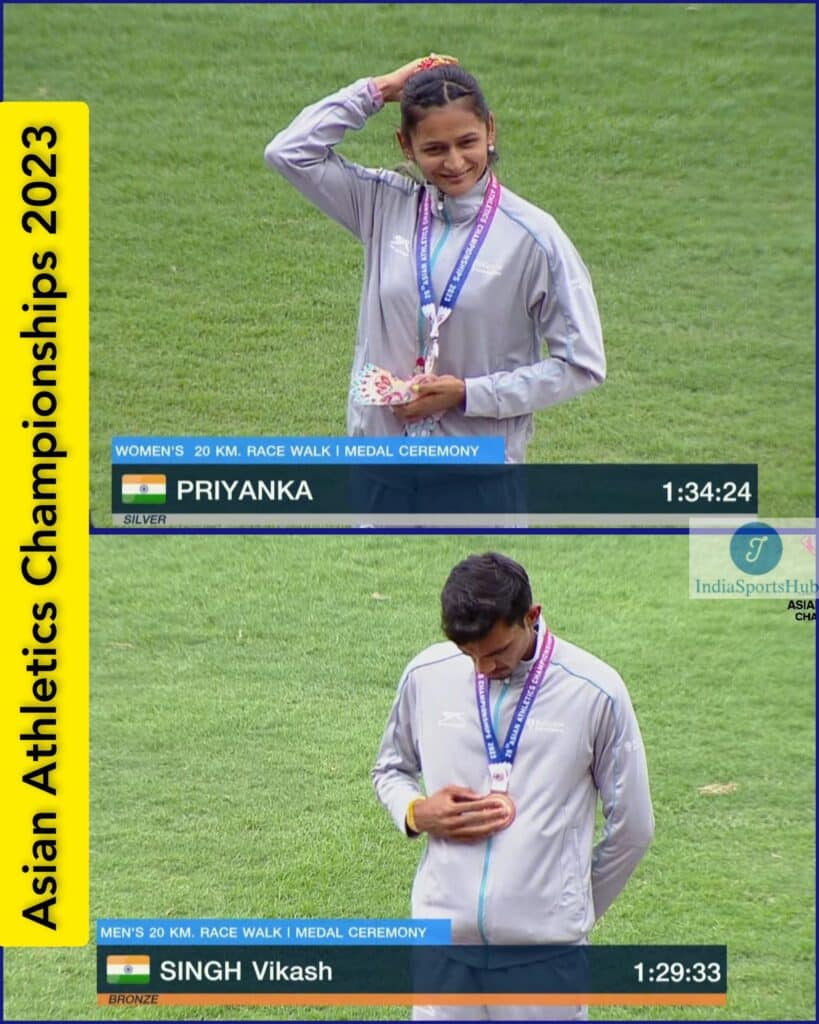 6:00am | And we have a Bronze medal by Vikash Singh who finished the race in 1:29:32 to win the medal in 20km Race walk
---
India Schedule for Day4
7:15am | Swapna | LongJump Heptathlon
7:42am | Jyothi | 200m | H3
8:35am | Men 4*400 | H1
2:30pm | Swapna | Javelin Heptathlon
2:40pm | Sreeshankar | Long Jump | Final
2:50pm | Sarvesh & Tejaswin | HighJump | Final
3:10pm | Yashas & Santhosh | 400mH | Final
3:20pm | Md Afsal | 800m | H1
3:26pm | Krishan | 800m | H2
3:45pm | Chanda | 800m W | H1
3:53pm | Lavika | 800m W | H2
4:15pm | Jyothi* | 200m | Semis
5:00pm | 4*400Mixed | Final
5:15pm | Swapna | 800m Heptathlon Final
5:20pm | Swapna goes to 5840 and grabs a well deserved Silver Medal in Heptathlon which was won at 6096
5:05pm | GOLD MEDAL IT IS AND A NEW NATIONAL RECORD the Mixed 4*400 team of Rajesh, Aishwarya, Amoj and Subha have won the Gold medal at #AsianAthleticsChampionships clocking 3:14.70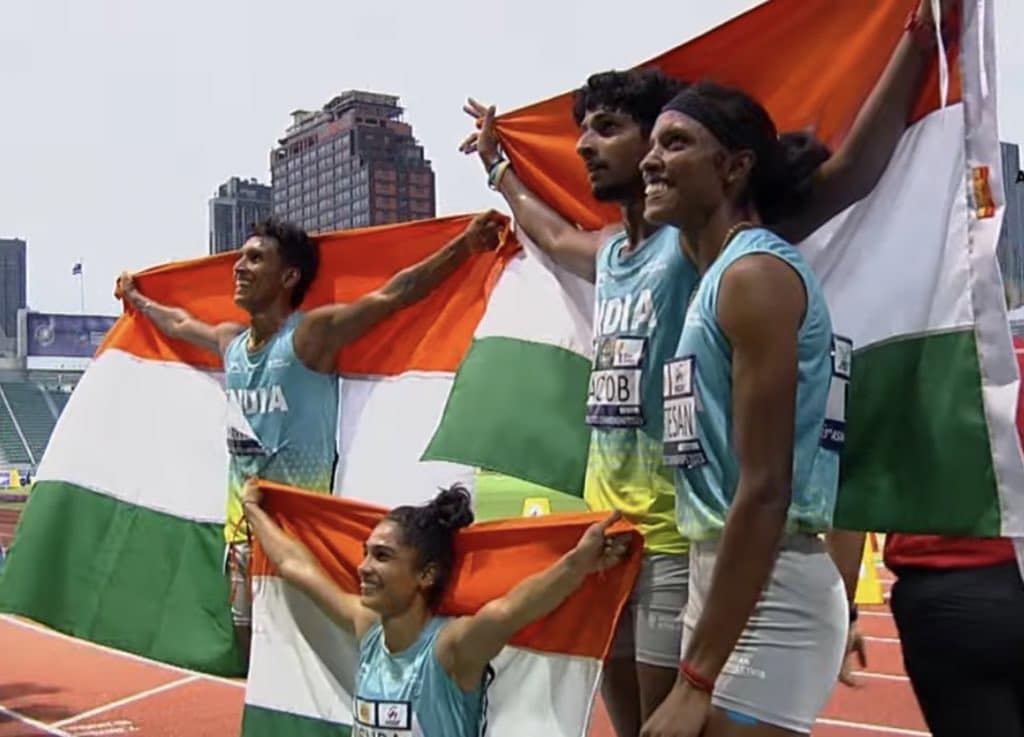 5:02pm | The Indian team, comprising Rajesh Ramesh, Aishwarya Mishra, Amoj Jacob and Subha Venkatesan, had to stave off a strong challenge from Japan in the last two legs before winning the gold in 3:14.70s which was also a new national record.
4:30pm | Fierce battle going on in the long jump as Lin Yu Tang created a new Championship record of 8.4 which was better than Sreeshankar 8.37m. But hang on Sreeshankar has made it to Paris qualifying mark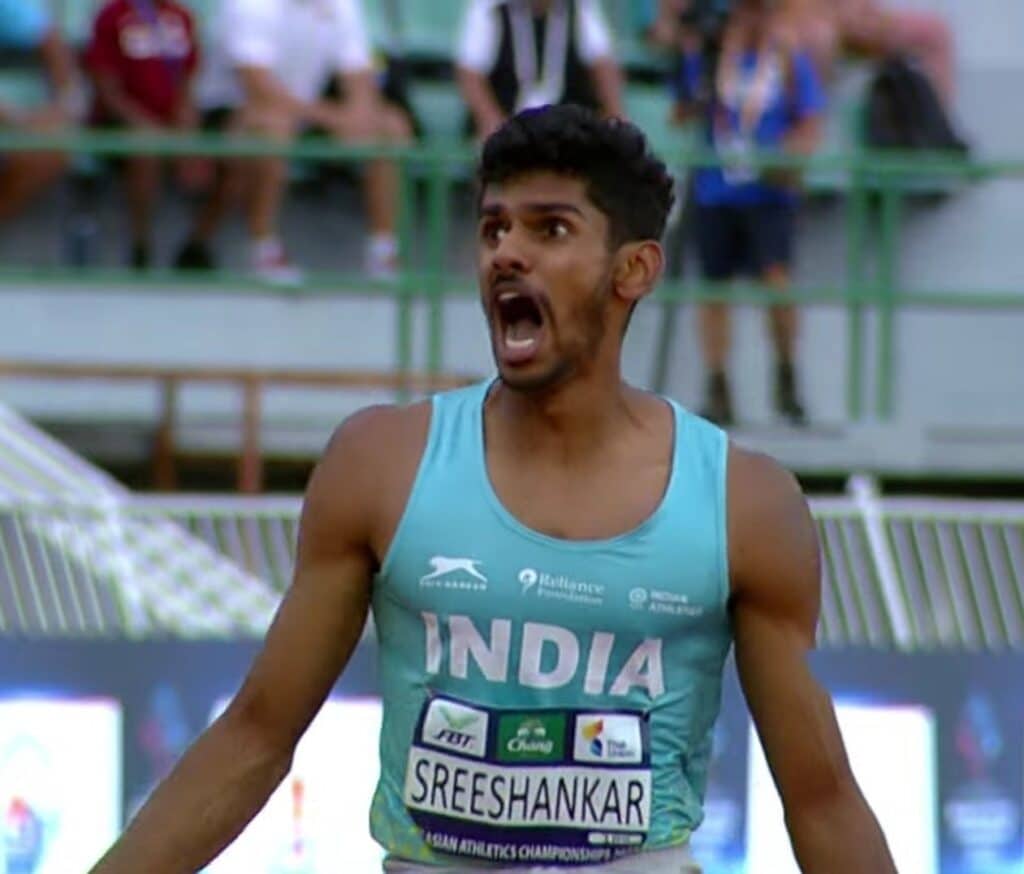 4:20pm | Jyothi yet again looked so comfortable as she won her heat in Semis convincingly clocking 23.29sec, this is fastest time across both the semis
4:15pm | Sarvesh has won Silver medal in HighJump with a best effort of 2.26m which is also his season best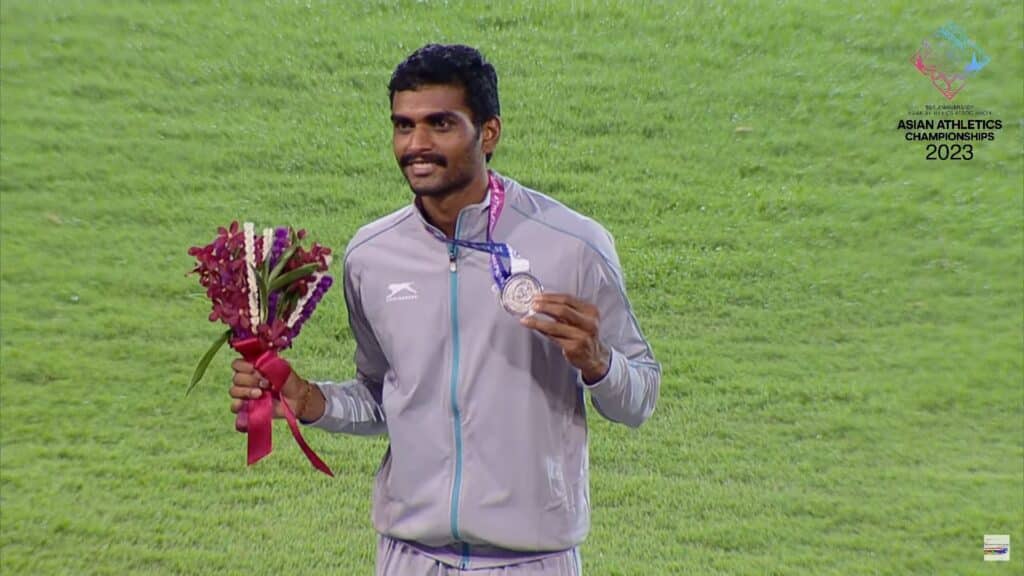 4:00pm | In the women 800m Chanda won her heat with a time of 2:04.55 while Lavika who clocked 2:09.06 to make it as fastest loser
3:37pm | In the high jump while Tejaswin could manage a 2.10m jump Sarvesh is going strong and currently on 2.26m
3:35pm | Sreeshankar who had a foul in second attempt has come up with a 8.12m jump to regain the top spot
3:30pm | In the 800m both the Indian runners have made it to Finals slated tomorrow, while Afsal clocked 1:48.86 to finish 3rd in H1 to make it fastest loser while Krishan Kumar won his heat with a time of 1:48.97
3:20pm | Santhosh has won a bronze medal in 400m hurdles with a time of 49.09 seconds, a race in which Yashas didn't start.
2:55pm | Sreeshankar has come up with a 8.10m jump up front to move to top spot but has good competition as there are three more athletes with 8m jump
2:43pm | What a good throw by Swapna as she crosses 51m to grab 881 points for now which also gives her a cushion for second. Voronina comes up with a huge throw but it falls flat. Currently there is a gap of 141 between top2 and Swapna has a lead of 237 over third place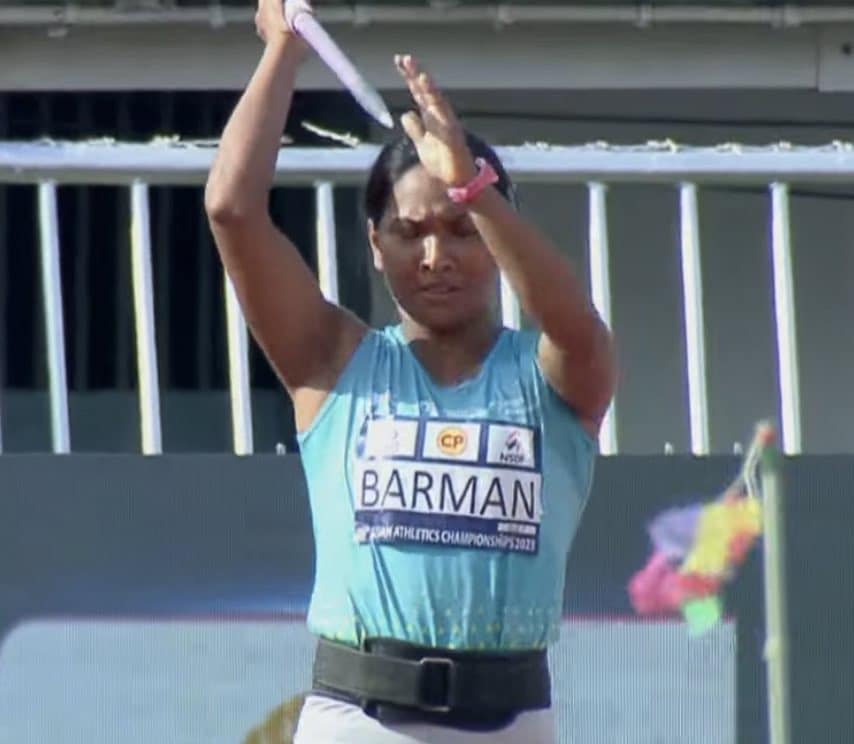 2:40pm | Swapna has fouled in first throw while the leader has gone above 50m. So the gap is going to be much bigger and it seems a battle for Silver medal going forward
2:30pm | A lot of action coming your way as we start with Javelin in Hept, High Jump and Long Jump in 10 minutes
9:00am | Indian quartert of Amoj Jacobs, Nihal Joel, Mijo Chacko Kurian & Rahul Ramesh Kadam clock 3:04.38 to take the top spot in heat 1 of men 4*400 relay.
8:00am | Jyothi had a very relaxed race and made it to semifinals in evening for 200m clocking 23.85
7:50am | The overnight leader Voronina had other plans as she comes up with a massive jump of 6.07m to accumulate 871
7:38am | Swapna comes up with a 5.84m jump that takes her to top provisionally
7:30am | Swapna comes up with a 5.57m in her first attempt and others have come up with better performance which takes her to third for now
7:25am | First up we have Swapna in the long jump, she will be itching to get her lead back after having couple of average performances yesterday.
---
India Schedule for Day3
7:36am | Swapna | 100m Heptathlon
7:55am | Yashas | 400m H | H1
8:07am | Santhosh | 400m H | H3
8:20am | Swapna | HJ Heptathlon
10:45am | Swapna | ShotPut Heptathlon
2:30pm | Tajinderpal | ShotPut | Final
2:40pm | Baranica | PoleVault | Final
2:45pm | Shaili & Ancy | LongJump | Final
3:45pm | Bal & Nurhasan | 3000m SC M| Final
4:00pm | Parul & Priti | 3000m SC W | Final
4:15pm | Swapna | 200m Heptathlon
4:55pm | Yashas & Santosh* | 400mH | Semi
5:00pm |Both P Yashas and T Santosh Kumar make it to the finals in the men's 400mH as they clock 49.60 and 50.06 second timings respectively.. All the best to both of them for the finals that are slated for tomorrow!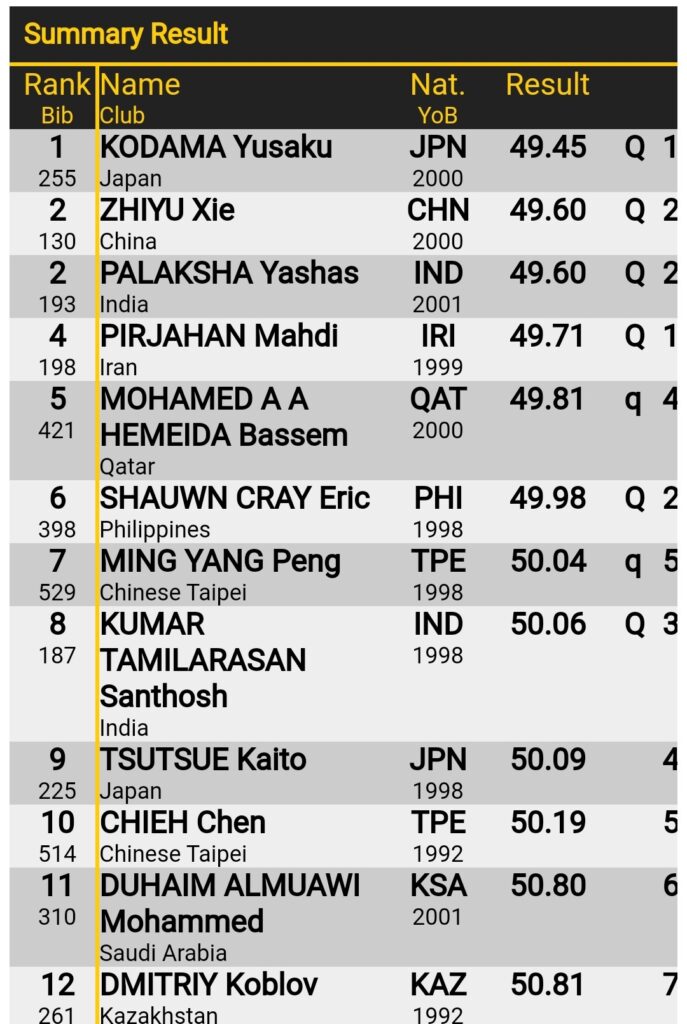 4:45pm | Swapna after Day1 is on 3392 chased by Yamasaki who is behind 33 points while the leader is 56 p
4:45pm | It was a struggle for Swapna who was leading after two events finds herself lagging behind on the second spot after two average performances in Shot put and 200m. Swapna came in 5th place with a time of 26.26 while the leader Voronina was first with 25.13
4:40pm | Silver medal for Shaili Singh as the Japanese came up with a personal best and championship record of 6.97, Shaili did a 6.54m jump to be placed at second spot. Ancy was at fourth place with a 6.41m jump
4:35pm | At the LongJump event Shaili is all ready for the last jump but its going to be a difficult one as the Japanese has created a new Championships record of 6.97
4:15pm | GOLD MEDAL FOR PARUL. What a race for Parul Chaudhary who led most of the part to claim the gold medal in 3000m Steeplechase for a time of 9:38.76 while Priti missed bronze medal by 0.02 second
4:00pm | In the men 3000m Steeplechase race Bal Kishan came up fourth with a time of 8:46.98 while Md Nurhasan didn't finish the race
3:40pm | GOLD MEDAL ALERT 🚨 Its a much deserved Gold Medal for Asian Record Holder Tajinder Singh Toor who threw the put to 20.23m in his second throw and didnt have to return back for further throws
3:10pm | Shaili Singh comes up with a 6.54m jump in her very first attempt to be placed first, Ancy has 6.18 for a fifth place for now
3:08pm | Baranica unfortunately couldnt clear the vault in three attempts of 3.8m End of tournament for her. Gutted
2:55pm | In the shot put arena TajinderPal toor has done what he is known for, threw the put beyond 20m in his second attempt to move to first spot
2:45pm | A lot of action coming your way during the afternoon session as we are starting with Shot put Long Jump and Pole Vault right away
11:15am | In the ShotPut event in Decathlon Swapna came up with a 11.96m throw to be placed 6th and got 658 points taking her tally to 2617. She currently leads by 44 points
9:30am | Swapna kept raising bar higher and eventually settled at 1.80m which gave her 978 points and the lead.
9:05am | Well Well Well the Chinese Zheng who came in at 1.71m directly has failed to clear it and that could be end of her campaign while Swapna has cleared it and leads it
8:35am | Only three participants are left to start their attempt and Swapna is one of them, she comes on and clears with ease the 1.65m bar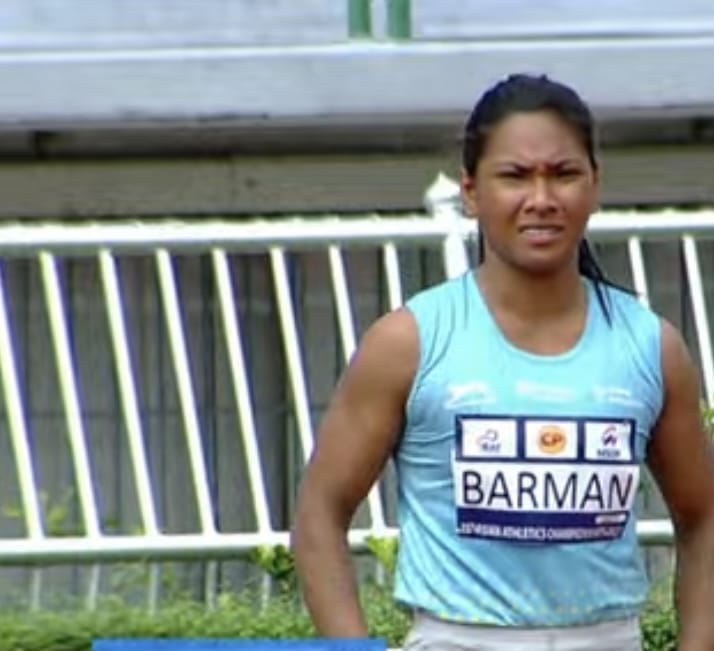 8:25am | Now we are onto Swapna next event the High Jump, she should do better here. Entered at 1.65 with the leader starting at 1.71
8:15am | Santhosh comes up with a calculated run over 400m hurdles as he clocks a decent time of 50.50 to top the H3 and make it to semis in the evening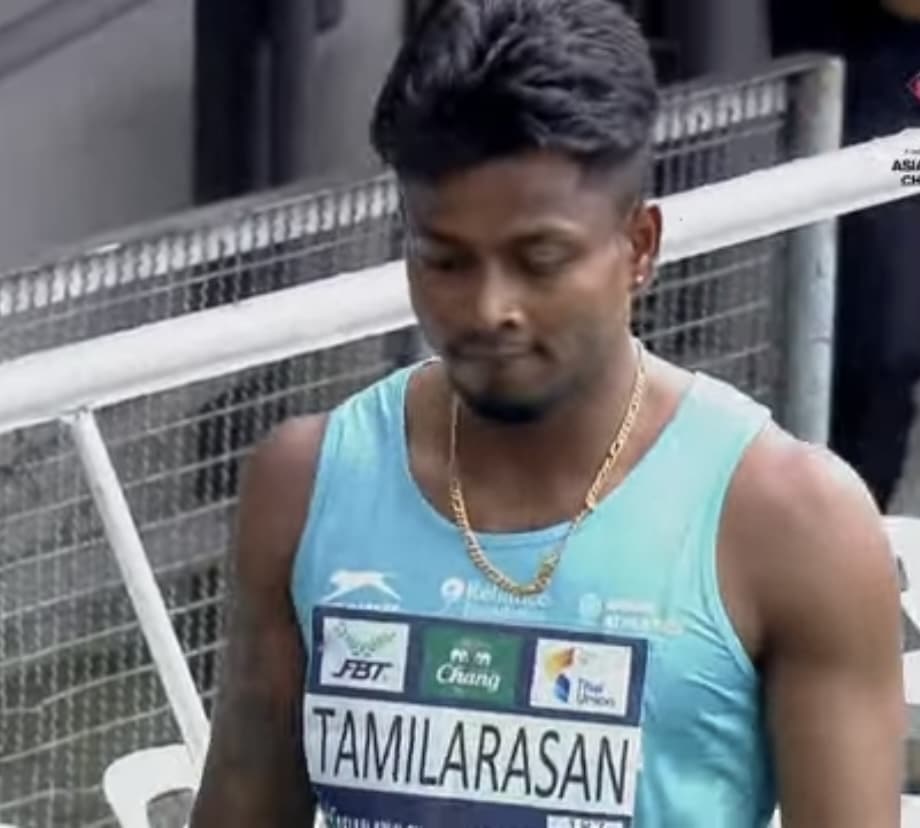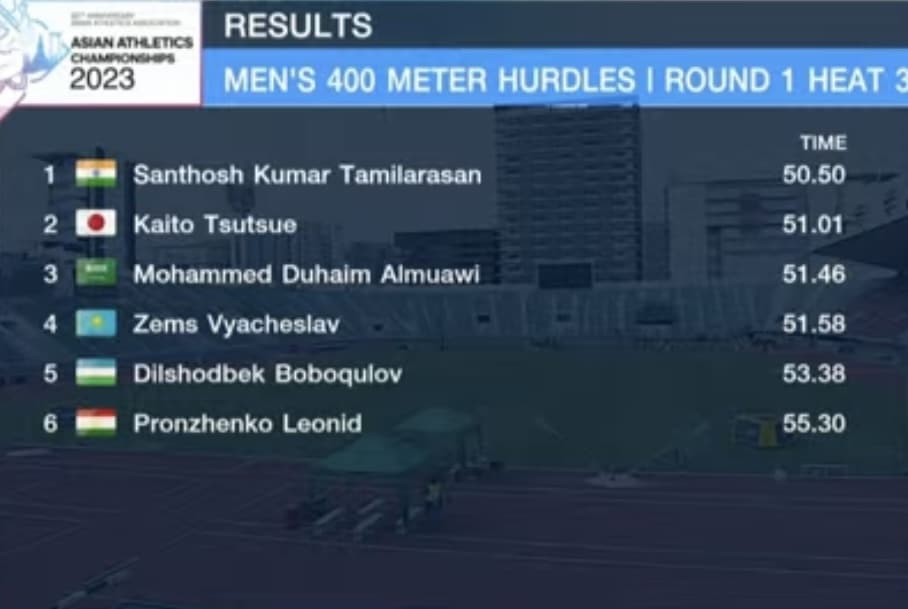 8:05am | Yashas tops his heat with a time of 50.84 sec in H1 and makes it to Semis of 400m hurdles easily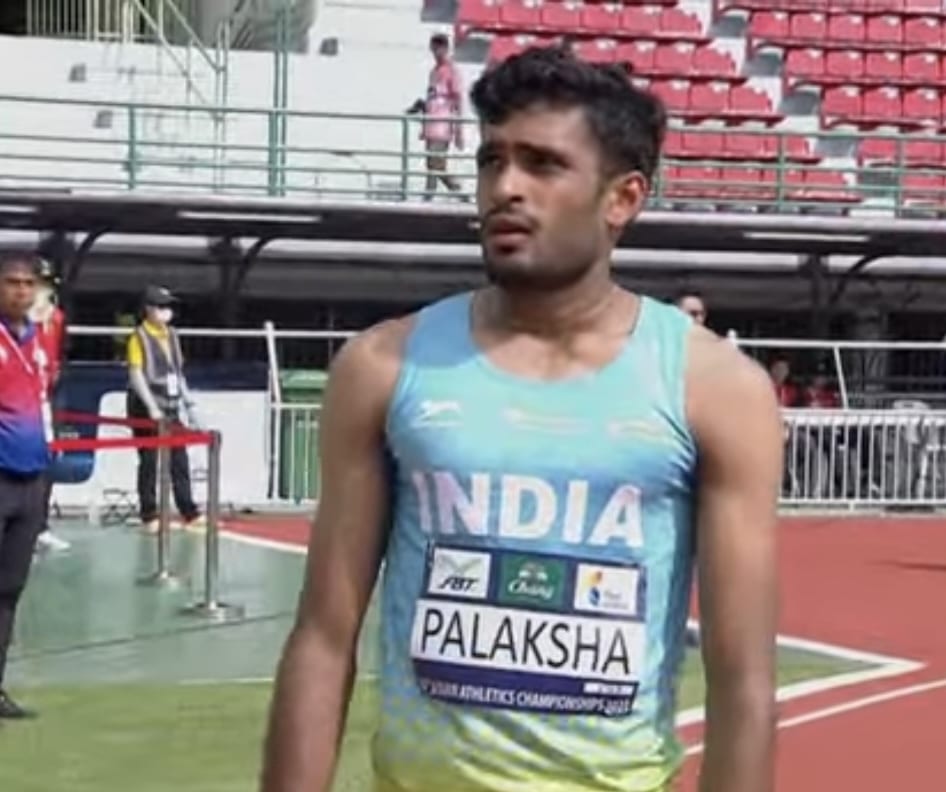 7:55am | Swapna comes up with a 13.98 in her first event 100m Hurdles to get 981 points. She is at third place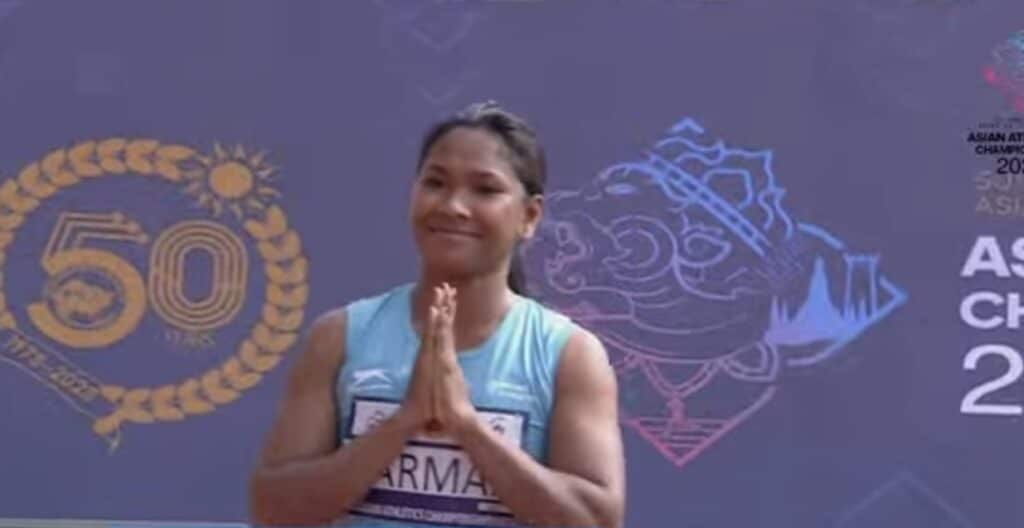 ---
6:45pm | BRONZE MEDAL ALERT !! SPECIAL ONE And TejaswinShankar scores a strong 7527 to win a much deserved Decathlon Bronze Medal at Asia.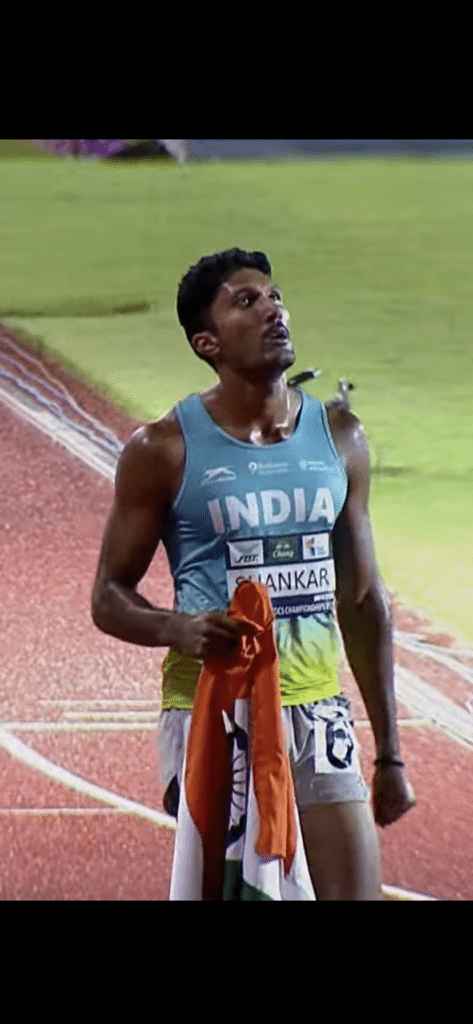 5:40pm | In the 10,000m race it was Sanjivani Jadhav who came 4th behind the Japanese and Mongolian runner with a time of 34:04.47
5:10pm | GOLD NUMBER THREE FOR THE DAY. Triple Jumper Abdulla Aboobacker jumped to a season best 16.92 to grab Gold Medal
5:00pm | GOLD RAINING !! Its Ajay Kumar Saroj who ran a fabulous race over 1500m to grab the Gold Medal at Asian Athletics Championships. He clocked 3:41.51 to win Gold while Jinson stood 11th with a time of 3:46.91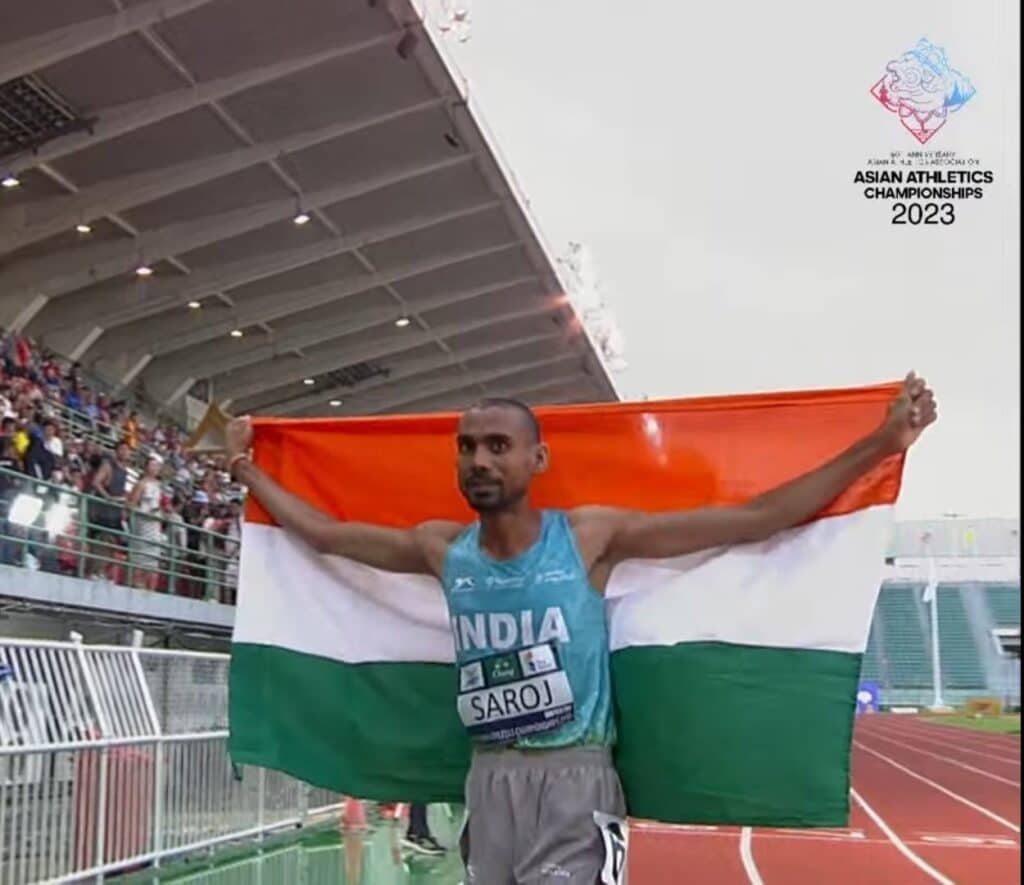 4:45pm | ITS A BRONZE MEDAL in the 400m Women race as Aishwarya Mishra who clocked 53.07 to win the medal behind SriLankan and Uzbek runner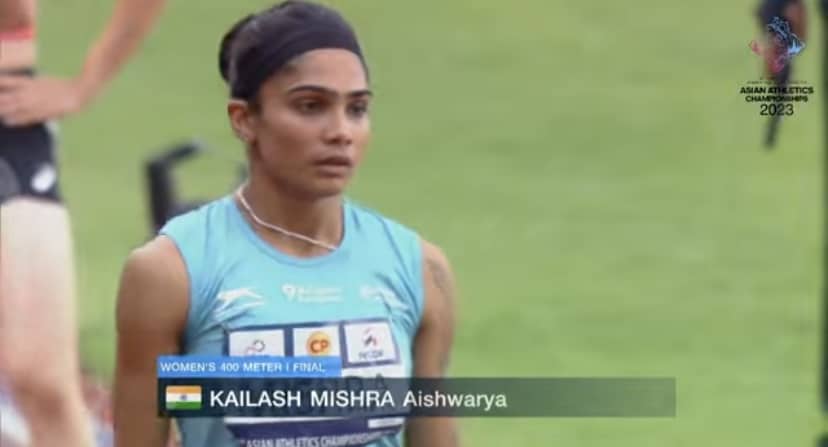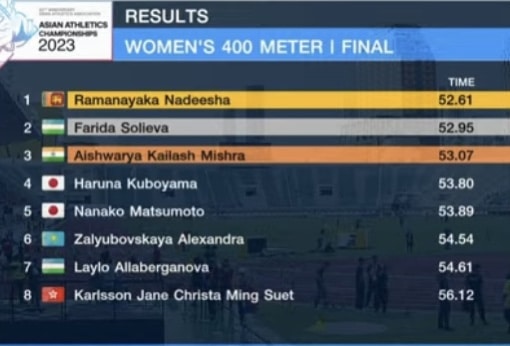 4:36pm | Both the Indian entry in the 400m Finals came up with the season best performance but that wasn't enough for them to make the podium. Md Ajmal with a 45.36 stood 4th and Rajesh with a 45.67 was sixth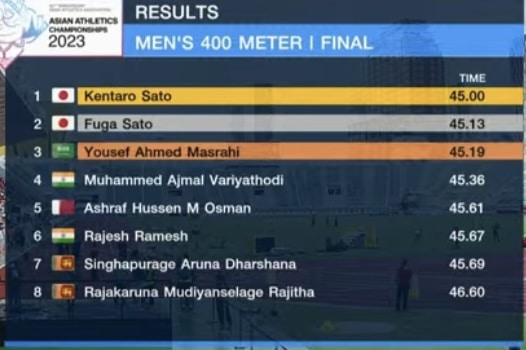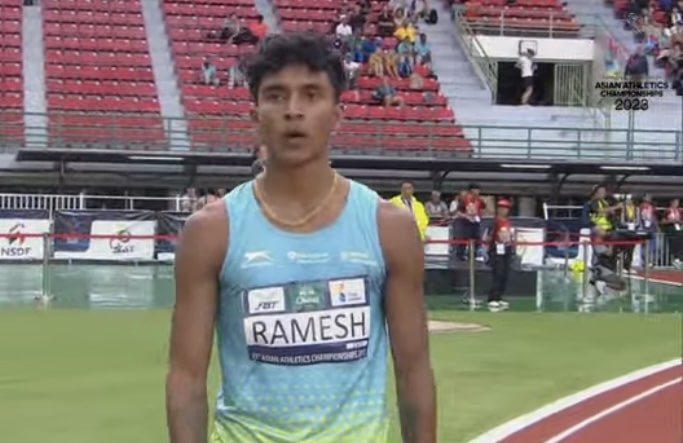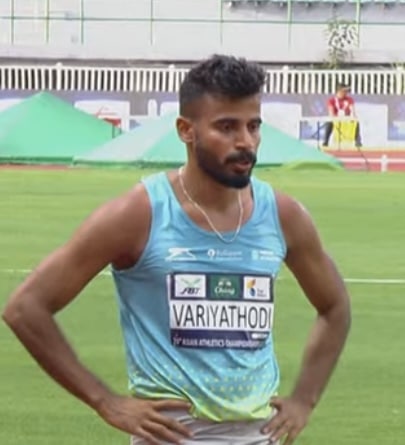 4:28pm | 400m Finals up next and there is some delay. Our two boys are in the fray. Md Ajmal & Rajesh Ramesh
4:15pm | WE HAVE OUR FIRST GOLD. Its that girl again as Jyothi Yarraji gave no chance to the Japanese and crossed the finish line of 100m Hurdles first in 13.09 second. Nithya finished 4th 13.55 second.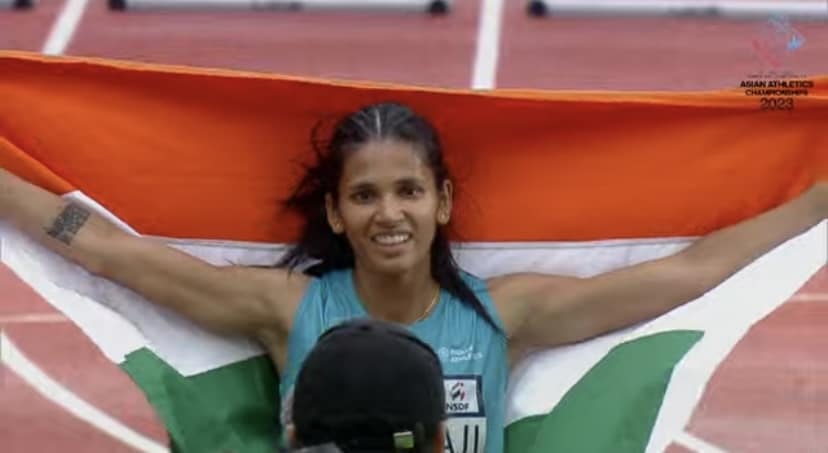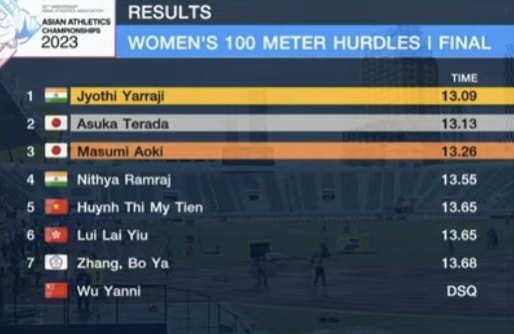 4:05pm | Abdulla goes to TOP as he jumps to 16.54m in his third attempt. Can we smell the First Gold here
4:00pm | Rubina could only manage a 1.75m jump as she failed to cross the 1.8 bar in three attempts, the youngster Pooja has just one attempt left
3:45pm | The top three spots in Triple Jump are with Kor 16.52, Chn 16.39 and Jpn 16.18
3:38pm | Abdulla has jumped 15.80m in his second attempt and has gone to 6th place
3:35pm | Both Pooja and Rubina have cleared 1.75m for records Pooja is 16 year old
3:12pm | At the high jump action for Women it is Pooja and Rubina who have cleared the first jump of 1.6m
3:10pm | In Triple Jump we have Abdulla who has a foul on the first jump
3:05pm | Tejaswin threw the spear to 52.70m to add another 629 points. This takes his total to 6822.
Welcome to the coverage for the afternoon session.
11:00am | Tejaswin comes up with a pretty modest Pole Vault while the competition did much better as TJ moves to third place with a 3.8m jump. Its 6193 as we are left with two events in the evening
9:30am | A big PB for Tejaswin Shankar in the DT event as he registered a throw of 38.14m (nearly 1.5m over his previous PB) to earn 627 more pts and has a total of 5631pts.. Currently he's at #1 spot.. But Maruyama has 5630pts and Singkhon 5614pts after 7 events

8:30am | Nithya Ramraj came third in her heat but that was enough to make the Finals, she clocked 13.53sec. Finals in the evening for 100m hurdles women
8:24am | Jyothi Yarraji Time, the National Record holder storms past her opponents in 100m Hurdles in 12.98sec just shy by 0.01 sec for championship record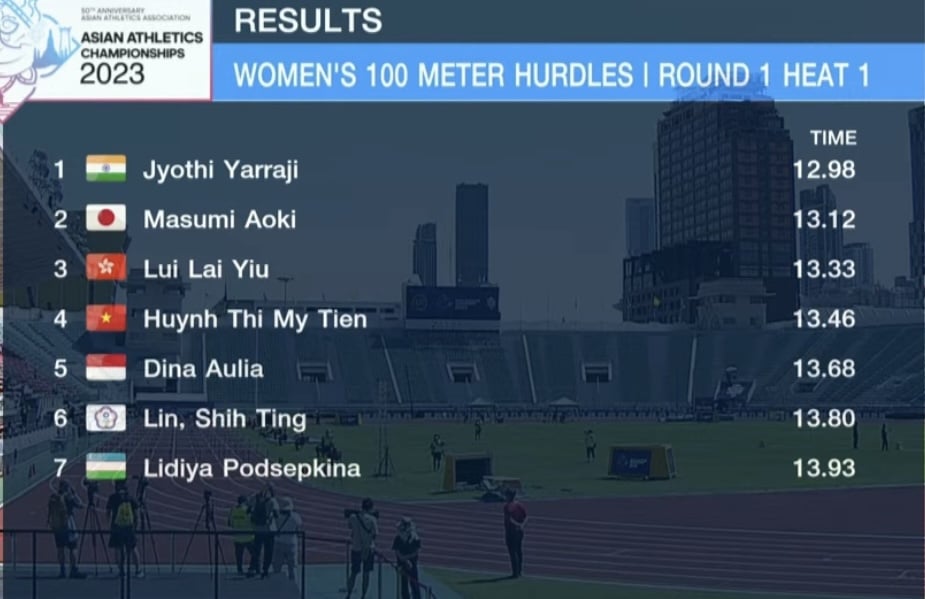 7:35am | Tejaswin starts of with a 14.75 in 110m hurdles, for comparison this is faster than last event when he did 14.96 seconds. This gets him 880 points and moves into 5004 leads by 42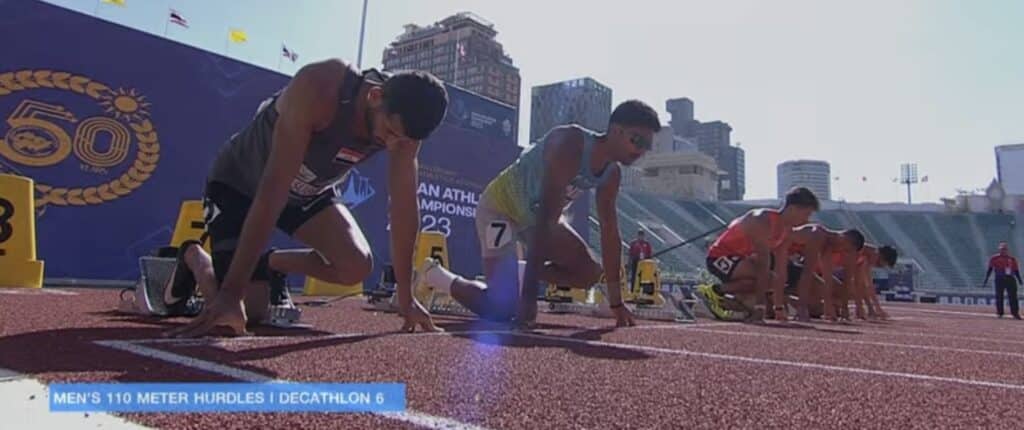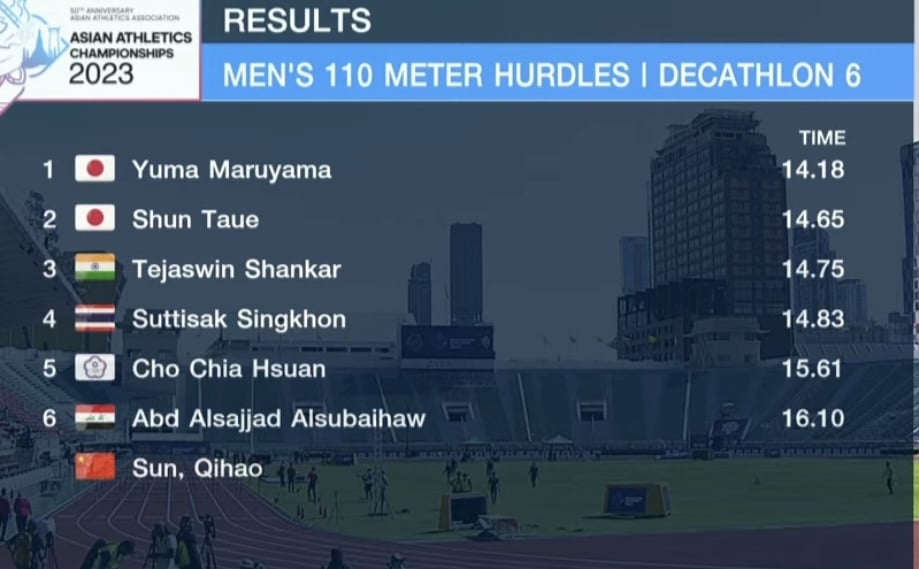 Day2 India Schedule
7:30am | Tejaswin | 110mH Decathlon
8:10am | Tejaswin | DT Decathlon
8:20am | Jyothi | 100mH | H1
8:26am | Nithya | 100mH | H2
10:00am | Tejaswin | PoleVault Decathlon
2:30pm | Tejaswin | Javelin Decathlon
3:00pm | Abdulla | Triple Jump Final
3:10pm | Pooja & Rubina | High Jump W Final
4:05pm | Jyothi & Nithya* | 100mH | Final
4:20pm | Md Ajmal & Rajesh | 400m Final
4:30pm | Aishwarya | 400m W | Final
4:40pm | Jinson & Ajay | 1500m | Final
5:00pm | Sanjivani | 10,000m W | Final
6:00pm | Tejaswin | 1500m Decathlon Final
---
Day1 Results India
10,000m M| Abhishek | Bronze | 29:33.26
10,000m M| Gulveer | 5th | 29:53.69
Javelin W | Annu | 4th | 59.10
400m W| Aishwarya | 1st(SF)* | 53.58
1500m W| Lili | 7th | 4:27.61
400m M | Rajesh | 3rd(SF)* | 45.91
400m M | Md Ajmal | 4th(SF)* | 45.76
Decathlon | Tejaswin | 1st | 4124
* have made it to Finals
7:00pm | AND ITS A BRONZE!! Abhishek Pal ran a brilliant last lap to grab a Bronze medal in 10,000m race with a timing of 29:33.26 behind Japanese and Kazak athlete
5:30pm | Tejaswin wins the last event of his day as he crosses the line in 49.57 seconds to accumulate 835 points. He leads on day1 with 4124 points with a 100 points gap
5:10pm | Aishwarya Mishra makes comfortable Final as she clocks a 53.58 sec to win the H2 of 400m race
4:50pm | Md Ajmal up next and what race it's turning out to be as top 3 finish within 0.02 seconds. Our guy comes up at fourth but that's enough to make it to Finals tomorrow with a 45.76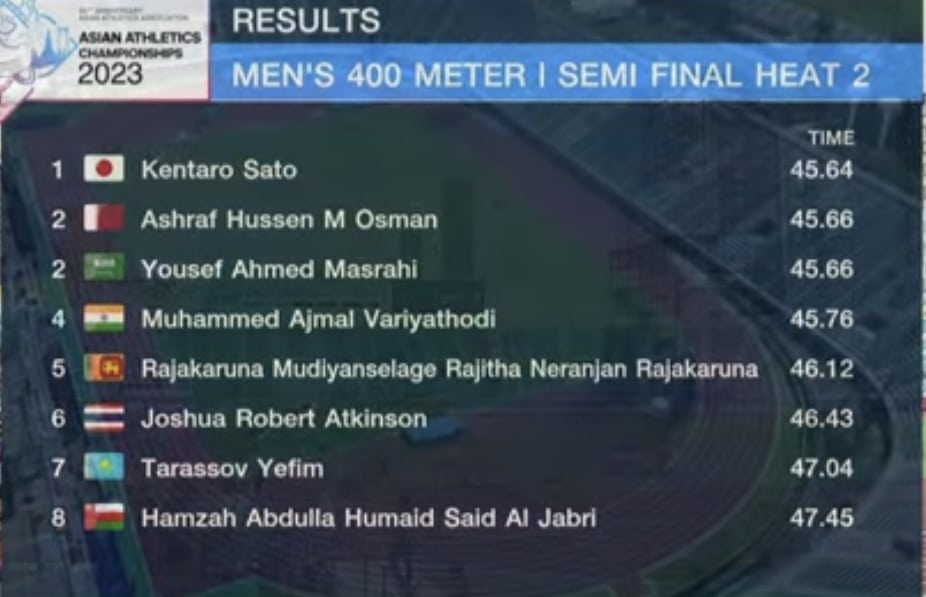 4:40pm | Its the Semifinal time for Rajesh Ramesh and he makes it with a third place finish of 45.91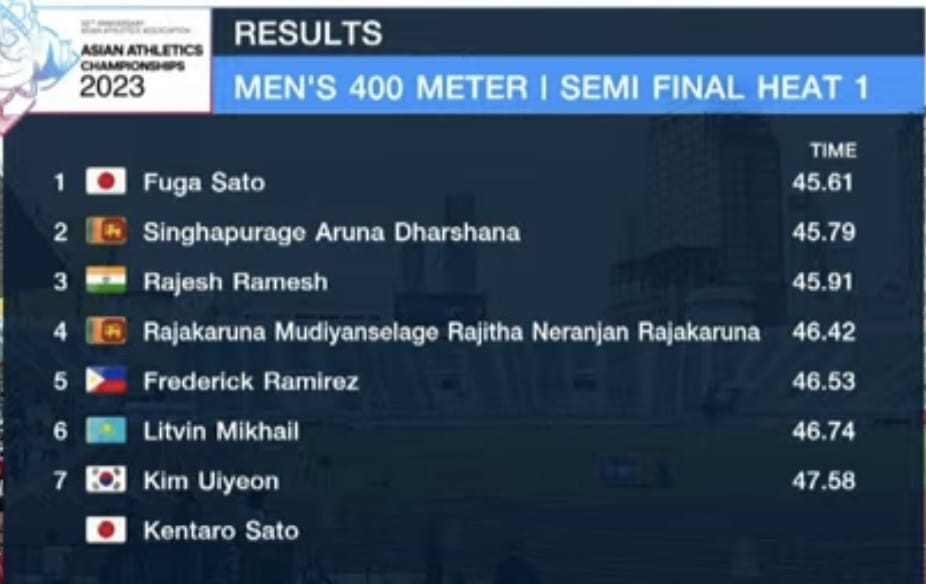 4:30pm | Lili Das finished a disappointing 7th in 1500m race with a time of 4:27.61
4:25pm | No medal for Annu Rani in women's Javelin Throw at #AsianAthleticsChampionships as she finishes 4th with a best throw of 59.10m. Annu couldn't cross 60m in buildup to this event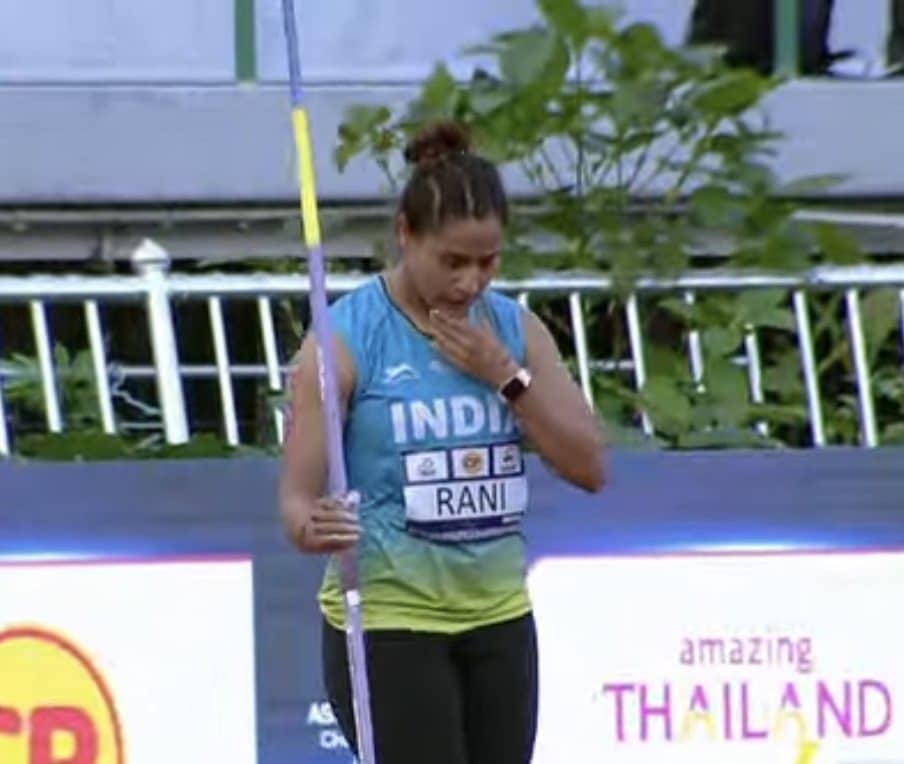 4:15pm | Tejaswin comes up with a 2.14m jump to take 934 points. He leads currently by 81 points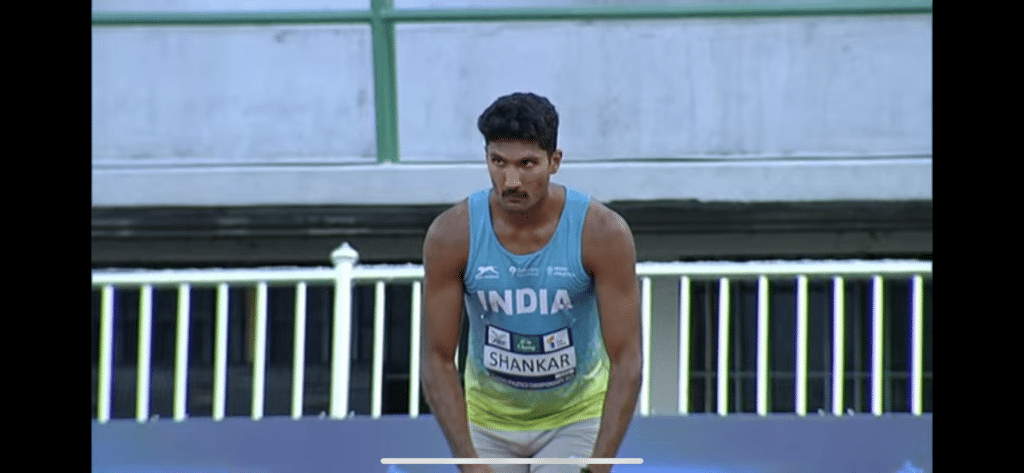 3:50pm | Surprise Surprise and we have the SriLankan with a 59.32 throw to place on third position with Japanese and Chinese in top two
3:45pm | Annurani has started with a decent throw of 55.31 and bettered it with 58.70 in second one
3:25pm | Once again its Tejaswin who will kick start the session for India as he will be up in his pet event High Jump, remember he moved from HJ to Decathlon not long ago. He has chosen to come at 1.99m right when hopefully everyone is already done
3:20pm | Welcome back for the afternoon session at Bangkok, lot to look forward from Indian perspective
10:30am | 12.39 the best mark for Tejaswin in Shot Put – Gives him 630 points. Just to keep in perspective he had thrown the put to 13.04 which gave him 670, so the upside which he had from Long Jump is negated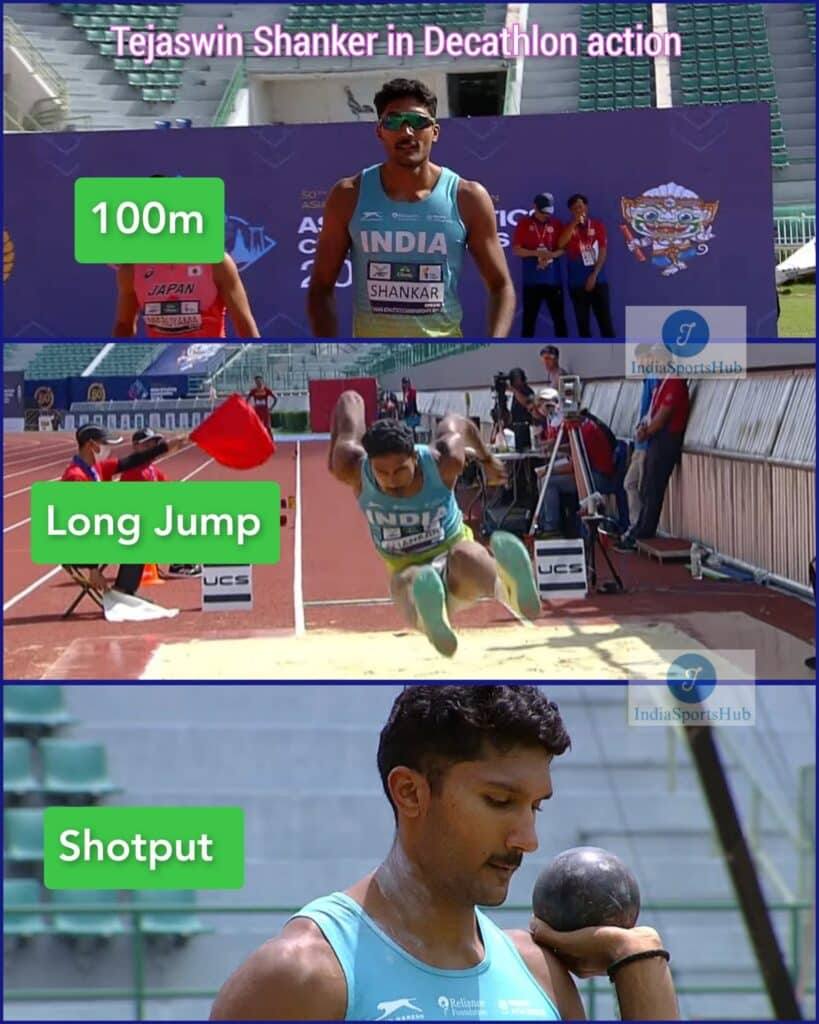 8:55am | Tejaswin Shankar jumps a pretty solid 7.48m in the men's long jump leg in his 1st attempt to secure 930 pts, remember he jumped 7.30 in the last competition so thats an upside of 44 points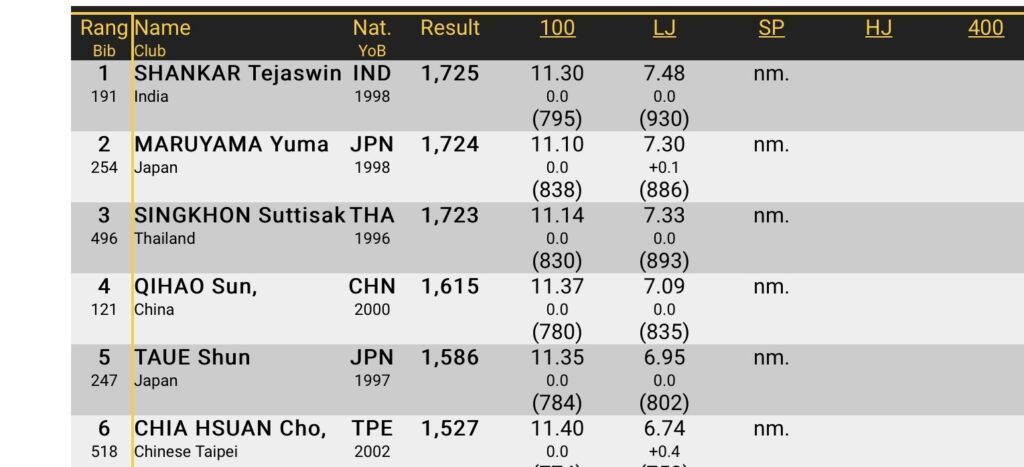 8:25am | Rajesh Ramesh up against in a bid to make the Semifinal as he enters in Heat4. Great calculative race by Rajesh and he comes back with a 46.45 to top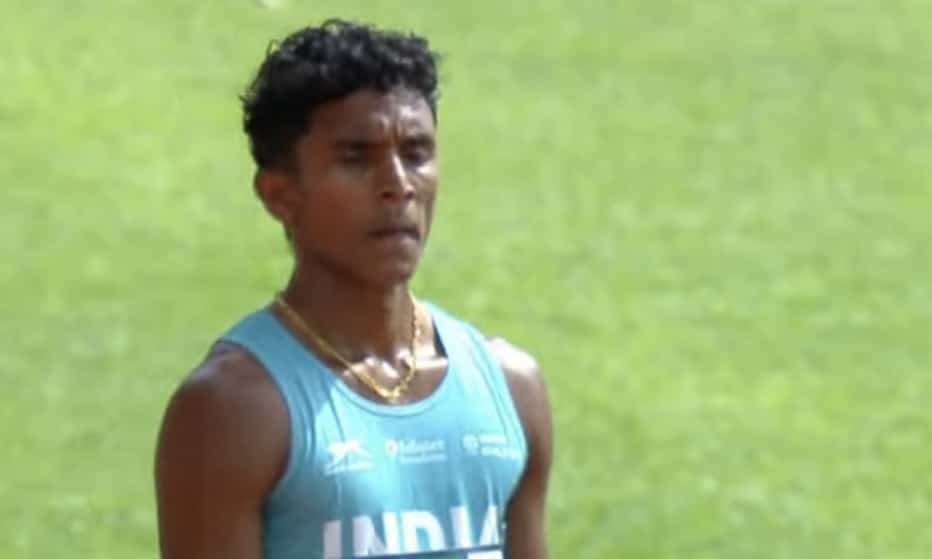 8:10am | Now onto our two quarter-milers to enter the stadium, first up is Md Ajmal and he tops the H3 with a decent time of 46.06 which is second fastest till now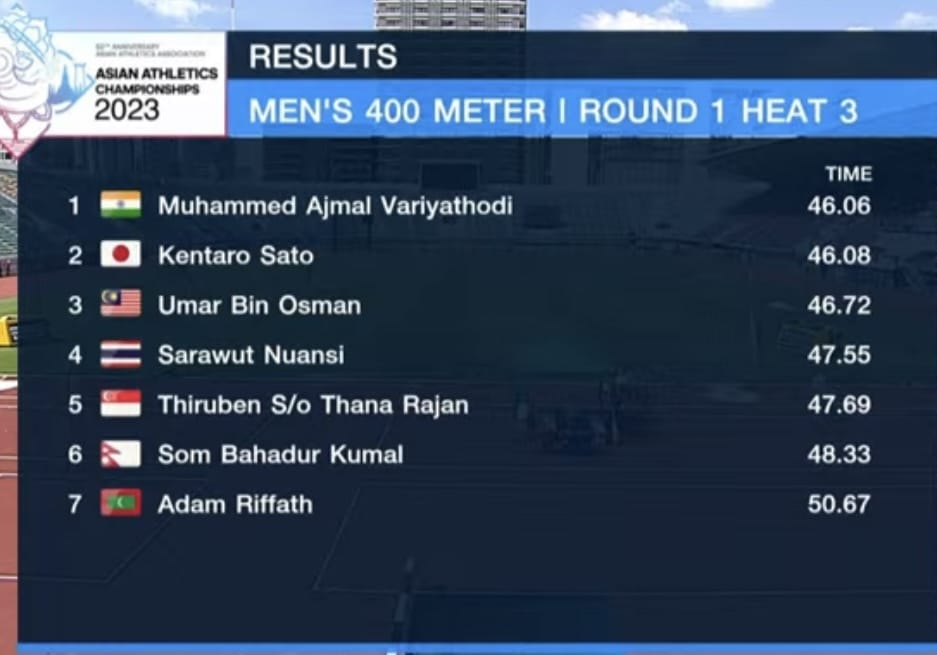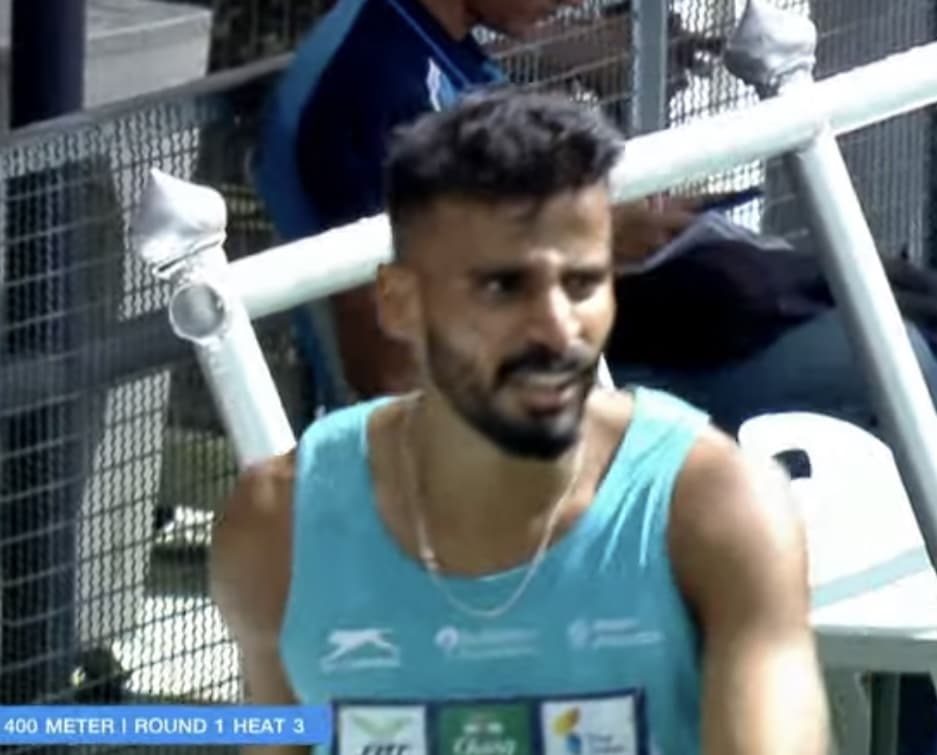 7:35am | Tejaswin kick starts Indian campaign with a 11.30 sec on 100m dash to place third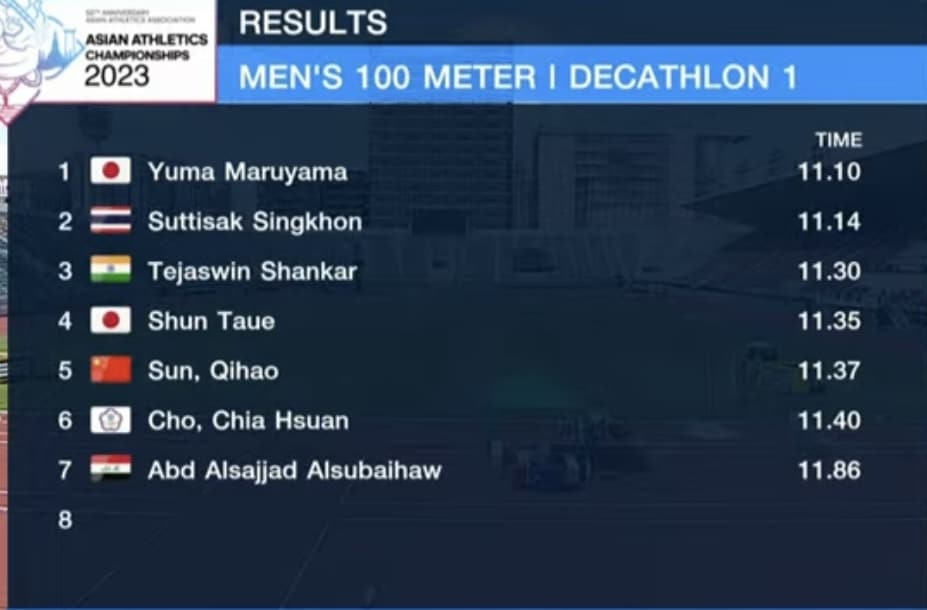 The Finals on Day1
Final women's javelin throw – 3:15 PM
Final women's 1500m – 4:10 PM
Final women's triple jump – 4:15 PM
Final women's 4X100m relay – 5:10 PM
Final men's 4X100m relay – 5:20 PM
Final men's 10,000m – 5:55 PM
India Schedule on Day1 of the competition
7:30am | Tejaswin | Decathlon 100m
7:49am | Md Ajmal | 400m | H3
7:51am | Rajesh | 400m | H4
8:15am | Tejaswin | Decathlon Long Jump
9:50am | Tejaswin | Decathlon Shot Put
3:00pm | Tejaswin | Decathlon High Jump
3:15pm | Annu | Women Javelin Final
4:10pm | Lili | 1500m Women Final
4:25pm | Ajmal & Rajesh | 400m Semifinal*
4:52pm | Aishwarya | 400m | H2
5:30pm | Tejaswin | Decathlon 400m
5:55pm | Gulveer & Abhishek | 10000m Final
Here's the India squad
INDIAN SQUAD:
Men: Rajesh Ramesh and Muhammed Ajmal (400m/4x400m relay/4x400m mixed relay)
Amoj Jacob (4x400m relay/4x400m mixed relay), Nihal Joel William, Mijo Chacko Kurian (4x400m relay),
Krishan Kumar and Mohammed Afsal (800m),
Ajay Kumar Saroj and Jinson Johnson (1500m),
Gulveer Singh (5000m/10000m),
Abhishek Pal (5000m/10000m),
Mohammed Nurhasan and Bal Kishan (3000m steeplechase)
Yashas Palaksha and Santhosh Kumar (400m hurdles)
Tejaswin Shankar (decathlon)
Sarvesh Anil Kushare (high jump)
Jeswin Aldrin and Murali Sreeshankar (long jump)
Abdulla Aboobacker (triple jump)
Tajinderpal Singh Toor and Karanveer Singh (shot put)
DP Manu (javelin throw)
Akshdeep Singh and Vikash Singh (20km race walk)
Women: Jyothi Yarraji (200m/100m hurdles)
Nithya Ramraj (100m hurdles)
Aishwarya Mishra (400m/4x400m relay/4x400m mixed relay)
Chanda and Lavika Sharma (800m)
Lili Das (1500m)
Ankita (5000m)
Parul Chaudhary (5000m/3000m steeplechase)
Sanjivani Jadhav (10000m)
Priti (3000m steeplechase)
Pooja and Rubina Yadav (high jump)
Baranica Elangovan (pole vault)
Shaili Singh and Ancy Sojan (long jump)
Abha Khatua and Manpreet Kaur (shot put)
Annu Rani (javelin throw)
Swapna Barman (heptathlon)
Priyanka and Bhawna Jat (20km race walk)
Rezoana Mallick Heena and Jyothika Sri Dandi (4x400m relay/4x400m mixed relay),
Jisna Mathew and Subha Venkatesan (4×400)