A lot of Indian interest at the second ranking event in the build up to the world championships.
And here we have the Day4 action from Almaty
In the FS57 category Aman has won all the three matches that he contested on with good margins. He has won the First Gold for India in Freestyle Category
In a surprising result Bajrang lost his Quarterfinals to Abbos from Uzbekistan 🇺🇿 3-5. Thankfully Abbos reached Finals to give Bajrang a chance to medal
In FS70 category Vishal started his campaign with a good win of 10-3 against Tajikistan 🇹🇯 but lost the semis to Rodion from Kazakhstan 🇰🇿 4-8. He will now contest for bronze medal
Naveen in FS74 category defeated Kanat 8-3 but had a similar fate in Semis losing to Byambadorj from 🇲🇳 in a close match 6-7. Will fight for Bronze.
Gourav Baliyan lost in Quarterfinals 5-17
In 92 category Deepak Punia didn't participate while viky lost his matches
And we have moved to the the Day3 of competition wherein we have action in Women Wrestling and Men Freestyle
Medal Matches Day3
FS125 | Mohit v Sardorbek 🇺🇿 | Bronze | MatA 232
WW55 | Sushma v Ainur 🇰🇿 | Bronze | MatB 239
WW59 | Sarita v Aliyeva 🇦🇿 | Gold | MatB 242
WW65 | Manisha v Elis 🇦🇿 | Gold | MatB246
WW72 | Bipasha v Zhamila 🇰🇿 | Gold | MatB247
Sushma Shokeen has defeated her opponent from Kazakhstan by fall to win the bronze medal
Sarita Mor wins the Gold Medal in the WW59 category defeating Zhala by Technical Superiority
Here are the wrestlers in action today
WW50 | Neelam v 🇲🇳
WW53 | Pooja v 🇦🇿
WW55 | Sushma v 🇰🇿
WW59 | Sarita v 🇰🇿
WW65 | Manisha v 🇰🇿
WW72 | Bipasha v 🇺🇿
FS97 | Deepak v 🇺🇿
FS125 | Mohit v 🇰🇿
Mohit has defeated his opponent pretty cleverly 6-1 to move into Semisfinals
Deepak lost his Quarterfinals match against Magomed from Uzbekistan 🇺🇿 6-11
Neelam lost her Quarterfinals match against Dolgorjav 2-3
Pooja lost her Quarterfinals match against Leyla 2-7
Sushma Has made it to the Semifinal defeating Ainur from 🇰🇿
Sarita has made it to the Semifinal defeating Diana from Kazakhstan 🇰🇿
Manisha is in semifinal defeating wrestlers from Uzbekistan and Kazakhstan
Bipasha will fight for gold in evening against Kazakh wrestler
Welcome to Day2 of the competition and today we will have GrecoRoman and Women Wrestling
India Matches for today
GR82 Harpreet v 🇰🇿 | MatB 108 | Q
WW57 Mansi v 🇰🇿 | MatC 143 | Rd2
WW62 Sakshi v 🇰🇿 | MatB 115 | Rd1
WW62 Sakshi v 🇺🇿 | MatB 119 | Rd2
WW68 Divya v 🇲🇳 | MatA 91 | Rd1
WW68 Divya v 🇰🇿 | MatC 136 | Rd2
WW68 Divya v 🇲🇳 | MatB 161 | Rd3
WW76 Pooja v 🇰🇿 | MatB 113 | Rd1
WW76 Pooja v 🇪🇬 | MatC 138 | Rd2
Harpreet the lone GR wrestler in action today has won the qualifying round against local player Miras 6-3
Harpreet however couldn't get better of Tornike from Georgia 🇬🇪 and lost 1-5. He now awaits to see if Tornike can make it to Final
Sakshi Malik defeated Local player Irina by Technical superiority and will meet Rushana next
Harpreet is out of the competition
Mansi got a walkover in Rd2 and she defeated local player 6-0 convincingly
Mansi in Rd4 defeated Kazakh wrestler by technical superiority and qualified for Gold Medal match
Sakshi Malik defeated Rushana 9-3 and as she has a walkover in next round she has made it to Gold Medal match
Divya Kakran had defeated Delgermaa 2-1 in rd1 and Albina 4-0 in rd2 and she will now contest for Gold against Zorigt
Pooja had defeated local player Inkara 10-3 but lost in technical superiority in next match against Samar. She got a walkover in rd3 to make the semis
In the semis Aiperi defeated Pooja by Technical Superiority and will fight for Bronze medal
MEDAL MATCHES
Mansi WW57 has won Gold Medal defeating Emma from Kazakh 3-0
Sakshi Malik is currently leading 5-0 against her opponent and she wins it by fall
---
Ravi Dahiya has pulled out of the Almaty Ranking Series due to health reasons.
Vikas ( 72kg/GR) and Sajan (77/GR) have also dropped out citing the same reasons
Today GrecoRoman wrestling will happen in 7 categories
GR55 | Arjun vs Khorlan 🇰🇿 | MatC 55 | QF
GR60 | Gyanender v Yernur 🇰🇿 | MatB 23 | Q
GR63 | Neeraj v 🇬🇪/🇰🇿 | MatA 10 | QF
GR67 | Sachin v 🇰🇬 | MatA 4 | Q
GR87 | Sunil v 🇬🇪 | MatA 2 | Q
GR97 | Deepanshu v 🇰🇿/ 🇹🇷 | MatC 56 | QF
GR130 | Satish v 🇮🇷 | MatB 35 | QF
Sunil Kumar GR87 lost his qualifying bout against Gurami from 🇬🇪 0-4
Deepanshu GR97 will fight with Metehan from 🇹🇷 as he defeated the local player in a close match
Sachin GR67 lost his qualifying match against Igragimov from 🇰🇬 tamely 1-10
Gyanender GR60 also had similar fate as he also lost to local player Yernur 2-3, but Yernur is now in Semifinal so a Repechage is still on for him
Upcoming bouts for India
GR55 | Arjun vs Khorlan 🇰🇿 | MatC 55 | QF
GR63 | Neeraj v 🇰🇿 | MatA 10 | QF
GR97 | Deepanshu v 🇰🇿/ 🇹🇷 | MatC 56 | QF
GR130 | Satish v 🇮🇷 | MatB 35 | QF
Neeraj & Arjun on Mat A & C respectively. Neeraj is leading 3-0, oh no as we type he loses a Four pointer and loses 3-6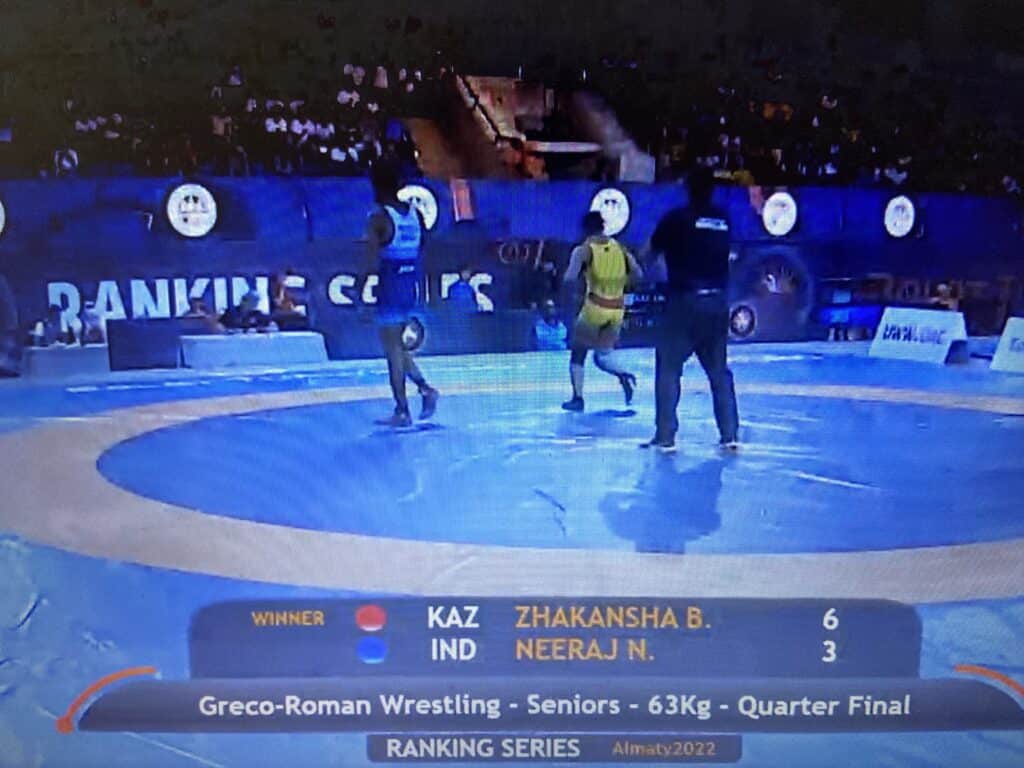 Arjun leads 10-6 currently, looks like we might have out first Semifinalist if he can hold on for couple of minutes but its not going to be easy
He has defeated the Silver Medalist of 2019 World Championships
Now Satish GR130 and Deepanshu GR97 on Mat B & C sadly both are trailing currently
Deepanshu GR97 loses a very close bout which had almost no attacking moves against Basar from 🇹🇷
Satish GR130 lost 0-9 to Amin 🇮🇷 0-9
So, of the Seven wrestlers we have only one WIN
Here's a summary for you
GR55 | Arjun Won | Semis v 🇮🇷 | MatA18
GR60 | Gyanender Lost Q 2-3 | Rep On
GR63 | Neeraj Lost QF 3-6 | Rep On
GR67 | Sachin Lost Q 1-10 | No Rep
GR87 | Sunil Lost Q 0-4 | No Rep
GR97 | Deepanshu Lost QF 1-1 | Rep On
GR130 | Satish Lost QF 0-9 | Rep On
Gyanender is out of the competition as Yernur lost in Semifinal
The next few bouts on MatA will decide if Indians will fight for medals
Arjun GR55 has lost to former Cadet and Junior world champion Soulat from Iran 🇮🇷 0-8 and will fight for Bronze Medal against Azizov from Tajikistan 🇹🇯
Neeraj GR63 has defeated Beka from Georgia 🇬🇪 9-0 to make it to the Bronze Medal match
Satish GR130 gets lucky and finds himself in Bronze medal match as Amin won his semifinal match against his compatriot
Deepanshu GR97 got the Repechage but he lost to local player olzhas 4-10
Medal Matches for India
GR55 Arjun v Azizov 🇹🇯| 🥉 MatB 74
GR63 Neeraj v Uyar 🇹🇷 | 🥉 MatB 78
GR130 Satish v Aliakbar 🇮🇷 | 🥉 MatA 73
Evening Session
Arjun is the first to fight for the Medal match and he is up against Azizov. Arjun had no answers to his opponent and lost the match 4-13
NEERAJ WINS BRONZE MEDAL
Neeraj who was fighting with Ahmet Uyar from turkey 🇹🇷 has won the bronze medal defeating his opponent by fall