Hello and welcome to our coverage of the Junior World Championship being held in Korea from Jul14 to Jul 25.
The event will see 90 Indian shooters vie for medals in pistol, rifle and shotgun competitions in the under-21 age category.
India topped the medals tally with 43 medals, including 17 gold, 16 silver and 10 bronze in the last edition.
Day3 Live Updates
Hello and welcome to the day3 coverage as we have 4 finals and precision stage of 25m taking place today
7:30am |
Three Indians and Three Chinese enter Finals
In the 10m Air Rifle final there will be only Norway and France who will have 1 shooters each while Ind and Chn will take up 6 places at Issf world jr championship
Abhinav Shaw shot a commendable 631.4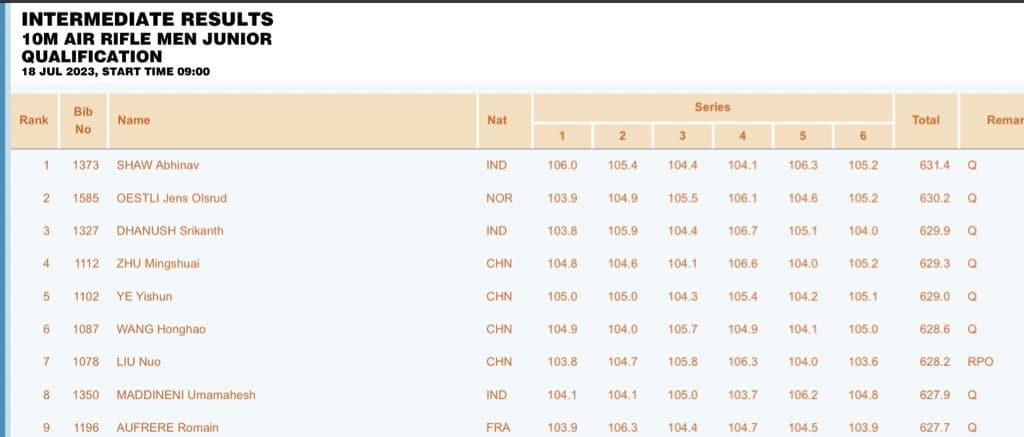 5:56am | After two series we find two Indians on top
Abhinav – 242.1 | 1
Srikanth – 241.9 | 2
Srinjoy – 213.9 | 14
Umamahesh | 239.8 | 18
Parth | 260.3 | 22
Seersh | 186 | 37
5:35am | First up we have the qualifying round for 10m air rifle and we have Abhinav, Umamahesh, Srikanth, Srinjoy, Seersh and Parth in the fray
Day2 Live Updates
Hello and welcome to the day2 coverage from the Junior World Championships being held in Korea. Today we have Mixed team finals for 10m Air Rifle and Pistol. There will also be the day 2 of skeet
11:00am | Raiza in women jr skeet Raiza managed a 21 in last series for the day but was placed 5th with 89, Sanjana was 12th with 85 while Muffaddal struggled at 25th position with a score of 77/100
10:30am | Harmehar Lally scored yet another 24 to be placed 5th with 95 points, Munek was 12th with 92 points while Bhavtegh with 91 points was 18th ranked. Rituraj,86 and Gurfateh,80 continue to struggle at the bottom in men Jr Skeet
9:50am | Bronze medal it is as Sainyam and Abhinav defeat the Korean pair 17-11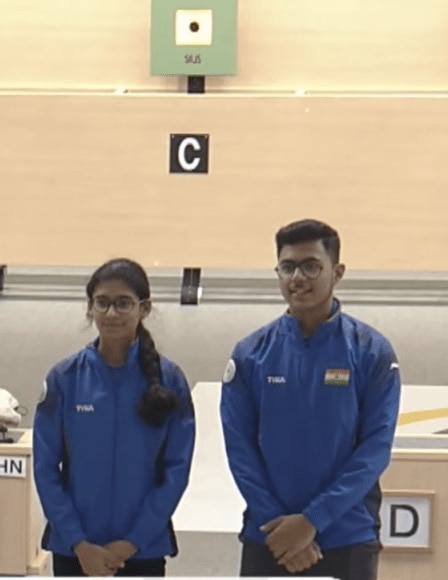 8:50am | Bronze Medal Match, India will be up against Korea for the bronze medal in half an hour from now
8:48am | Ind1 Saiyam and Abhinav shot an equal 287 each to make the bronze medal round with a score of 574 while Anjali Shubham missed by a point scoring 573
8:45am | In the 10m Air Pistol qualifying India had two teams comprising of Abhinav and Saiyam the other one being Anjali and Shubham.
8:40am| In 10m Air Pistol there were 34 teams in qualifying with only four to make the medal rounds
8:35am | In the men skeet jr the best placed Indian is Harmehar Lally on 9th position with 71/75 points. Bhavtegh 69/75 is placed 14th while Munek is on 16th with same points. RituRaj with 62/75 is struggling at 35th place while Gurfateh with 59/75 is languishing at 39th. There are 42 shooters in the fray
8:30am | In the women jr skeet qualification Raiza has made a strong comeback after a 21 in first series as she finds herself in third position currently with a score of 68/75. Other two Sanjana and Muffaddal are still shooting in series3 but are far behind the top ranks. Sanjana is 22 and Muffaddal is 24 at the moment
8:25am | GOLD MEDAL MATCH , in the Gold medal match Gautami and Abhinav had a slow start as was trailing 0-4 but then shot really well and were placed beautifully 15-7 but french team made a good comeback and won 6 points
Gautami and Abhinav kept the composure and won the next series to close the match 17-13
7:20am | Gautami shot a good series of 105.6, 104.9 and 104.9 while Abhinav had 104.3, 104.0 and 103.7 as they made it to the Gold medal round
7:10am | While Sonam had a great series of 103.8, 104.6 and 106.4 it was Parth who shot 103.2,101.8 and 105.1 which possibly was the reason they couldn't make the medal round
7:00am | In the mixed team event for 10m Air Rifle there were 35 teams and India had Gautami/Abhinav as one team while the other was Sonam/Parth
Day 1 Live Updates
Qualifying for Men Air Pistol 10m went underway with four Indians in the fray.
Shuaihang Bu from China was in superlative form and scored a mighty impressive 585 which was just 3 points shy of world record set in 2007
Shubham Bisla was a distant second with two series of 99 he scored 578 and qualified for final round along with two more Indians Amit Sharma 576 and Sagar Bhargava 575
Abhinav the fourth Indian scored 573 and missed the cut in the qualifying round which saw 65 shooters
In the final Shubham Bisla was very impressive and maintained the lead since start and scored a 244.6 to defeat the Chinese leader of qualifying
Shubham Bisla was crowned as Jr. World Champion in Men's 10m Air Pistol scoring 244.6 (Q-578). Compatriots Sagar Bhargava & Amit Sharma finished 4th & 5th.
In the women Jr 10m Air Pistol qualification we saw a new QWR being written as Ye Jin Oh scored a 587 to better it by two points
Sainyam and Urva scored 576 to make the finals while Tejaswani, Anjali and Kanak missed it as the cut off was 575
The final saw fierce battle but a series of 10.5, 10.9 and 10.4 with OH managing three 9s in last four helped Sainyam win gold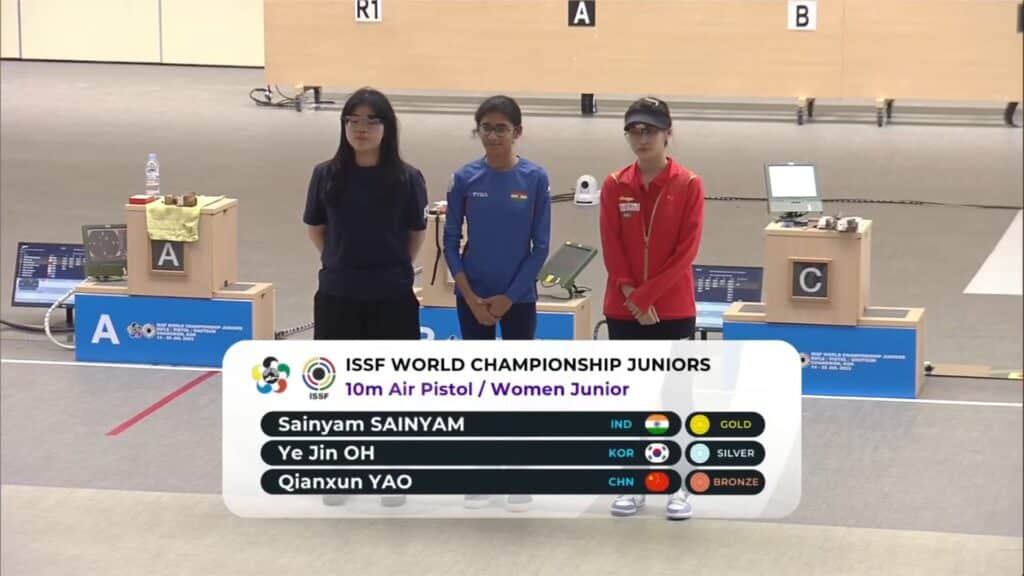 Sainyam was crowned as Jr. World Champion in Women's 10m Air Pistol scoring 242.2 (Q-576).
Here's the Indian participation at the event
Pistol
10m air pistol men:
Abhinav Choudhary
Sagar Bhargava
Shubham Bisla
Amit Sharma
10m air pistol women:
Sanskriti Bana
Anjali Chaudhary
Sainyam
Urva Chaudhary
Tejaswani, Kanak
25m pistol men:
Akshay Kumar
Ankait Tomar
Swaraj Sachin Bhondave
Meshaak Ponnudurai Praveer Christopher
Abhimanyu Yadav
25m pistol women:
Tejaswani
Simranpreet Kaur Brar
Naamya Kapoor
Payal Kuldeep Khatri
Megana Sadula
Divanshi
25m standard pistol men:
Swaraj Sachin Bhondave
Akshay Kumar
Randeep Singh
Ankait Tomar
Unish Holinder
Manav Singh
25m standard pistol women:
Prarthana Khanna
Saniya Sudesh Sapale
Aditi Sejwal
Kritika Sharma
Yashita Shokeen
Tiyana
Akshita Soni
50m pistol men:
Akshay Kumar
Ankait Tomar
Manav Singh
Sandeep Bishnoi
Kamaljeet
Suresh Sankhla
50m pistol women:
Yashita Shokeen
Tiyana
Kaur Veerpal
25m rapid fire pistol men:
Anandakumar Mahesh Pasupathy
Abhinav Choudhary
Jatin
Sameer
Rajkanwar Singh Sandhu
Agneya Kaushik
10m air pistol mixed team:
Abhinav Choudhary
Shubham Bisla
Anjali Chaudhary
Sainyam
Shotgun
Trap men:
Shardul Vihan
Bakhtyaruddin Mohamadmuzahid Malek
Shapath Bharadwaj
Jaswinder Singh
Arya Vansh Tyagi
Vinay Pratap Singh Chandrawat
Trap women:
Aashima Ahlawat
Sabeera Haris
Darshna Rathore
Preeti Rajak
Aadya Tripathi
Bhavya Tripathi
Trap mixed team:
Preeti Rajak
Bhavya Tripathi
Shardul Vihan
Bakhtyaruddin Mohamadmuzahid Malek
Skeet men:
Munek Battula
Ritu Raj Bundela
Harmehar Singh Lally
Bhavtegh Singh Gill
Gurfateh Singh Sandhu
Skeet women:
Sanjana Sood
Raiza Dhillon
Muffaddal Zahra Deesawala
Skeet mixed team:
Munek Battula
Harmehar Singh Lally
Sanjana Sood
Raiza Dhillon
Rifle
10m air rifle men:
Parth Rakesh Mane
Abhinav Shaw
Srinjoy Datta
Sheersh Kashyap
Umamahesh Maddineni
Srikanth Dhanush
10m air rifle women:
Gautami Bhanot
Swati Chowdhury
Devanshi Katara
Sonam Uttam Maskarw
Isha Anil Taksale
Hazel
10m air rifle mixed team:
Gautami Bhanot
Sonam Uttam Maskarw
Parth Rakesh Mane
Abhinav Shaw
50m rifle prone men:
Surja Biswas
Pukhraj Chauhan
Yash Dabas
Rohit Kaviti
Abdullah Parvez
50m rifle prone women:
Saniya Sudesh Sapale
Prathyusha Padmakumar
Sri Apoorva Raja Sagi
Pranjali
50m rifle 3 positions men:
Parikshit Singh Brar
Shivam Dabas
Vedant Nitin Waghmare
Harsh Singla, Ramanya Tomer
Sartaj Singh Tiwana
50m rifle 3 positions women:
Khushi, Nupur Kumrawat
Nikita Kundu
Sharanya Lakhan
Mahit Sandhu