The India mens Hockey team will begin their campaign against the new look Pakistan team in the Asia Cup today in Jakarta.
Here we will bring you all the latest news, stats and updates about the match. It's scheduled to start at 5pm IST
Both teams had equal number of shots on goal 11 with India enjoying a slightly better possession of 55-45
India definitely missed the penalty corner specialist. Rajbhar Pawan and Suraj the only positives for India
Not good that Indian team was trying to hold on to just a one goal lead
India holding on to the lead somehow but Pakistan gets a penalty corner now. And they have scored its 1-1. Abdul Rana the goal scorer
With less than 5 minutes to go India gets a freehit and in no time Pakistan in Indian circle a reverse shot which gets reflected goes over the bar
Getting much intense now. Attack from both sides as India misses a chance on 3 against 2
All important last quarter and India has only had six shots compared to Pakistan who had seven
Pakistan is attacking through the flanks but eventually failing in the circle
India has just scored of 1 out of 8 penalty corners, need a better conversion ratio
SV sunil keeps the young opponents in check with his super fast speed
There has been 9 penalty corners with India getting six scoring one out of them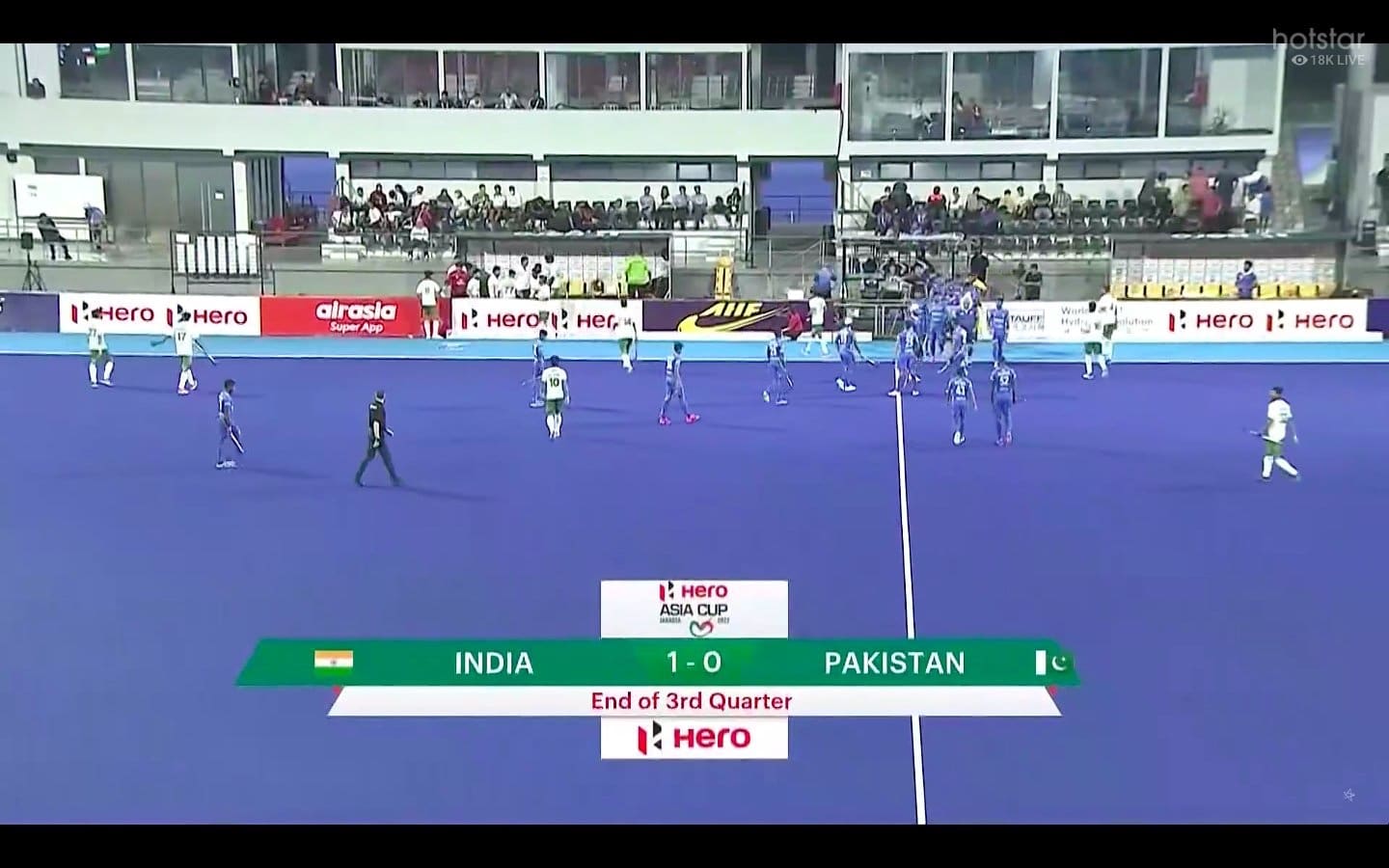 A correct referral and India gets yet another penalty corner. Can they score. No they cant, its been blocked
Miss and block and miss. What just happened there. Uttam fired the shot but the Goalkeeper kept it out and India has the Fifth penalty corner. The deflection took the ball over the goal. India take a referral.
What a strike by Rajbhar just got blocked by Shakil butt
Whaaaat a save by Karkera. Sreejesh would be happy watching that
And We are back, Pakistan gets a penalty corner in like 15 seconds and they shoot wide.
Results from earlier in the day
Malaysia 🇲🇾 7-0 🇴🇲 Oman
South Korea 🇰🇷 6-1 🇧🇩 Bangladesh
Japan 🇯🇵 9-0 🇮🇩 Indonesia
End of Second Quarter India 1 Pakistan 0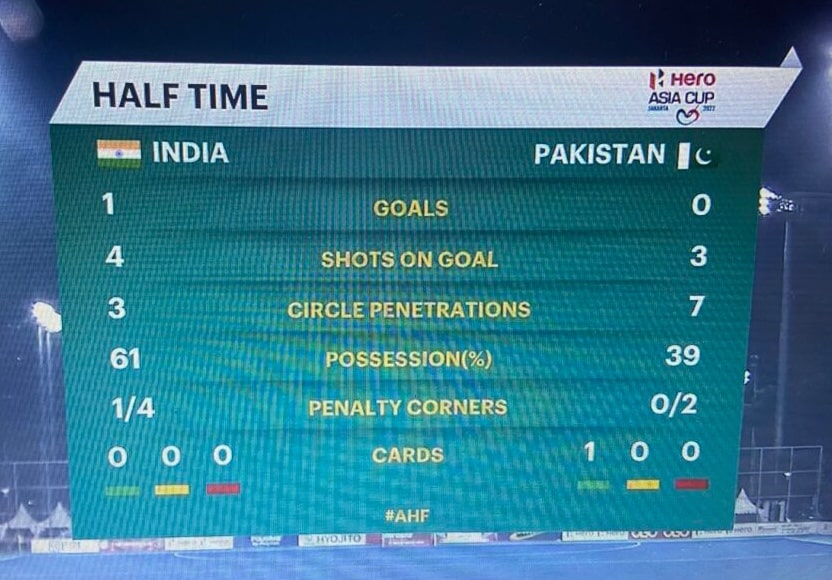 Pakistan get a free-hit and in no time they claim a penalty corner for Infringement done by Vishnukant Singh. Just two minutes to go and Pakistan takes the corner. They miss again, didn't manage to hold on to the ball
Pretty even match in the second quarter but India is just trying to break the shackles. Fast hockey from both the teams. Good pressure building by India, not letting Pakistan get into India circle.
India pushing hard to double the lead. Gets a penalty corner and was saved by the Pakistan goalie pretty well
And the hooter sound and the first quarter over with India leading 1-0
What a debut for the 20 year old Karthi who scores India first goal
INDIA SCORES!!!!! Penalty Corner Karthi gets a deflection
India gets the third penalty corner, would want to take advantage of this. Saved by the goalie Akmal but India gets another PC.
Uttam misses a chance when he was unmarked but the ball was just too fast. And its a second penalty corner for Pakistan. Living dangerously. Moin with the ball. And its a wayward shot on the left of Suraj
Butt comes in the path if India and its the second penalty corner for India but India misses
But India misses the goal from the pc. So one penalty corner each and score 0-0
Pakistan gets a corner but they fumbled and SV sunil gets a foul on him which results in India getting a PC.
Match has started. Good play by both the team. Likewise India who are in here with A team Pakistan is also here with a team which is into rebuilding
Some Details for you courtesy Indianhockey
Pakistan has scored max goals (280), followed by India (274). India has played maximum matches (56), 2 more than Pak.
Pak has won 40 of its 54 matches, Ind's tally 43 out of 56. Both have so far played 177 times.
India-Pak encounter | Both have so far played 8 times in Asia Cup, India won 3 (twice in 2017), lost 5. Ind scored 17 goals against 19 by their famed rival.
India won for the first time in 2003, it was the final (4-2).
And here is the lineup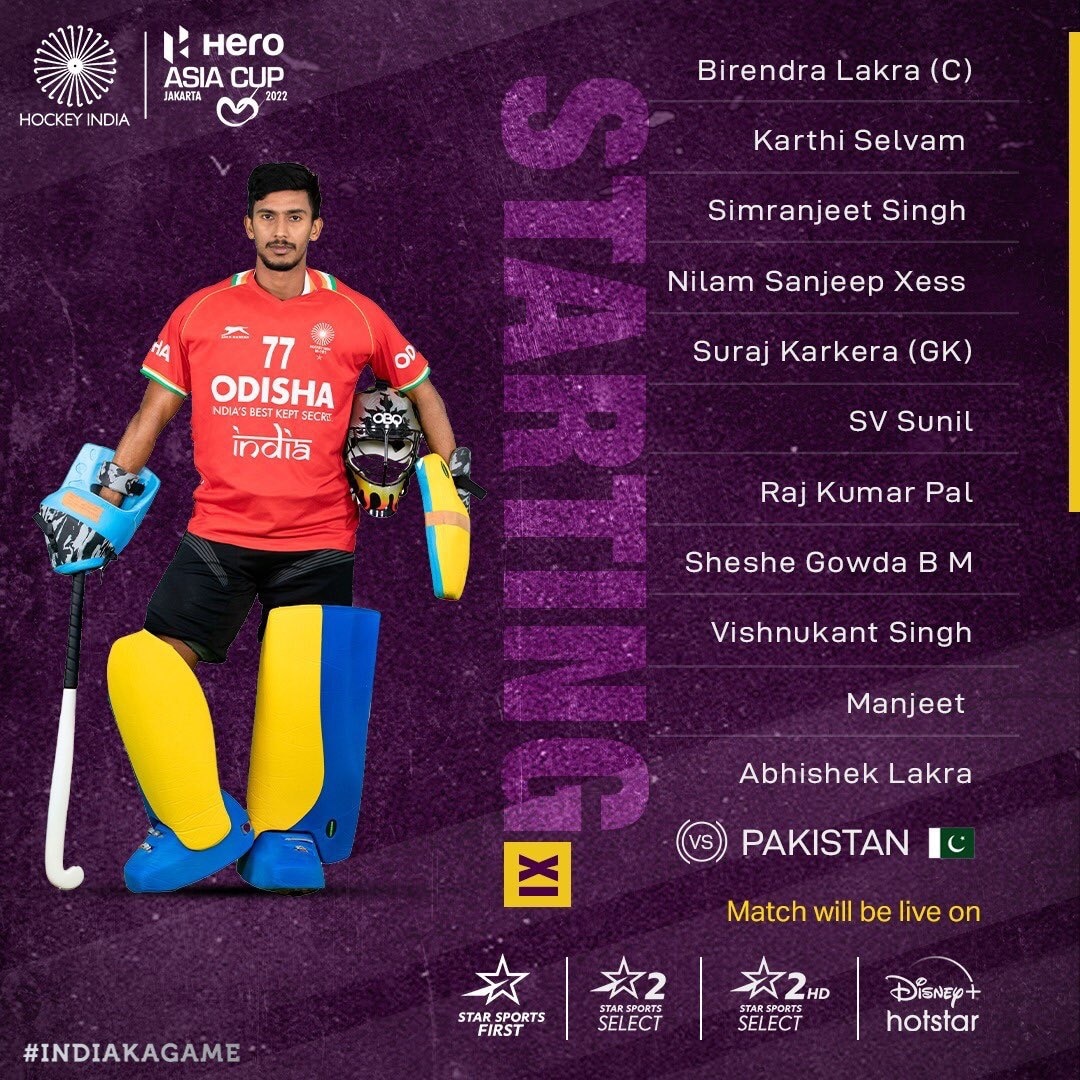 Out of 8 finals they entered, Indian men won the Asia Cup thrice (2003, '07, '17). Once they defended the title. Another opportunity await now at Jakarata. Prabodh's Ind beat S. Korea 7-2 in the Chennai finals ('07, coach Joaquim), highest score in any Asia Cup final.