Hello and Welcome to the coverage of the most important tie in the group. Today will decide who will top the group.
First up are the Indian women team playing against mighty South Korea 🇰🇷
📺: @VootSelect & @Sports18
Treesa & Tanisha lost 14-21, 11-21. India 0-4 Korea
Next up are the young pair of Treesa & Tanisha.
Not looking good at the moment for the Indian pair as they lost the first game 14-21, they were good in patches but evetually lost the game to the higher ranked opponents.
Although India has lot the tie they would like to avoid getting blanked by the opponents
Aakarshi Lost 10-21, 10-21 and India concede the tie 0-3
Next up is Aakarshi who will be under pressure to keep India in the tie
Not looking good at the moment as Aakarshi lost the first game 10-21 and looked distraught
She is up against WR19 Kim Ga Eun, its their first ever meeting and surely Aakarshi will have to be at her best to stand a chance.
Shruti and Simran Lose, India trail 0-2
It was always going to be difficult for the scratch Indian player against WR2 and they lost 13-21,12-21 in 39 minutes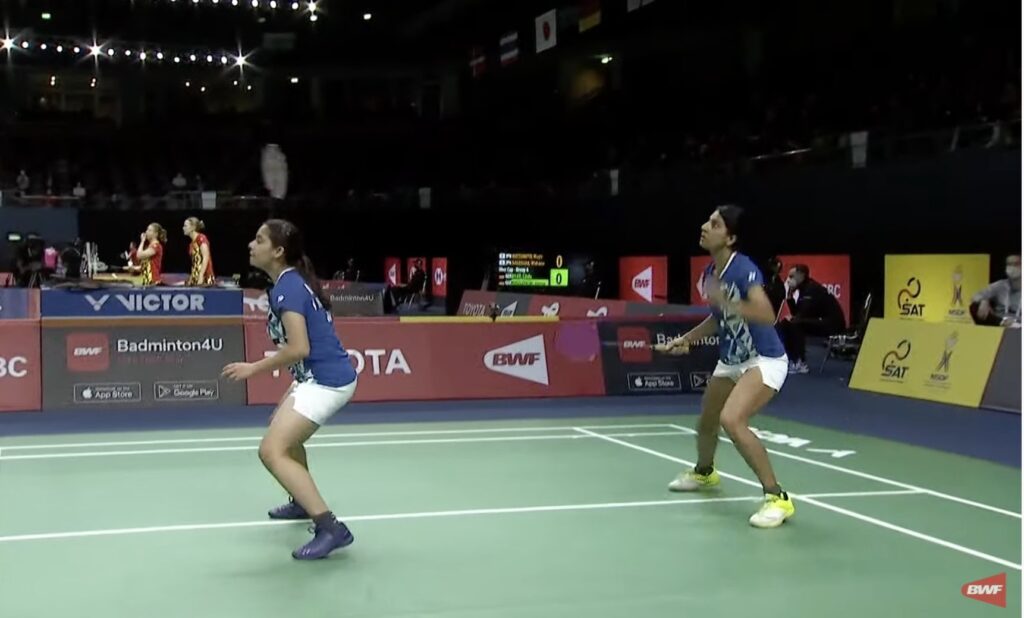 Indians are in for a similar fate in the second game as well trailing 8-15
Shin and Lee are not giving any chances to the Indians and they close the first game 21-13
The next up is Women Doubles match between WR2 and new pairing of Shruti and Simran. Going to be a real tough ones for Indians
Sindhu loses 21-15,21-14 to An SeYoung
Its not going Sindhu way. ASY is just playing a difflevel she now leads 14-10
And An SeYoung is back at it again she now goes in the break 11-9 winning seven on the trot. Sindhu surprisingly challenged a point right at the break. She has no challenges remaining
Sindhu has started the second game well and is leading 9-4 currently but need to keep the momentum
We surely want to see a comeback from Sindhu, a lot depends on how the first match goes
Suddenly An SeYoung won eight points in a row to defeat Sindhu 21-15
Its now getting very close Sindhu leads 15-14. And its all square, is there a comeback of sorts for the WR4 ASY who now takes the lead after trailing by four point at interval. ComeOn Sindhu.
Sindhu is trying to avoid rallies, going aggressive as the opportunity arrises. Constant rooting of Jeetega Bhai Jeetega India Jeetega as Sindhu smashes one cross court to lead 13-9
Sindhu has started well and is currently leading 8-7 and she goes to the interval with a four point lead. 11-7
First up is Sindhu vs An SeYoung. Sindhu has always find it difficult against her. In their all meetings PVS has lost. Infact she is yet to win even a game against her.
Here's the lineup for today matches