India is all set to start their campaign at Thomas Cup and Uber Cup tomorrow
Uber Cup 2022
India beats Canada 4-1
Ashmita Chaliha makes it 4-1 scoring a comeback victory over Chan 12-21,21-11,22-20
Treesa and Tanisha win. India gets a lead of 3-1
The first time pairing of Treesa and Tanisha are looking all set to hand India the tie, they won the first game 21-9 and leading the second game 11-9 midway
Aakarshi Wins. India leads 2-1
Aakarshi is holding on to a slender lead of 2 points, in the final game she is currently leading 13-11
Aakarshi comes back in the match winning the second game 21-18. We are all set for the most important final game. It was indeed 7-12 for Aakarshi and a return from there was looking difficult but she indeed made it happen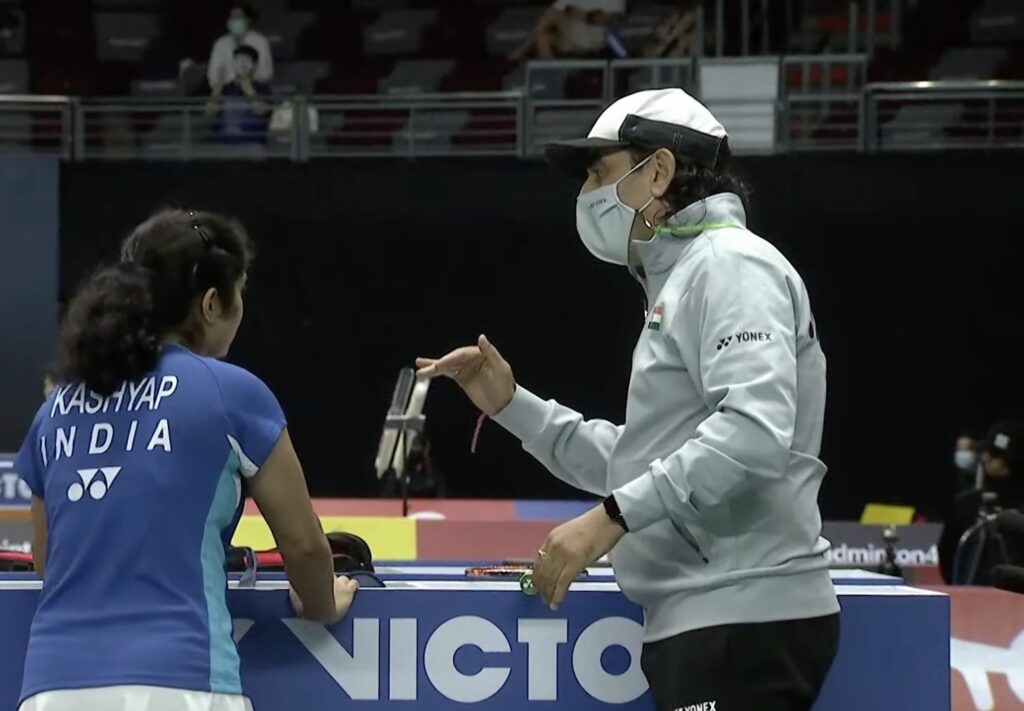 Aakarshi who was leading briefly lost the first game to Zhang 17-21
Simran/Shruti lost India 1-1 Canada
The scratch pairing of Simran and Shruti were always going to find it difficult against the WR20 Rachel and Kristen and they lost 19-21,12-21
Sindhu Wins and give India a 1-0 lead
Sindhu after winning the first game is leading the second 8-5
In a tough battle against the No1s of the respective countries it is Sindhu who prevails through the first game by winning the crucial points when it mattered the most. Sindhu won first game 21-17
Sindhu headlines the Indian campaign which can possibly decide the fate of the group.
Sindhu who currently enjoys a H2H of 7-2 against Li will look to give India a bright start. She has won the last five encounters among themselves. Li is currently ranked 11 in the world.
Simran and Shruti will be up against a formidable pair of Rachel and Kristen, who are ranked twenty in the world.
Aakarshi will play the second singles match against Zhang. It is their first meeting and with Aakarshi ranked 54 and Zhang 77 Indian contingent will hope to score a victory ✌️.
Treesa And Tanisha who are a makeshift pair are up against Choi and Wu who are ranked 47 in the world. It remains to be seen how the pair plays.
In the last match which could be a crucial from the tie perspective Ashmita Chaliha WR64 will square off against Chan WR86
Thomas Cup 2022
India is placed in Group C along with Germany 🇩🇪, Chinese Taipei 🇹🇼 and Canada 🇨🇦
India defeat Germany 5-0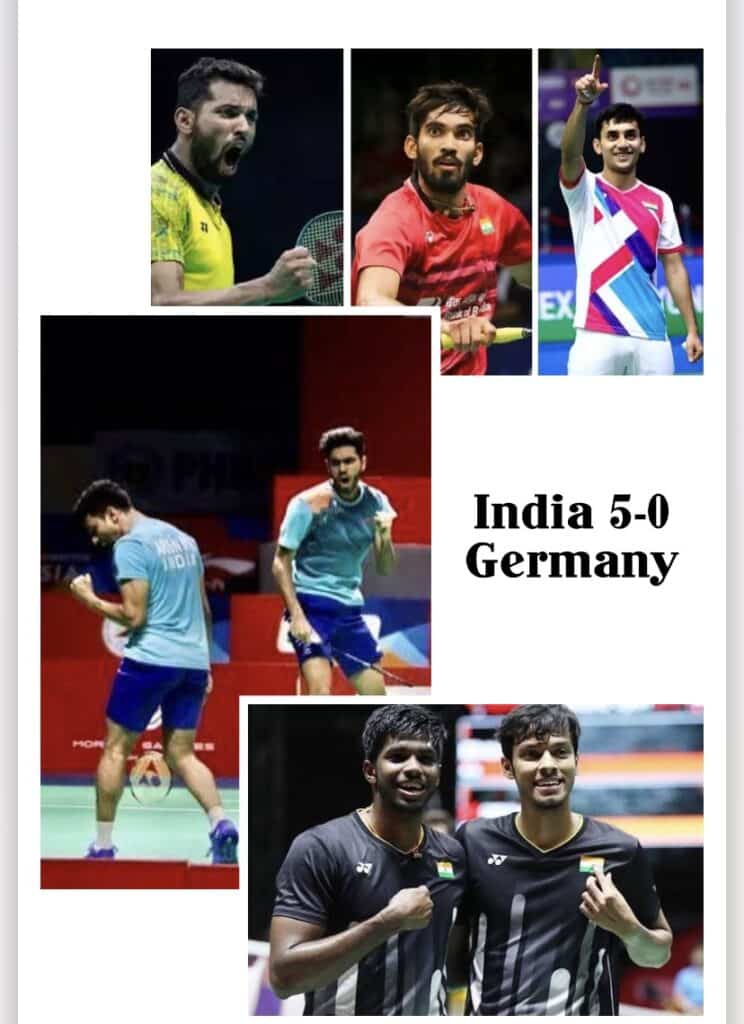 Prannoy defeats Matthias 21-9,21-9 in straight games
HSP closes the first game 21-9 against Matthias who is ranked 463 in the world 🌎
HS Prannoy is toying with his opponent and currently leads 11-2. Surely an opportunity for another youngster would have been more fruitful.
In other update from #UberCup Grp D which India is part of. South Korea has blanked USA 5-0 without playing An SeYoung
And now on the court is the BEAST HS Prannoy
Dhruv Kapila & MR Arjun Win to make it 4-0
Dhruv and MR Arjun are in for a tough one. After winning first game 25-23 they are leading 16-13 in next game
Dhruv/MR win first game 25-23. Dhruv closes with a smash
And they make it again 23-23 saving yet another game point. They have a game point opportunity now 24-23
Dhruv/ MR makes it 22-22
Its going down the wire as the match is tied 21-21 in first game
Next Up are the young pairing of Arjun and Dhruv who are ranked 40 in the world against Geiss and Voelkar who have a career high of 50 while currently they are ranked 66.
Should be a good test for the India No2 pair
Kidambi Srikanth Wins to hand an unassailable lead of 3-0 lead in the tie.
Its a tough match going on. Sri leads 12-11
Srikanth wins the second game 21-9 in no time. Onto the final game to seal the tie
Srikanth comes back to lead 11-4 midway in the second game
Srikanth loses first game 18-21 against 84th ranked Kai Schaefer.
Sri trailing 18-19 in first game
Here's an update everyone was waiting
Sindhu is in Thailand 🇹🇭
Kidambi Srikanth Arrives on Court
Srikanth now takes on Schaefer in the second singles match to decide the fate of the tie. Its a do or die match for the Germans as they now need to win to stay alive in the tie.
Looks difficult though for the German as he is up against former World Number One Srikanth
CHIRAG AND SATWIK WIN – India leads 2-0
Chirag Satwik leads 16-11 in the third game
Its One Game All
Chirag and Satwik won the first game 21-15 but are very close to losing the second one as they trail 10-20
The Indian pair leads 8-6 with few good points while giving away some to the Germans
Next up are the BROTHERS as they call themselves Chirag and Satwik are surely stars of the Indian men Doubles category. They are ranked 9th in the world with a career high of 7th Chirag with a bandana on forehead sure looks like a rockstar
They play Jansen who had a CH of 22 and Seidel who has a career high of 13 albeit with different partners. This should be a good match 👍.
Mark Lamsfuss, who during the European Championships won MD and XD gold, is sitting out of this
LAKSHYA WINS India Leads 1-0
Lakshya leads the second game 11-5 in quick time
Lakshya takes the first game 21-16 in 16 minutes.
And the champ roars back in the match and he leads 19-14 currently in first game
Lakshya trails at midway 9-11
A flurry of unforced errors from both the players and Lakshya leads 9-8
And it starts right here. LAKSHYA VS MAX watch it live on Sports18-1 and VootSelect. 20 year old Lakshay who is on his career high rank up against 25 year old Max who has a career high of 58 and is currently ranked 64
India plays Germany on Day1 of the competition.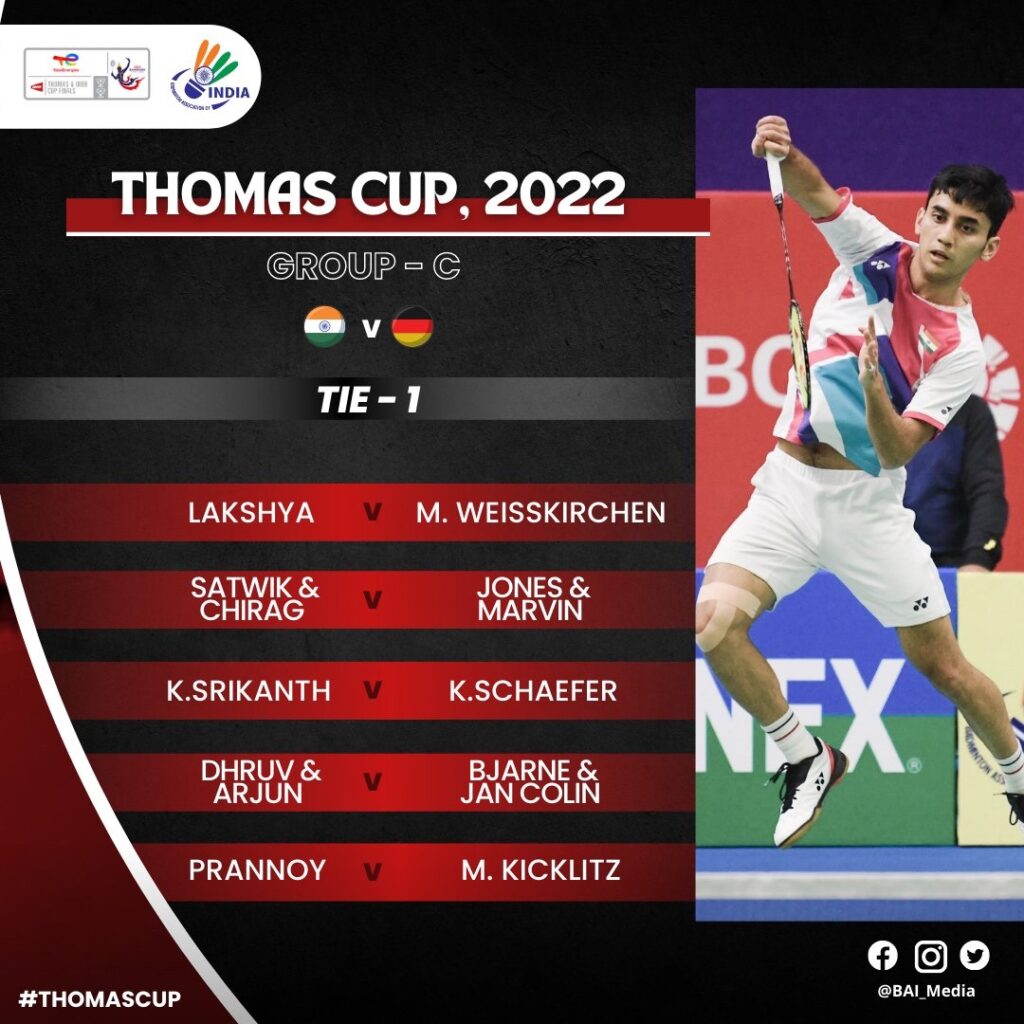 Lakshya WR9 plays against Max from Germany WR64 in the first match, they have a H2H of 1-1 with Lakshya losing in 2014 and winning in 2019
Chirag/Satwik WR9 will start the campaign against unranked German pair Jones/Marvin
Srikanth WR11 will play the second singles match against Kai WR84, which is the first ever meeting.
The young pair of Dhruv/Arjun WR40 will play against Geiss/Jan WR66. They have also never met earlier
HS Prannoy WR23 plays the last singles match against Matthias WR463. They have never played earlier.
India has sent a strong squad to the championships with Lakshya, Srikanth and HS Prannoy being there for the singles and the star pairing of Chirag/Satwik for doubles.