It takes many years of commitment and financial investment for Indian Tennis players to stand toe to toe with European and American counterparts. We recently wrote a piece on how the Doubles game is flourishing currently in India. But at the same time you can count on just one hand the number of SINGLES champions India is producing.
Towering at 6 feet tall, the 24 year old Indian Tennis star Karman Thandi once breached the top 200 WTA rankings, and reached the career best ranking of 196 in August 2018. But since 2020 an injury led hiatus and the Covid lockdown have pushed her rankings back to 500+.   She is now making a comeback and we caught up with her after her Semifinal win at the 1st ITF Gurgaon W25 tournament.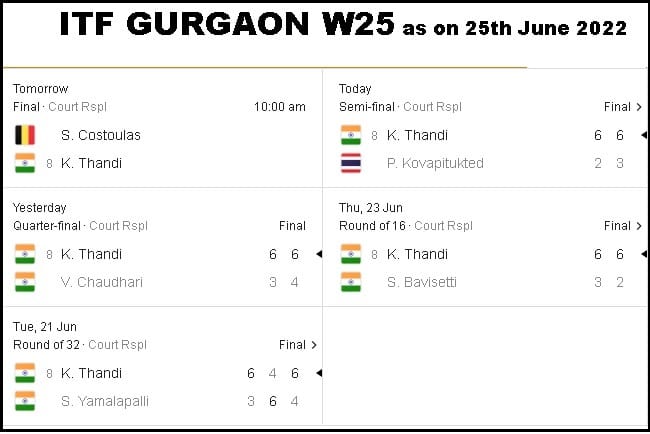 ISH – So tell us about your comeback after the Injury
KARMAN – After the injury this is my 3rd tournament in 2022. I am very happy to be in the Finals (of W25 Gurgaon). Its been several ups and downs in all the matches, especially in the initial rounds when I am trying to find my rhythm. But thankfully I have managed to survive till now. I have a lot of positives to take with me in tomorrow's finals.
ISH – In today's Semi Finals in the 1st round match you were up 5-0 and very close to making a Bagel. What happened then?
KARMAN – The 1st rounds are never easy and she started playing very good tennis at the end of it. Despite how the scorecard looks, this was definitely a very tight match. As I said I am happy that I survived because I could feel that I am still not playing my best Tennis. It was on and off. Some games I felt I was playing good, but in some games it was an average performance. I was looking to find my rhythm. Happy it went my way.
ISH – There was a massive height difference between you and the opponent today. (Punnin Kovapitukted is around 5-5.2 ft). Does the height give an advantage to you in your game, or the strategy remains the same ?
KARMAN – I think the height does give an advantage. Especially when I am kicking the serve, it does make it difficult for the short heighted opponent to return the serve. But they have good legs (speed) which balances out the height advantage. I have got the reach, she has the stride speed.
ISH – It was extremely hot today (this weekend temp is soaring at 40 Deg Celcius) in Gurgaon. The games start at 10am which also do not help. Does that affect your game ?
KARMAN – Honestly it didn't bother me much. I played in Thailand last week and it was pretty hot and humid there as well. So I was acclimatized to play in that condition. Obviously sun on top of your head does affect your performance when you have to spend each day on court. But on the flip side I am feeling good about my game so the heat is not bothering my performance as such.
ISH – The coaches do not travel to ITF tournaments and these events don't even get televised. So how do you and your coaches communicate on the game?
KARMAN – My coach gives me daily feedback. Before the game and also after the game. They are able to understand everything I did after simply reviewing the detailed scorecard. ADI sir knows me since I was a kid, so he knows how my game is progressing. Obviously its different when the Coach is here with you at all the games, then it becomes a very different kind of support. Hopefully in sometime I can travel with a Coach.
ISH – The ranking of 196 was a huge achievement at that age and since then its been a struggle. What's the expectation this year?
KARMAN – This year the primary goal is to stay Injury free (laughs), that is more important than ranking. If I keep on playing tournaments this year, the ranking will definitely improve.  I am looking to be at least in the Top 300 by end of this year.
ISH – Any element of the game you feel you are lacking right now and which should be worked upon immediately?
KARMAN – There are several areas in which I can definitely improve. This is the 3d tournament after a major injury, so there are still some areas which I need to work upon. Percentages keep on going up and down. Some games I just give away with very basic errors. I have keep figuring ways out to remain solid in those games and not just let them slide away. The mantra is to keep improving.
ISH – Any thoughts on tomorrow's opponent & finals ? (17 year old Sofia Costoulas from Belgium)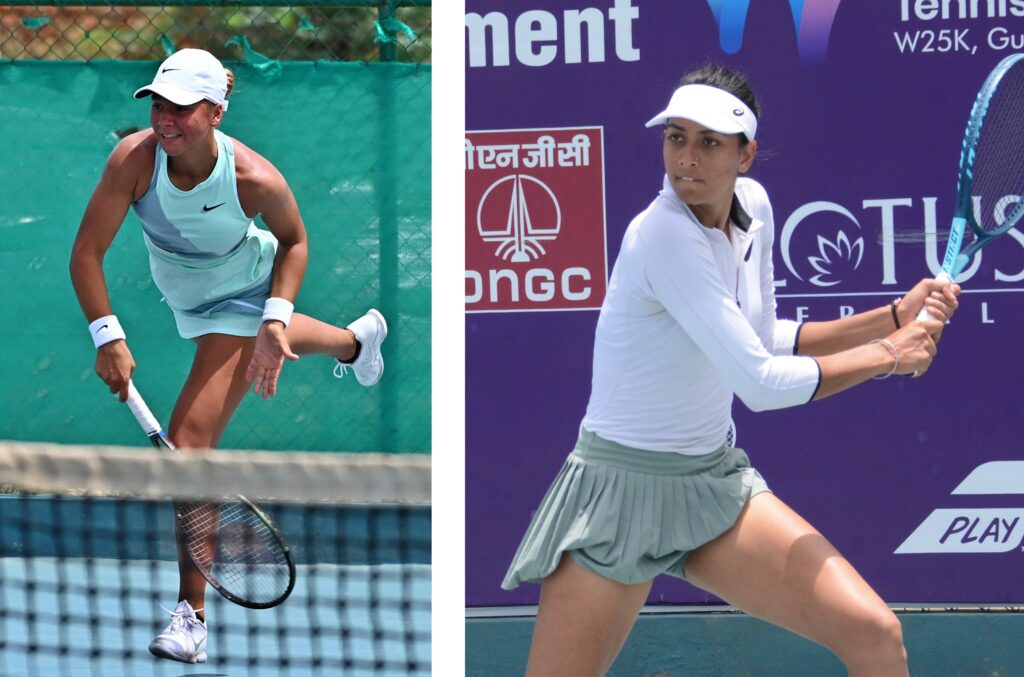 KARMAN – I haven't really seen Sofia play. Today after my game when her Semis were going on, was the 1st time I saw her in action. She looks very agile and a tough player. This would be a challenging contest as she has beaten higher seeded players this week. But I am very positive about my game and feeling good about Sunday's finals.
ISH – Thank you Karman. All the very best for tomorrow and the coming week.
KARMAN – Thank you.