India added two more medals in the kitty on the day two of the competition.
Women 49Kg Category
Gyaneshwari Yadav started with 70Kg Snatch attempt which she cleared it with ease and then came back to lift 3Kg more to move into a clear silver medal position. Rithika V who had started with a 69Kg attempt was sure of atleast a medal if she made one succesful attempt. In the 49Kg category of women there were 10 participants but seven had already finished their three attempts.
Maha from Morocco was the best of the lot till the Indians started with a 65Kg lift. Rithika did come and lifted 69Kg to ensure the bronze but that was it her next two attempts were No-lift of 71Kg. Gyaneshwari also returned to lift her third attempt of 73Kg but she also had a failed attempt hence ensuring two small medals for India after a historic Gold medal on Day one.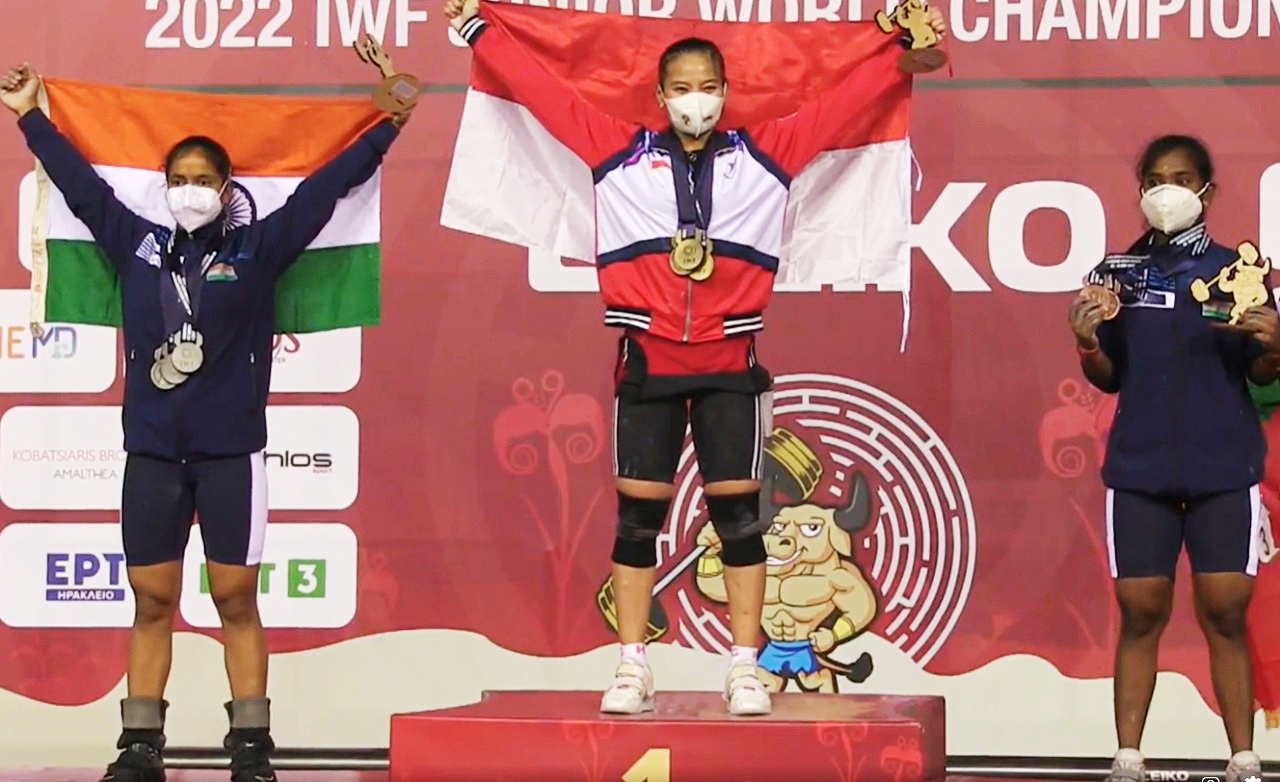 Source SAI Media
The current Junior World Champion Windy Aisah was yet to start her competition and she started with a 77Kg attempt and with that ensured Gold for her. She did comeback to lift 81Kg and then 83Kg to increase the gap with the Indians for the Total weight medal. At the last championships she did a 86Kg.
📢SAI NCOE #Lucknow Weightlifter Gyaneshwari Yadav, showcases her talent on the global stage by winning Silver 🥈at the ongoing #IWFJuniorWorldChampionship'22 in Greece in the 49kg category. Huge credit to the Coaches and Support Staff for bringing the best out of her!! pic.twitter.com/SjiEAkdd6c

— SAI_Lucknow (@SAI_Lucknow_) May 3, 2022
The junior world record is in the name of China with Jiang Huihua lifting 92Kg. This is the same category where Mirabai holds the only World record by an Indian. She has a lift of 119Kg in C&J in senior category.
The clean & jerk followed the same pattern only till Rithika decided to increase weight by 2Kg inspite of a No-lift in the second attempt. The morrocon girl had lifted 82Kg and even if Rithika lifted 83 she would have ensured the C&J bronze.
Rithika had other ideas and went for 85Kg which again missed and also a medal. Gyaneshwari was more calculative in her approach and started with a 81Kg lift and increased another 2Kg to stake the claim on the Silver medal. The competition for the gold medal was never in question as the entry weights submitted by the Indonesian girl was way above the others. Aisah started with a 97Kg lift and added 5Kg for 102. She choose to skip the last attempt as the medal was already assured.
The junior world record in this category is 114Kg by Jiang HuiHua.