Indian junior basketball team has gone all guns blazing at the U16 FIBA Asian Championship 2022 reaching the QF for the first time and finished 5th overall.
Looking at the previous performances since the start of the tournament in 2009 India has never finished above the 10th place.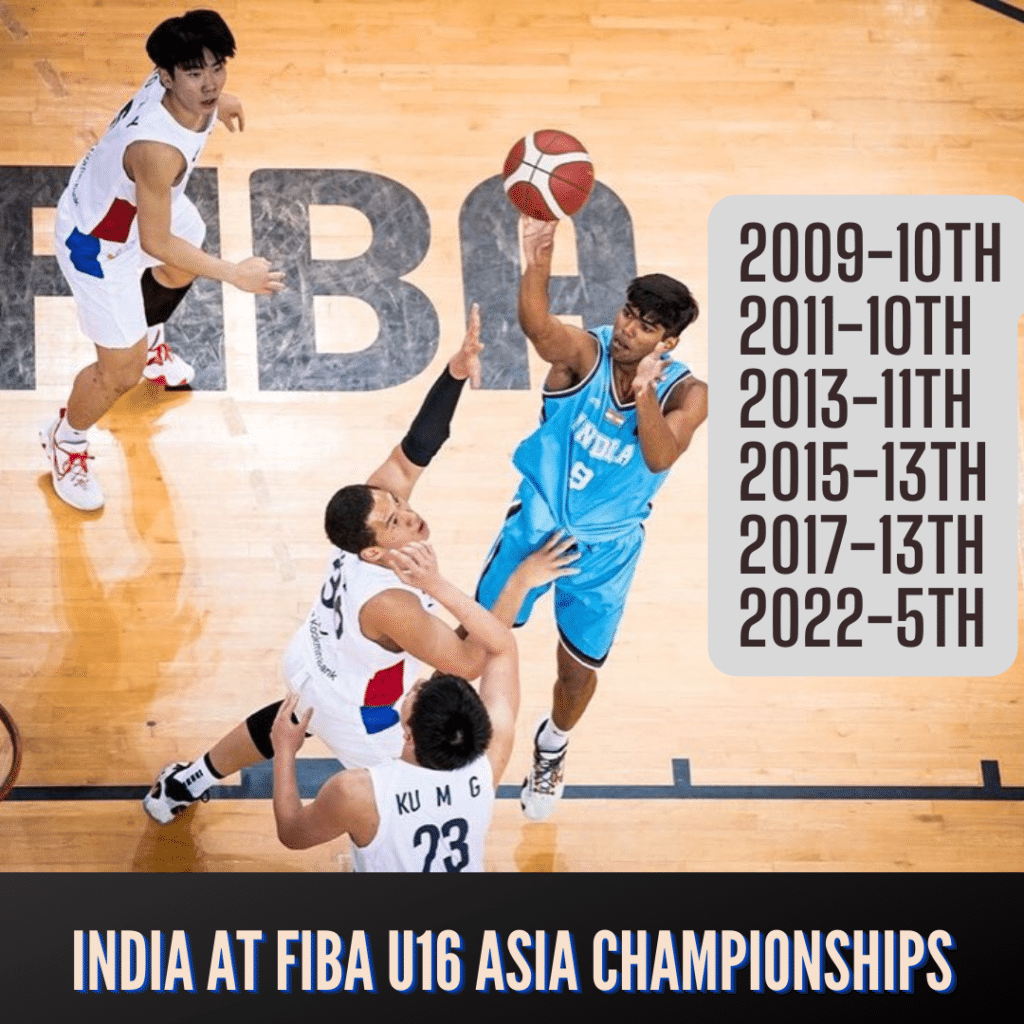 In 2009 during the inaugural edition, India finished 10th. The next editions to India finished 10th, 11th, 13th in last two occasions.
Overall, in the 5 editions played to date India has never gone above the 10th position. Considering the above fact this performance will be a huge boost to the youngsters.
Had India won against Japan in the QF they would have qualified for the U17 FIBA WC.
After getting knocked out of the tournament India played Iran for the 5-8th qualification. India was trailing at halftime with a score of 20-40.
Within the next few minutes, India closed in on Iran and equaled the score line after the full time.
Iran was held back successfully by the guards in the defense with Iran too not being able to successfully convert the 3-pointers with many failed attempts in the ET with India getting to a comfortable victory. 
India then went on to beat South Korea 90-80 to finish 5th who were the champions in 2015 and runners up twice.
South Koreans are the 2nd most successful team in the competition since 2009 and to beat them is a great achievement for the young Indians.
Kushal Singh has been the stand-out forward for team India with a total of 140 points in the 6 matches he has played. His 2-point conversion rate has been good with a conversion rate of 55.3 %.
He had a good outing against Japan in the QF where India lost to them with a close margin of 7 points. He scored around 31 points both against Japan and against Qatar where India won 77-51.
Lokendra Singh
With the must-win encounter against Indonesia Lokendra stood out and scored 30 crucial points eventually winning with a comfortable margin of 97-53.
With that win, India qualified for QF for the 1st time. Along with him, Jaideep Rathore complemented well scoring 27 points.

Vishesh Brighuvanshi the current Indian Basketball captain was very much impressed by the youngster's performance congratulating them after every encounter.
Given proper support and guidance, this team will surely make it big in the coming years.