So, we are in December of the year and we look at how Indian Athletes performed in comparison to world lead marks throughout the year.
Yes we had many bright performances from obviously Neeraj Chopra who has arrived on the big stage and how. You can't forget the Sable run at Commonwealth Games.
We had a New NR in sprint from Amlan Borgohain. The ever improving and overnight sensation Jyothi Yarraji in Hurdles.
Rupal the teenager gained limelight at the World Junior Championships bagging two medals, first in Indian history
Here we will show you how Indians have performed, a comparison of top five performances through the year
100m Sprint Women
#ShellyAnnFraserPryce has defied all the misconceptions around an athlete's age.
At 35 she holds all the top8 100m timings in the world in 2022 🤯. Definitely robbed of the Athlete of the year award.
#DuteeChand didn't have a great year, but still holds the NR at 11.17s in 100m.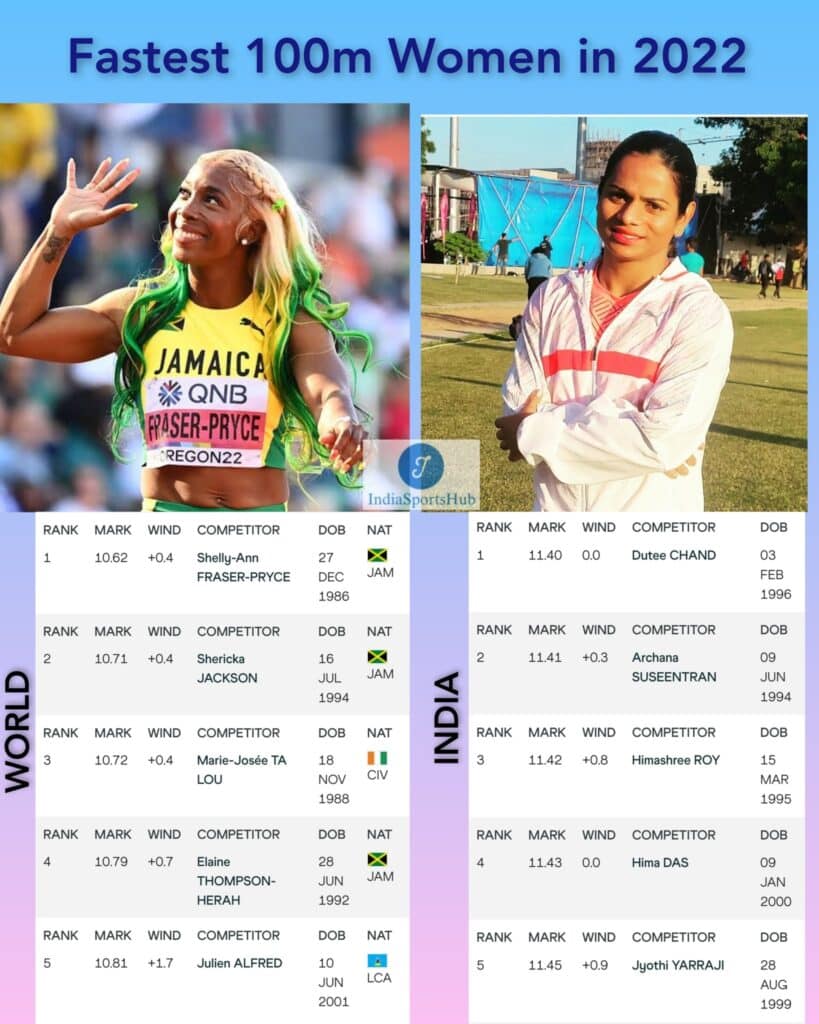 100 & 200m Sprint Men
The American men dominated the sprint events.
#FredKerley in 100m & #NoahLyles in 200m have set high benchmarks.
#AmlanBorgohain had the most amazing 2022.
He 1st broke the 200m National Record (20.52s) & then the 100m NR (10.25s)
The Assam boy is truly the fastest Indian alive.

200m Sprint Women
#SherickaJackson gave the best 200m timing.
But it was #AbbySteiner who impressed the most. She ran 58 races in just 2022 🤯, winning several of them.
#ArchanaSuseendran has improved a lot this year.
But the worst news came when sprint star Dhanlakshmi Sekar was caught doping.

400m Women
Shaunae Miller has already won all the major 400m medals. Let's see if she changes her event.
#AishwaryaMishra was a revelation in 2022, filled with ups & downs.
Special shout out to RUPAL & PRIYA.
Dominated the season & won global medals…& they are still under age 20 years.