At the first match of AFC U-20 Asian Cup Qualifiers Round1 Indian U20 team was on a mission. Up against a nervous looking Singapore team the Indian team didn't hold back and notched up a great victory.
Before Singapore could realise what hit then the Indian girls were 6-0 up, this is within first half an hour. Newly appointed captain Apurna Narzary was notably the most impressive talent on the ground. She took no time to hand India the lead in the seventh minute. It was Anita Kumari who gave Apurna a great pass and the captain completed the deal.
Anita was yet again in thick of things as she had her second assist in first 10 minutes itself, this time it was Sumati who seemed to have an cool head on het shoulder. First 10 minutes and we were up 2-0 and bossing the game.
Captain was back on the scoresheet as she took the blocked ball and notched up the third goal for India.
The fourth goal was a statement from Indian team that they are here with a purpose. It was time for Anita to get on with goal and Sumati who helped her with an assist.
Sumati was pretty impressive and fast on the left wing and she kept bringing the ball in the attacking third , the fifth goal as well was an assist by Sumati. Given a superb pass to Astam and she guided the ball in the netting. Score 5-0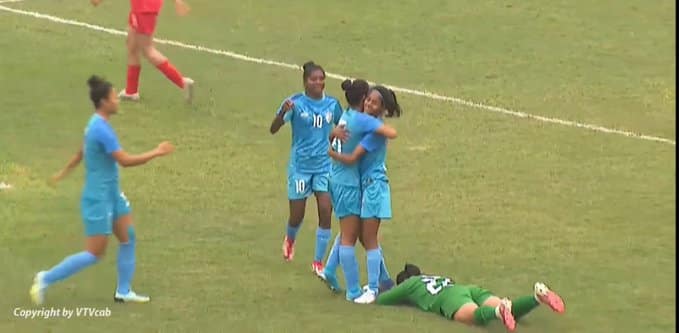 At the half an hour mark it was a blistering run in the box by the captain who gave a good ball to Anita who made no error in dispatching the ball to make it 6-0.
At the restart Singapore came better prepared and did proper marking not leaving much space for Indians.
But Indians still found a way into the net, in the final minute of regulation time it was a calculated header from Kajol which made the score 7-0.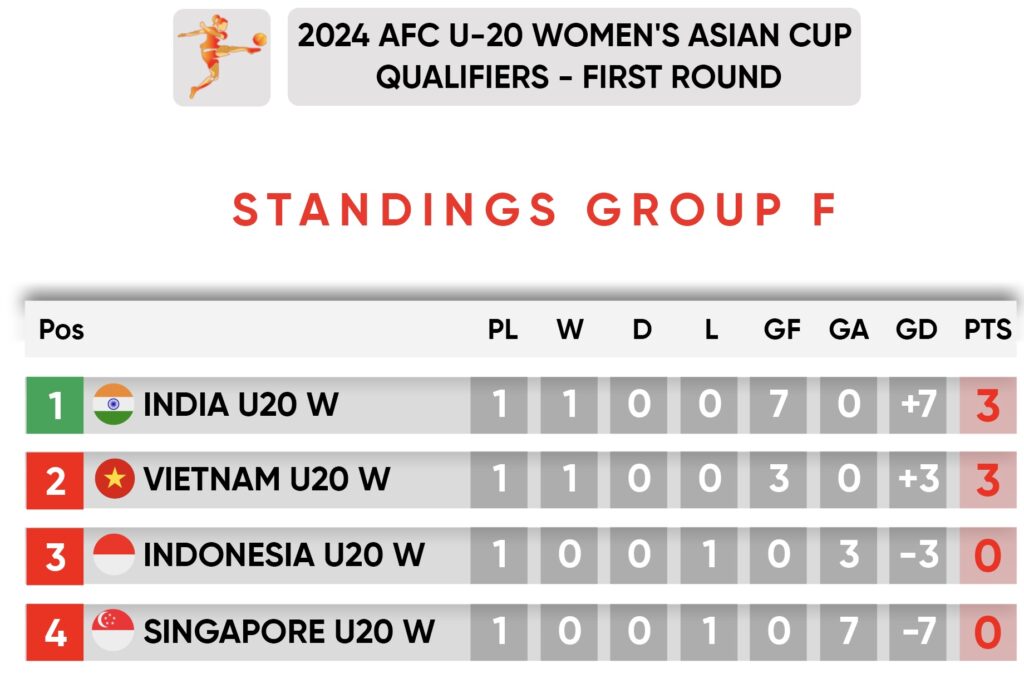 India next take on Indonesia on Thursday, March 9 and then play hosts Vietnam on Saturday.
The group winner will make it to Round 2 of the qualifiers to be held in June.