Jugraj Singh Scores Hat trick , India thrash South Africa 10-2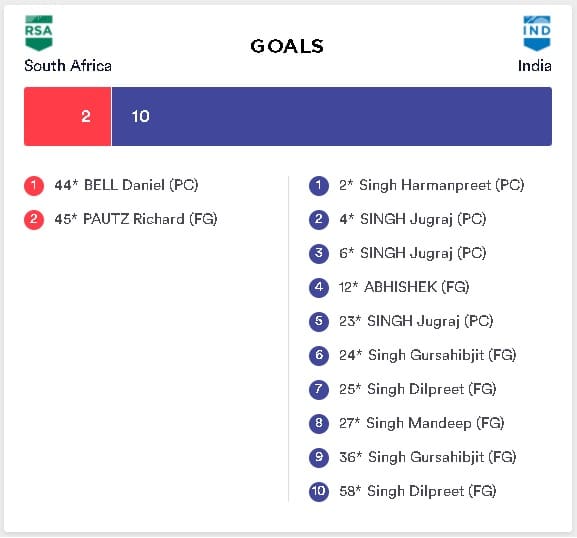 It was yet another wonderful performance by the Indian Men Hockey team last evening.  India were up against the home team South Africa in the second match of the FIH Pro League 2021-22. South Africa who are currently ranked 11th in the world and have had a superb Olympics wherein they managed to beat Germany and had the match against Belgium which went down the wire.
Coming into the match against Indians the local team were low on confidence as they had lost to Netherlands 1-11 just a day back. India started off the match in an emphatic fashion with Harmanpreet Singh scoring in the very second minute. Then came three goals from the youngsters Jugraj Singh and Abhishek. The hockey followers and especially millennials remember the great Jugraj Singh and the passion with which that man used to play on the turf. India were leading 4-0 at the end of first quarter.
In no time India was leading 8-0 which resulted in a Hat trick for youngster Jugraj Singh who is playing only his second senior match. The other goals in the quarter came from the stick of Gursahibjit Singh, Dilpreet Singh and Mandeep. At half time India were in a commanding position leading by 8-0.
The 3rd quarter started by Gursahibjit Singh scoring his second goal. South Africa finally managed to put two back via strikes by Daniel Bell and Richard Pautz. This was by far the best quarter for the home team which they infact managed to win 2-1. At the end of the third quarter the score read 9-2. In the last quarter India managed to score one more goal by Dilpreet Singh who had a brilliant solo goal.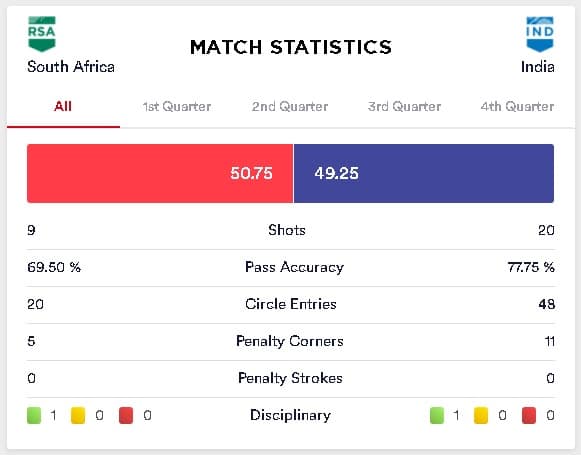 The match ended at 10-2 with a lot of thinking to be done in the home camp as they have conceded 21 goals in last two matches. India on the other side is high on confidence scoring 15 goals in these two matches, will return on the weekend to take on France on 12th Feb