India will be up against the reigning Asian games Champion Japan Hockey team in the first match of Super4 at Asia Cup.
Just 10 seconds to go and India has done it. Won the match against Japan who they had lost to 2-5 in the group match
If they able to defend this its going to be a big moral booster for the young India team.
Japan have got a penalty corner which India has referred. And its reversed, only a freehit to Japan
India on defence now completely. But they need to also look at scoring a goal. Otherwise it might be a repeat of what happened few days earlier.
Ten more minutes to go and both the teams are looking equally strong in these last moments.
A chance for India but the player slipped and looks like its an injury.
India will also be cautious of not leaving it too late as they did against Pakistan and paid the price
Fifteen minutes to go and crucial time in the match, these two teams could very well meet again in the finals so it's important for Indian motivation that they win this match
So its One goal in each quarter, can India maintain the advantage in the final quarter.
INDIA SCORES. Rajbhar Pawan claims the ball and strikes it brilliantly falling down. India leads 2-1 now
Four minutes in to the Q3 not much circle penetration by either teams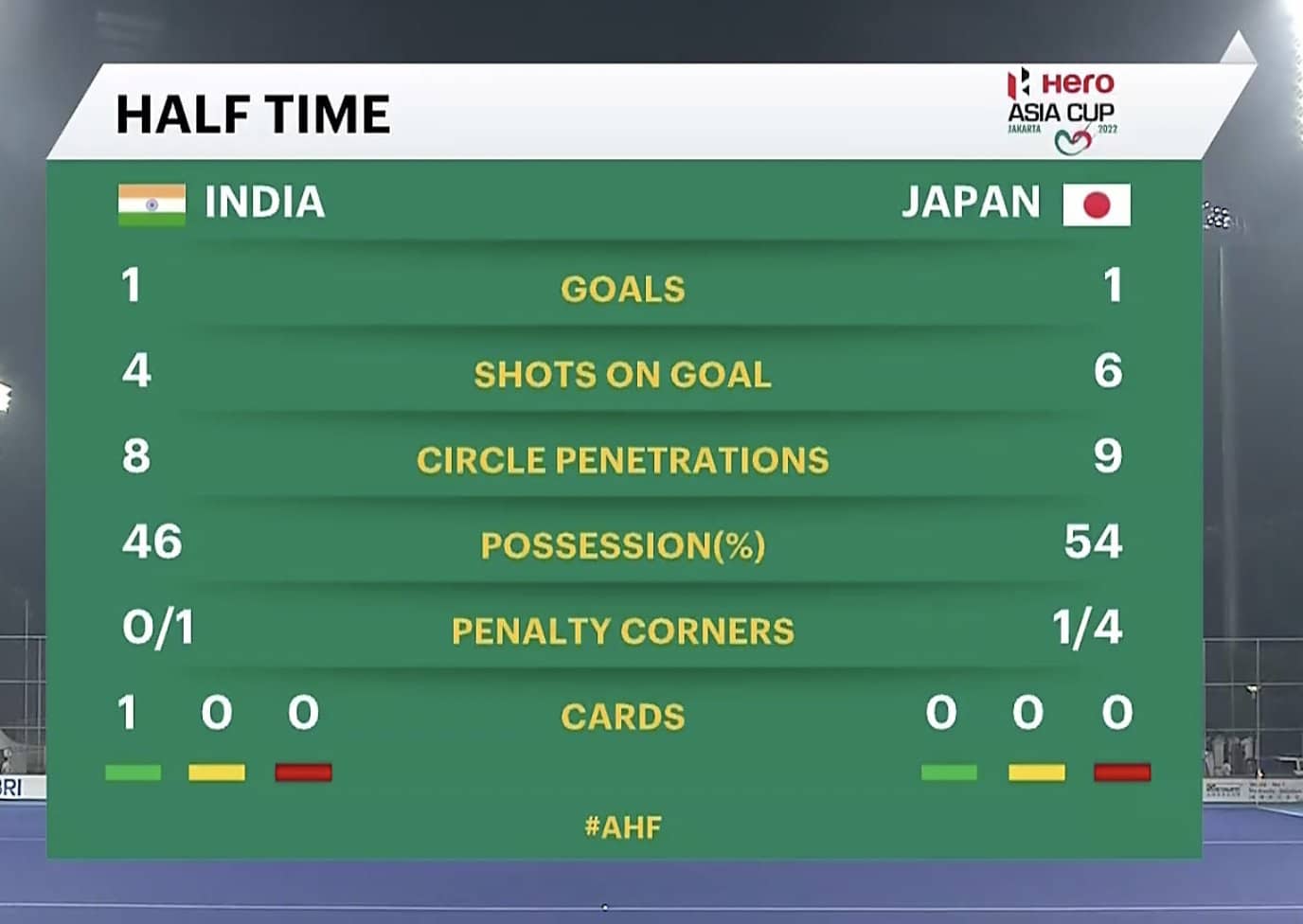 The ball possession is 46-54 for Indians and circle penetration also stand at 8-9. So a pretty close match on stats as well
About three minutes to go in the halftime. It's still 1 all. And what an error by Maninder Singh for green card
India gets lucky as the ball hits the cross bar on the fourth penalty corner. India on attack and what a chance for India. But we miss a one on one
Japan gets a penalty corner. Saved the goal attempt but Japan scored on rebound. Its 1-1 now
India has largely been a powerhouse in the Asian continent. Out of the thirty matches between the two countries. Japan has managed to win only three matches with India being victorious on twenty four occasions while three matches were drawn
Speaking about both the team, only SV Sunil and Lakra have more than 200 caps while from Japan there are four players with more than 100 caps
End of Quarter 1. India lead 1-0
India gets a penalty corner now. Can they take advantage. No they cant. Its saved and quickly It's a reverse attack from Japan. Two strikers in there but they miss
India Score the First Goal. Manjeet is the goal Scorer