Chirag Khandal became the youngest to qualify for Asian Games in Equestrian which has now been postponed to 2023. We got a chance to speak to him and here are his thoughts.
Eventing is an equestrian event where a single horse and rider combine and compete against other competitors across the three disciplines of dressage, cross-country, and show jumping.

ISH: Could you explain how did you get into Equestrian?
Chirag: Around five years back when we used to live in Jaipur my Dad's friend one day visited our home. He had few horses and I asked to ride them. Slowly I started training with the horses for a year and started competing in competitions. Before getting into this sport I tried to get into other sports as well which didnt work out.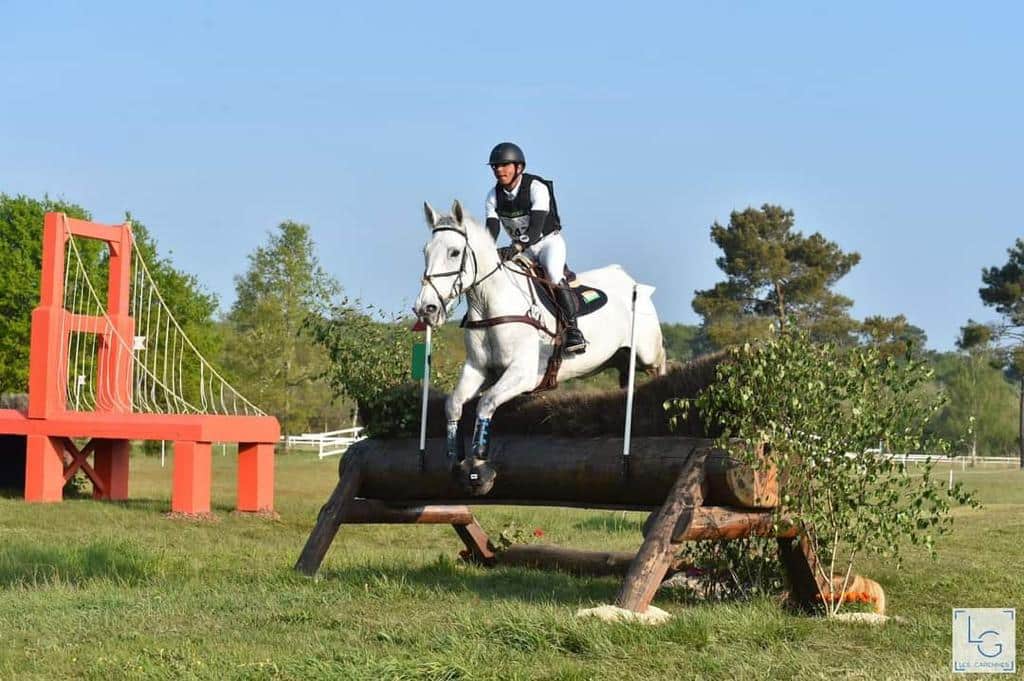 ISH: How have your parents supported you?
Chirag: My parents have been very supportive in terms of finance and other aspects as well. Till date I do not have a sponser and have requested the government to sponser me.
ISH: So do you train only with a single horse or have multiple to train with.
Chirag: I have three horses now in France. But I require more number of horses to take part in competions to get experience which ultimately improves my performance. Olympians in general have 8 to 9 horses.
ISH: Do you have your own horse or a rented one?
Chirag: When I was training in Jaipur I had my own horse. Since I have started training in france I lease the horses. It takes around 2.5 crores to buy an horse which is very expensive. So I have rented few with 2 of them being younger and the other the experienced one. It takes around 30k Euros for renting a single horse for a quarter.
ISH: How was the impact of Fouaad Mirza making it to Tokyo?
Chirag: After long time Fouaad won 2 silver medals in the singles and team events at the Asian Games. After that he qualified for the Olympics as well which has inspired many young athletes along with me. As of now the sport is definitely on the rise.
ISH: Have you met Mirza and had talks about the sport.
Chirag: I haven't met him personally as he trains in Germany and I train in France. But I chat with him on the social media and he has been very supportive.
ISH: How has been the support from Federation
Chirag: There has not been much support from the Federation. When I qualified for the Asian Games many were shocked on seeing me qualify as not many expected me to qualify and many did not accept it as well. But I performed better during the trials and got to the 1st position. The sport here is army dominated and me being a civilian they dont want me to qualify.
When I qualified for the Asian Games many were shocked on seeing me qualify as not many expected me to qualify and many did not accept it as well.
ISH: Equestrian is looked upon like a rich man sport like Golf, Polo. What is your take?
To be honest yes it is a very expensive sport. You need to be financially viable at the start to train and compete in events. After some time you need the help of sponsers to perform well the whole season and stay consistent. Also since there is no support from Federation now it becomes even more difficult. If they start helping athletes then maybe in future we can see many more take up the sport. Many in India do not know what equestrian is as well. If they hear the word Equestrian people relate it to Polo.
ISH: Eventing is combination of 3 events held across multiple days. How do you prepare on the competition days before the event?
Chirag: There is not much pressure before the events as I do my normal training. Everyday matters in eventing as the scores are combined for all the 3 events. So we cannot relax after having a good day nor feel sad if we havent performed well. Overall since I have taken part in many competitions I stay calm and play till the end.
ISH: Could you brief us on your training regime?
Chirag: I do a lot of flat work that is the lateral movement with the horse. In Dressage we have a arena 40*20m where we have some markers named A,B,C,and D and are given a test which I have to remember,learn and perform. From position A to B I am said to walk and then from B to C in trot which are the movements we need to do. Then in cross country I need to gallop which is more about endurance and stamina.Then the final jump were we have 12 obstacles to jump and clear it within time without interupting the obstacles else we are given penalties.
ISH: How did you feel when Randeep Hooda the Bollywood star mentioned about you in his social media account about you qualifying for Asian Games?
Chirag: I was very happy and excited after getting appreciated by Randeep Hooda on Instagram when he shared the post of me qualifying. Along with him famous singer Saragurpal also congratulated me.I have met Randeep Hooda once in Delhi.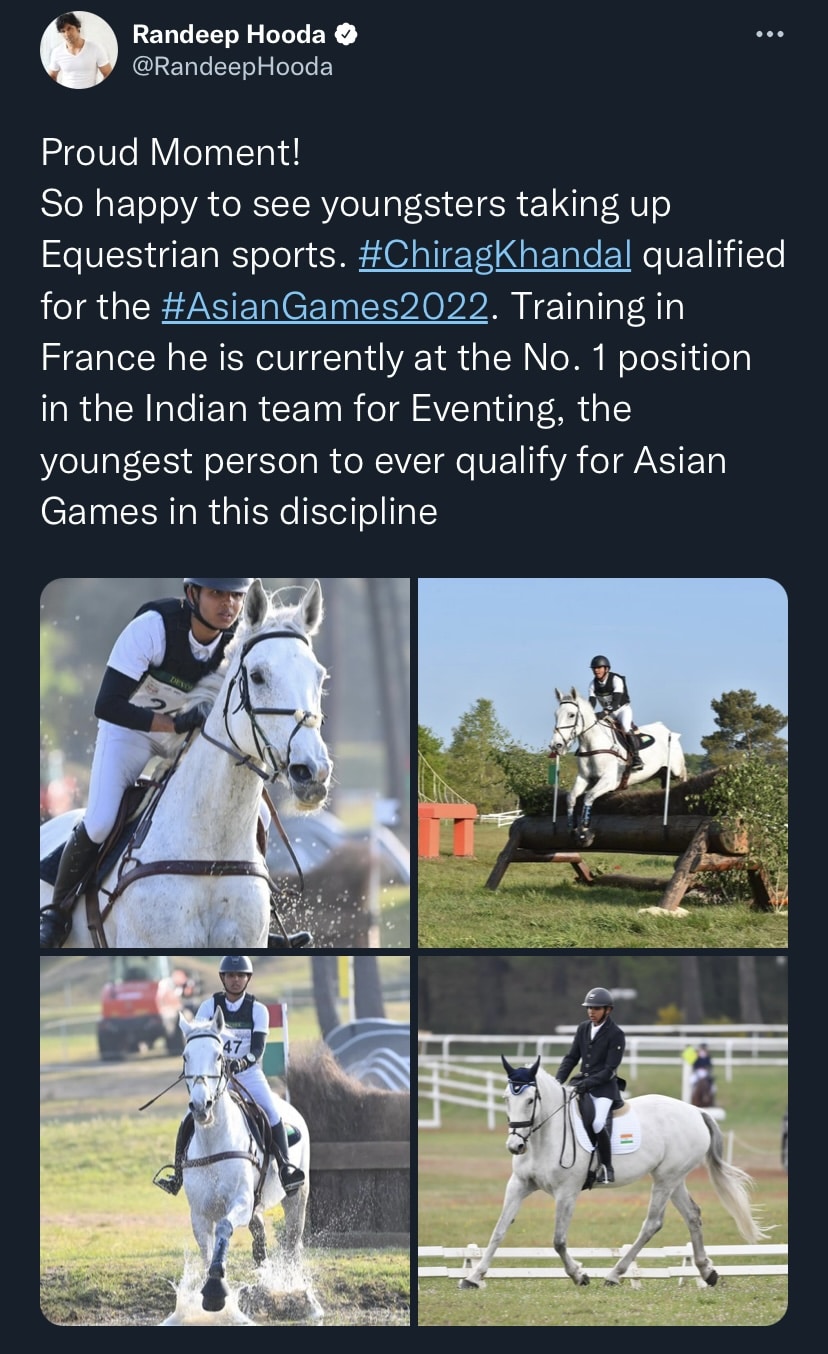 ISH: Where do you train presently in India or abroad and a bit about your coach?
Chirag: Presently I am in India but will be heading to France for further training. I have a very experienced personal coach Ruldoph Sherer for past 6 months who is also the official coach of Germany. He was also the official coach in eventing for the Indian team during the 2018 Asian games.
ISH: Are you taking part in the Eventing World Championships next month in September?
Chirag: No. The World Championships is a 4 star event and I haven't made to that level yet. The Asian Games is 2 star event which is what I compete as of now. Slowly I will be increasing my performance and also going to higher levels. Fouaad Mirza has qualified for World Championships as he a 4 star athlete.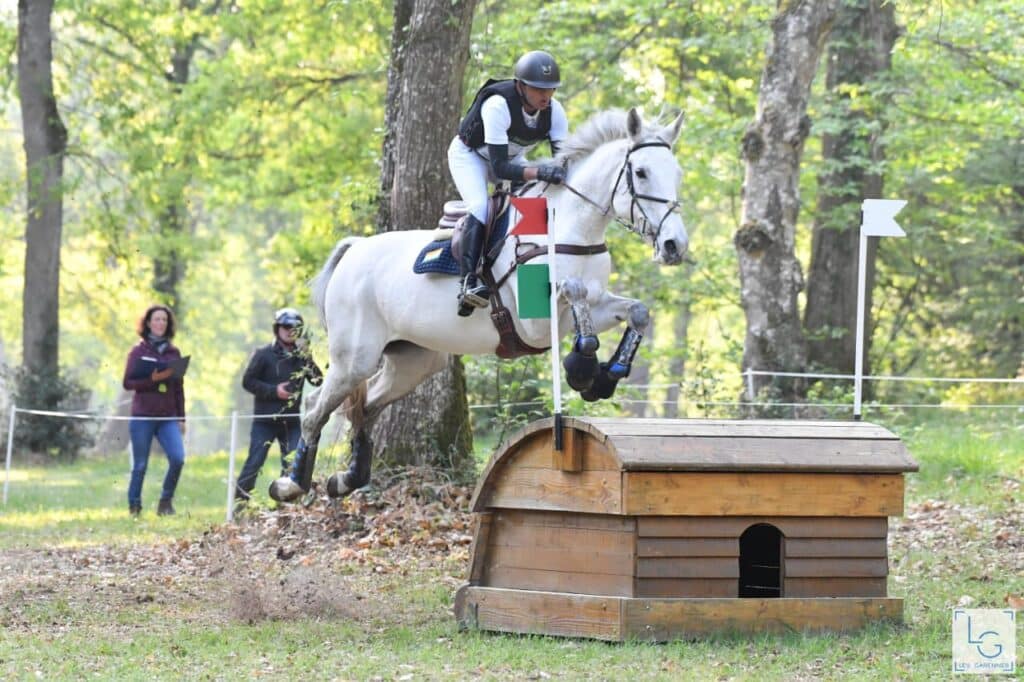 ISH: Who is the favourite Sporstperson you look upto and your favourite sport.
Chirag: Don't watch any other sport as such but i like Cristiano Ronaldo.