3000m Steeplechase National Record Holder Avinash Sable to compete in Rabat DL on 5th June
The man who is known to make a national record everytime he runs in a competitive race is all set to make his Diamond League debut competing against the finest in the business. Sable had finished seventh in the heat at Tokyo olympics and just missed out 0.81sec from the Finals berth. He had made a new National Record there as well.
The Tokyo Olympian has broken the 3,000-metre steeplechase record seven times.
Post the olympics as well Avinash has been in fine form setting up new National Records in 3000mSc and 5000m.
Tokyo Medalists to Participate
The Entry list for the Rabat Dl boasts of Soufiane El Bakkali the current olympic champion. Lamecha Girma from Ethiopia & Benjamin Kigen from Kenya who had won Silver & Bronze Medals at Tokyo games are expected to participate.
Girma is the only athlete this season to go below 8 minute mark this season. The list in which Avinash stands currently at fifth position courtesy to his performance in IGP at Thiruvanthpuram in March 2022.
Here are the World lead time for 2022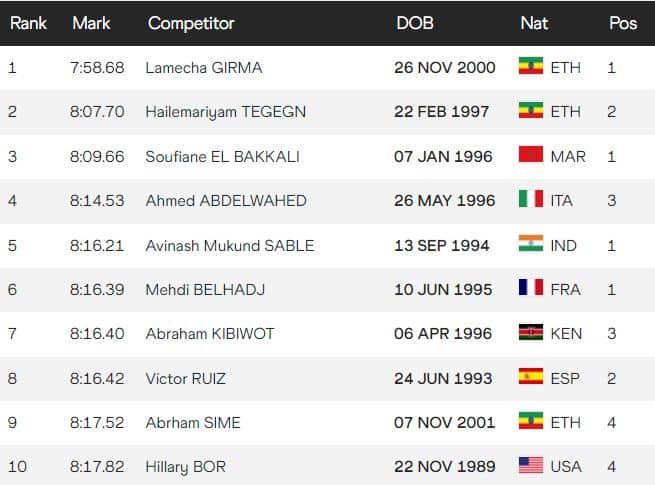 Source IAAF
Eleven athletes in the fifteen people strong field have the PB times better than Avinash. With such a strong field in place one can surely expect a good result from Avinash and who knows he might again clock a new National Record.
Sable's growth in athletics has been extraordinary. Till about seven years ago, he was posted as a havildar with the Army in Siachen. From a chance selection to becoming the country's best track athlete with three national records in his name, Sable has made rapid strides.
He currently also holds the national record for 3000m steeplechase and the half marathon.
Earlier MP Jabir had participated in the Doha Diamond league the debut race of the season.
The event will be live telecasted on Voot, so Indians will have a chance to watch Avinash Run live on the screen.