Bharath Periera won his ninth sucessive National medal
IMF National Sport Climbing Championship, 2022
Sports Climbing had recently been included at the Tokyo Olympics. At Tokyo only single medal were awarded both in the men and women sections combining the total scores of speed, lead and bouldering.
Competition climbing is a form of sport climbing that takes place on artificial structures rather than natural rock surfaces. It has three different disciplines: lead climbing, speed climbing and bouldering. The latter is considered to be the most demanding of the three disciplines in terms of strength, co-ordination and agility
The players did not like the decision as all the three are considered seperate events and each must be awarded medals separately.
After the sucess at Tokyo Olympics IOC has now decided to award medals in speed and lead+bouldering accounting for 2 medals.
The National Sport Climbing Championship was conducted at Uttarkashi with the like of Bharath Periera the Youth Olympian taking part.
Hritik Marne wins his first National Gold
In the individual lead Hritik Marne the 22 year old came out on top and bagged the gold medal. He has been competing at the national level for more than 5 years and this is his 1st gold medal.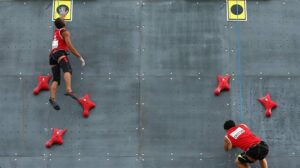 source : Olympics website
Last year he took part in three World Cup in France and Switzerland.Though he couldnt perform well there the experience of partipating has helped him perform better this year and come out on top.
In the womens lead Anisha Verma the 18 year old from Jharkhand won the gold medal. Since 2021 she has not taken part in any of the foreign tour.
Virendra Dhiraj Sets a New National Record
Virendra Dhiraj from the Armed Force created a National Record in mens speed event with a timing of 6.334 sec.
Anisha Verma again won the gold medal in womens speed with a timing of 10.07 sec which is also a new national received. This was her 2nd gold overall in the National Championships.
Bharath Periera the Youth Olympian from 2018 won the mens Bouldering event. This is his 9 sucessive National medal.
The overall Championship was won by East zone winning 12 gold medals combined from the sub junior, junior, and senior categories.
The winners from here will be sent to foreign meets and also will take part in the Asian Games set to be held next year.