The ever smiling ANCY SOJAN EDAPPILLY has shown an inspiring leap in her Long Jump performances in 2022. The focus and energy put by her in every jump is a pure joy to watch. Her consistency is her biggest strength. Her numbers tell the story, that this is just the beginning of a fantastic career.
ANCY SOJAN 2022 LONG JUMP SEASON
| | | | | |
| --- | --- | --- | --- | --- |
| SR NO | DATE | 2022 NATIONAL EVENTS | DISTANCE | POSITION |
| 1 | 1st March | Indian Open Jumps Competitions, Trivandrum | 6.51m | 1st – Gold |
| 2 | 13th March | Indian Grand Prix, Trivandrum | 6.55m (PB) | 1st – Gold |
| 3 | 4th April | National Federation Cup, Chennai | 6.33m | 2nd – Silver |
| 4 | 24th May | Indian Grand Prix, Bhubaneshwar | 6.35m | 2nd – Silver |
| 5 | 14th June | National Inter State Senior Athletics, Bhubaneshwar | 6.49m | 2nd – Silver |
Here's an exclusive interview with her after her Interstates victory.
ISH – Hi Ancy. Congratulations on your amazing ongoing season.
ANCY – Thank you.
ISH – Tell us about your your family and background. How did you get into Professional Athletics ?
ANCY – We belong from a small beach village in Thrissur, Kerala. Its a small place with limited population with everyone engaged small businesses. My father is a Auto Rickshaw driver and my mother works in a Triveni supermarket. I was blessed with Athletics since childhood. My parents were both into sports in their younger days winning several competitions at the village level. Grandfather was also a Basketball player. My parents wanted to play further. But unfortunately due to financial constraints none of them could pursue their dreams.
Since childhood I have been running around. My parents use to always say "you are not at all a silent girl, always playing and running" (laughs) . I love dancing and started learning Bharatanatyam from a very young age. I have completed almost half of it, but then left after focus shifted completely towards athletics. In school I use to participate in almost every competition and win several athletics meet. I ran 100m, 200m, 400m, long jump, relay and everything else I could do in a day.
ISH – When was the first time you wore spikes and saw a Synthetic track in your life?
ANCY – When I was 12 years old in 7th class, I was selected in the Kerala state level meet. It was here when I saw synthetic track for the 1st time. Wearing a spikes for the first time and running on a track is a feeling no athlete ever forgets. In that state level meet I won medals in almost all competitions I participated in. There is no Synthetic track in the entire Thrissur district, still you will find many athletes coming up from this region. Whenever I meet influential people and politicians in my area, I make it a point to tell them about putting a Synthetic track.
It was here when I was introduced with Kannan sir. He saw me perform and was impressed with my athleticism. My Dad asked Kannan sir to take me under his coaching and develop my skills. Kannan sir was kind enough to not only see my potential, but also nurture it. He helped me out to get Shoes and spikes from school level itself.
ISH – So your Parents have been supporting your athletics journey since Day 1?
ANCY – Yes. not only me but also my siblings. My younger brother was also into athletics, but he quit due to constant back pain. My younger sister Anjali is 14 years old and is now upcoming in Long Jump meets. She is also training at the Nattika Sports Academy under Kannan sir in Thrissur. My Parents have kept the same mantra all along; " Do whatever you want to do. We will support you 100%" . Such confidence despite poor conditions at home motivates us kids to not only believe in ourselves, but also to be content with ourselves everyday. I still remember my Dad saving money for a long time, from which he got me a Black Nike shoe. I was so thrilled to get these shoes, that I made the U20 National Meet Record that year wearing those.
ISH – You use to run 100m and 200m in national meets till 2021. Infact you won a Bronze medal in 200m in the  U23 championship held in New Delhi in Sept 2021. How and When did you decide to move completely to Long Jump ?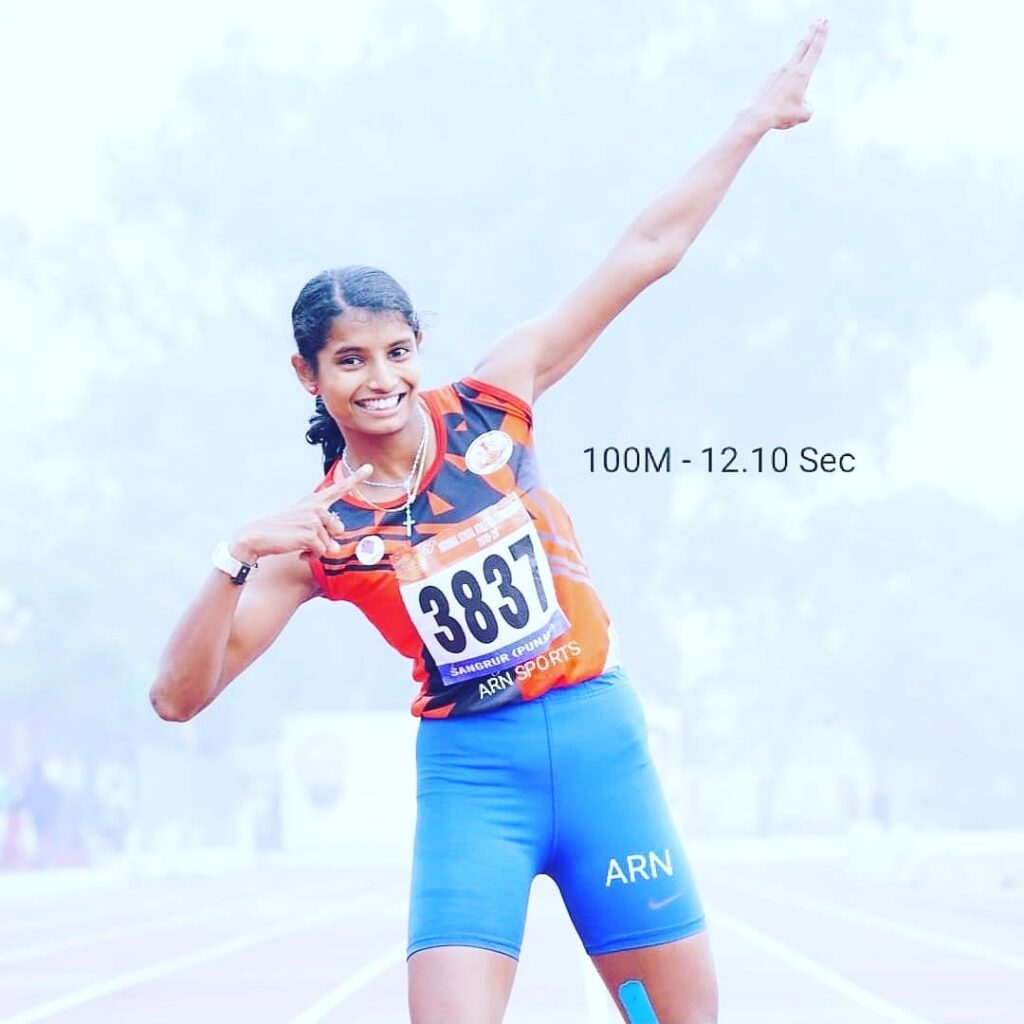 ANCY – 100m and 200m require a very special kind of Strength training and nutrition. In Under 20 I could compete at that level, using whatever resources I had. But after a certain point the nutrition and strength training facilities were lacking for me to reach top 5 in India. Also my hamstring use to get injured very frequently. So after discussing with my coaches and parents, I decided to stick to Long Jump going into 2022. This has helped me channelize my focus and training on 1 single objective. Earlier I use to be very stressed, because my results in sprints use to be very haphazard. But now thankfully the results in Long Jump have been positive and there has been no serious injury for me since then.
ISH – This is your 1st time training in the National camp. How has been your experience, because sometime we hear stories coming from camp which are not inspiring ?
ANCY – I know what aspect you are pointing to, but my experience has been very different.  I have been a part of the National camp since Dec 2021 and my 7  months here have made me stronger than ever before. The camp experience has showed me that my future lies on the Long Jump podiums. People outside have misconceptions about national camps, like 'Athletes get regularly injured' and 'Performance goes down once an Athlete goes to camp' , etc. But that is not truly the case. Coaches here give very minute attention to all Athletes. But like any school, college or hostel, you cannot become great by just reaching there. You have to be personally responsible for your hard work and your focus. There are coaches here to guide, but ultimately its upto you. Yes, there are some athletes who become complacent and just practice as a day to day routine, but those a far and few in between.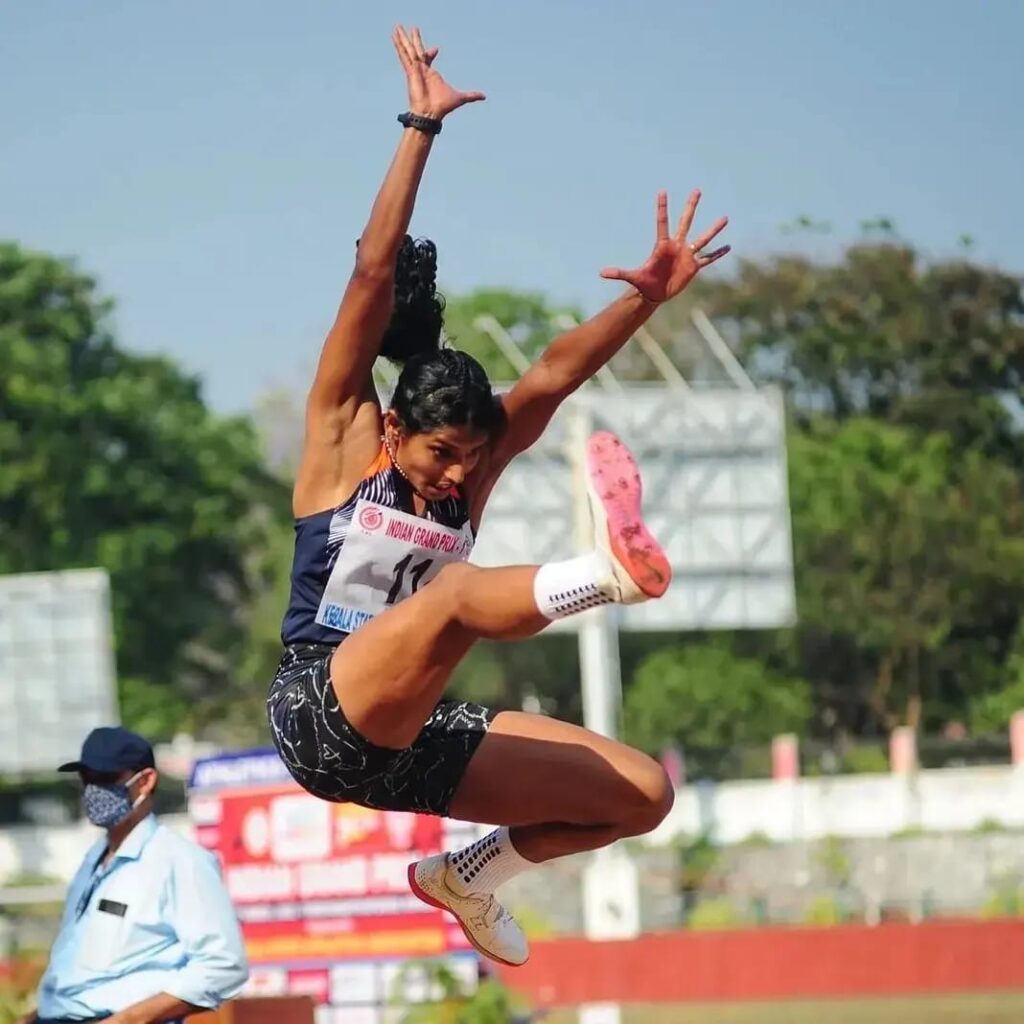 ISH – What is that one target you keep visualizing ?
ANCY – I guess every athlete visualizes the Olympics podium (small laugh), but I have a very specific target. I want to be the 1st Indian woman to breach 7:00m. Whenever I say this to anyone, I get similar response "its not possible for an Indian woman to jump that far". I simply say "just wait and watch". Even in Asia only 1 athlete has ever achieved it. I want to be the 1st from India.
ISH – Have you left your studies or still continuing ?
ANCY – Will complete my Graduation simultaneously. Currently I am in 2nd year.
ISH – Lastly if you don't mind sharing, tell us about your financial position in pursuit of your dream
ANCY – Its a struggle obviously. But with national camp provisions and being under TOPS development group, at least I don't have to ask my Parents for money. Sponsorship is definitely needed for Nutrition (most expensive input) and clothes. Not branded clothes – but better clothes.
We are definitely going to see more of her and Indiasportshub will keep you all updated with her progress.