We got a chance to speak to Radhapriya Goel who is currently in Shillong captaining the Uttar Pradesh Women Team at the 83rd Senior TableTennis Nationals
Radhapriya, tell us about yourself. How did the TableTennis happen to you? A little brief about your family background.
I am an international TT player and academically am pursuing law ; my mother, Mrs. Priyanka Gupta, is Section officer at CSIR, she was posted in Ghaziabad. We used to live at the staff quarters and there was a small club out there with a TT table. My father, Mr. Amit Gupta, used to play the sport while he was young. He played Inter-University, was captain of his team. He introduced me to this beautiful sport, he taught me how to hold the racquet, to do backhand serve. When we shifted to Indirapuram I got into an academy and got introduced to Ashish Sir. Their belief in me helped me dream.
They took me to UP cup at the age of 11, playing at U12 level I had no idea of how the tournament progresses, all I knew was to go to the table, win the match and comeback. In the cadet girls finals I was 0-2 down but came back to be the first cadet champion to win in debut season. Unknowingly and innocently I created a record of 'the player participating in UP Championship for the first time and winning and becoming UP Champion in debut season'. My Father was a businessman but now runs a TT academy. I have younger brother Puranjay Goel, 15 year old, also a national level TT player.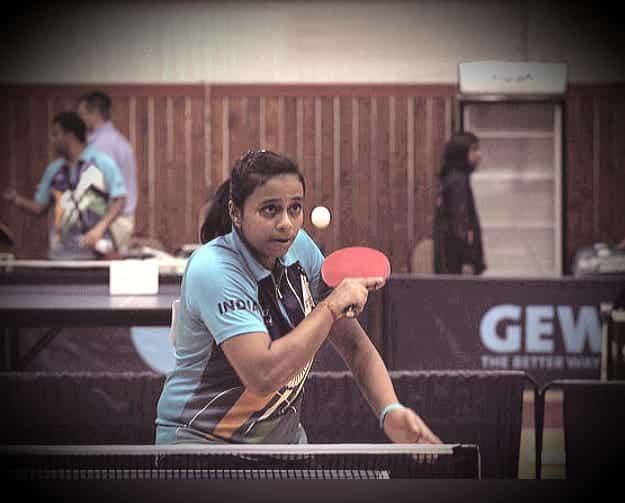 Who are you currently coaching with? Which is your permanent academy.
My father is my first coach. He used to run his own business but to focus on my sports he dropped that business and now runs his own academy- Letsplay Table Tennis Academy. Earlier I used to coach there  under Hira Goswami sir but currently I am undertaking training at Table Tennis Foundation (TTF), in Swaroop Nagar, Delhi.
I also sometimes train at Letsplay and Credo Table Tennis, under my father and Nikita ma'am respectively. So Nikita ma'am and my father are constantly guiding me. During tournaments generally my father is there for district, state and national level tournaments. In International tournament the TTFI coaches are present.
What are your goals in life? Personally and professionally
I don't want to start like I want to win the Olympic gold, that's the usual one. To be pragmatic in my approach my personal goal is to be a good human-being; It's kind of funny but true to my heart that I'm very empathetic and want to grow up as a good individual in this world. Talking about professional life, my goal is to make a mark in the International TT arena, as there is the China dominance in the TT universe, in male you have Ma long and Fan Zhendong and in female you have Chen Meng and Sun Yingsha. These are the names recognized by every paddler.
I want to make the Indian presence felt in the global arena, that can only be done by winning important matches at the big championships like Olympics, World Championships, Asian Games. Academically I want to be capable of bringing some change in people's lives.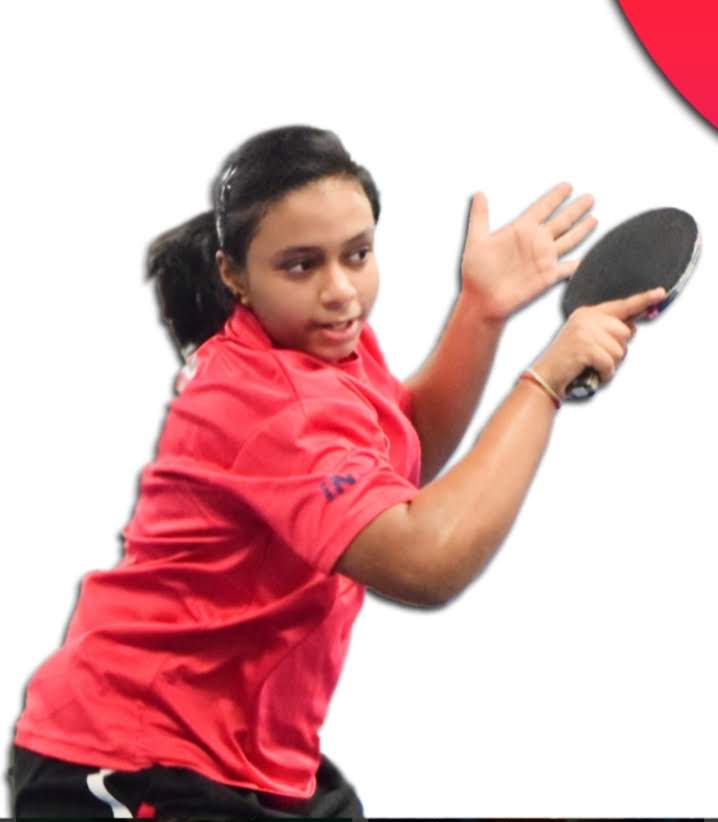 Who is your inspiration in sports and life. Who are your friends on the circuit
Manika Batra is my inspiration not only because our playing style matches – we both have grass (long pimple) on our backhand and soft rubber on our forehand- but her nature blows me away. Despite being India No1 and having achieved so much success at international level, her nature is very grounded. She is very down to earth and at the same time extremely disciplined and focused.
Generally I am very inspired by Ronaldo, his commitment to give his best every single day.During one of his interviews he had said it's not what you just do on the football field that will really come to you in the tournament but what you do when you go home is what really matters. That really inspires me, makes me focused. The matches are not always won on the table.
The eagerness to give my best on and off the table makes me focused. My parents and brother are my motivation. Talking about friends on circuit I obviously love to have my brother on the circuit, and Noddy, Varuni di, Nikhat di, Takeme di and Chitnis are my buddies, always supportive.
You were the first player in the history of Uttar Pradesh to bag a medal at U21 National Championships. Tell us about the experience
The feeling was overwhelming; it's very magnanimous to read something like that about oneself. While I had prepared myself for the championships but when you get the desired result it's very satisfying. There is a very sweet comeback sort of story behind the medal. In 2021 Indore I was competing in Youth [U21] and Junior[U18].
In Junior my PreQuarters was with Suhana Saini from Haryana, having beaten her comfortably 3-0 in earlier tournaments, I was pretty confident that I will get better of her but I was defeated 1-3 which came as a surprise. I got an opportunity to meet her again in Youth category and I was not going to let go of the opportunity and this time the QF with a chance to create history. We were possibly the only two playing in the audience crowded stadium, shouting, screaming on every point, was a very intense match in my memory. I won the match 4-3 to bring home the first medal for my state of Uttar Pradesh at U21 category.
I couldn't control the emotions after the match, however I tried to calm myself down. Arun Banerjee sir from TTFI and UPTTA, UP team coach Parag sir and Sudarshan sir congratulated me. My father and Hira Goswami sir were with me there. After the Prize Distribution I went to the local temple to thank God and calm myself.
How is the support given by the UP Govt and TTFI, do you have any active sponsorships
Talking about the support from TTFI & State Govt they have given me all the prize money which has been declared ever. I am a sports scholarship recipient from AAI. I don't have any sponsors otherwise and all the expenses are being taken care by my family currently.
Which is your most memorable match till date?
My most memorable match till date is which won me my first national medal. In 2018 national NZ in U18 girls at the age of 15 in Quarters I had my match against then India No1 in the category Prapti Sen of WB, as this was my first Junior Quarters, I wasn't aware that the QF are best of seven so I was happy to win the first three and started going back to arena happily!
The umpire called me back saying it's a best of 7, I was taken aback and it resulted in her winning the next three games. In the decider I was trailing 3-5 but made a comeback to lead 10-8 to eventually win 11-9 and it was a great feeling.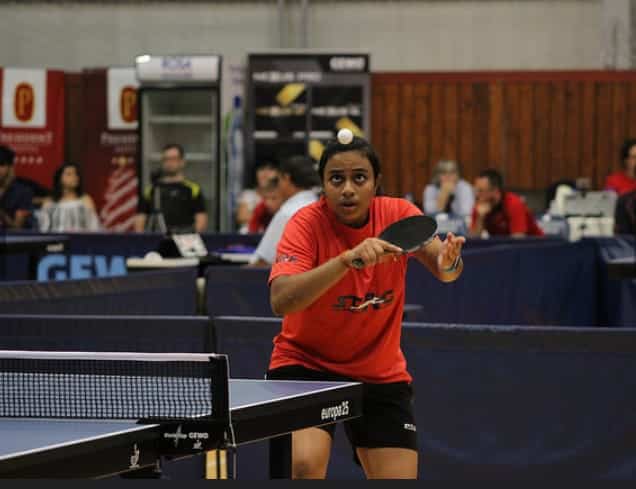 At 2018 Serbia open you lost to a local player Ema labosova ranked 273, tell us about that match. How do you tackle defeats?
Yes I remember every moment of that match clearly, I was down 0-3 as I couldn't read her game at all during initial phase. It was only my third international tournament. I didn't have so much experience but I made up 3-3 and finally in the decider she was leading 10-6 and from there I made a comeback to 9-10 when she did a backhand serve to my backhand and I blocked the ball and to my surprise she made a return which she hadn't done till now throughout the match and I was heartbroken.
Defeat is only a very small part of the game, I believe when I go on table I have to put in my 100% from what I have learned, if I don't put it then I regret why I didn't do that. However if I am doing my best I don't really think much about the result, as far as I am doing my best and learning. I believe in "Your biggest competition is you".
My focus is on constantly improving my game. Defeat- nobody likes, it obviously hurts but if you allow it to come hard on your mind it's not going to help. I calm myself down and check what went wrong.
You played Youth Contender in March 2022 which is almost like Three and a half years after your last international championship, where were you? Any Injury concerns
No I wasn't injured the only reason was my financial barriers. Since I don't have any sponsorships for my training, equipments, travelling etc. that was the thing which took me off the international circuit. Now one needs to bear the cost of the international tournaments by one self. Its quite steep and coming from a middle class background its difficult and I am not the only child of my parents.
We have reached out to people and organizations but these things take time and off course they also look for results and visibility, though I possess the potential to do well in the international circuit but I am not able to achieve it due to the financial constraints.
What are the plans for the rest of the year
I will be playing in the women category starting this year. I have planned out my training and the tournaments. To achieve my dream I need good world rankings. I need to play international tournaments and that boils down to getting financial aid.
We are looking for it and through your medium I would like to urge to people to support me in my dream of taking national flag to places, bringing laurels to the country. I am always committed to every work that I undertake which is evident with what I have achieved till now be it sports or academics.
Tomorrow I am leaving for Shillong, Meghalaya and I am leading the UP Women's Table Tennis team and I am really looking forward to do well in this tournament. The tournament starts from 18 and goes on till 25th April 2022.
You are a Gold Medalist at your school, How do you manage academics and sports?
For me sports and studies are complimentary to each other. Particularly my school DPS Indirapuram, Principal, teachers and staff and offcourse the students have been very supportive. They have arranged for extra support be it re-retests or teachers clearing my doubts at 11pm in night after I came back from my academy at 9:00pm.
My teachers always supported and encouraged me. I have been lucky to get the same support at my college, Gujarat National Law University, from the Vice-chancellor, Registrar, Sports head, all my professors and friends at the university.
What you see in me is an amalgamation of all the efforts and sacrifices of people around me, there is a lot of action happening on backstage to prepare me to perform on the bigger stage. They have pushed me and shaped me into what I am.  In 10th I got 97.6% and 12th I got 98.2% and the gold medal was for excellence in academics for seven consecutive years, scoring more than 90%.