Hello and welcome back to the coverage of Indian participation at the Fisu World University Games in Chengdu
live Streaming Link | Fisu TV
Check out the live updates for Day 2 here | 30 July
Schedule for India
Shooting | 25m RFP | Stg1 | Udhyaveer, Vijayveer, Adarsh | 6:30am
Shooting | 10m ARW | Qualifying | Manini, Elavenil, Ayushi | 6:30am
Taekwando | Poomsae Ind M | Tundup | 6:30am
Taekwando | Poomsae Ind W | Shilpa | 6:30am
Archery | Rec Women | 1/24 | Tanisha vs 🇰🇿 | 7:00am
Archery | Rec Women | 1/24 | Sangeeta vs🇨🇭| 7:00am
Archery | Rec Women | 1/24 | Reeta vs 🇵🇱 | 7:00am
Archery | Rec Men | 1/24 | Akhil vs 🇦🇺 | 7:00am
Archery | Rec Men | 1/24 | Sachin vs 🇲🇳 | 7:00am
Judo | Men 66kg |Rd32 | India vs 🇳🇱 | 7:30am
Judo | Women 52kg | Rd32 | India vs 🇯🇵 | 7:30am
Judo | Men 60kg | Rd32 | India vs 🇹🇲 | 7:30am
Judo | Women 57kg | Rd16 | India vs 🇺🇸 | 7:30am
Judo | Women 48kg | Rd16 | India vs 🇳🇱 | 7:30am
Archery | Rec Men | 1/16 | Yet to schedule | 7:45am
Archery | Rec Women | 1/16 | Yet to schedule | 7:45am
Archery | Rec Men | 1/8 | Yet to schedule | 8:25am
Archery | Rec Men | 1/8 | Yet to schedule | 8:25am
Shooting | 10m APW | Qualifying | Yashaswini, Manu, Abhidnya | 8:30am
Shooting | 10m ARW | Final | 9:00am
Archery | Rec Men | Quarterfinals | Yet to schedule | 9:05am
Archery | Rec Women | Quarterfinals | Yet to schedule | 9:05am
Taekwondo | Poomsae Ind M | Semis* | Tundup | 11:00am
Taekwondo | Poomsae Ind W | Semis* | Shilpa | 11:00am
Shooting | 10m APW | Final | 11:15am
Archery | Rec Mixed | 1/8 | India vs HongKong | 12:35pm
Archery | Rec Mixed | Quarter | Yet to schedule | 1:00pm
Archery | Comp Mixed | Quarter | Ind vs | 1:00pm
Taekwondo | Poomsae Ind M | Final* Tundup | 1:00pm
Taekwondo | Poomsae Ind M | Final* Shilpa | 1:00pm
Archery | Rec Mixed | Semis | Yet to schedule | 1:25pm
Archery | Comp Mixed | Semis | Yet to schedule | 1:25pm
Table Tennis | Women Team Group | India vs 🇩🇪 | 1:30pm
Table Tennis | Men Team Group | India vs 🇯🇵 | 1:30pm
Volleyball | Men Preliminary| India vs Argentina | 5:30pm
Live Updates
7:00pm | Volleyball |  Men | In what was the last event for India on the Day 1 we lost to Argentina in three sets 19-25,25-27,19-25
4:15pm | Table Tennis | Indian women team got better of Germany and won 3-1 in their first group match
Medal no4 for Day
4:00pm | Judo | Its a special medal for India in Judo as Yamini defeated her Mongolian opponent by Ippon to Win India's first ever Judo medal at this event
3:00pm | Judo | India will have a shot at Judo medal as Yamini will be up against Mongolian oyunchimeg in some time now in the 57kg category.
2:00pm | Table Tennis | India lost to Japan in the Men first round match 0-3 they will hope to perform better tomorrow.
1:45pm | Archery | Yet another medal confirmed for India Chengdu2021 as the mixed compound team of Aman Saini and Pragati pip the home team from China by a very slim margin 152-151 in the SFs.
1:15pm | Taekwondo | Shilpa Thapa finished last with a score of 6.080 and couldn't make it to Finals.
1:10pm | Shooting | At the end of stage1 Indian Udhayveer is at 4th with 291-11x & his brother Vijayveer 6th with 290-10x. Adarsh is currently at 11 with 288-9x.
1:00pm | Archery | While it was curtains for the mixed recurve team who lost to japan tamely 0-6 it was the compound team who defeated France 153-151 to make their way to semifinals.
12:30pm | Archery | India recurve mixed team defeated HongKong 6-2 in 1/8 elimination.
Gold Medal no3 for India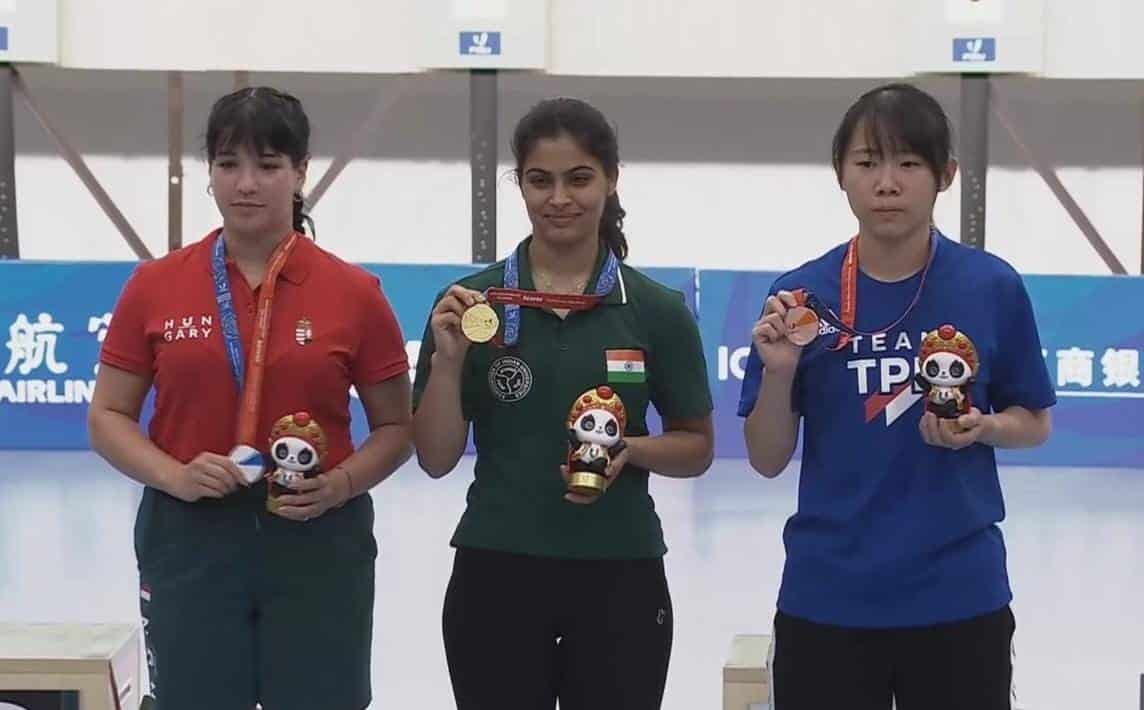 12:00pm | Shooting | Manu Bhaker wins her second Gold Medal and Third for India in the 10m Air Pistol women event.
11:30am | Shooting | Final | After 15 shots Manu stands 2nd with 149.2 and Yashaswini at 147.1, Sara continues to lead with 149.8
11:25am | Shooting | Manu stands 2nd with a score of 98.6 and Yashaswini is at 3rd with 98.1 with the leader being Sara from Hungary with a score of 99.4
11:20am | Shooting | Finals time | Manu & Yashaswini are going to start very soon in the finals
11:00am | Judo | Yamini the lone survivor in the Judo for India today has lost to Mimi from Japan and has moved in the Bronze medal match
11:00am | Taekwondo | And we are back after a little break, Shilpa Thapa had indeed made it to the semifinals in the Women's Individual Poomsae
Gold Medal no2 for India
10:00am | Shooting | ITS A Gold Medal for India women team as they scored cumulatively 1714-51x which was better than China's 1711-42x. So 2 Gold Medals in no time for India
9:55am | Judo | Yamini in the 57kg quarterfinal has gotten better of Donne and sailed in the Semifinals slated later today
9:50am | Shooting | Yashaswini & Manu have made it to the finals of 10m Air Pistol Women. Finals are scheduled for 11am
9:45am | Archery | Its over for India in the recurve individual competition as the only entry to Quarterfinals Sachin lost tamely to Yuki 0-6
Gold Medal no1 for India

9:40am | Shooting | ITS A Gold Medal, Elavenil shot a perfect final and wins India's first Gold medal at the games
GOLD MEDAL ALERT 🚨

India open their account at #WorldUniversityGames with a shooting gold medal in 10m Air Rifle Women

✨She shot all 10+ scores in the finals
✨Mary Tucker 🇺🇸 had won Mixed team Silver at Tokyo pic.twitter.com/igGvSAXTUy

— IndiaSportsHub (@IndiaSportsHub) July 29, 2023
9:16am | Shooting Final | Elavenil leads comfortably by 1.5 points as she just shot a 10.8 in fourth round to take her mark to 147.8 and remain in lead.
9:15am | Judo | In the 48kg category Antim lost to Amber from Netherlands losing 0-10 in the Round of 16 match
9:10am | Shooting Final | Elavenil continues to lead with a total score of 106 after two rounds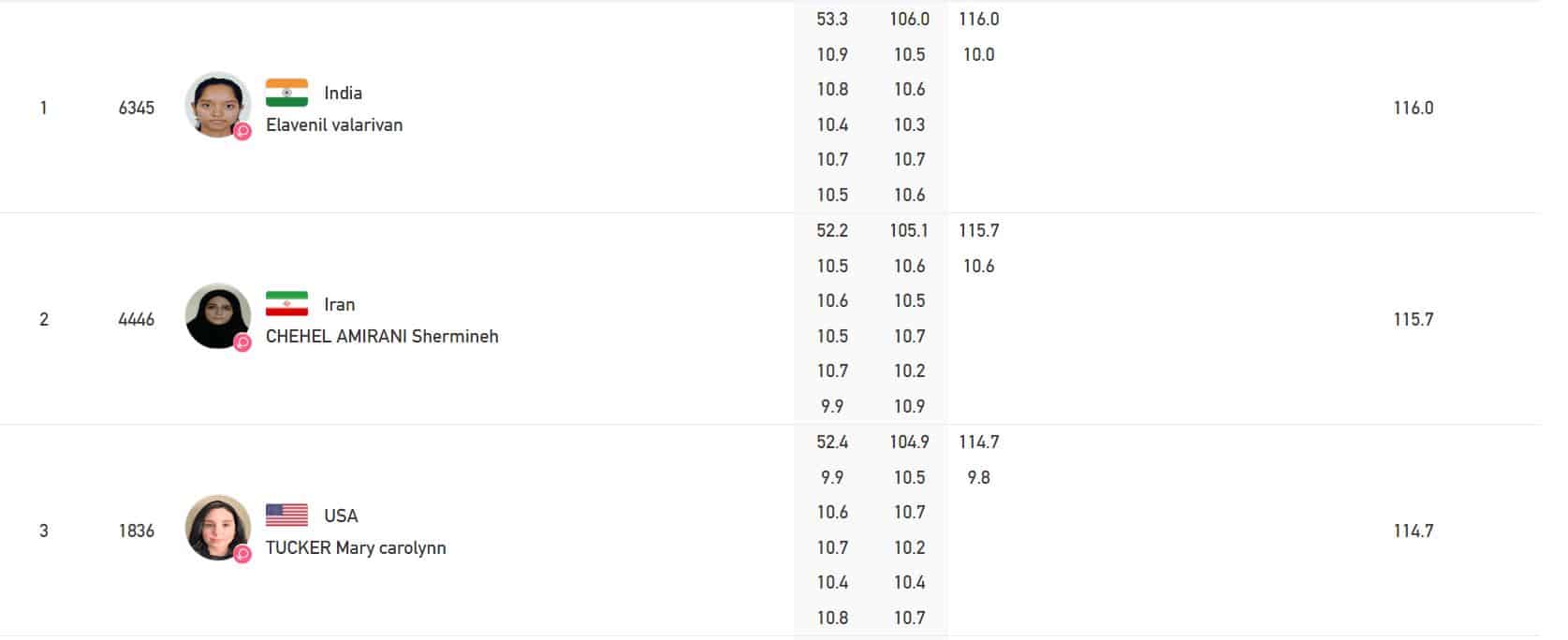 8:55am | Shooting | 10m Air Rifle Women Finals | Here you can find the live streaming
Elavenil will start her final in a moment. At the end of first round Elavenil leads with a score of 53.3 with all shots of 10.4 + thats some high-quality shooting
8:55am | Archery | Sangeeta lost to Gahyun 0-6 so that means no women will proceed from India further, Sachin has defeated Hao Weng of China 6-4 to enter quarterfinals. Yashdeep has lost to Samet from Turkey 5-6 in tie breaker so only Sachin progresses and will face Yuki from Japan next in sometime
8:52am | Shooting | Iran & India are currently leading the charts in the 10m Air Pistol wualification while all three Iranian on top three Indians are not far away with Abhidnya at 4th 163-5x , Manu at 13th 171-6x & Yashaswini at 17 with 208-5x
8:50am | Judo | And we have a win in Judo as Yamini defeated Marisol from USA in the Rd of 16 to move into the next round
8:40am | Archery | In the 1/16 rounds Sangeeta defeated Johanna 7-3 Tanisha lost to Gahyun of Korea 5-6 & Reeta lost to Diana 2-6. while in the men Yashdeep defeated Tin 6-2 Sachin defeated Akhil 6-2 in an all-Indian matchup. In the Pre-Quarterfinals now, Sangeeta is up against Gahyun of Korea, Yashdeep against Samet of Turkey and Sachin against Hao from China
8:35am | Shooting | 10m Air Pistol Qualification | Manu, Yashaswini & Abhidnya in fray during the qualification. Current status. Abhidnya at 7th with 96, Yashaswini at 27th with 93and Manu at 28 with 93
8:05am | Taekwondo | Shilpa with an average score of 6.370 is placed at 7th after first group. She needs to wait and see if she makes the Semifinal
8:00am | Judo | Shiva lost to Dovran from Turkmenistan in 60kg 1/16 round
7:55am | Archery | In the women 1/24 round competition Tanisha got better of Yelizaveta 6-2 while Sangeeta defeated Olga from switzerland 6-0 and Reeta defeated Kamila from Poland 6-2 so all make it to next round
7:52am| Judo | Keshav in the 66kg 1/16 knockout round got defeated by Victor via foul
7:50am | Archery | Indian Akhil defeated Markus 6-4 in the 1/24 round to make it to next one while Sachin had a clean 6-0 win over Khatanzorig of Mongolia.
7:45am | Shooting |Elavenil Qualifies For Finals
At the #WorldUniversityGames in 10m Air Rifle event Indian @elavalarivan shot a 630 to make the Finals
Other Indians Ayushi (625.3) at 26 and Manini (620.6) at 45 out of 54 shooters
7:40am | Judo | Tanishtha lost to Japanese Hibiki 0-10 in the 1/16 round of 52kg category
7:35am | Shooting | 10m Air Rifle Women, and it seems Elavenil has qualified for the Finals with a score of 630 and currently placed 5th
7:30am | Taekwondo |  Men Individual Poomsae Preliminary round | Indian Tundup Tashi was placed last with an average score of 6.160
7:20am | Shooting | 10m Air Rifle qualification Elavenil continues to be within Top8 as she currently is at 6th position ( 105.4, 104.0, 105.5, 104.5, 94.9) while Ayushi at 19th with 418 and two series to go and Manini at 43 with a total score of 620.5
6:55am | Shooting | Elavenil makes a decent comeback after a 104 in second series and logs in 105.5 in third to be placed 10th at the moment while Ayushi at 25 (103.4, 105.8, 10.2) and Manini at 49 (102.1, 102.8)
6:50am | Shooting 25m Rapid Fire Pistol Men Stage1 India has three shooters here and first up is Udyaveer who has shot a 291-11x to be currently placed on top with two more series of shooters to go
6:45am | Shooting 10m Air Rifle Women Qualifying India has three shooters in the fray and all eyes should be on Elavenil who has a lot of experience. She is currently on 9th spot with 105.4 and 20.6 while Ayushi and Manini are way behind at 32 and 48 positions