The much awaited World Athletics Championships 2022 starts today. We bring you all the Indian coverage for the event.
Lets look at the National Records for India
Javelin Men Final
And we have Neeraj starting the proceedings once again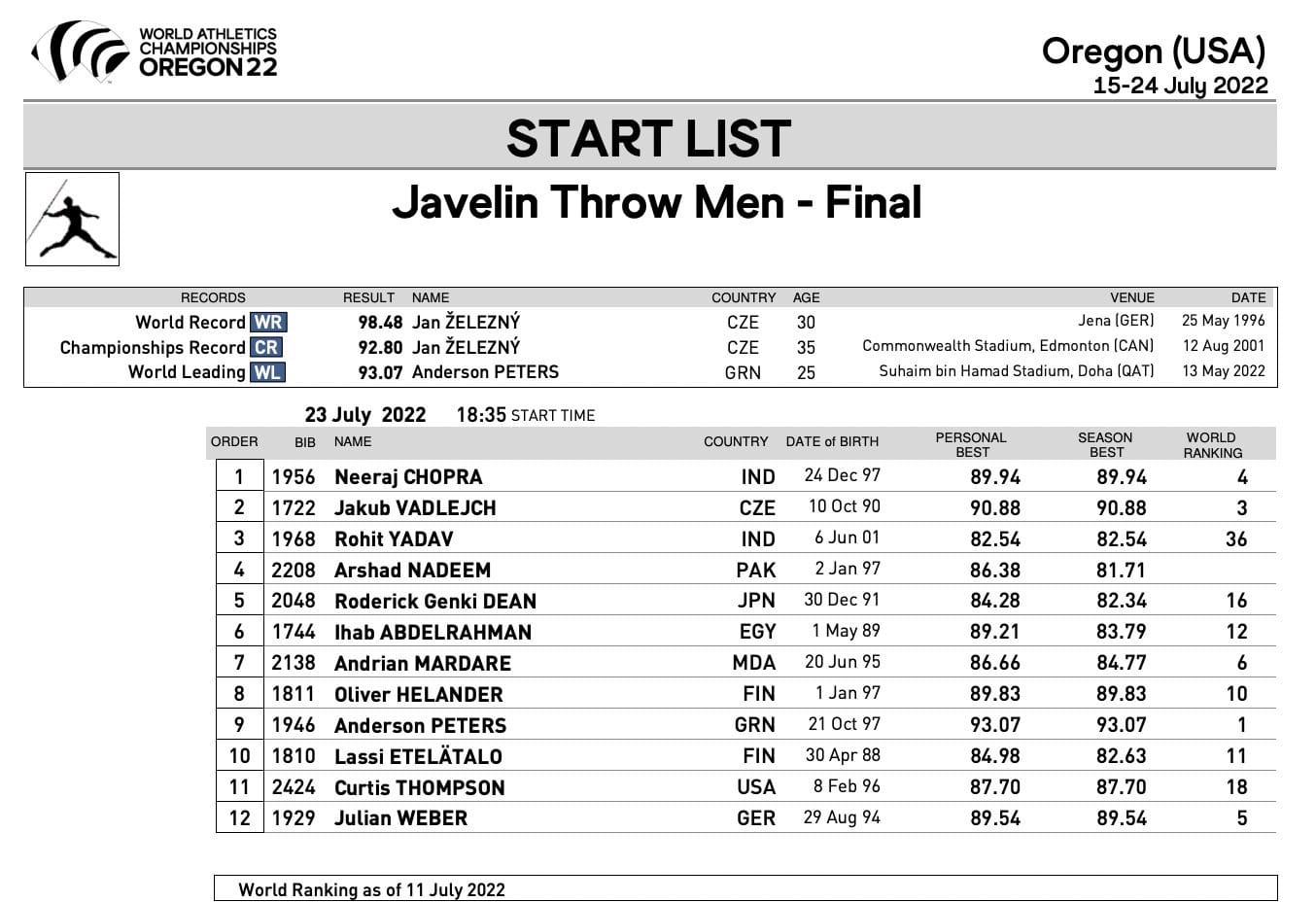 Neeraj has fouled the first one and Rohit with a 77.96
Peters has done what's expected from him. Throw it 90 plus
Chopra returns in second throw with a 82.39 to mark a throw and in 4th right now. Vadlejch does a 87.23
Rohit does a 78.05m he looks tensed right now
Neeraj in 5th and Rohit in 8th place at the moment
Peters with yet another 90+ does it for fun no?
Triple Jump Final
And here we have the Indian participation in the TJ final. What an achievement for Eldhose Paul to make it to Finals.
Can he rise it to the occasion
Well well someone has already risen to occasion. It is WR1 Pichardo who does a WL 17.95. Thats a huge jump
Eldhose with a 16.37m in first attempt and is in 6th place for now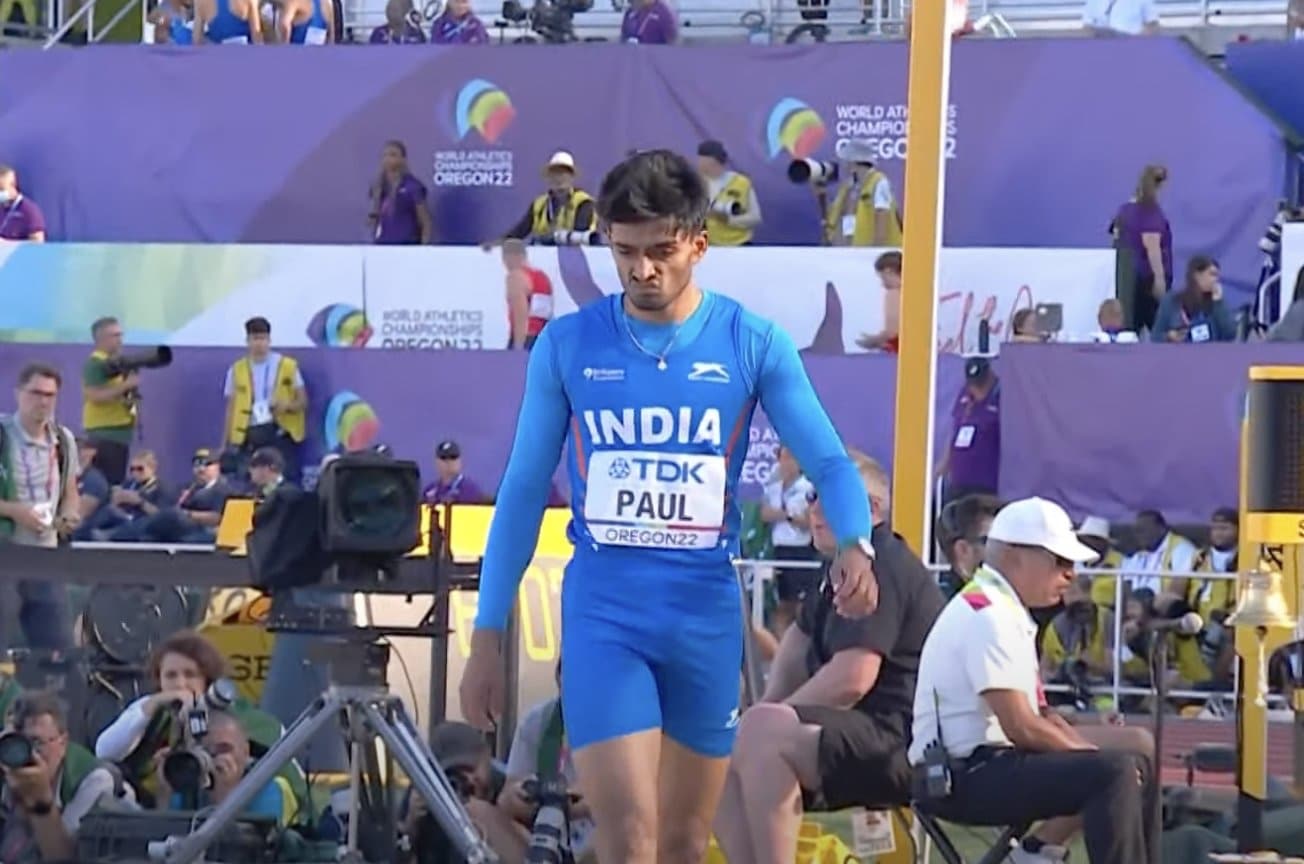 Pedro with yet another good 17.92 and the Chinese Zhu with a 17.31.
Trouble times ahead for Pontivianne and Claye who have two fouls and have just one pressing jump to enter top8
Eldhose improves to 16.79, good one by the Indian and so far remains at 6th place
4*400m Men Final
Indian team of Anas, Ajmal, Pandi and Ramesh clocked a very bad 3:07.29 to finish 6th and last in their heat. And they wont qualify for Final
---
JAVELIN WOMEN FINALS
Annu Rani starts with a 56.18 and currently at 9th position. Two Aussies in the pole position with 63.22 and 62.67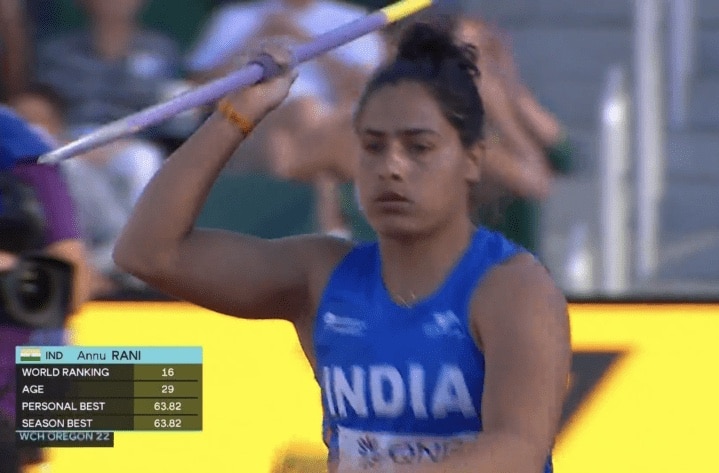 Flurry of fouls in second attempt, surely for low throws a forced fouls.
Annu first target is to enter the Top8 which she is very much capable of, if she is anywhere close to her personal bestT
He leader Little with a below average 49.78 in second attempt
The defending champion Barber with yet another good throw and improved 62.92
Annu Rani with a much better 61.12 has moved to 6th position
And she makes the Top8 to get the additional three throws, hopefully somewhere there she has kept those extra meters to throw the spear farther
So, Barber the defending champion throws the Javelin to 66.91 which is the best throw this year. She is definitely taking the competition to a different level. Annu with a 59.27m in third attempt
Not looking good for Annu who is not able to cross the 60m mark after her second attempt.S
She does a 58.14 and 59.98 in fourth and fifth attempt to remain at 7th position
---
Its Neeraj Chopra Time now
So neeraj just needed one throw, comes delivers a 88.39 and done for the day
Vadlejch follows him with a first effort of 85.23 and also makes the final
Those were the only two qualifiers from group A
Triple Jump Qualifying
Three Indians in action, Praveen fouls on first attempt
Two from GroupA have made it to the Finals on their first jump, none yet from GroupB
Abdulla with a 15.92 that puts him last in his group who made a mark
Similarly Eldhose Paul does 16.12 and is last in his group among guys who made a mark
Eldhose with a much better second jump of 16.68 that puts him in fifth position in his group while Praveen could muster a 16.30 in his second
Abdulla with 16.45 puts him in 9th place in his group
Praveen and Abdulla who were the best performers amongst Indians will NOT MAKE THE FINAL
Eldhose hanging by a string as he is on 12th place with a jump to go
And HE MAKES IT, Eldhose has hoped on to the 12th position to make the grade to final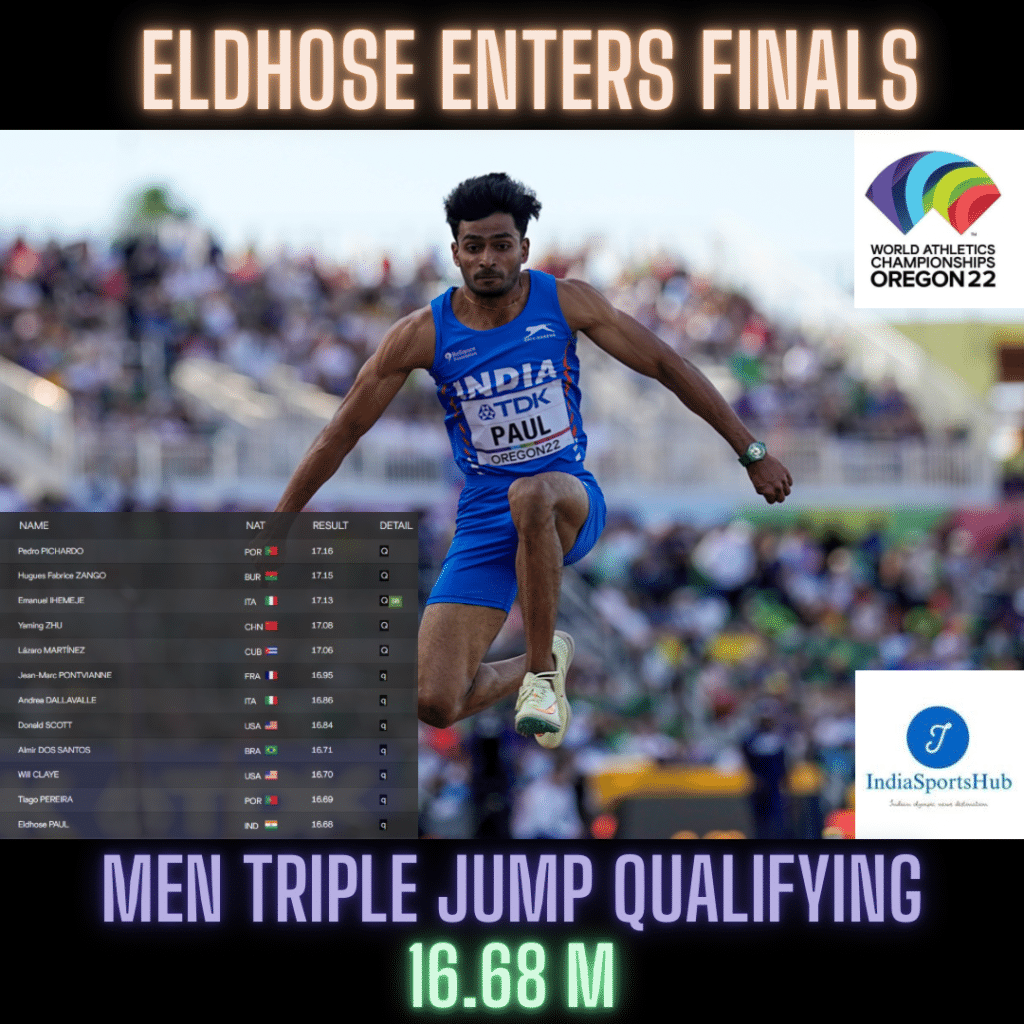 On the other hand Rohit has also joined Neeraj for the final with a throw of 80.42m
---
Parul Chaudhary who had set a personal best in 3000m SC few days back couldn't repeat the feat in 5000m race
She finished 17th in her heat with a timing of 15:54.03
On to Annu Rani now. In the groupA not many great throws were seen. Only one auto qualifiers Liveta from 🇱🇹 with 63.80
The auto qualifying is 62.50 and going by Annu season marks she should make the finals
After a foul in first Annu did a 55.35 and a 59.6 in the third throw will see her make the finals
---
The tomorrow morning is an important one, can we see the man Avinash Sable who has been consistently bettering NR.
He has updated the record books EIGHT times. Can he do it tomorrow once again.
Will he get a medal (would be awesome) it wont be easy.
The race starts 7:50 so keep your alarm ready
Sable started cautiously and currently at the bottom of the pile
And sable finishes 11th in a very slow paced race. It was a very tactical one and nobody made a move
Here's something about Neeraj
---
Here's the schedule for India on Day2
Day2 | 16 July
Morning Session
3000m Steeplechase Women | Heats | 11:20pm [16 July] | Parul Chaudhary
400m Hurdles Men | Heats | 01:57am [17 July] | M P Jabir
Afternoon Session
Long Jump Men | Final | 06:50am [17 July] | Murali Sreeshankar
Parul will be up next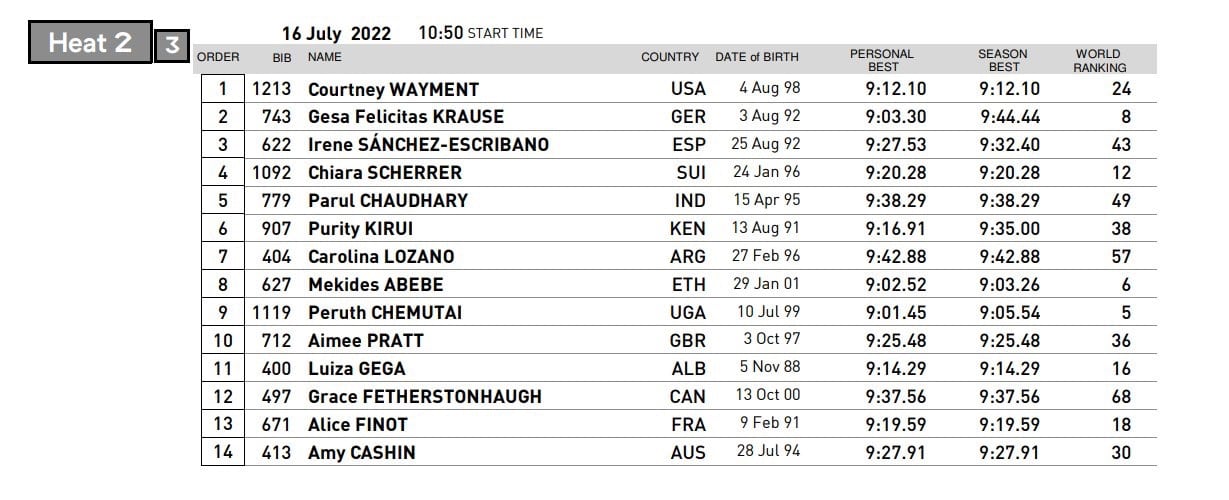 Going by the heat SB time its going to be very difficult for Parul, remember 3 Q and 6 fastest make the finals
She clocks a personal best time but not good enough to make the finals
M P Jabir finished last in his heat with a disappointing time, 4 from each heat were to make the semis but he missed the chance.
LONG JUMP FINAL
Murali with a first jump of 7.96, currently leads the pack
Murali fouls on second attempt and has now slipped to sixth position as Tentoglou goes a 8.3 followed by Ehammer and Masso with 8.16 & 8.15
The two Americans have also crossed the 8 mtr mark
Hashioka, one of the automatic qualifiers yesterday is in danger to have a NM in finals as he has fouled first two
So, two jumpers are done and will not take further part as Murali fouls again. Now he will hope that out of the remaining three below him only two better so he gets another three jumps
And he does make it to final three jumps as four jumpers are out and with only Hashioka left and Murali in 7th will make it Top8
Murali desperately needs to find rhythm as six have crossed the 8m mark
Not to be for Murali as he goes 7.83 in his last attempt.
---
With two Finalist on Day1 India can surely tag the day as successful but that should not hide the very average performance of the walkers.
The below average show by Anees and Jeswin, off course after what happened in the buildup to Worlds for him wasn't very encouraging.
Then an injury to Tajinderpal which not only took him out of World but also from Commonwealth Games
A lot action packed day from Indian perspective as there are seven Indians in action on the first day. Read our preview here on Day 1
Summary of Indian Results Day1
Here's the schedule for India
Sandeep | 20km Race Walk | 1:31:58 | 40/45
Priyanka | 20km Race Walk | 1:39:42 | 34/41
Avinash | 3000m SC | 8:18.75 | 7/41 FINALS Q
Murali | Long Jump | 8.00 | 7/32 FINALS Q
Jeswin | Long Jump | 7.79 | 20/32
Anees |Long Jump | 7.73 | 23/32
Tajinderpal | Shot Put | R | 30/30
Day1 | 15 July
Morning Session
20km Race Walk Women | Final | 01:40am [16 July] | Priyanka
20km Race Walk Men | Final | 03:40am [16 July] | Sandeep Kumar
Evening Session
3000m Steeplechase Men | Heats | 06:15am [16 July] | Avinash Sable
long Jump Men | Qual | 06:30am [16 July] | Murali Sreeshankar, Md Anees Yahiya, Jeswin
Shot Put Men | Qual | 07:25am [16 July] | Tajinderpal Toor
The Indian interest is early in the morning when Priyanka Goswami will start Indian campaign in a fierce field of 41 participants.
The Indian NR holder Priyanka has a season best time of 1:38:10 while the personal best is at 1:28:45. She will be hoping to clock a time somewhere near her personal best
There are at-least 10 athletes who have a timings in the range of 1:24 to 1:29 in the field and this should provide a good competition to Priyanka.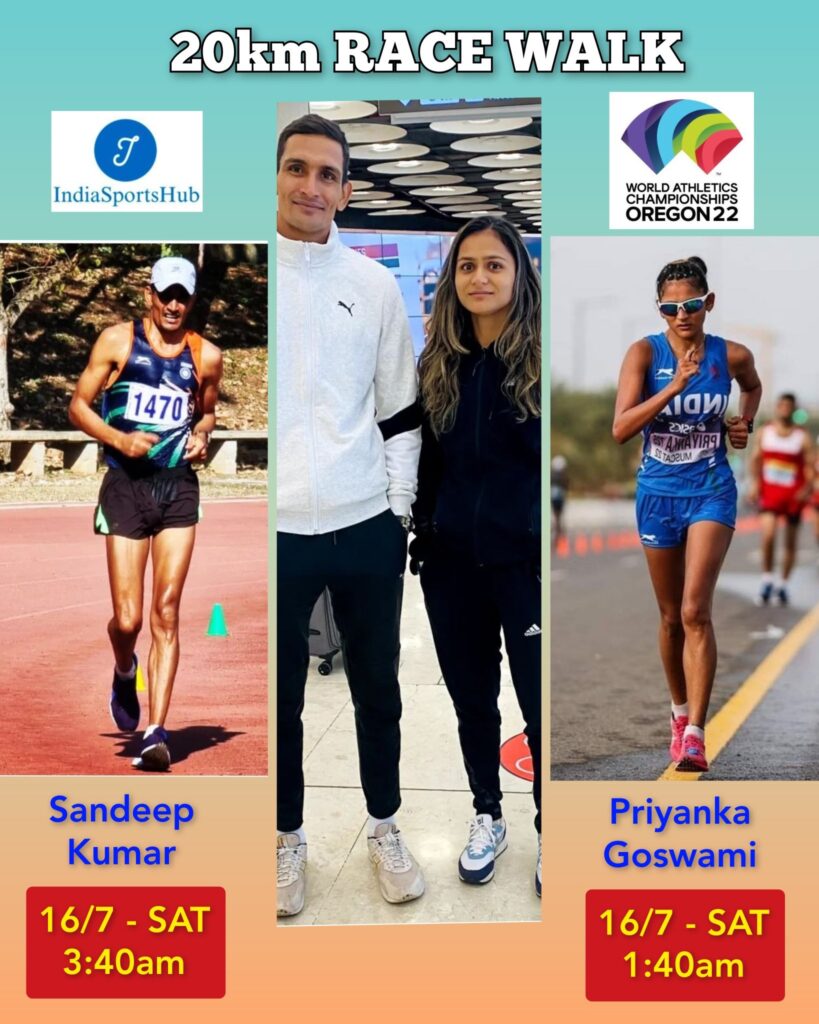 Post the women race Sandeep Kumar will be up in the 20km Race walk competition at 3:40am
Almost time for Priyanka Goswami to take the road. Pretty tough conditions with the sun up.
At the 1km mark Priyanka stands at 7th position in a race led and dominated by Chinese as they occupy all three places
She continues to be part of lead group which has 11 athletes including Four Chinese
With 17 laps to go Priyanka falls a little behind at 11th place
After 6km she is now at 21st position with a gap of 1:28 minutes. With the temperature rising its going to be difficult to bridge that gap
Priyanka bas fallen further back at the 7km mark as she is now at 26th place with a gap of 2:12 from the leader. Kimberly from Peru 🇵🇪 continues to lead at the 8km mark
It continues to be a fall for Priyanka as she is now 2:56 from the leader and occupies 32nd position in a field with 40 participants.
Halfway through and Priyanka stands at 34th place at 47:51 with 4:20 behind
She finished a low 34 out of 36 athletes who finished the race. A time of 1:39:42 which is way below her personal best and even below her season best
Sandeep Kumar finished 40th with a time of 1:31:58 which is way below his season best of 1:22:05
Avinash Sable Time Now
So we are chasing 8:21:94 for Sable, currently our man is leading the race
Sable is looking very strong, he infact has the second fastest time in the heat.
Sable in 5th position now with three laps to go
And Sable does it in style he finishes the race in third position to qualify automatically for the finals.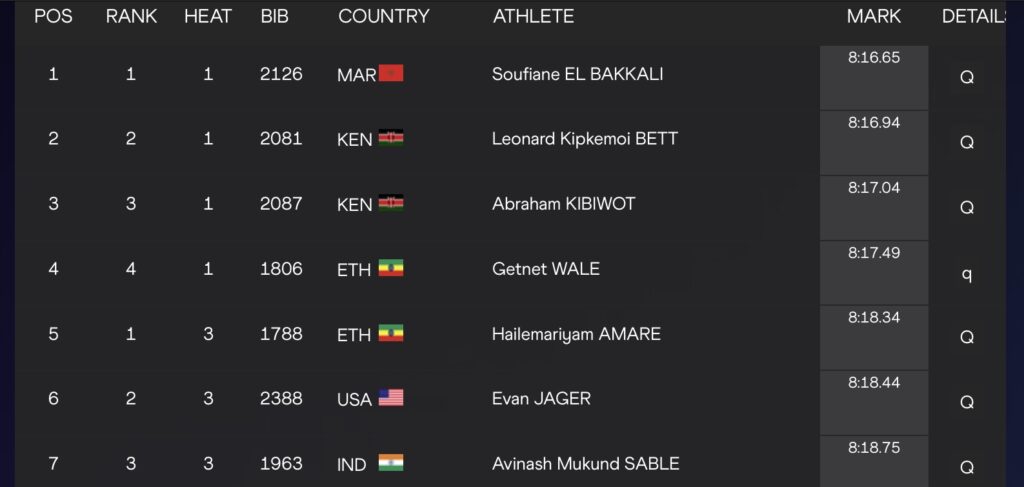 He had the seventh fastest time in the heats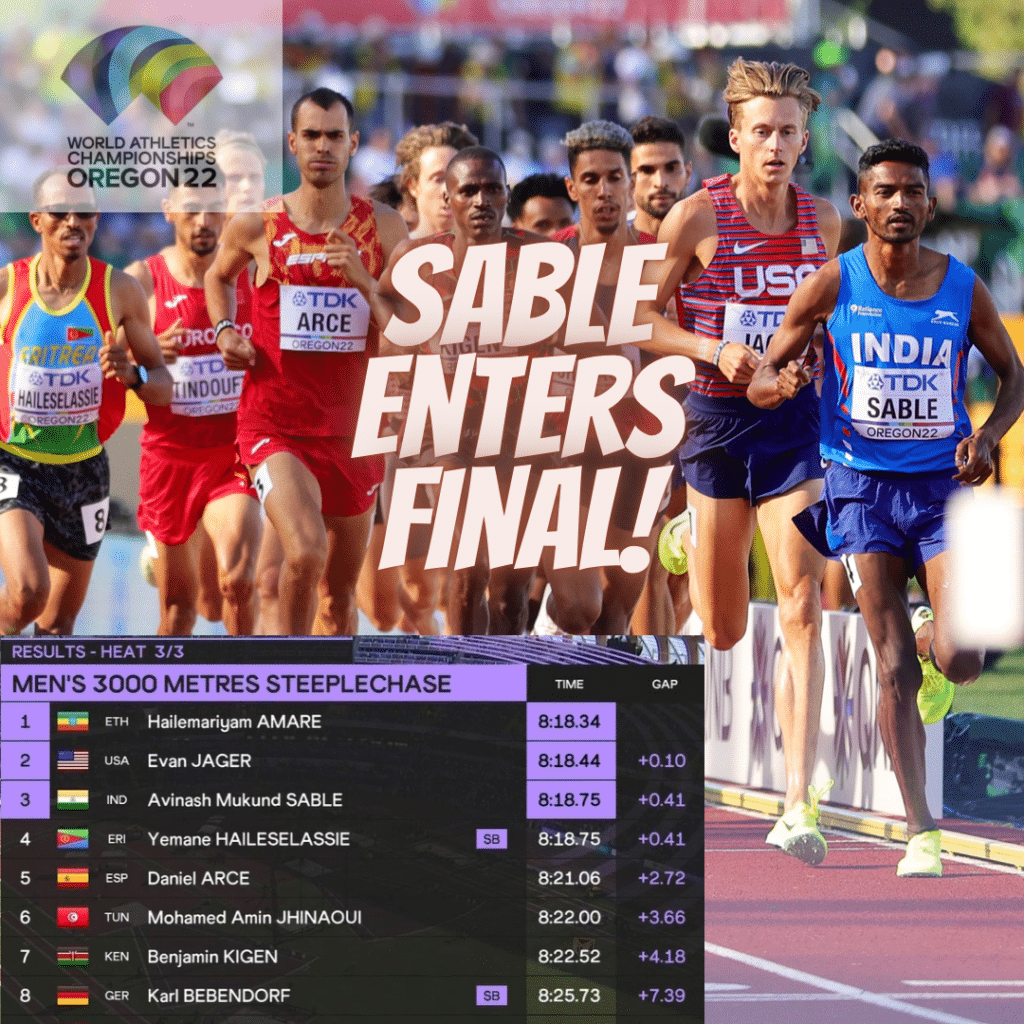 Long Jump Qualifying
Three entries from India here as Murali, Jeswin and Anees try to go 8.15 to auto qualify for Finals
Jeswin with a foul to start and Murali with a 7.86m
None automatic qualifiers till now as 12 will make it, all get three attempts
Anees with a 7.19 on his first attempt
After first attempts here are the standings
Murali 7.86 | 6
Anees 7.19 | 17
Jeswin X | Unranked
None automatic Q yet
Oooooh this is super pressure on Jeswin who fouls yet again, remember Inter states when he fouled five times. Now he will get just one attempt in a bid to make the cut
A lot happened for him to cut the ticket to Oregon and he wouldn't want to end it as NM
The NR holder with a 8m jump which takes him to second position in the bid to finals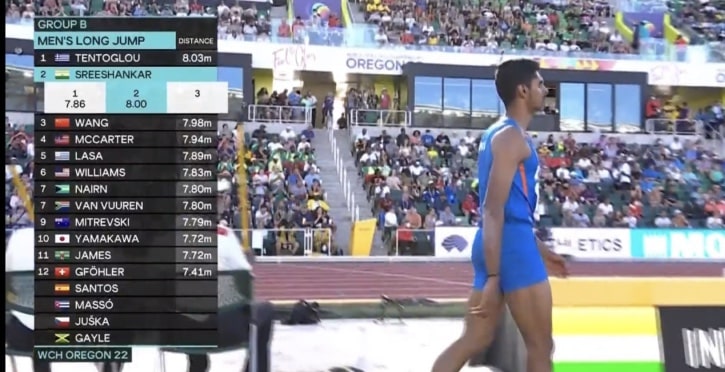 And we have an automatic qualifier from Japan as he goes 8.18 Hashioka
Standings After Two Attempts
Murali | 8.00 | 3
Anees | 7.73 | 18
Jeswin X | Unranked
One Automatic Qualifier from Japan
Flurry of 8m jumps that will trigger Murali to go better
And Jeswin did register a jump but WILL NOT MAKE THE FINALS
He did a 7.79m
And Murali with a foul so he now waits to see if others jump better than him, he sits on Sixth position right now and ideally should make it though
Anees does a 7.58 and will also not make the finals
So, after all the big news around long jumpers only Murali makes it to the Finals with the other two finding 20th and 23rd in the field with below par jumps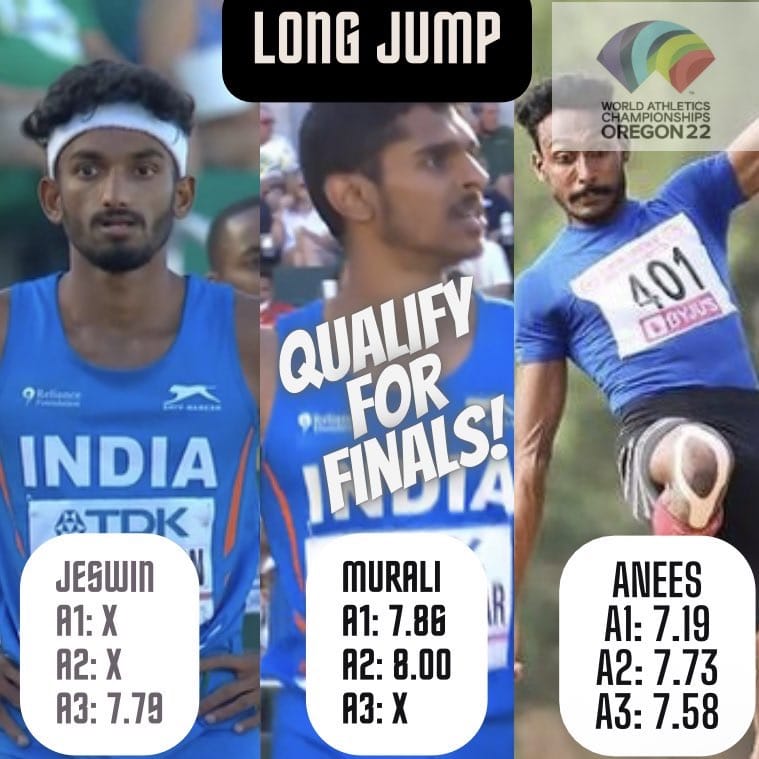 What happened there with Tajinderpal he is shown a "r" against his name on first attempt thats not even a foul.
Was he in the ground, something's not right here
And here's the reason