Welcome to our coverage of the Indian Grand Prix being held in Odisha
Lot of exciting talents competing today
The 100m Men which was run across four different races was won by Guni (10.99), Amiya (10.74) , Karan (10.95) and Rahul (10.98) not a cery encouraging performance as the NR is 10.26 and WCQ mark as 10.05
1500m was won by Ajay Saroj in 3:43:36 in a close finish where Rahul finished just .59 sec behind
400m Hurdles MP Jabir clocked a 50.19 just outside the 50 sec mark. Pretty far away from WCQ mark of 48.9
In men long jump Md Anees jumped to 8.15 to clinch Gold Medal while the Javelin was won by Yashvir for a 82.13m mark and silver by Rohit for 80.88m throw
In the 100m dash Srabani Nanda clocked a 11.87 to win raceB
The 400m women Hurdles saw just one participant and 1500m Women saw two competing.
The much awaited clash between Parul and Komal was easily won by Parul in 9:42:24m
Rohit Yadav now responds with a big 80.88 meters throw in what is brewing to be an interesting men's javelin competition at Bhubaneswar..
20 year old Yashvir Singh of Rajasthan throws the Javelin to a distance of 82.13 meters in the men's Javelin event at Bhubaneswar..
The results of Long Jump are here. Nayana winning with 6.37m followed by Ancy with 6.35 and Shaili 6.27m
Live Rankings
Nayana 6.30 | 5.99
Ancy 6.29 | 6.23
Shaili 6.12 |6.11
Sherin 5.94 | 5.81
Meryl 5.90
Rishika 5.11 | 5.10
And we are back to 400m race of Women despite being in the final attempts
It seems the final round is underway with Rishika going first no scorecard shown and no commentary either.
Hopefully some long Jump Action now, yea we are back. We have absolutely no clue on the results post the third attempt
Race B won by Rashid in 48.28 and K Saran wins the Race C in 47.42 (fastest till now). The Race D is won by Ritesh with 48.44
400m on now and Ayush Dabas winning comfortably on top with a 47.49 could have pushed a bit more if there was more competition
And we have the first results in Mens Discus Throw and Kirpal Singh won the Gold with 59.92m
Ancy with a foul on third attempt, next up Nayana and she does a 6.30 to go on top
Sherin fouls in second attempt and Ancy goes to 6.29. Nayana with a 5.99m. Rishika and Meryl with shorter jumps.
Varju with a foul up front and Sherin with a 5.81. Ancy is next and she leaps 6.23
Nayana fouls and next is Rishika with a 5.11m up next is Meryl with 5.90m
Manisha with 5.71m and Pooja has fouled and the big hope Shaili is up for her first jump. 6.11m for her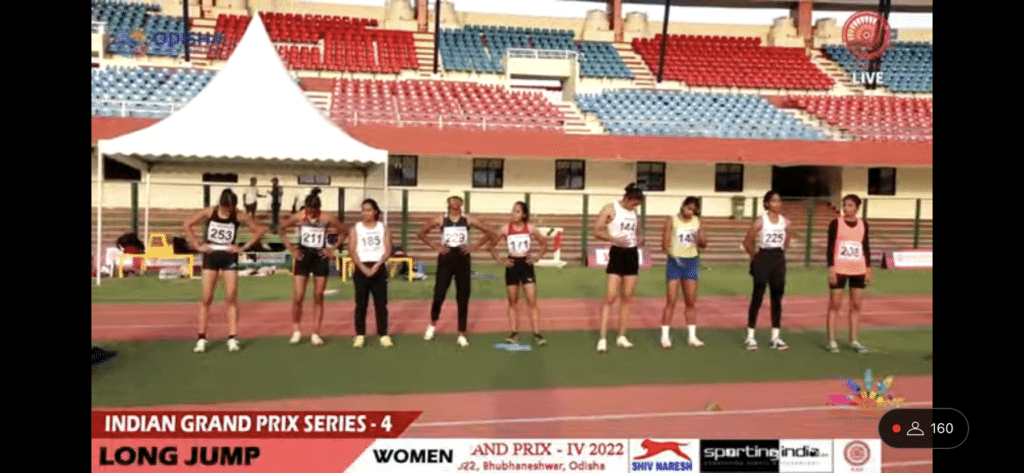 Ayush Dabas will make a comeback into competition running in 400m Run. There will be eyes on Navjeet Dhillon in Women DT
Jisna Matthew is running 400m Women while there are 21 entries in the Men Long Jump
Manu DP, Rohit Yadav and Sahil Silwal are in Javelin Throw
Komal and Parul will face off in the 3000m steeplechase while MP Jabir is competing in 400m Hurdles
BIG COMPETITION OF THE DAY- Women Long Jump