The much awaited Challenger week started with Qualifying on Sunday 6th February. The city of Bengaluru is hosting 2 ATP Challenger 80 tournaments in the ATP calendar. Its making a return to Bengaluru after a gap of a year in 2021.
Format & Points
The last time the event was held it was a different format wherein there was a bigger main draw and only four to compete in the qualifying. The Challenger events returned to the earlier setup with significant number of Qualifier spots in the main draw, giving an opportunity to the lower ranked players to earn the ATP points.
While in 2020 this event was the premier Challenger event offering a maximum of 125 points there was a fair share of Indian participants in the main draw, a total number of 19 of which 4 competed in the qualifying draw. This year the number has drastically reduced with only 2 Indians making it to main draw on entry.  3 wild cards were awarded to Indians taking the number to 5 in the draw. But good part is that this time there are 6 spots available for qualifiers in the main draw and 9 Indians were in the fray.
Qualifiers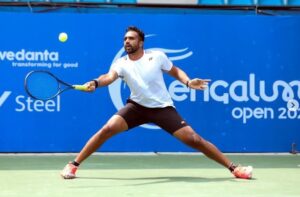 Arjun Kadhe who had shown great resilience and grit during the Maharashtra Open was the only Indian to make it to the main draw beating two higher ranked opponents. It was otherwise a very disappointing couple of days for Indians with six of them failing to even win a single set bowing out of the tournament in a fizzy.
The only positive the Indian contingent could take was the performance of the young 18 year old Junior National Champion – KARAN SINGH who was awarded a Wild Card by the organizers to give him the exposure at the Challenger level. He did full justice with the opportunity going the distance in the match despite suffering from a severe back pain for which he had to also take Medical Time-out in the 2nd set. It was refreshing to see the young guy serve his heart out and slice with confidence from mid court. Although he lost to the opponent who is ranked 1200 places above him, Karan showed that he belongs to this level and given opportunity will be someone to look forward to in the years to come.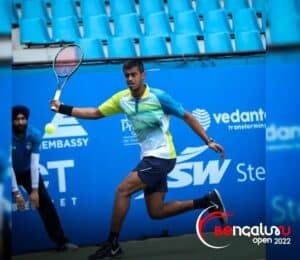 "I was not feeling well and the taping went off in the first set itself. The first serve percentage was not good and need to focus on that. If I was well I would have won in straight sets" Karan said post the match.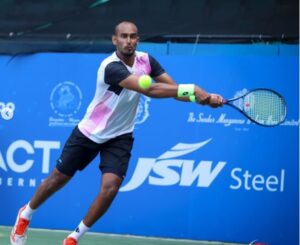 In an all Indian match Sasi Kumar Mukund defeated fellow Indian Adil Kalyanpur but lost in the final Qualifying round to third seed Gojo.
Indian Results
Qualifying Round-1

Gabriel Decamps (BRA) bt Sidharth Rawat (Ind) 6-2, 6-4;

Steven Diez (CAN) bt WC-Suraj Prabodh (IND) 6-4, 6-1;

Rio Noguchi (JPN) bt WC-Karan Singh 4-6, 6-1, 6-3;

8-Mukund Sasikumar (IND) bt WC-Adil Kalyanpur (IND) 6-2, 6-3;

Alt-Arjun Kadhe (IND) bt 6-Johan Nikles (SUI) 6-4, 6-4;

5-Malek Jaziri (TUN) bt Alt-Abhinav Sanjeev Shanmugam (IND) 7-6 (3), 6-3;

Andrew Harris (AUS) bt WC-Niki Kaliyanda Poonacha 6-4, 6-4;

Alexander Erler (AUT) bt Manish Sureshkumar (IND) 6-2, 6-4.

Qualifying Round-2

Alt-Arjun Kadhe (IND) bt Alexander Erler (AUT) 6-3, 6-4;

3-Borna Gojo (CRO) bt 8-Mukund Sasikumar (IND) 6-3, 6-2